Atlanta's Leisure Ride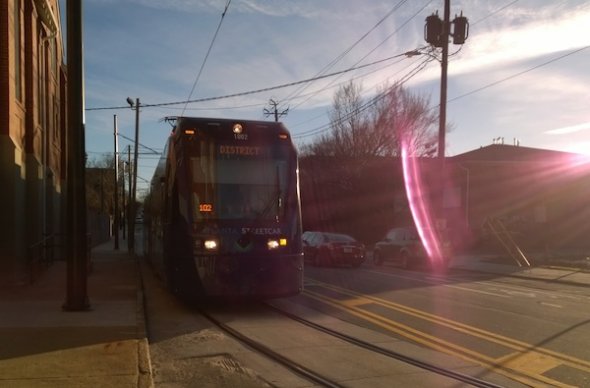 The Atlanta Streetcar debuted this month amid talks of expanding transportation choices and the recalibration of transportation funding. It's a good-looking train – extremely comfortable, safe, slow moving and easy to use – and adds a delightful new dimension to the downtown experience.
Walking from Ebenezer Church to the King Center streetcar stop, I discovered businesses I didn't know existed, such as Big Mouth Ben's store (pictured below). The formerly homeless rapper offers sundries for the ride and an inspiring life story. That sense of discovery continues on the streetcar, making the 2.7-mile ride seem like a leisurely stroll. I discovered a number of restaurants I'd like to try, such as Noni's and Sweet Auburn Seafood, and areas with untapped development potential.
The anchors along the route are the King Center, Sweet Auburn Market, Peachtree Center and Centennial Olympic Park. In between are Fairlie-Poplar, the Rialto Theater, Apex Museum and Georgia State University, as well as historic churches such as Butler Street CME and Wheat Street Baptist. The route is a black-and-white slice of urban Atlanta.
Having ridden streetcars in Portland, Ore., New Orleans and Seattle, I can attest to their economic power. There was nary a business in sight along the Portland streetcar – from Powell's Books to Lush Soap – that wasn't bustling with foot traffic. Seattle's streetcar brought tech companies and a big Amazon campus to the route. In New Orleans, the streetcar caters to tourists and locals alike. The Washington, D.C. Streetcar is new, with some routes still under construction. That city's eight routes are expected to bring $8 billion in new development within 10 years of completion.
Some critics characterize streetcars as anti-transit, tourist-trap boondoggles, but I saw plenty of local travelers. Tourists didn't start thronging aboard until we reached Centennial Park, where the train takes a leisurely pause. Not that it would be a bad thing if other areas started getting the tourist traffic that Peachtree Center and Centennial Park get. Areas like Dobbs Plaza and Calhoun Park are ripe for new retailers and restaurants. And, if Atlanta is able to expand the streetcar onto the BeltLine as it intends, the network could reduce auto traffic.
We have a history of streetcars in Atlanta, after all. In fact, we used to have a great system that extended to – are you sitting down? – Cobb County.
Still skeptical? Portland ridership grew from 4,900 each weekday in 2001 to 14,500 today, sparking $3.5 billion in development. Seattle had an annual ridership of 700,000 in 2014. Atlanta projects initial ridership of 2,600 passengers daily, and we're twice as big as those cities. I expect we'll see a pattern of slow build and initial reluctance, then a boom in ridership.
There will be challenges to work through, such as safely integrating pedestrian and bike traffic along the route. But hang in there, residents – this is a direction the city needs to take. I, for one, am excited to watch how things progress.
– Ben Young
Pictured above: The Atlanta Streetcar
Photo Credit: Ben and Temple Young