New Year, New Transportation Issues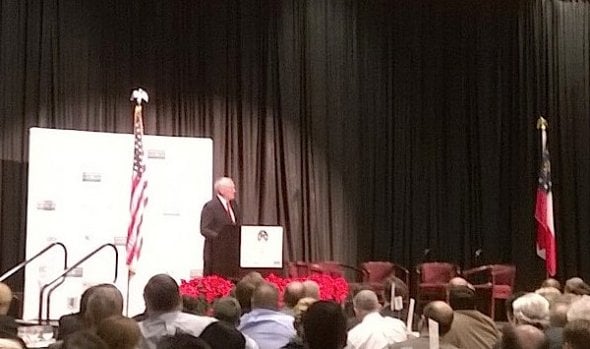 There's no doubt that transportation will be a hot topic in 2015, and the Georgia Chamber of Commerce's Transportation Summit recently held at the Classic Center in Athens revealed a host of items to keep an eye out for in the coming year.
While the long-awaited transportation report from the Joint Study Committee on Critical Transportation Infrastructure Funding was not yet finished when the summit convened Dec. 9, industry experts and government officials predict that next year we'll be looking at solutions to the dwindling gas tax, mass transportation options, more rail and cargo, and an increased emphasis on last-mile delivery.
>Gov. Nathan Deal announced that he is shaking up transportation staff, naming the State Road and Tollway Authority (SRTA) executive director as the new head of the Georgia Regional Transportation Authority (GRTA). He also touted the success of his High Occupancy Toll lanes in Gwinnett County. In 2014, there were three times as many trips per day – 22,000 – than the 7,200 in 2011 when the lanes first opened.
Many state leaders note that with more people moving to the state, transportation issues cannot be put on the back burner anymore.
"We're the eighth fastest-growing state in the country. We were tenth in 2010 – so the people are coming," says the governor. "We can't lock the door – we can't afford to."
"We have to be big and we have to be bold about transportation," says Georgia Chamber President and CEO Chris Clark. "It can't just be roads and bridges – we have to address rail."
Lt. Gov. Casey Cagle elaborated that "there has to be a correction – immediate and long term" to the dwindling gas tax. "We can't avoid the issue of transit. We can capitalize on MARTA and make it a serious commuter option. We have to embrace it."
Mark Middleton, an executive director of the Georgia Railroad Association, says he would like the state to lift the diesel fuel tax on locomotives and invest more in facilities owned by the state and shared with rail companies. "We need about $10 to $15 million in investments over the next 25 years," he says. "Fortunately the state purchased and owned many rail facilities that are still out there and can be leased by shortlines to serve rural areas. There is a tremendous market for Georgia manufacturing and agriculture companies."
Andy Kirschner, director of sales for the Americas for Delta Cargo, says Delta is building a perishables center – a great opportunity for inbound and outbound perishable cargo, which is in turn good for Georgia's agriculture sector. "We can compete with Miami," he says. "We're expanding our fleet by 50 new widebody planes and will be ready to expand to keep up with demand from the ports. While we were once serving mostly domestic air cargo, we are now truly international and can be a good gateway."
Page Siplon, executive director of the Georgia Centers of Innovation, noted The Home Depot's decision to invest in a $100-million e-commerce center as evidence that cargo is moving "closer and closer to large population centers. You will see continued investment in last-mile delivery."
Sen. Steve Gooch, co-chair of the Joint Study Committee on Critical Transportation Infrastructure Funding, says the Transportation Special Purpose Local Option Sales Tax (T-SPLOST) is working for Middle Georgia, and also cited the success of the Columbus T-SPLOST, which leaders initially opposed, and which now includes plans for a train to Atlanta.
Two years after the T-SPLOST, he notes that many lessons have been learned from the process. "Trust in GDOT [Georgia Department of Transportation] is four times what it was in 2012," he says. "We still need to learn to be more accountable to voters."
Committee co-chair and State Rep. Jay Robertson agrees, adding that change on the transportation front is needed to keep up with other states. "Anything this life-changing is tough," he says. "Other states are being proactive, and we're falling behind. So make your voice heard. It's time to bite the bullet." 
– Ben Young
Pictured: Gov. Nathan Deal at the Georgia Chamber's Transportation Summit
Image Credit: Ben Young