Elbert County: Solid Focus
Granite, Railroads and Downtown Arts Center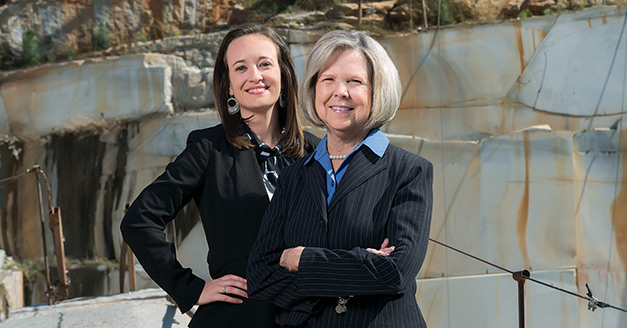 For as long as anyone can remember, granite has been the foundation of Elbert County's economic success. Drive around this rural northeast Georgia region and you'll soon come upon deep pits cut into the earth. At one such quarry just outside the town of Elberton, tall cranes are lifting up massive blocks of the pale stone for loading onto big trucks.
From here, they are shipped to companies where they're cut and shaped into everything from cemetery markers to countertops. Workmen, many of whom have been employed at this craft for generations, work in "sheds" to turn these rocks into something resembling art.
"It's tougher now than it used to be," says Jerry King, owner of King's Monument Co., one of a score of granite companies that line West Tate Street in Elberton. "A lot of companies are fighting [cheaper] imports. You have got to get a niche and work in that niche."
These days granite isn't the sure thing it once was in this self-proclaimed Granite Capital of the World. The industry has been hard hit by some of the same economic forces that have plagued much of America. There's less demand for monuments as a rising number of people opt for cremation over traditional burial. Then there are cheap imports from China that are undercutting local producers.
To keep up, King's company runs fast and lean and has generally stayed small. The costs of growth would require meeting more regulations and adding additional personnel that this family-owned business just can't afford on the thin margins that granite offers these days, he explains.
Not that King's Monument Co. hasn't grown over the years. The sprawling shed housing the cutting operation has expanded to handle more granite production.
There are some 150 or so granite companies here in Elberton. To stay ahead of the curve and remain viable, many have invested in new technology to make cutting blocks faster and more economical.
"One of our companies has invested in a machine that can do intricate carving of the monuments or granite that used to be done by hand," explains Beth Eavenson, executive director of the Development Authority of Elbert County, Elberton and Bowman. "It's the first of its kind in Elbert County, and we're seeing some of the other industries purchase this kind of technology as well."
A few years ago, a number of companies expanded their business to include the cutting and installation of granite countertops. Crews use laser measurements that allow for precision cutting of the countertops and then install them quickly.
"That went along fine until the housing recession hit and some of them actually went out of business," says Elbert County Manager Bob Thomas. "Some of them were able to hold on and seem to be making a comeback with some of the housing in the area."
---
Overcoming Challenges
Elbert has suffered more than perhaps any other county in Northeast Georgia. Other counties in the region are growing even as the population here shrinks. Young people are leaving to find work elsewhere, and that decline is affecting everyone. In fact, the forecast is for Elbert to add just 1,000 people in the next six years as it lags behind the region.
"Our tax digest has been falling since 2007," says Elbert Commission Chairman Tommy Lyon. "This year was the least fall that we've seen, so maybe we're getting close to the bottom."
It's been a long dry spell since two big German companies – Moeller Tech and Hailo USA – set up shop within the county in 2010. Those two companies are going strong, but attempts to persuade other businesses to relocate here has so far proved futile.
"Those companies are continuing to grow, and right now with the economy being what it is, if you don't have new industry coming in you concentrate on those existing industries," says Phyllis Brooks, president of the Elbert County Chamber of Commerce. "We try to help them have the resources they need to expand and continue to grow."
The chamber and economic development authority have lately been focusing on offering classes for business owners on various topics such as taking advantage of government contracts.
One big asset for both new and existing companies is the local campus of Athens Technical College. The school has been actively providing training for a wide variety of skills for years and was a strong selling point in winning Moeller Tech and Hailo to the area.
"It's critical to the workforce in the region," says Andrea Daniel, vice president of economic development services at Athens Tech. "In order to attract workers, you have to have the trained workforce."
The college provides ongoing training to a number of companies in all industries.
"So if companies have a need for certification or licensure, if they need computer training, personal enrichment or specific customized training, we can provide it," she says. "We work with companies every day to give them that type of service."
One big challenge for Elbert is its close proximity to South Carolina. That state has lately been outspending Georgia in providing rich incentives for new business, including lengthy tax breaks and money up front.
Elbert also ran out of available spec buildings, and a ballot measure to fund construction of a new one failed. As a result, the number of inquiries dropped from 25 or so to just one, according to Lyon.
The slow economy has prompted local officials to seek other ways of attracting business. The county is in the process of expanding the short line Hartwell Railroad to connect with CSX Transportation's Abbeville Subdivision via an abandoned Norfolk Southern line.
"That would open us up where we could be one of the inland ports like Cordele," says Lyon. The state is considering adding a half-dozen similar ports on transportation corridors around Georgia. "They would bring [goods] in on rail and put out on trucks for distribution," he adds. "That way it wouldn't have to go through Atlanta."
The county will soon be more attractive to a supplier serving the new Caterpillar assembly plant in nearby Athens. Work recently began on widening Georgia Highway 72 through Madison County.
"That will give us a four-lane road from here to the Caterpillar plant," says Lyon. "We're hoping that will help us down the road as well."
The county also moved fast to preserve one critical part of its economic development program – Elbert Memorial Hospital. Like many rural hospitals, it had been running deep deficits from unreimbursed indigent care and faced the prospect of closing. The county shifted one mill in property tax funds – about $667,000 – to the institution to pay for charity care.
"The problem is we're a poor county, and the things that hurt us are indigent care and bad debts," says Lyon. "If you look at our county, there's 43 percent of the population drawing a minimum 25 percent income from entitlements."
The hospital has also formed a strategic partnership with AnMed Health in Anderson, S.C., to oversee operations and provide a new infusion of expertise and capital. Once the hospital is back on a solid financial footing, it can then seek funding to replace its aging building – some parts of which date back to the 1940s.
Losing the hospital would have made selling the county to industry much more difficult, since local healthcare is a prime consideration for company site selection. The county would have also been forced to spend additional funds to expand its EMS service to transport patients to more distant hospitals.
---
Downtown Destinations
Despite the issues facing Elbert County, the local economy has started to show signs of life.
"We have added some businesses and others have expanded," says Brooks.
Among the small businesses that have opened is a new Dunkin' Donuts, which now occupies a converted service station.
Activity has picked up in the historic downtown. Fewer storefronts are empty and people are returning to dine and shop. One big project promises to have a dramatic impact. The 1920s-era Samuel Elbert Hotel is about to be renovated and reopened as an upscale hotel.
Current plans call for spending $3.6 million to renovate the building and create 26 large guest rooms on the upper floors. A new restaurant and meeting rooms would fill out the ground level. The hotel would be managed by a private operator, says Elberton City Manager Lanier Dunn.
"According to the local historians the hotel was built by a group of local businessmen because there was a need for it – really similar to the situation we're in now," says Dunn. "There's a need for accommodations for both leisure and business travelers."
The city is also finishing up a major renovation of the Elberton Arts Center. This former car dealership sits directly behind the c. 1940 Art Deco Elbert Theatre. Once work is complete, it will provide a practice stage along with dressing and storage space. The two buildings will be connected, allowing easy access by actors and stagehands between the two facilities.
Downtown revitalization is also a big emphasis in the small town of Bowman. With few businesses, it has suffered from the closing of the local school and more recently a fire that damaged the Bowman antique store downtown.
"We're trying to do what we can to pick it back up," says Mayor Pete Gibbons. "Now we're a bedroom community where most folks just come home after working elsewhere. We're trying to do what we can to bring some of those jobs back home so our local residents can work closer to home and spend their money closer to home."
The city has reportedly invested about $350,000 into reconstructing the fire-damaged building and is now putting it back up for lease. The idea is to make it a focal point for bringing more business and jobs back into the community.
City leaders have already succeeded in attracting half a dozen antique stores, a coffee shop and an art gallery. More are on the way.
---
Recreational Hotspot
Another bright spot for the county has been tourism. Richard B. Russell State Park attracts more than 1.1 million visitors annually to its 26,000 acres. Since opening, it has become a prime destination for fishermen, golfers and family vacations.
"What makes this lake so unique compared to Lanier, Clarks Hill or Hartwell is that it's so undeveloped," explains park manager Jay Lewis. "We are pretty much the only amenity on this lake, and that's because of a federal regulation when they built the lake that no homes can back up to the lake. So there can be no private docks."
The park also boasts one of the most highly regarded golf courses in the state.
"The National Golf Foundation refers to us as a resort golf course because we draw visitors from Greenville, S.C., from Augusta and the Athens area, even Atlanta," says Steve Barfoot, manager of Arrowhead Pointe Golf Club.
With all its many assets, Elbert County residents are working to reclaim the prosperity that was once a product of the solid rock under their feet. They know, however, that these days it may take different forms.
---
Local Flavor
MYSTERIOUS MONUMENTS: Every place has its mysteries, but few are as big and public and – well – mysterious as the Georgia Guidestones.
North of Elberton on Georgia Highway 77, sitting on the highest point in the county, is one of the region's most visited tourist attractions. At the end of a short unpaved lane are four imposing 16-foot-tall, 119-ton granite blocks with a center column supporting an equally massive capstone – 19 feet tall in all. On each of the stones are a dozen carvings – advice for living, in languages ranging from modern English and Russian to Egyptian hieroglyphics and Babylonian cuneiform.
Just how did this modern-day Stonehenge get to North Georgia? According to local lore, one day in 1979 a stranger calling himself "R.C. Christian" showed up at the office of Joe Fendley, then president of the Elberton Granite Finishing Co. He carried plans for a large granite monument that a small, anonymous group of men wanted to build near Elberton.
The mysterious Mr. Christian (some think his name is an homage to the Rosicrucianism secret society founded in late medieval Germany by Christian Rosenkreuz) came with funds to support his odd request. He and his backers had chosen the area because of its famed granite, he said at the time. He selected a five-acre hilltop pasture on Mildred and Wayne Mullenix's farm and work began.
Never during all these mysterious goings-on did Mr. Christian disclose the purpose for the project. He told local reporters it would all be revealed soon enough. Upon completion of the Guidestones, he left and was never seen again.
In the years since, the Guidestones have become the center of controversy, conspiracy theories, Wiccan rituals and endless speculation.
"A lot of people in town believe it was all a hoax," says Mike Reser, the producer of a recent documentary on the Guidestones. "They think it was a publicity stunt to bring in tourists, and a lot of people feel that R.C. Christian was the [creation of the] Elbert Granite Association or a group of men in town."
Although there's no clear evidence as to exactly who conceived and paid for construction of the Guidestones, Reser believes it was not a hoax to promote the town or the granite industry.
"I hope it always remains a mystery," he says, adding that revealing the true identity of R.C. Christian would dampen both the mystery and the appeal.
While the Guidestones may be largely unappreciated around town, everything that transpires at the site is often flashed across the country and around the world via the Internet.
A few years ago, a small section of block was mysteriously cut from the top of one of the columns and spirited away. Then earlier this year another section of block was put in its place with the number 2014 visible. Suddenly the Internet was abuzz with conversation on the replaced stone. Phones at the chamber office lit up with calls from around the country asking about an impending end of civilization this year. In September, a local official removed the block to reveal four more engravings: MM, 16, 8 and JAM.
Even today, more than three decades after its construction, the granite blocks still draw a steady stream of visitors from near and far. Every day groups of tourists can be found gazing at the columns, reading their inscriptions and musing on what it all might really mean. Some say they can feel a subtle energy field around the stones.
"We can tell when there's something about it on TV or an article in a newspaper or magazine," says Elbert County Chamber of Commerce President Phyllis Brooks. "Then we start getting calls and visits." – Randy Southerland