Sam Williams: Atlanta's Own Urban Statesman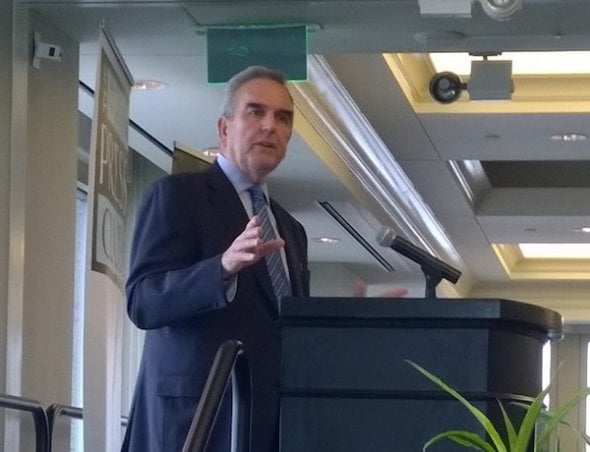 Sam Williams, former CEO of the Metro Atlanta Chamber of Commerce, launched his new book Monday, Nov. 17, with a star-studded panel including Tom Bell, chairman of Mesa Capital Partners and former CEO of Cousins Properties; Pete Correll, chairman of the Grady Memorial Hospital Corporation Board and Atlanta Equity, and chairman emeritus of Georgia Pacific; and Michael Russell, CEO of H.J. Russell & Co.
Williams' book, The CEO as Urban Statesman, published by Mercer University Press, covers his experiences with Atlanta leaders and his observations of ways leaders in other cities like Chicago and Oklahoma City have overcome adversity and bad circumstances with vision and tenacity. He also describes in detail how he and the three panelists – all Grady board members – came together to save Grady Memorial Hospital.
Grady was losing millions and deep in debt to Emory and Morehouse, which provide Grady's doctors. It took a community-wide effort and $200 million from the Woodruff Foundation to turn the venerable institution around, and preserve the safety-net hospital and in turn Georgia's broader health ecosystem.
It was easy to figure out the problem but not the solution, Correll says. "To our relief, we found no corruption. But it was like making sausage," he adds about the mess Grady was in.
Williams says he was discouraged from getting the chamber involved, but recognized the magnitude of the situation and pointed out that leaders here aren't afraid to take on social problems.
Asked by moderator Tom Johnson, former CEO of CNN, if the city can unite again in a similar way to take on issues like transportation and education, the panel answered yes, but conditionally. "It will take a crisis like Grady was having," says Bell.
But CEOs here are engaged in a way that is different from most cities, which gives Atlanta its competitive edge, says Williams. "When I was leading the chamber, we would bring new CEOs to dinner with other CEOs to explain the role we play in the community – which is to take on our challenges, not ignore them, and find solutions. That's the way it's always been done here."
– Ben Young
Pictured: Sam Williams at the launch of his book, The CEO as Urban Statesman
Photo Credit: Ben Young