Screven County: Bringing Jobs Back
Transportation, infrastructure and workforce big draws.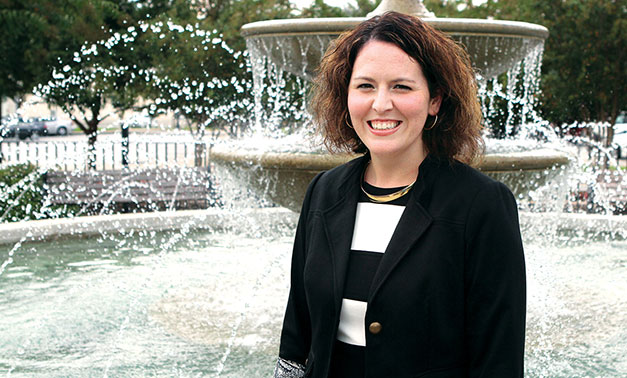 When Dr. David Pickrell was looking for a new location to house the manufacturing unit of Omega Piezo Technologies, Screven County, in Georgia's mid-coastal region, was not initially on his radar.
Fortunately for the county and its residents, a combination of advantageous geography and an online search of available facilities led Pickrell, president of the Pennsylvania-based manufacturer of piezoelectric and alumina components for alarm systems and medical devices, to Sylvania.
"It was really sort of a chance thing where they were driving through Savannah and happened to see it [the former White Stag building]," says Dorie Bacon, executive director of the Screven County Development Authority. "They looked up the building, saw it on LoopNet [a commercial real estate listings website], and it all happened very fast."
In April 2013, Omega Piezo announced plans to purchase the building and move its manufacturing operations to Sylvania. The company has invested more than $200,000 in its new facility and pledged to hire 25 employees within its first two years in Screven County.
"I'm a proponent of smaller industries," says Will Boyd, chairman of the Screven County Board of Commissioners. "[Omega Piezo] made a commitment and they stuck their neck out to come here, and I think it's going to reap benefits for them."
Transportation and Infrastructure
Nestled between Augusta and Savannah, Screven County is rural and sparsely populated, with just 14,240 residents. Sylvania, the county seat, has a population of 2,956 according to the 2010 U.S. Census. The Savannah River Parkway, a four-lane highway that runs through the county, provides easy access to Savannah and one of the busiest ports on the Eastern seaboard.
"We're 50 miles more or less from the port, and it's not a difficult 50 miles," Boyd says. "It's 65 miles an hour a majority of the trip. We're far enough out that you don't have the congestion and the [traffic] problem, but I still think it's close enough that we definitely have an advantage."
Additionally, the county is accessible by rail and air travel via Plantation Airpark, a 1,600-acre airport for private planes located seven miles south of downtown Sylvania. The county also boasts a strong broadband network. "One of our biggest strengths I believe is our broadband infrastructure," says Stephen Milner, CEO of Planters Telephone Cooperative and a board member on the Screven County Development Authority since 2010.
"It allows bandwidth for any connection to any business. In the 19th century, rail was the most important infrastructure, and in the 20th century it was highways. I firmly believe [that] in the 21st century, the infrastructure that is going to be the most valuable is broadband."
Landing SV Pittie
Omega Piezo's decision to come to Sylvania boosted Screven County's economic development outlook at the start of 2013. In the final quarter of the year, the county scored an even larger development win when Shrivallabh Pittie Group (SV Pittie), a textile manufacturing company based in India, announced plans to open its first U.S. plant in Sylvania by the end of next year. The deal includes a $70-million capital investment and will bring 250 new jobs to the county.
"Personally, I feel like with SV Pittie coming down, the eyes of the textile industry and the manufacturing industry will be on that mill and in turn will be on us," Boyd says. "That's a big deal, because all of our textile industry got shipped overseas and it's coming back. If this works, it'll be the first of many. It's always exciting to be on the forefront of not a new industry, but a re-emerging industry."
A groundbreaking ceremony for the new plant, located in the Screven County Industrial Park, took place in July. The industrial park, which is designated as a Georgia Ready for Accelerated Development (GRAD) site, coupled with the county's history as a textile manufacturing base made it an ideal choice for SV Pittie.
"It was a project that was brought to us by the state, and those are always highly competitive projects," says Bacon. "I think Screven County had a leg up on this particular project because we have a history in textiles. We had Sylvania Yarn Systems that closed in December 2009, so there are people with the exact skills that can just transition over."
Margaret Evans, who has served as Sylvania's mayor since 1998, believes the industrial park was a major factor in SV Pittie's decision to expand into Screven County and that the site will continue to attract companies to the county.
"I feel like it's great for us to have the industrial park," Evans says. "Years ago, the city had enough foresight to go ahead and provide water, sewer and electricity out in that park. We have ample infrastructure to provide for SV Pittie. Therefore, it will not be any strain on us to be able to do that, and we have competitive rates."
The 250 jobs that will be created are expected to produce an economic ripple effect that will boost other local businesses as well.
"In a community our size, it's substantial," Milner says. "The pie here is truly getting larger because of the multiplier effect those jobs will bring to the housing market and increased revenue in local businesses."
Collaboration and Planning
One area of economic development within Screven County that has improved significantly is collaboration between the branches of local government and the development authority.
According to local officials, a greater sense of cooperation between the city of Sylvania, the county board of commissioners and the development authority has evolved over the course of the last few years.
"In the last four or five years, that's evolved to be a whole lot better than it used to be," says Bobby Smith, chairman of the Screven County Development Authority. "If you don't have everybody on the same page and everybody working together, there's a sense when somebody comes to your county. They can realize that. You can say they can't pick it up, but they can pick it up."
Boyd echoed Smith's sentiments on an increased level of cooperation.
"Our objective was to land good jobs for Screven County," says Boyd, who is in his eighth year as a member of the county's board of commissioners.
"I don't think any one entity could have done it. It took everybody working together," he says. "We've never just been totally divided, but I think right now we probably have a better spirit of cooperation than we've had since I've been here. Each year that I've been involved, it seems to be better and better because after awhile you see there's a need."
In addition to enhanced cooperation among local government and the development authority, Screven County officials have also taken steps to work with outside groups for the purpose of raising the county's profile and identifying areas where they can improve.
The development authority entered into a partnership with World Trade Center Savannah, the international arm of the Savannah Development Authority, in 2013. Screven County became the first development authority in the region to partner with WTC Savannah, which will help the county reach more international prospects like SV Pittie.
Screven County has also become an active participant in other regionalism initiatives, including the Greater Savannah Regional Alliance, a 13-county joint development authority that Bacon currently chairs, and joint developer days and other workshop-style planning events with the development authority of neighboring Bulloch County.
Additionally, the development authority hired Dean Barber of Barber Business Advisors, a Texas-based consulting and site selection firm, to conduct an assessment and strategic plan. Barber and Jason Hamman, of the Ohio-based Hamman Consulting Group, spent a week in Sylvania in January and later presented their findings to Bacon and the development authority board.
"In some ways, it just confirmed what we already knew," Bacon says. "But also it brought some kind of 'aha' moments."
Smith believes the assessment the development authority received from Barber and Hamman will pay dividends in the years to come.
"I think it's good for a lot of people. When you hear it from somebody that's outside, it has a little more impact," Smith says. "Sometimes with local people you can say 'Oh, blah, blah, blah' and they say 'Mm-hmm.' But when you get somebody from outside that comes in and says it, it has more of an impact on your community."
Although Screven County enjoyed a banner year for economic development in 2013 by landing Omega Piezo Technologies and SV Pittie Textile, the county's unemployment rate continues to fluctuate as both companies transition to Sylvania. Following a period of 10 consecutive months below 10 percent, the county's unemployment rate jumped to 12 percent in July.
Consequently, local business leaders like Milner believe the county must remain relentless in its pursuit of prospective companies. "The biggest challenge for us is to make sure we stay extremely aggressive," he says. "Just because we've had some announcements doesn't mean that we can rest. We've got to constantly stay out there and recruit, not only for new companies, but also with the companies that are already here."
LOCAL FLAVOR
Open Invitation: Five years ago, Kathy Overstreet and Bob Owers elected to take over a Victorian-era home that has been in the Overstreet family since it was built in 1895. Although they were perfectly happy with their own home next door, the Sylvania couple wanted to keep the home that originally housed E.K. Overstreet and his wife Lucy, Kathy's great-grandparents, in the family for at least one more generation.
After inheriting the house from Kathy's father, the couple began to think of how they could generate enough revenue to cover the house's maintenance and upkeep expenses. Transforming the antiquarian two-bedroom home into a bed-and-breakfast seemed like an ideal choice.
"I began searching my mind for a way to get this house to meet its expenses," says Owers. "The bed-and-breakfast is the solution that we came up with. It has a very low fixed-cost threshold. Since Kathy and I don't depend on it for our living, it doesn't need to produce income for us, and therefore it can maintain itself on a quite low level of business activity."
Since its opening in October 2012, Kinchley Place has experienced the ups and downs that are common with many startup small businesses. But the combination of frequent occupancy in the spring, a wave of positive feedback from guests and a strong relationship with the Screven County Chamber of Commerce have Overstreet and Owers optimistic about the property's future.
"One of our primary ambitions is to try to develop a core of people who will think in terms of coming back again for another visit, specifically to come back here and not because they're coming [to Sylvania] for other reasons anyway," Owers says. "But that, of course, is going to take quite a bit of time."
In addition to lodging, Kinchley Place hosts special events such as wedding receptions and, on occasion, luncheons with officials on site selection visits.
"I remember when SV Pittie [officials] first came, we had a very nice luncheon down there," says Sylvania Mayor Margaret Evans. "It's just a wonderful place for that, and they [Overstreet and Owers] are very nice people, very community minded." – Scott Blusiewicz