Georgia 400: Poised For Economic Growth
New jobs, new retail, new city centers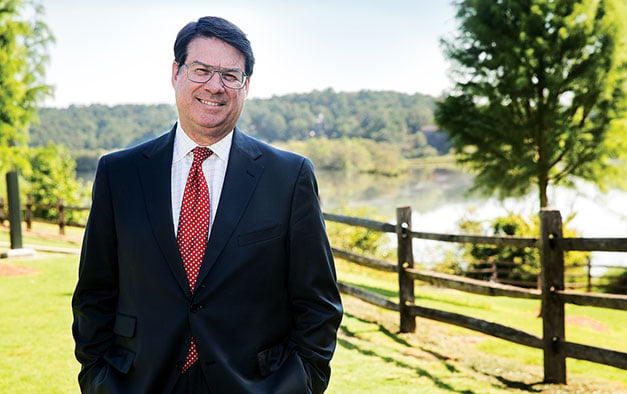 Ten years from now, business leaders, city and county officials, and residents in Alpharetta and throughout the Georgia 400 corridor might be able to identify October 2014 as the exact month in which the city and region's business and economic development landscape vaulted from "promising" to "transcendent."
Avalon, a $600-million mixed-use development, is scheduled to open October 30. Located at Georgia 400 and Old Milton Parkway, the development will feature 570,000 square feet of retail space, a 300-room hotel and a 47,000-square-foot convention center along with 750,000 square feet of Class-A office space, plus a residential community with both upscale rental units and single-family homes.
"Avalon is kind of [like] a buoy in the water – it has the beacon in it," says Peter Tokar, Alpharetta's economic development director. "You know there's something special there because you don't want to hit the buoy. Well in this case, we have this signature thing that is going to bring people from near and far to see it. It is going to raise the quality of life for not only residents of Alpharetta, but also for visitors and businesses in Alpharetta by being an amenity that serves the community."
The retail portion of the project has already landed more than 60 upscale shops, restaurants and other businesses as well as a movie theater. Anthropologie, Banana Republic, Orvis and Oak Steakhouse are just a few of the businesses that will have locations in Avalon's retail tract. Whole Foods will open a new location within the 86-acre development. Avalon, which will open in several phases, is expected to bring 4,250 jobs to Alpharetta by the time it is completed.
"I think it's going to have far-reaching effects, not just in these [nearby] cities, but also in Cherokee County and Forsyth County," says Al Nash, executive director of Progress Partners of North Fulton Atlanta, the economic development division of the Greater North Fulton Chamber of Commerce. "This is another tool in our toolbox that's going to help us retain companies that are already here and create additional jobs."
Local business owners are also enthused about the arrival of Avalon even though it will feature shopping and dining options that will compete with their own retail businesses.
"I've been in [Metro] Atlanta for a long time," says Chris Sedgwick, co-owner and founder of Pure Taqueria, an Alpharetta-based chain of Mexican restaurants with five locations across the metro area. "We used to get in the car and go to Cumberland Mall and Lenox Square and Perimeter Mall. I think it's going to be good, because it's just going to get more people aware of what's going on in Alpharetta."
Emerging Cities
The Georgia 400 corridor consists of Alpharetta, Milton, Johns Creek, Mountain Park, Roswell and Sandy Springs, six cities in the northern end of Fulton County. Alpharetta, Roswell and Sandy Springs experienced massive population growth throughout the 1980s and 1990s and moderate growth in the 2000s. From 1990 to 2000, the population of Sandy Springs increased by 26 percent, while the national average rate of growth was 13 percent. Alpharetta added 22,000 residents in the '90s, an astounding 168 percent increase in population.
Sandy Springs became an incorporated city in 2005, with Milton and Johns Creek following in 2006.
Blessed with direct access to Georgia 400, a strong infrastructure of fiber optics and a wide array of healthcare facilities, the cities that make up the corridor possess many of the resources coveted by corporations and site selectors. As a result, the region continues to attract companies in the healthcare, technology and financial processing industries.
Last year, General Motors announced plans to open an IT Innovation Center in Roswell. The $26-million project is expected to create 1,000 new jobs over a three-year period. Hewlett-Packard also announced plans to bring new jobs to the area. The company plans to add 200 positions to its 60-acre campus in Alpharetta.
"The corridor is thriving," says Steve Stroud, executive director of Economic and Community Development for Roswell Inc. "We're seeing a lot of [new] IT professionals and medical-related industry. The other industry that's extremely strong in Roswell and North Fulton is the financial payment industry and the credit card processing industry. We're seeing a lot of new professionals, [and] we're seeing a lot of diversity in the business."
Johns Creek has welcomed a number of small businesses over the past year, including medical equipment retailer Heavenly Wheels, Monté Bella Boutique and School of Rock, which offers music classes.
On the healthcare front, Kimberly-Clark Corp. announced plans to spin off its healthcare business into Halyard Health Inc., a public company that will be based in Alpharetta, in May. Kimberly-Clark is expected to transfer 450 of the 1,000 employees that work in its Roswell campus to Halyard and hire an additional 200 employees at the new company.
"The thing that one of these projects brings – especially something like Halyard, which is very high-tech – it creates high-skilled, high-wage jobs," Tokar says. "High-skilled, high-wage jobs are what strengthen your community. You have a skilled workforce. They've invested in themselves to become skilled, which then translates into higher wages, which translates into more consumer spending."
A large number of high-skilled, high-wage jobs coupled with easy interstate access to other areas of Metro Atlanta with similarly desirable jobs such as Buckhead, Smyrna and the eastern portion of Cobb County has helped the cities within the Georgia 400 corridor build an affluent population. The median value of owner-occupied homes in the region ranges from $293,200 in Roswell to $462,700 in Milton, with Alpharetta and Sandy Springs nestled in between with median values of $324,300 and $426,800, respectively. By comparison, the median value of owner-occupied homes in Georgia is $156,400 and the median value in the U.S. is $181,400.
As a result, the corridor is a magnet for retail businesses that cater to affluent customers, including high-end automobile companies such as Ferrari, Porsche and BMW, all of which have dealerships in Roswell, and many of the retailers in Avalon.
Quality of Life
Outside of transportation and technology infrastructure, the corridor's greatest economic development assets are quality-of-life features such as education, greenspace and recreational venues, according to the region's economic and government officials.
Sandy Springs boasts a dozen parks and greenspace areas, including Abernathy Greenway Park, a 6.6-acre linear park located alongside Abernathy Road that features a playground and playable art for children to enjoy as well as a plaza, a patio and lighted trails. The city received an $800,000 Federal Transportation Enhancement (TE) grant through the Georgia Department of Transportation to fund a portion of the $3.25-million park, which opened in July.
"We started well short of what most communities have in park space," says Sandy Springs Mayor Rusty Paul, who took office in January. "So, we're working real hard to catch up. That's an important part of quality of life."
Parks and recreation facilities are one of the traits that distinguish Roswell from competing municipalities, according to the feedback Steve Stroud receives from site selectors.
"We've got over a thousand acres of city parks and trails, and we have 350-plus acres of national forest," Stroud says. "Our whole city borderlines the Chattahoochee River. We have access, and I think that piece adds to the new workforce that wants to participate and be a part of this community. I think that's a very special piece to have."
Education is another key component to landing companies and capital investment, and all the cities in the Georgia 400 corridor have strong public schools as well as several quality private schools.
"I think the first thing a lot of people recognize is good, quality education has become paramount," Nash says. "We really embrace education. We're fortunate to have great schools with very high test scores."
Three cities in the corridor, Alpharetta, Milton and Sandy Springs, are in the midst of planning or building city centers, which will house city government offices and provide opportunities for retail and residential development. Milton, which has a significantly smaller population than Alpharetta and Sandy Springs, is in the planning phase of developing its city center, which will reflect the personality of a city where 85 percent of the land is either residential or agricultural.
"We want to take that whole Milton feeling of a little more rural, a little more laid-back to our city center," says Milton Mayor Joe Lockwood. "Alpharetta's building a really big city center. So is Sandy Springs. We want ours to feel a little more homey, old-fashioned and inviting."
The new city center is slated to open in the Crabapple district in Milton in the spring of 2017. The city purchased just over two acres of land for the project at a cost of $900,000 following a unanimous city council vote in February.
Additionally, Milton's city council approved a $10-million revenue bond in May to fund the project. The bond will ensure city residents will not have to pay additional tax money toward the project, according to Lockwood.
Paul and the Sandy Springs city council are taking a similarly cautious approach to its city center development.
"We've probably got more questions than answers at this point," Paul says. "The biggest challenge is the front end, doing the planning, doing the analysis, figuring out how we want it to work [and] getting our partners on the same page. We're going to take whatever time it takes to get it right. I'm taking a 50-year [perspective] on this thing. I care what the people of Sandy Springs think about this process. I care more about what their children and grandchildren are going to think 25 to 50 years from now."
In June, the city's selection committee chose Carter-Selig Enterprises as the proposed master developer partner for the first phase of the city center. Carter-Selig presented the committee with several examples of their successful work on public-private development partnerships in Cincinnati and Columbus, Ohio. Funding for the project is expected to come from a combination of bonds, money from the city budget and a capital campaign, according to Paul.
The first phase of Alpharetta's 22-acre city center is scheduled to open this month. Located in the city's downtown, the center will feature commercial and municipal facilities. A new 48,000-square-foot city hall is the centerpiece of the project's first phase. Other amenities that are part of the initial phase include a five-acre city park, a one-acre town green, a public parking deck with 450 spaces and a branch of the Fulton County public library. Four blocks of space for future private development, including retail and office space, will be the focus of the next phase of the city center project.
While each of these city centers will be distinct and tailored to the needs of the individual cities in which they are located, they are expected to produce a common result.
"I think it's going to really strengthen their downtown areas," says Nash. "[They're] going to create a potentially vibrant downtown area for people to live and work."
Concentrating on Tomorrow
With thriving local businesses, continual corporate growth, strong healthcare facilities and outstanding public and private schools, the cities inside the Georgia 400 corridor seem well positioned for future development and prosperity. However, in the competitive world of economic development, the region's leaders have all identified obstacles for the positive momentum to continue.
The issues range from gaining public consensus on the city center project in Sandy Springs to alleviating a shortage of parking on Canton Street in Roswell to developing more office space in Alpharetta. In Milton, managing development is a challenge since the city's appeal for many residents is its rural landscape.
As the head of Progress Partners, Nash works directly with the mayors and economic development directors of each of these cities and understands the challenges within each city and the region.
"I want to celebrate what we're doing, but I don't want to dwell on today," Nash says. "I want to concentrate on what tomorrow's going to look like."
---
LOCAL FLAVOR
Fine Dining OTP: In the face of the recession, Roswell native Ryan Pernice decided to follow his passion and open his first restaurant, Table & Main, on Canton Street in his hometown.
"Roswell's been very lucky," Pernice says. "Canton Street in particular has always been – not immune – but somewhat protected from the throes of the recession. People were still eating out and doing all that fun stuff. Our hypothesis was 'I bet if we put a restaurant in people's backyards, those who are now driving from Roswell down to Atlanta would find a reason to stick around and eat on Canton Street instead of Buckhead.'"
The gamble paid off for Pernice, who began working as a cook in the kitchen of The Roasted Garlic, a Mediterranean restaurant in Alpharetta that is now closed, when he was 13. Since Table & Main, which specializes in Southern cuisine and fine wine, opened in August 2011, it has attracted diners from throughout the area and across Metro Atlanta. Pernice and his partner, Ted Lahey, who serves as the executive chef at Table & Main, opened a second restaurant, Osteria Mattone, an Italian restaurant on Canton Street, in November 2013.
The successes of Pernice's restaurants serve as an example of the vibrant dining scene in Roswell and Alpharetta. Roswell is home to nearly 200 locally owned and operated restaurants, which offer the city's residents a welcome alternative to national fast-food and casual dining chains.
Chris Sedgwick, co-owner and founder of Pure Taqueria, which opened its first location in Alpharetta in 2005, has witnessed significant changes in the sheer volume of restaurants in Roswell and Alpharetta since he opened one of the area's original fine dining restaurants, Van Gogh's, now Bistro VG, in Roswell in 1991.
"When we started Van Gogh's there, we were pretty much it," Sedgwick says. "We used to say it was 'Buckhead dining in Roswell.'"
Sedgwick credits the popularity of Canton Street as a destination for dining, shopping and entertainment as well as local government officials who are willing to work with restaurateurs as reasons for the growth of local dining establishments in Roswell and Alpharetta.
"They are open to reasonable conversations about solutions as opposed to creating roadblocks," Sedgwick says of the current economic development and city officials in Roswell and Alpharetta. – Scott Blusiewicz