Gainesville | Hall County: Ready To Roar
Educational, community and manufacturing investments.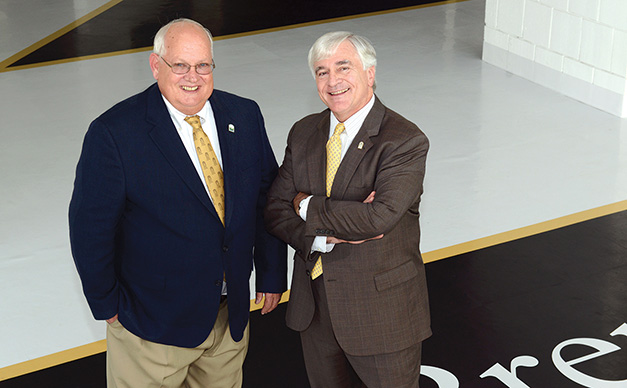 One of the newer residents of Gainesville lounges quietly near the intersection of Academy and Green streets. Her name is Lucile. She weighs 2,200 pounds, is 14 feet long and nearly 8 feet high. Believed to be the world's largest bronze sculpture of a golden tiger, the feline mascot of Brenau University, Lucile assumed her prime position at the new front entrance to the 135-year-old campus last October.
"That has become an instant landmark in Gainesville," says Brenau President Dr. Ed Schrader. "It is a beautiful piece and sets off that corner very well."
Brenau's paw prints seem to be all over Hall County, as if Lucile has done some nocturnal wandering. The Featherbone Communiversity, site of the Brenau East Campus including the Department of Nursing, is about a mile from the city's square. It was the school's first foray into repurposing an existing off-campus building seven years ago.
Based on that experience, the Brenau Downtown Center represents the university's "reinvigoration," Schrader says, of the former Georgia Mountains Center, which had outlived its usefulness as a convention space. Opening last spring with a gala for about 500 people, the downtown center has meeting rooms, a 300-seat theater and also serves as a gallery to display art from Brenau's huge collection.
In addition, it will house a new doctorate in physical therapy program that will bring an estimated 300 to 600 new students to Gainesville and expand the university's already sizeable offerings in healthcare.
"We calculate that the downtown center, once it is fully populated with students, will have about a $40-million-a-year impact on Gainesville," says Schrader, noting that Brenau's economic impact on the city is already $100 million. "The other thing it does is it continues to make Brenau a part of this community. There are a lot of private schools that exist in a town, but aren't part of the town. Brenau tries very hard to bring the city to its campuses, through performances, the theater and outside lectures. But this takes Brenau to the city."
A few blocks away on the historic grounds of the university, whose core is still the undergraduate Women's College, construction began in August on a $6.5-million project to replace outdated buildings with four new sorority houses and a residence hall. A multi-purpose athletic park on 16.8 acres of land donated by Pacolet Milliken Enterprises Inc., should open by the spring of 2015. The $4.4-million project, located a couple of miles from campus at the site of the historic New Holland textile mill village, will be home field for the nationally ranked Golden Tigers.
"Brenau has just blossomed," says Gainesville Mayor Danny Dunagan. "It's just really growing by leaps and bounds."
Small Businesses Lead The Way
Dunagan and City Manager Kip Padgett hope the school's golden touch will rub off on the last two vacant parking lots owned by the city that sit adjacent to the Brenau Downtown Center. With incoming students in the physical therapy program needing a place to live, city leaders envision mixed-use developments rising from the corner of Main Street and Jesse Jewell Parkway.
"It's going to be a main entrance coming into town, so we want to put something special there," Dunagan says.
Land on the other side of the two-year-old pedestrian bridge spanning Jesse Jewell is also ripe for development.
A project called City View was derailed by the economic downturn, but Dunagan hopes there will soon be movement on the site, with his wish list including a hotel, office building and convention space to replace the Georgia Mountains Center.
Other than those two lots, downtown is thriving and appealing to a younger clientele with newcomers such as J.R. Crider's apparel and Pink Barre workout studio. Buttermilk Pie sells pastries to clients around the country and also to walk-ins.
"We have some smaller businesses buying buildings downtown and moving into much larger spaces and expanding because they've been so successful," says Catiel Felts, Gainesville's communications and tourism director.
Midtown Gainesville is also in the midst of a transformation. "The council decided several years ago they wanted to make strategic public investments to generate private development," Padgett says, citing the Midtown Greenway, the public safety facility and the Gainesville Connection transportation system.
Midtown Gainesville stretches from Jesse Jewell Parkway south to the railroad tracks along Moreno Street and is a more industrial side of town. It's also part of the city's Opportunity Zone, which was formed in 2010 and gives tax credits for businesses creating new jobs. The efforts are starting to pay off.
"You're seeing private business come in and reinvent themselves," Padgett says, "putting on new facades and locating new businesses in there. It's a slow process, but they're buying into the concept of Midtown being revitalized."
Downtown Flowery Branch is also seeing a sweet renaissance, spurred by the opening of a candy store and other businesses owned by women.
"We've always had businesses here working on Main Street," says City Manager Bill Andrew, "but it seems in the last year and a half or so we had a different type of new entrepreneur moving in and wanting to really make a change in their life."
Karen Ching owns Liberty Candy Co., which makes its own sweets and also offers nostalgic candies taking folks back to their childhoods. Ching restored a rundown building, putting the candy store at street level and providing office space on the second floor for six other businesses.
Ching, whose family owns Coppersmith and Liberty Steel Fabricators up the street, also bought another piece of property containing a dilapidated house, which she plans to tear down, Andrew says, and replace with a building of similar mass.
"She's just a powerhouse of energy," Andrew says. Other Flowery Branch businesses include a health and wellness center, hair salon, antique shop and bakery.
A new specialty beer shop, Growlers on Main, and the restaurant Antebellum are popular food and drink destinations. Meanwhile, more people have been getting to know downtown thanks to the local farmers market, which moved from a subdivision library parking lot and is held Thursdays from spring to October.
Andrew says Flowery Branch leaders believe it is time for the city offices that had long kept Main Street active to "back off and let the private sector take over" by moving to a nearby location.
An Olympic Venue Reborn
More sprucing up is taking place at the Lake Lanier Olympic Venue, now under the auspices of a public-private partnership. The city of Gainesville and Hall County, which had alternated responsibility for the venue on a yearly basis, turned over the reins on July 1 to a nonprofit entity, Gainesville-Hall '96, which will also manage Clarks Bridge Park.
Morgan House, a former national champion in kayak with international experience, was hired as venue manager. He says the Gainesville-Hall '96 board has approved spending on immediate needs, including buying two new docks and renovating the restrooms in the boathouse area.
Lake Lanier recently hosted the 2014 USA Canoe/Kayak Sprint National Championships as well as the national championships for masters competitors.
The venue is currently bidding for the 2016 Pan American Canoe/Kayak Championships, which is an Olympic qualifying event, and the 2018 Dragon Boat World Championships.
"We'd like to host more national-level events," says House, noting that the venue also can accommodate triathlons. "We're looking at doing festivals, maybe a beer festival, and holding concerts and other types of community events where people can come together and explore the venue."
A new bridge on Clarks Bridge Road, replacing the existing bridge, as well as a new pedestrian tunnel will increase access and promote safety.
Kit Dunlap, president and CEO of the Greater Hall Chamber of Commerce, says longterm plans are in development to bring housing and a hotel or motel to the area. "Might as well dream big," she says.
Green and Growing
In a region known for its poultry, some eggs are finally about to hatch.
The Northeast Georgia Medical Center (NGMC) is opening its $200-million Braselton hospital in the spring of 2015. An adjacent medical office building should open in January.
NGMC worked closely with the Georgia Department of Transportation to widen and straighten State Route 347, and the work was completed ahead of schedule.
"It wasn't going to be very good if we had a hospital open and people couldn't get to it," says Carol Burrell, president and CEO of Gainesville-based Northeast Georgia Health System.
The 100-bed hospital was sorely needed in the southern part of Hall County and is being built with the infrastructure to expand to 350 beds in the future. It will bring 500 jobs, and NGMC is actively accepting applications.
"It truly will exemplify healthcare close to home," says Burrell, "and will reflect a state-of-the art facility with the highest quality medical staff and clinical staff."
The new hospital is being built with a keen focus on sustainability, including geothermal wells, dark sky lighting, which minimizes light glare into the night sky to allay community concerns over light pollution, and green roofs to act as solar shades. Builders are recycling 95 percent of the waste on site.
"We are targeting a 60 percent energy reduction in what is consumed by a typical hospital and 35 percent reduction in water consumption," says Burrell, who is seeking Gold Level LEED certification. "We are getting a lot of contacts from other facility systems throughout the country, so I anticipate that we will have a lot of interest from people wanting to see what we've done and how we've done it."
The main Gainesville campus of NGMC, which has 557 beds, was named one of the 100 Top Hospitals in the nation for the third time and second year in a row according to a study released by Truven Health Analytics. It is one of only 20 large community hospitals across the country – and only large community hospital in Georgia – to make the list.
In December, NGMC Gainesville was designated a Level II Trauma Center, which means the hospital has a full range of resources available at all times to handle all types of traumatic injuries. For area residents, this means access to treatment following a car accident, for example, is now much closer to home.
Also coming closer to home, the Smithgall Woodland Garden is expected to open in May 2015. The 168-acre public garden is an offshoot of the Atlanta Botanical Garden on land that was donated in 2002 by Lessie Smithgall and her late husband Charles Smithgall.
"We've been talking about it for a long time, and we're inching toward the end of construction," says Mildred Pinnell Fockele, vice president of horticulture for the Atlanta Botanical Garden, who will be the director of the new site. "The first year we're shooting for 25,000 visitors. I think programming will drive a lot of that."
The native plant conservation nursery, one of the largest in the Southeast, moved from Atlanta to the Gainesville property two years ago.
"The land in Atlanta is expensive to use for backup purposes, and we've got plenty of room," Fockele says. "It's a great space to be able to grow the plants for safeguarding."
More than Chicken
Hall County and Gainesville continue to nurture businesses from near and far, including homegrown companies such as Mansfield Energy and newly arrived innoBots of Israel, which makes robotic devices.
There are 42 companies from 18 countries calling Hall County home, including the first manufacturing/headquarters operation from the Czech Republic in the state of Georgia, called ALBAform. It opened in Oakwood last year and is an automotive seating supplier.
Jinsung T.E.C. Inc., a Korean-based manufacturer, will locate in Oakwood South Industrial Park, creating 30 new jobs and investing $10 million. The company is the newest supplier for the Caterpillar plant near Athens and makes undercarriage assemblies.
Existing companies are also investing in expansion, notably King's Hawaiian, which makes bread and rolls. It plans to add 481 new jobs and three new baking lines for an investment of more than $85 million. Big Creek Foods announced in June that it will create 25 jobs at its new pet treat processing facility.
"Hall County is very diverse," says Dunlap. "It's not all poultry, no matter what my friends in downtown Atlanta think. "
She cites automotive, IT and life sciences as examples. "Then you have healthcare," Dunlap says. "Fortunately, it's been good everywhere, but it's been extra good here."
Tim Evans, vice president of economic development for the Greater Hall Chamber of Commerce, points out a trend in which manufacturers – some already in the county for decades – are moving divisional and even national headquarters next to their production facilities.
"And many of these international subsidiaries are looking for one location to serve as both their North American headquarters and production," he says. "That's a real sweet spot for Hall County because we have both the skilled workforce for the production and the quality of life to support the headquarters."
Hall County also has access to the airport in Atlanta and the port in Savannah.
Also within the region, Georgia 365 is becoming an increasingly significant corridor. Kubota, the manufacturing mainstay from Japan, is located just off the road. Later this year, the Georgia Poultry Laboratory Network is expected to open its science laboratory and headquarters. The lab is the first tenant in the new Gateway Industrial Centre, a 500-acre development.
"We're extending sewer up that corridor, and it's going to open up a whole new area of Hall County for business and commercial development," Evans says.
The corridor flows north from New Holland Marketplace, a large property anchored by a 125,000-square-foot Kroger that opened in March.
"If you can't find it in there, you can't find it in a grocery store," says Dunagan.
The same could be said for Hall County.
---
LOCAL FLAVOR
A Race to the Finish: The Far East meets the Deep South when dragon boats glide across Lake Lanier.
Organizers expected about 7,000 spectators for the 19th annual Hong Kong Dragon Boat Festival September 13, which combined a day of racing at the 1996 Olympic venue with pageantry and entertainment from countries throughout Asia.
"Dragon boat racing is to China what baseball is to the United States," says Gene Hanratty, the Atlanta-based senior consultant for the Hong Kong Economic & Trade Office, the festival patron. "It is a purely Asian-derived sport, and it's one that's taken very seriously and is growing like gangbusters throughout the world," he says.
A maximum of 72 teams can enter the Lake Lanier event. Hanratty's organization owns the eight 40-foot boats, which are decorated with dragon heads and tails.
Buddhist monks bless the boats prior to the morning racing. Opening ceremonies, held at lunchtime, start with a bang – firecrackers. The "dotting of the eye of the dragon" symbolizes the awakening of the creature.
Each team is composed of 22 members – "one to steer, one to beat the drum to keep cadence and 20 people paddling for all they're worth," Hanratty says.
While four boats race, four are filling up, making competition continuous.
Attendance is free, but teams – including companies seeking a team-building exercise – and vendors pay a fee. The festival is a fundraiser for the Lanier Canoe & Kayak Club.
"It's the best hands-on cultural diversity event in the Atlanta area," Hanratty says. "And it's a lot of fun." – Karen Rosen