Athens | Clarke County: Diversifying An Insulated Economy
Student impact, downtown development and manufacturing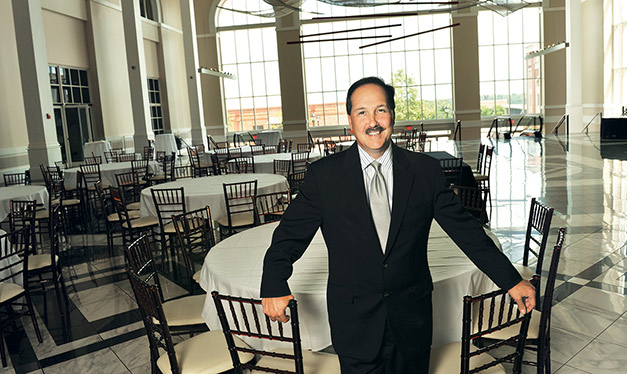 In Athens-Clarke County, local officials will sometimes say they have an insulated economy thanks to the presence of the University of Georgia and its nearly 35,000 students. While that's not exactly true, there is much to be said for having the state's biggest and oldest center of higher education right in your backyard.
It's easy to understand just how important this venerable university has always been to Georgia's smallest county when you see the steady streams of students flooding across Broad Street from North Campus into the historic business district. They are clearly a big reason why the downtown boasts some 45 restaurants and a growing number of retail establishments.
Students are also a big reason for the resurgence of construction in downtown Athens that has been blocking streets and making hard hats a common sight. In fact, the student-housing sector is one part of the residential real estate market that has weathered the recession.
Construction of The Standard, a 190-unit student complex at East Dougherty and Thomas streets, was completed this fall, while Georgia Heights, a mixed-use building including both retail and residential, is underway at the corner of North Hull and Broad streets and scheduled for occupancy sometime next summer.
"Students are often the leaders into new marketplaces," says Chris Blackmon, a principal at ATLAS Real Estate Advisors. "That's because on a larger macro-level, the student housing development project is one that can be financed. When the recession occurred, there were many projects that couldn't be done because there was no appetite for them on the financing side of things. However, one exception was student housing. So you have a built-in tenant base with a development opportunity and financing behind it, so there's been a little bit of filling of the vacuum in the development world building student housing."
Construction is also underway on the site of the old SunTrust Bank building on Broad, which will transform a former large parking lot into a thriving development. The six-story, $50-million mix-ed-use project will include 289 bedrooms and 40,000 square feet of restaurant and retail space.
"Downtown Athens is really a shining bright spot in Athens and Georgia as a whole," says Blackmon. "It's a wonderful area that has this neat historic aspect to it that transitions into [UGA's] North Campus."
During special events like graduation and on football Saturdays, when thousands of fans and alumni descend on Athens, the impact of the university and its students becomes readily apparent, Blackmon says.
When people talk about Athens, they're usually talking about this downtown area.
"The unified government realizes that downtown is the quality-of-life piece of being here, and when people think Athens, downtown is what they have in mind," says Pamela Thompson, executive director of the Athens Downtown Development Authority (ADDA).
The city has lately backed up that idea with Special Purpose Local Option Sales Tax (SPLOST) money. It's channeled funding into a massive streetscape and infrastructure upgrade in the East Clayton Street section of town. This two-year project has included new storm- and wastewater work along with conduits for fiber to support high-speed Internet access.
"Next year they will start replacing sidewalks and putting in more pedestrian features and amenities and really concentrate on creating more of a sense of place for downtown," says Thompson. "We really have had an influx of students and student housing, which really creates a vibrant atmosphere downtown. As markets dictate, we hope it opens up other types of housing for young professors and empty nesters so that you've got full housing opportunities for everyone who wants to live in downtown all the time."
Firing on All Cylinders
In a state that has struggled to regain its economic footing, Clarke County has landed more than its share of new businesses and jobs. Employment in the Athens metro area is expected to increase by 1,500 jobs in 2014 – mirroring 2013. That comes thanks to some big industrial wins, according to the Selig Center for Economic Growth at the University of Georgia.
"We're firing on all cylinders," says Ryan Moore, who heads the Athens-Clarke County Economic Development Department. "The construction industry is back. We're starting to see a commercial resurgence. The industrial sector has been very strong for us over the past few years."
First there was the $200-million Caterpillar project, which Athens shares with neighboring Oconee County, and the slightly smaller $185-million investment by Ethicon, a division of Johnson & Johnson, into a plant that makes surgical sutures.
These projects illustrate two growing trends that may signal the economic future of not only this region, but also the state as a whole. Caterpillar is a good example of advanced manufacturing, where high-tech methods of production have won out over the advantages of lower-cost off-shoring of production. The plant will employ about 1,400 workers when it's running at full capacity.
"[Ethicon is] another good example of a biotech life science company that's in Athens," says Moore, who also serves on the board of the Innovation Crescent, a consortium of officials dedicated to helping grow the technology industry in the state.
Ethicon is expanding its Noramco facility and creating about 75 new jobs for the area. It will build a 100,000-square-foot facility here while also upgrading its Cornelia plant that produces the raw materials for sutures. Noramco, which has operated the Athens facility since 1981, manufactures pharmaceutical ingredients used in medications and medical devices. Both companies are subsidiaries of Johnson & Johnson.
Until recently most people didn't really think of Athens as a manufacturing town. Most of its plants are tucked away in industrial parks, and these companies often keep a low profile in town. Yet these industries employ about 10 percent of the local workforce and pay 40 percent higher-than-average wages.
Baxter Pharmaceuticals, just 40 miles away in Covington, will be offering jobs to about 1,500 people, and many will come from Clarke and surrounding counties. This rise of biotech has prompted economic developers to even go so far as to say that the Ga. 316 corridor may just become another Research Triangle – the area in North Carolina formed by the cities of Raleigh, Durham and Chapel Hill.
While they don't get nearly as much press as the big guys, most jobs are still provided by small business. A growing number of them are finding their way to downtown Athens.
This historic area has been attracting small, primarily tech startup companies. Many of them are taking up residence in one of four hybrid coworking/incubator spaces located in buildings around town. The spaces, run by local nonprofit Four Athens, provide small companies with cheap office space (partially subsidized by the ADDA), various educational programs, coffee and a place to network.
"It's the non-tangible assets that are more important," says Jim Flannery, project director. "Most small companies don't really need an office, but what they need is connectivity to other people who are working on ideas like themselves. It's really the intangibles that you're getting for your $25 a month."
Companies in spaces like Four Athens can get help and advice from other members who may have already solved the same problem they're facing. If a server goes down, the guy down the hall could be the perfect person to get you back up and running. If a founder is preparing to pitch his idea to an angel investor, there are likely one or more entrepreneurs who have already gone through the process and can offer some good advice, according to Flannery.
The ADDA has supported the group by providing a small subsidy for some companies and helping negotiate leases with building owners whose spaces have been empty for a while and are willing to accept lower rent in exchange for putting the building back into service.
"We want to make sure all the tools are in place to be fully utilized, and that means the infrastructure, Class-A office space and retail is available," says Thompson. "We're making sure that the businesses that want to come downtown and expand downtown have access to the financial tools to help them do that."
Retail on the Rise
With more people now living and working in downtown, the area also seems poised to jumpstart its retail offerings as well. While most of the shops occupying these buildings have tended to be of the boutique variety, local developers like Blackmon think more diversity is just around the corner.
"Part of the reason that we've seen the boutique so heavily is because of the style and shape of the buildings that exist in Athens," he explains. "The period when most of the buildings were built was a time when the storefronts were 18- to 22-feet wide and they were very deep, so you had almost a shotgun look. This is difficult for a national company that's used to a 40-foot-wide [footprint] and can't fit their retail concept into the space. The boutique can make it work."
Outside this historic core, there are larger structures that are more conducive to the size and shape needed by these retailers. One of these buildings could be home to a grocery store – high on the wish list for the city, he adds.
The area is also home to a facility that has been called "the crown jewel of Athens." Better known as the Classic Center, this meeting and convention center is coming off its most successful year ever.
A couple of years ago, city leaders persuaded voters to fund a $24-million expansion of the center that doubled convention space and created an enclosed atrium. The expansion also enclosed the courtyard in glass to create a space for receptions and provided a front door to the center on Foundry Street.
"Prior to the expansion we were sitting at 30,000 [hotel] room nights that were actualized through the convention trade, and just this year we finalized our number and were up to 58,000 room nights," says Paul Cramer, executive director of the Classic Center. "We nearly doubled what we were able to do."
UGA's Terry College of Business identified the center as one of the main economic drivers for the city, and that has certainly been the case. Just last year it generated more than $65 million in economic activity for the area.
Even as downtown has flourished again, other retail centers have not done as well. Some retailers on Atlanta Highway – the Gap, Old Navy and others – have lately been fleeing across the county line to the new Epps Bridge Centre off the Oconee Connector. These stores "are going to go where the rooftops go," says Moore. Population growth in the neighboring county has suddenly made demographic sense to stores seeking new customers.
In the meantime, the Georgia Square Mall has been able to maintain a 94 percent occupancy rate and recently persuaded rue21 and Men's Warehouse to relocate to the mall rather than leave the corridor.
"Our local government recognized we have some challenges facing us on two major gateway corridors," says Doc Eldridge, president and CEO of the Athens Area Chamber of Commerce. "And we've got a group of people, including owners and government officials, who are working on making some corrections to try to help that corridor resurge and go through a bit of a renaissance."
Moves are now underway to improve traffic along the Atlanta Highway corridor and make it easier for motorists to get in and out of stores on the heavily traveled roadway. In addition, a number of special events are planned to focus more attention on the mall itself.
The city is also working to generate more economic interest in the Lexington Road corridor that stretches from the eastern edge of downtown Athens southeast to the county line. A discount retailer will be moving into renovated space in the Willowood shopping center at the corner of Gaines School and Lexington roads, and a new gas station-convenience store will be coming to space across Gaines School Road from the shopping center.
Local leaders may talk about an insulated economy based on the large university population, but diverse development activity indicates they aren't resting on the idea – or taking it for granted.
---
LOCAL FLAVOR
Picture Perfect: When you're watching a movie or television show and see a downtown street or a college campus, there is an increasing likelihood it was shot in Athens.
Features such as Trouble with the Curve, A Walk in the Woods and The Spectacular Now were shot either partially or entirely here in Clarke County.
"One of the reasons that they like Athens is we've got a wide variety of locations," says Jeff Montgomery, Athens' Camera Ready Community liaison. "We've got a very compact, interesting downtown that has subbed for several different city locations, but you can also be in the middle of the countryside in 10 minutes if you need a farmhouse or a lake."
And the University of Georgia – particularly the picturesque North Campus – makes for an appealing location for a college scene.
In recent years, the number of film crews visiting the area has increased – as it has in other Georgia locations. That's largely due to the generous 30 percent tax credit the state offers. Of course getting films to the state is easier than getting them to your particular town – that requires having the right locations.
While Athens has always had the right locations, it recently gained a new attraction for movie crews – its own film studio.
Starland Studios has six full shooting stages, a big back lot and a 42,000-square-foot studio. Located out on Old Monroe Road, the facility has just about everything a crew might need when a city street or university campus won't do.
The studio will offer more opportunities for local film professionals to avoid the long trip to Atlanta or other places in search of work, and that's really the whole point of promoting the industry, according to Montgomery.
"It's not just the economic development of folks coming into town here – although that's great – it's the fact that it provides some opportunity for folks here to work here in Athens without having to travel to other places," he says.
Of course, the money the crews spend here is good, too, and the prestige of being the backdrop for some major pictures is nothing to sneer at either. – Randy Southerland