Expecting Excellence
A Q&A with UGA President Jere Morehead, who has big plans for the university's future.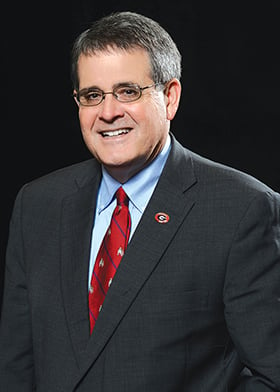 It's hard to imagine anyone better prepared to lead the state's flagship university than Jere Morehead. He's a 1980 UGA law school graduate who became president in July 2013, after serving as senior vice president for academic affairs and provost.
In between he was an assistant U.S. attorney for six years and then a distinguished UGA teacher and administrator, recipient of the Josiah Meigs Award – the university's highest award for teaching excellence – and the Richard B. Russell Award for Excellence in Undergraduate Teaching. He directed the Honors Program and served as the faculty athletics representative.
Georgia Trend's Susan Percy talked to Morehead in his office in Athens about the first year of his presidency, an upcoming capital campaign, a new emphasis on economic development and how he stays connected with the students.
Following are edited highlights of the interview.
GT: What has your first year as president been like?
Morehead: Truly wonderful.
GT: Any surprises?
Morehead: Even though I have been at the University of Georgia for 28 years, being the president puts a different perspective on a lot of things. The greatest challenge for me has been balancing all the requests that are made on the president's schedule and trying to be fair and equitable.
GT: Any highlights of the past year we should know about?
Morehead: We are very proud this year we have returned to the Top 20 ranking in U.S. News & World Report for public research universities. We moved up from 15 to 10 in Kiplinger's ranking of best values in public education. We came in No. 7 in Washington Monthly's Best Bang for the Buck. We're on the Public Ivy list again this year. The American Council of Trustees and Alumni gave our undergraduate core curriculum an A rating.
GT: That's an impressive list.
Morehead: There have been a lot of good things going on at the university during my first year as president, but I think it's important we don't sit around and pat ourselves on the back. The minute you start doing so, you will fall behind. My responsibility is to try to keep us aggressive and moving forward in all areas.
GT: State funding for higher education has decreased considerably over the last few years, by 17.5 percent from 2009 to 2013. One report projects state funding per student to be 52 percent lower in 2015 than in 2001. Would you talk about that?
Morehead: I don't see a great deal of benefit in being focused on the past. I think it's better to talk about the present and the future. Certainly this year we received a tremendous amount of support from the state. We were able to do the first merit raise in many years at the university. I think that merit raise has created a lot of positive feelings from those employees who were doing good work and have been rewarded for that good work this year.
GT: Any other significant funding?
Morehead: Thanks to the support of the governor, the chancellor, the Board of Regents and the General Assembly, we were able to have funding approved for a new science learning center. That's going to be a spectacular facility. We have not really done anything in the area of improved classroom support for undergraduate science education in 50 years. So this is a significant and very positive development. The governor and General Assembly also approved funding that will allow us to expand and renovate Baldwin Hall, which is the heart of our School of Public and International Affairs. We received support for a number of agricultural research projects as well.
GT: So you are pleased with the way the legislative session treated the university?
Morehead: I think the state recognizes the importance of the University of Georgia to the future of the state, and certainly I have made it clear that our university recognizes how important it is for us to support the state. We are in a very good place with respect to the support we are receiving.
GT: Despite a good year for UGA, there is more pressure than ever on public universities and colleges to raise funds. How does this affect your job?
Morehead: Raising private funds is the responsibility of every major public research university. Quite candidly, the University of Georgia has to do more and is doing more to strengthen our private fundraising efforts.
GT: Anything major in the works?
Morehead: We have just completed a very successful year in fundraising, and we are in the silent [beginning] phase of a major capital campaign. We have set a goal of not less than $1 billion for this campaign.
GT: When you are raising private money, what do you emphasize? What gets checkbooks to open?
Morehead: Everyone wants to invest in excellence. They want to invest in things they know are strong and getting stronger.
GT: What in particular?
Morehead: Some of our supporters want to invest in our research enterprise. Those supporters recognize that a growing research enterprise is not only beneficial to the university's academic ranking, but that much of that research has implications for the state of Georgia and beyond and is important in advancing knowledge throughout the world.
Some of our supporters are concerned about continuing improvement in the quality of education and want to help us to continue to attract the best and brightest students to the university, so they invest in the university through scholarships and need-based aid and the like. Some of our supporters recognize that great universities depend on great faculty. To keep and attract great faculty, we need more endowed faculty positions.
In this campaign, we will be emphasizing the need for more faculty professorships and the need for more scholarships and need-based aid for our students.
GT: Over the last few years, there has been an emphasis on sciences at the university. What prompted that?
Morehead: Increasing federal grants is an important component of growing the academic reputation and impact of the university. The addition of the College of Engineering and the College of Public Health gives us the opportunity to compete for federal grants that would not have been available to the university in the past. There is a significant opportunity for our institution to grow the research enterprise.
GT: You opened an economic development office in Atlanta for the university. Why is that needed?
Morehead: I established that office on my first day as president. Economic development is a way we serve the citizens of Georgia, and we can contribute to economic development through the research of our faculty. I believe that Sean McMillan, who manages our economic development effort, is doing a very good job of connecting the university resources with efforts to grow business activity in the state. Sean's responsibility is to be the bridge between the faculty and the university and the work that the Department of Economic Development and others are engaged in to expand or attract business activity.
GT: So this effort is widespread?
Morehead: I'm not suggesting that every faculty member be involved in economic development. Faculty members have distinct roles and responsibilities in a university of this size and complexity. But as a whole, the university needs to be involved in supporting economic development, and we need to be devoting resources to be sure we are at the table and we are making a valuable contribution.
The current commissioner [Chris Carr] and the former commissioner [Chris Cummiskey] of the Department of Economic Development were former honors students of mine. I have watched them grow up and become very important players in this arena, and I certainly appreciate that it's important for our institution to support the efforts of economic development in the state.
GT: What about the size of the student body? Is it likely to grow?
Morehead: We're at about 35,000 students, which for the size of our community that surrounds our university is about the right size. We have been engaged in some measured growth of our freshmen classes – both last fall and this fall, [they] are a bit larger than in prior years. I would say our growth pattern would be small and incremental growth, not a significant change for the university. Anything we do from a growth standpoint can have an adverse impact on other institutions in state. So I believe the chancellor and Board of Regents would play an important role in that conversation as well.
GT: How does incremental growth affect students already enrolled?
Morehead: We're able to assimilate those students, able to assess what needs to be done to support those students before we increase the population again. We just announced a series of initiatives to provide additional educational support to our undergraduate students.
GT: What are they?
Morehead: We added more academic advisors. We've created undergraduate research assistantships for our best and brightest students. We've increased the number of courses available in some critical areas of undergraduate curriculum. We are trying to keep up with growth to make sure that our undergraduate students – the best students we have ever had at the university in our history – are receiving a quality education. We take our responsibility very seriously to be sure our students receive a sound educational experience.
GT: That's something important to you personally, isn't it?
Morehead: I chaired a task force on quality of undergrad education when I was a young faculty member, and I co-chaired a task force on education and student learning when I was serving as a university administrator. These are issues I pay a lot of attention to.
GT: Tell us about the undergraduate research.
Morehead: We are going to have, thanks to support of our athletic association, about 250 undergraduate students involved in paid assistantships working as a part of a sophisticated research team. There aren't many major research universities that have those sorts of opportunities available for their undergraduate students.
GT: How are UGA's retention and graduation rates?
Morehead: We have a very high retention rate, freshman to sophomores [94 percent], and a very high graduation rate [83 percent]. However, that doesn't mean that we can't do even better. One of the key components of high retention and graduation rates is adequate financial aid, and that's one of the important components of our [capital] campaign for that very reason.
GT: As president, you serve as chairman of the university athletic board. What's the proper role for a president regarding athletics?
Morehead: The NCAA makes it clear that the president has overall responsibility for athletic compliance. I meet regularly with our athletic director, Greg McGarity. Greg has assembled a very strong group of senior leaders that support that athletic program, that I believe understand the proper balance and role of athletics at a major university like this one.
My view is that you hire a great athletic director to run the athletic department, and you remain in regular consultation with that person. I believe our athletic department understands that we want students at the university that are student athletes, that have the desire and determination to earn a college degree.
I am as proud of the fact that our football team was recognized among only four universities for high graduation rates as I am of the success that team may have on the athletic field. We joined Stanford, Rice and Tulane in having outstanding graduation rates.
GT: Tell us about the SEC female scholar-athlete of the year.
Morehead: Perhaps the proudest moment for me this year as president was at the SEC banquet last May when I introduced the SEC female athlete of the year, a graduating swimmer from UGA, Shannon Vreeland. She had not only been an Olympic gold medalist and member of the team that won back-to-back championships, but she also had excelled in the classroom – a double major in international affairs and economics. Those are the kind of student athletes that make you very proud.
GT: Do you miss teaching?
Morehead: I am back in the classroom this fall. I am teaching a freshman seminar as part of our First-Year Odyssey Program at the university – an initiative by the university to ensure that all of our freshman students have a seminar with a tenured or tenure-track program faculty member in their first semester at the university. I think it's important that a president ensure that he or she is not isolated from the student body, and for me getting the chance to spend some time with freshman students through this seminar program is very rewarding and very important.
GT: How would you describe your priorities?
Morehead: Excellence is what we demand for our programs at the University of Georgia, and excellence is what we expect from our academic programs. So growing our research enterprise, increasing our already high graduation rates, serving the people of Georgia in more ways – those are the sorts of priorities I'm going to remain focused on as president.