Dalton | Whitfield County: Positioning To Maintain Momentum
Flooring, education enhancements and hospital expansion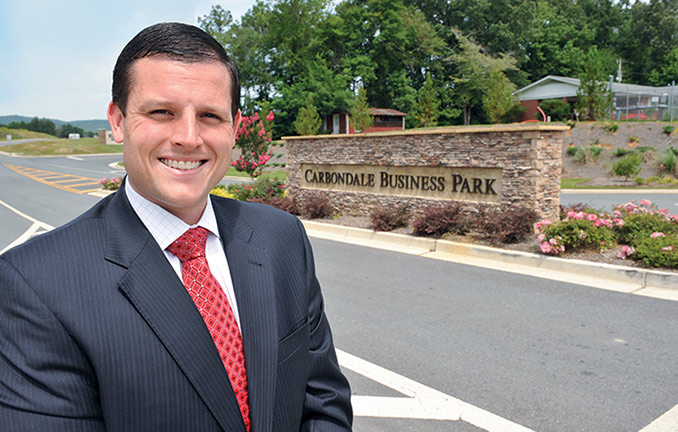 Fresh off an impressive year of economic development, the city of Dalton and Whitfield County are aiming to build on the positive momentum over the next several years.
Famous as the self-proclaimed "Carpet Capital of the World," the area, which is located off I-75 approximately 85 miles north of Atlanta and 25 miles south of Chattanooga, experienced a sobering economic downturn during the recession. As the nation's housing market collapsed, the effects were felt in the carpet and flooring industry, which responded by eliminating manufacturing jobs. Consequently, the average annual unemployment rate in Whitfield County rose from 7.6 percent in 2008 to 12.5 percent in 2009. Unemploy-ment remained above 12 percent through 2011.
Following gradual progress in 2012, Dalton and Whitfield County enjoyed a banner year in 2013 due in large part to the resurgence of the flooring industry. The area announced 15 new projects that will result in more than $500 million in new capital investments and create a staggering 2,019 new jobs.
Engineered Floors LLC, a Dalton-based carpet manufacturer, is responsible for the largest of these projects with plans to build a new manufacturing facility and a new distribution facility in Whitfield County as well as a new manufacturing facility in neighboring Murray County. The projects in Whitfield County will add 1,200 new jobs and represent a $350-million capital investment.
Additionally, Mohawk Industries and Shaw Industries, two of the local companies that helped the area earn its reputation as the epicenter of the carpet and flooring world, announced new projects in 2013. Together, the Mohawk and Shaw expansions will create a combined 495 jobs and $140 million in capital investment.
"2013 was the first full year that everybody was comfortable," says Brian Anderson, president and CEO of the Greater Dalton Chamber of Commerce. "And there's even some that might indicate that some expansion and added capacity was later than it normally would have been. The downturn was so long, deep [and] pervasive that everybody was scared. But last year, there was – I think – universal confidence that numbers were not just good, but housing starts and commercial investment plans were strong enough that they had to ramp back up to be ready to supply the product."
"I think the future looks very bright here," says George Sadosuk, mayor pro tem of Dalton. "I've just finished touring Mr. Shaw's new plant. The first phase of that is somewhere around 1.7 million square feet. It probably will be the largest and the most modern east of the Mississippi River right now.
"There are other promising things that have come about," he adds. "Chattanooga is moving out on things, and things are spreading out and coming our way. I think our future here – it certainly looks a lot brighter than it did last year."
Drawing New Industry
Although both Whitfield County and the carpet and flooring industry have bounced back nicely from the depths of the recession, city and county officials believe it is imperative for the area to attract other industries to expand the local economy.
Plans to acquire land and develop infrastructure for an industrial park began in 2010. Since then, the Carbondale Business Park has opened and attracted its first tenant, XL Brands, a local company that develops installation-related products for the flooring industry. Unfortunately for the county, XL Brands, which purchased a 16.3-acre tract in 2011, remains the lone tenant at the 238-acre facility, which boasts direct access to I-75 off Carbondale Road.
Nevertheless, Anderson and Andrew Carnes, vice president of economic development at the chamber, continue to field inquires from prospective companies about the facility, which is designated as a Georgia Ready for Accelerated Development (GRAD) site.
"The park has done everything we wanted it to do in the sense of getting us on the map," says Anderson. "It's a unique fit for some. It's gotten people looking at Whitfield County that wouldn't have looked otherwise. A match between a prospective company and the actual site – it's a one-in-a-thousand kind of a prospect. It has to be a very good fit. A lot of people have kicked the tires. It's turned out that other places were a better fit either for market conditions, location to their customers or market. But the fact that they're looking at us, we know that 60 potential clients means a win a lot more [often] than two."
In some cases, prospective companies have initially looked at the business park before turning their attention to other locations in the county.
"Just because they didn't locate in the business park doesn't mean that they didn't locate within Whitfield County," says Carnes. "We have had a couple of companies come to us and ask us about the park and realize that they didn't need interstate frontage. We were able to show them other pieces of property within Whitfield County."
Mike Babb, chairman of the Whitfield County Board of Commissioners, also believes that Carbondale Business Park, a major component of the county government's commitment to local economic development, is an asset to the county and will attract new companies to go along with XL Brands.
"We're always getting calls about it, and we show it quite often to both domestic and to foreign companies," Babb says. "I think it's a good thing for the state department of economic development folks because they know it is a GRAD-certified site. Now that they know us, they know we're into incentives, they know we're looking to diversify [and] they know we've got a park on I-75 that's ready to be developed. It's a good site to show for rapid development."
Another draw for businesses interested in the Dalton area are recent green energy initiatives of Dalton Utilities. Two phases of a solar-energy project that already provides 750 kW of energy have been completed, with additional phases in the works that will produce another 5 to 5.5 MW of electricity.
Becoming a College Town
In addition to the wave of expansions and capital investment, the growth of Dalton State College is viewed as a potential catalyst for Whitfield County's future.
Originally known as Dalton Junior College, the school first opened its doors in 1967. Since then, it has enjoyed steady growth from an initial enrollment of 524 students to more than 5,000 students in the fall of 2013. Along the way, Dalton State began the transition from a junior college to a four-year baccalaureate institution of the University System of Georgia in 1999. Today, prospective students can choose from 17 different bachelor's degree programs along with a variety of associate degree options.
"The city council and the county commissioners, everybody wants to really work with us," says Dr. John Schwenn, president of Dalton State. "They want us to be successful [and] to grow. They're really, really happy that we're doing four-year degrees, because a lot of those people will end up staying here when they graduate."
Students in degree programs such as chemistry and nursing can participate in internships and training with local companies and Hamilton Medical Center during their time at Dalton State. Then, they may transition into full-time positions following graduation.
Last fall, intercollegiate athletics returned to Dalton State following a 35-year hiatus, and the community has enthusiastically supported many of the college teams, especially the men's basketball program, which finished its inaugural season of competition in the National Association of Intercollegiate Athletics (NAIA) with a 26-4 record. Both college officials and community leaders believe the addition of athletics will provide a tremendous boost for the school and the community.
"I think the re-introduction of athletics will create growth in the community," says Don Cope, president and CEO of Dalton Utilities. "It will bring young people to the community."
As Dalton State continues to grow, other aspects of a traditional four-year college experience, such as residence halls, are expected to transform the campus and provide tremendous benefits to the area. Presently, the college has one residence hall, a converted apartment complex next to campus, with space for 287 students. With affordable in-state tuition of just under $2,000 per semester for full-time students, Dalton State has become an attractive option for people outside of Northwest Georgia.
"What I think is going to make a big difference is once we get more traditional housing with more beds instead of the apartment complex that we have," Schwenn says. "We need more beds, so a real building like you find on most campuses will be very helpful. What I think it's going to do is help bring additional people from outside the area. Many of our residents in our residence hall are from the Atlanta area, and there is still a huge pent-up need for more schools for people in the Atlanta area to go to. I expect that we'll have more students in that manner, and I think the housing would be great for that."
One possible solution for additional student housing exists in downtown Dalton, where city officials have set aside space for either a residence hall or an academic facility. Sadosuk believes either facility could spark development in the city's downtown.
"The college is the big key to the whole thing," Sadosuk says. "If we can get maybe a downtown campus for an MBA program or something like that or if we can get a dormitory downtown … you get 500 college kids downtown, that helps business. The city has property that we're willing to donate to the college, so we're working closely with them."
Workforce Training
Although Dalton State has received significant attention and visibility throughout the community, it is far from the only entity within the educational sector of Whitfield County. The county is home to a branch campus of Georgia Northwestern Technical College (GNTC) as well as two public school systems, Dalton City Schools and Whitfield County Schools.
With a need for more technically trained employees in the local workforce, Georgia Northwestern Technical College opened its Whitfield Murray campus in Dalton in 2011. Enrollment has increased significantly over the college's three-plus years in Whitfield County, from 249 students in the fall of 2011 to nearly 800 students at the conclusion of the 2013 fall semester.
"In three years, it's really grown," says Dr. Ginger Mathis, GNTC associate vice president of academic affairs and manager of the Whitfield Murray campus. "That just points to the need that business and industry have for that kind of technical training. The other thing about business and industry in the area [is that] they've supported us. They've helped us purchase equipment, and they've been very in-volved in program selection so that we offer what's needed in this area."
The combination of Dalton State and GNTC's Whitfield Murray campus give the county a tremendous source of workforce development and a foundation for improved quality of life, according to Cope.
"They bring a lot to the table," he says. "One of the things they're bringing to the table is the development of human infrastructure, which is really important. That piece of infrastructure is as important as wires and pipes and other infrastructure. They're changing the landscape with regard to how our people are prepared for the modern workplace."
A sense of collaboration exists between the county's two colleges and the public schools that serve as a significant feeder system for the colleges. A career academy is located on the GNTC campus, which provides local high school students with dual enrollment opportunities. Dalton State also provides dual enrollment options for high school students.
At the K-12 level, the public school systems work together since many students transfer between systems due to changes in residence, according to Dr. Judy Gilreath, superintendent for Whitfield County Schools.
Meeting Patient Needs
Healthcare is another important part of Whitfield County's landscape, both in terms of economic development and quality of life. Hamilton Medical Center, a 282-bed regional referral hospital, is the primary healthcare facility in Northwest Georgia and part of Hamilton Health Care System, one of the largest employers in the county.
"There's a number of different ways that we integrate and work with industry," says Sandy McKenzie, executive vice president and COO of Hamilton Medical Center.
"[Industry] work with us to help us recruit as well," McKenzie says. "From an economic perspective, our goal is always striving to bring physicians into this community. Many of their spouses may work in different industries, so it's important that we make those connections for them."
The hospital has been steadily upgrading its facilities, with a cardiac center and nursing unit upgrades completed last year and expansions to the facility's intensive care and wellness center currently underway. The $15-million intensive care unit expansion is expected to be completed by the end of 2015, with the $5-million wellness center expansion to follow in early 2015. Funding for these projects will come from the hospital's operations budget and through private donations.
Despite the incredible successes of 2013, most of the community's local leaders recognize there's more work to be done to keep the momentum going through the end of this year and into next.
"We've got the tools we need to be successful," says Anderson. "We've got a great team. But now it's a matter of that matching up. You've got to have 50 [prospects] in the pipeline to close one. We're at that threshold now."