Deep in the Heart and Soul of Georgia
A tour that showcases the best of downtown development is reworked to provide city officials an in-depth education.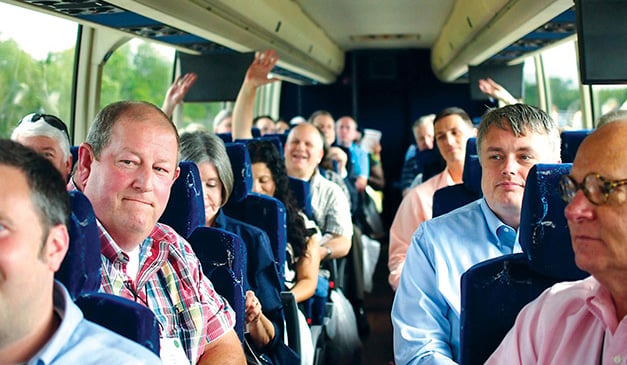 "If it ain't broke, don't fix it," might be good common sense much of the time. Not so at the Georgia Municipal Association (GMA) and its sister organization the Georgia Cities Foundation (GCF).
These two groups looked at a program that had worked well for years, the Heart and Soul of Georgia Tour, and "fixed" it this past May to increase its impact and serve a different audience.
With 13 years of showcasing the successes in cities and towns across Georgia and increasing public awareness of the GCF, a 501(c)(3) that provides funding for downtown revitalization, "we felt like we could do more," says Perry Hiott, director of community development for GMA. After asking questions like, "Were we accomplishing our goals?" and "Could we target different participants?" the GMA changed the entire format of the Heart and Soul Tour.
In previous years, the Heart and Soul bus tour carried business and philanthropic leaders, downtown developers, state agency representatives and state legislators on a three- to four-day, whirlwind trip through eight or nine cites.
This year, for the first time, it became a "mobile workshop for city officials," Hiott says. Tour participants included 36 municipal elected officials, key city staffers, downtown managers, and downtown development authority and main street program board members, who received education credits from the GMA for their participation. The tour was whittled down to two jam-packed days that provided an in-depth look at three cities – Valdosta, Thomasville and Moultrie.
Creative Financing Redefines Valdosta
Before the bus pulled up in Valdosta, Larry Hanson, the city manager, boarded to give a presentation and lay the groundwork for what folks would see once they arrived. Hanson started off by telling participants "what we learned when we started investing in our downtown." He walked them through the steps to success, including the importance of planning, building consensus – but, he added, "if you wait until 100 percent of everyone is in agreement, you'll never do anything" – and creating a master plan.
Hanson admits, though, that despite planning, there are always challenges to overcome. The biggest one, he says, is the idea of change itself. "Some people are resistant to change." Hanson believes this resistance is what led to the decline of downtowns.
Once in Valdosta, however, tour participants saw that the downtown area is something to be proud of. They explored three projects, each unique in its own way, that were selected to show the diversity of redevelopment that can benefit from various loan programs, Hanson says.
First up, the restaurants of Sue and Stanley Cox. The couple owned a casual restaurant in town, 306 North, located, appropriately enough, at 306 North Patterson Street. But "Valdosta needed an upscale restaurant," Hanson says. To fill the need in town, the pair now also operates upscale Covington's restaurant at 310 North Patterson. Right next door to that is a new two-story building with the pair's party supply rental business at street-level and their home above.
The Coxes are active members of the downtown community, Hanson says. They have not only created 25 jobs in downtown, they also often let officials use their home to entertain prospects. This unique residential-commercial project, including Covington's restaurant, the rental business and the Coxes' home, was made possible in part by two low-interest loans.
The tour also visited the new headquarters of a local chemical business, CJB Industries, in a long-abandoned and newly renovated downtown building. The company restored the building in a "very historically responsible manner," Hanson says. The company president, Clinton Beeland Jr., decided to use the ground floor as event space, which is rented out for weddings and corporate meetings, with the company headquarters located on the second floor. The newly refurbished space "meets a real community need," Hanson adds.
Finally, participants saw Ashley House, a c. 1924 hotel that spent time as a senior citizen's facility and is now being renovated. Using two tax-credit programs – low-income housing and historic – that freeze the tax value at the pre-construction value of the building for the next 10 years, the owners are investing more than $9 million in what will be a certified EarthCraft multifamily site when complete. This is "really going to be a blessing for downtown and for those who live there," Hanson says.
Beauty Begins at Street Level
Downtown Thomasville is a bustling network of streets – many of which are still paved with brick. "They had brick streets under the asphalt," says tour participant Evie McNiece, Rome city commissioner and former mayor. In 2012 they removed the asphalt and the bricks were in great shape. "It looks wonderful," she adds with more than a touch of envy in her voice.
In fact, one of the things that impressed McNiece most was the way the city "focused not just on having businesses and restaurants, but on the aesthetics of the area." She mentions underground utilities and complementing storefronts as prime examples. "It's that attention to detail that makes their downtown look really spectacular," she says.
Thomasville has some great projects on top of those lovely streets, too. "The first thing we showed them [on the tour] was some housing redevelopment in downtown," Steve Sykes, city manager, says. "It is critical to have adequate and affordable housing in downtown. It helps make downtown vibrant to have housing within walking distance."
Another project that's contributed to that coveted downtown vibrancy is the $8-million Mitchell House. The project, which was financed through the city, transformed a former 1894 hotel that had been abandoned for years into 30 upscale lofts and condos with street-level businesses.
"We have just started doing lofts and housing in Dublin in the last five years," Phil Best, Dublin's mayor and a tour participant, says. "Thomasville has been very successful with this."
Flowers Foods is also located downtown, contributing to the need for housing, retail and dining. "It's not just the 180 employees," Sykes says about Flowers' impact on downtown life. "It's visitors who come to Flowers. They make it profitable for our small, locally owned restaurants."
One of the downtown restaurants was the site of the tour dinner. Grassroots Coffee, a diner that opened in 2009 in a renovated historic building, hosted a Taste of Thomasville, with several local restaurants providing food for the group.
Put the tour locations together and you have what Sykes refers to as the formula for a successful downtown: a good mix of residential space, jobs and retail to serve the people who live in the area.
Natives Answer the Downtown Call
Downtown Moultrie is becoming a haven for locals who've gone out to see the world and decided they've got paradise right where they grew up.
The tour stopped at The Square restaurant – named for its location on the downtown square, not for its shape – for lunch on day two. The Square is owned by a brother and sister, who, after living all over the globe, moved home and started the restaurant with their families. Right next door in the long-vacant Friedlander's department store building, another local is expanding his successful Blue Sky Grill into part of the building and opening an event center in the other part.
Both projects got GCF low-interest loans, says Amy Johnson, Moultrie's Main Street and marketing director. Neither project would have been possible without the loans, she adds.
The restaurant owners believed it was important to be downtown. They like the close-knit community and the fact that downtown businesses work together on events that draw more than 90,000 people each year.
"One thing I'm proud of is our active downtown merchant's association," Johnson says. "Only we don't call it that. We call it the Downtown Moultrie Associa-tion. As our downtown diversified, we didn't want to leave out the attorneys, CPAs and others." The association meets monthly and often comes up with ideas, projects and plans that they bring to downtown officials. "I think that [the active association] is very important," Johnson says. "Not only does it ensure things are going on in downtown," it also makes members feel more like a family. Everybody knows everybody, she says. They all work together.
All of this activity is also drawing young people back to downtown, she says, which is not the case in many small towns. She points to a coffee shop and a couple of clothing stores that are owned by people in their 20s or early 30s. "I've enjoyed working with them," Johnson says. "They're teaching me things, like how social media is replacing advertising. They have a lot of great and fresh ideas."
And that's the point of the Heart and Soul Tour in a nutshell. The spreading of great and fresh ideas.
"I would absolutely recommend the tour," Mayor Best says. In fact, he hopes others from Dublin can attend next year and that he can participate again. Then he adds, "I think it was Larry Hanson in Valdosta who said, 'There is no finish line in downtown development.' He's right." And tours like this will ensure the spread of the best ideas to help revitalize and sustain downtowns across the state.