Douglasville | Douglas County
New businesses, conventioneers and road improvements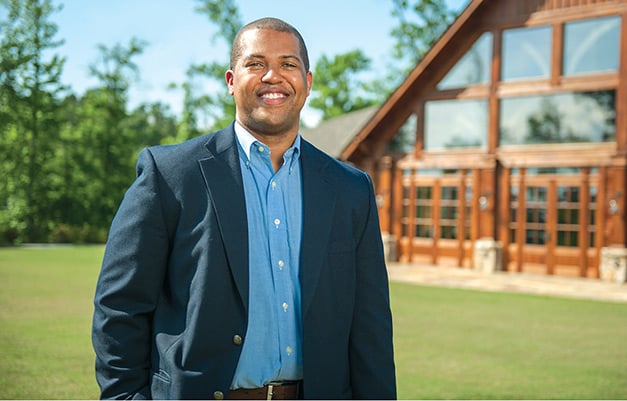 Just west of Metro Atlanta, Douglas County is a region in transition. Long a bedroom community that drew a surging population with cheap housing, the county has lately begun developing its own local job centers. Yet for the businesses that have taken root here, the big city and sprawling suburbs to the east are still the primary drivers of their success.
"Douglas County has a lot of pluses considering its location next to the hub of Atlanta and its proximity to the airport," says businessman Allen DeNyse, who moved to the area in 1981 because "I could afford a house here." A couple of years later he started a sign business in his basement. Since then the DeNyse Companies have grown into a 110-employee operation providing architectural, lighting and signage products in a 100,000-square-foot building.
With business interests that include real estate development, web design and a director's seat with Metro Bank, he has been in a good position to see the upswing in the economy and business.
The fate of his companies, along with many local enterprises, is closely tied to the economy of the Metro Atlanta area, he observes.
"We're passionate about trying to work locally," he explains. "The proximity to this economic engine is just a big driver for a lot of people who reside here. Most of the companies I know that are larger than five or 10 people really rely on Cobb, Gwinnett and Fulton to grow their businesses to the next level."
As a result, the economy in Douglas is getting better for operations large and small.
"We're seeing a very good upswing," says Kali Boatright, president and CEO of the Douglas County Chamber of Commerce. "I'm hearing from most of my local companies – particularly small manufacturing – that business is really starting to pick up. In the last year folks are busy and hiring again, which is a great thing."
Moving In
Locally owned businesses are starting to turn Douglas into a good place to work as well as live.
Expansions and relocations have created a definite upsurge in local employment. Over the last year, businesses in the county have added 960 jobs and contributed more than $140 million in capital investment, according to Chris Pumphrey, executive director of the Development Authority of Douglas County.
One of the biggest of these wins was the announcement that McMaster-Carr would acquire a new 700,000-square-foot building for administrative offices and order fulfillment on Riverside Parkway.
The company, which specializes in rapid, next-day delivery of industrial and commercial supply products, announced that it would spend more than $75 million for the new regional headquarters and e-commerce center. About 600 people will be employed at the facility, with that number rising to as many as 1,000, according to news reports. The company may eventually expand its operations to 1 million square feet.
"They're only relocating five miles from their old location, but those were jobs that we maintained here in Georgia," says Jeff Noles, executive director of the Douglasville Develop-ment Authority. "That project could have easily gone to another state. I know for a fact they explored opportunities in Texas, so for us this is a huge win."
This development is on one of the last sections of land once called New Manchester. The 2,000-acre mixed-use development was conceived in the 1990s along Riverside Parkway and sought to attract tech companies and advanced manufacturing operations. Over time, this section of Riverside became a bustling industrial hub that has attracted the likes of the American Red Cross, the law firm Alston & Bird LLP, Medline Industries Inc. and other companies.
Another victory came in February when Gordon Food Service broke ground on a 276,000-square-foot distribution center in the county. The facility will be fully operational in the winter of 2015 and will employ approximately 200 within three years.
Douglas County will also be the home of a spinoff from one of the state's biggest developments of recent years – the $1-billion Baxter Pharmaceuticals project. BioLife Plasma Services will build an 18,500-square-foot blood collection center in Douglasville on Chapel Hill Road.
"It's going to be significantly smaller than some of the other projects – about 55 jobs, but you're talking about a little over $7.5 million of capital investment," Noles says.
The company is billed as "an industry leader in the collection of high-quality plasma that is processed into life-saving plasma-based therapies."
BioLife centers purchase blood plasma from donors. After whole blood is removed, the red and white blood cells and platelets are separated and reinfused. With plasma collection facilities throughout the United States, the company collects nearly 3 million liters of plasma per year with the average center paying about $2 million annually for plasma donations.
One strong indication of an improving economy has been the reappearance of spec buildings in the area. Located at the intersection of Thornton Road and Riverside Parkway was the first – a 663,000-square-foot, $20-million structure erected by Industrial Developments International (IDI).
The company purchased the 58-acre site in 2012. Instead of marketing the land, IDI decided the economy was strong enough to justify a new industrial building without a major tenant. When construction was completed in 2013, the search began for a single company that could fill most if not all of the space. A wealth of data fiber in the area would make it attractive for technology companies or as a data center. Its closeness to Hartsfield-Jackson Atlanta International Airport and I-20 provide the access and transportation a manufacturing company needs.
"Once it was finished, it was the first industrial spec building in Atlanta," observes Pumphrey. "A couple of others have started since then, but they built an industrial building on spec and within 10 months they had a signed lease for the majority of the building."
As one of the largest land developers in Douglas County, many of the buildings on Thornton Road were built by IDI including those for Colgate, Google and Nioxin.
The stream of companies into the county has been fueled by a variety of factors beyond simply lower land costs, according to Pumphrey.
"For us it's been workforce and it's been access to talent, access to customers and access to the airport," he says. "It's infrastructure. We've got most of those factors on Riverside Parkway right off Thornton Road. They have three ways to get to I-20 and a couple of ways to get to the airport. And they're right in between two rail intermodal facilities. They're on the west side of one of the largest metropolitan areas in the country."
A Good Fit
The county is also increasingly becoming a magnet for tourists and conventions. A 350-room Westin Hotel and Conference Center is expected to get underway soon in southern Douglas at the Foxhall Resort and Sporting Club. The proposal calls for the hotel, a conference center, exhibition center and a golf course at a cost of around $135 million.
Foxhall owner Harrison Merrill Sr. recently asked the county to back $35 million in bonds that would give the development authority ownership of the conference and exhibition centers and pay for infrastructure improvements.
"It's a sporting club for folks who like to get out and do hunting and riding, but don't want to drive for two hours to get there," said Boatright. "For most people it's just 30 minutes outside of Atlanta." She added that "Foxhall is one of those exciting combinations of economic development and tourism."
The City of Douglasville has also gotten into the convention business with the opening of its new conference center last year. Thanks to funds from the hotel/motel tax, the city was able to build the $17.5-million facility and a 300-space parking deck on Church Street just across the street from its old convention center.
After looking at several possible locations, including a large development that would have included a major hotel chain, the economic downturn put the project on hold, according to Assistant City Manager Marcia Hampton.
"During that time we were getting ready to retire the debt on the existing building we opened in 2000, so we needed to find an alternative plan for the facility," she explains. "The decision was made to put the conference center downtown. We knew we needed something larger than what we had, but the goal was not to build something too large so we would be in competition with the Georgia International Con-vention Center [in College Park]."
Since part of the hotel/motel tax was earmarked for a new conference center, the city had to move forward on constructing a new facility if it wanted to continue getting the monies. It also needed a larger center that could accommodate events that were too small for one of Atlanta's big convention centers, but needed more space than could be provided by the average hotel meeting room.
"It's the only facility of its size on the west side of Metro Atlanta," says Hampton.
The conference center can accommodate meetings of up to 600 people with everything a group needs, from catering to audio-visuals, according to the city's Tourism Director Kimberly Bridges.
"We provide a turnkey service for them," she says.
This bigger conference center is expected to benefit businesses that have continued to fill the surrounding historic downtown in recent years.
The area has a number of restaurants, and one of them – the Irish Bred Pub – recently added a $200,000 deck to their establishment.
"We have businesses that are relocating to our downtown area," says Patrice Williams, community development and Main Street manager.
The city is also finalizing plans for improvements to its town plaza and will be enhancing streetscapes as well.
New Retail
Along with its conference center, the city has also turned to road building as a tool for economic development. The construction of the Bright Star Road Connector opened up the area between State Highway 5 and Bright Star Road just north of I-20.
"We're beginning to see some of the anticipated mixed-use development," says City Mana-ger Bill Osborne.
Academy Sports + Outdoors announced plans to open a 71,000-square-foot retail facility in the area. The store is expected to open later this year along with other businesses on the same site. The sporting goods superstore and other future businesses will be accessible from the Bright Star Connector and from an extension of Concourse Park-way on the west side of Highway 5 at I-20.
The city has also renewed its efforts to rehab the Highway 5 exit on I-20.
"That interchange is basically at capacity," Osborne says. "Several years ago we were working on a major project there that would have been a lot of commercial and some multi-family and office."
The Atlanta Regional Commission – which had to review the project – nixed plans for the development largely because the agency determined that the interchange couldn't accommodate so much new traffic.
"We lost the project, but the same people who own the property have continued to work on a much smaller basis," he explains. "We're trying to look at what can be done to upgrade the interchange."
The city retained a consulting firm to study the exit and surrounding roadways. The thinking now is to build a diverging diamond interchange that can better handle an increase in traffic without the high cost of a complete rebuild of the roadways.
"The whole idea is for us to be able to move forward in this part of the city with the type of overall economic development that we had looked at over time," Osborne says. "It's essential we address these transportation infrastructure concerns around that interchange."
Elsewhere in the city, a shopping center that had been given up for dead recently made a comeback. Douglasville Town Center is now bustling with shoppers, employees and students attending classes at Georgia Highlands College and ITT Technical Institute. The 33-acre property has also attracted other businesses, including a call center along with new restaurants and service businesses.
Located on Stewart Parkway, the one-story, 267,800-square-foot shopping center originally opened in 1990 with Walmart and Cub Foods as anchors. After retail moved further east to the I-20 intersection, traffic fell dramatically. Within a few years Walmart moved to a new supercenter and Cub Foods left the Georgia market completely.
Georgia Highlands leased the 44,000-square-foot Cub Foods space. While it underwent a $1.5-million renovation, the college began offering its first classes with 75 students in three trailers at Chapel Hill High School.
Along with the call center, space has also been taken by chiropractic and medical offices, along with a dance studio, gym and yarn shop. Thumbs Up Diner, which has other locations in Atlanta, has also opened in the center.
For Douglas County, all this activity is a sign that the economy is once more on a solid footing and that the future is once again looking bright.