A Focus on the Human in Human Rights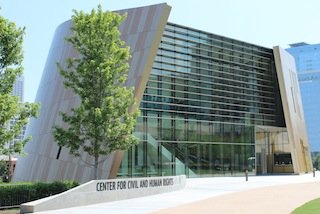 "Never doubt that a small group of thoughtful, committed citizens can change the world." – Margaret Mead
That quote is etched in the glass of the water feature outside the new National Center for Civil and Human Rights(NCCHR) in downtown Atlanta. It sets the stage perfectly for the stories that are told inside. The center includes not only personal accounts of the Civil Right's movement, but more importantly shows how that movement – born in Atlanta – continues to inspire people around the world.
It is a museum that stays focused on the human in human rights with three distinct exhibits – Civil Rights, Human Rights and the personal papers of Martin Luther King Jr. As you tour the exhibits, you travel from Atlanta, through the South and around the world meeting people who have put themselves in harm's way for their beliefs, their character traits and their efforts to make this world a more just place for everyone.
The center adds another wonderful attraction for international visitors," says William Pate, CEO of the Atlanta Convention & Visitors Bureau, who points out that the Martin Luther King Center is the No. 1 attraction for international visitors to Atlanta. "And by connecting those with the Streetcar, we've really got the whole package."
The NCCHR's package also includes a portion of Morehouse College's Martin Luther King Jr. collection, containing some of King's personal papers, which offer visitors a chance to get a feel for King as a man, says Terrie Rouse, the center's COO.
His report card from Crozer Theological Seminary, on display, reminds visitors of King's early and ordinary struggles, especially the C+ he received in public speaking – a grade that with hindsight is nearly impossible to believe. "I think maybe that inspired him to get better," Rouse says.
Be inspired yourself by a visit to the thought-provoking and uplifting National Center for Civil and Human Rights, which opened today, Monday, June 23.

The Water Feature at National Center for Civil and Human Rights
By Karen Kirkpatrick Kennedy
Image Credit: Karen Kirkpatrick Kennedy