High-Tech Scavengers in Columbus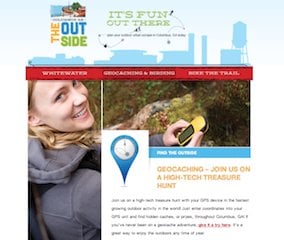 Visitors to Columbus can channel the city's namesake explorer by discovering hidden treasures. Instead of navigating by the stars, they use a handy GPS to locate 31 containers on the RiverWalk GeoTour.
"It's a high-tech scavenger hunt," says Peter Bowden, president and CEO of the Columbus Convention & Visitors Bureau, noting that people from as far away as Europe and Hawaii have participated.
Bowden says Columbus became the first city in the world to launch a geotour in May 2012, though others have since followed in its wake.
Looking for ways to promote its whitewater course, Bowden says that "with limited marketing dollars, we couldn't speak to a true international audience."
Groundspeak, an organization based in Seattle, put Columbus on the map through geocaching. Some 6 million devotees worldwide search for more than 2.3 million caches by going online to get GPS coordinates. They then log their finds, share their experiences and win prizes.
Shelby Guest, executive vice president of the CVB, met one young couple who had taken several geotours. "They said, 'We love this sport because we're able to get out and see parts of the city that we never knew existed,'" she says.
Each container tells a story about the area, such as the old Bibb Mill, the former dam on the Chattahoochee or the 1996 Olympic softball competition. They also reveal a letter of the alphabet. All 31 spell out a secret phrase, but we can't tell you what it says.
You'll have to discover that yourself. And discover more about what's happening in Columbus in this month's area focus
By Karen Rosen
Screenshot courtesy of the Columbus Convention and Visitor's Bureau