Columbus: Roaring Ahead
Connections, creativity and college kids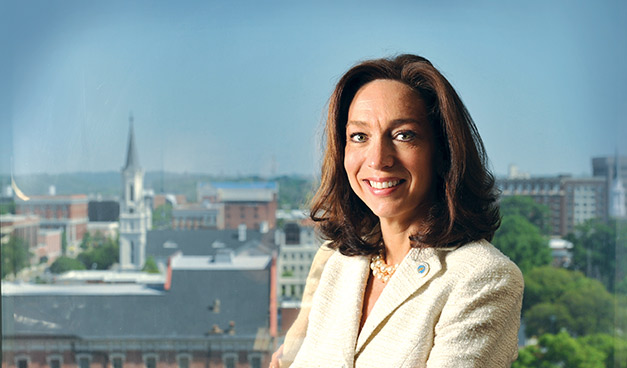 "Up" is the operative word in Columbus, and not just because of the new zip line that will whisk brave souls across the Chattahoochee later this year. A desolate area on a bluff overlooking the river is ripe for revitalization as a "creative village." And Columbus is pitching an ambitious plan to increase the number of flights taking off from its airport with high-speed passenger rail service to Atlanta's airport.
Factor in the city's thriving downtown, and it's fitting that Columbus has always called it "Uptown."
These projects have something else in common: potential for connections. The 1,200-foot zip line will not only link Georgia to Alabama (at 40 mph), but will complement Columbus' distinctive outdoor tourist attraction, the largest urban whitewater course in the world.
Mayor Teresa Tomlinson says that "with this new intensive recreational use of our river that had previously been dammed up for mills," a new era has arrived "that is bringing this fresh look at Columbus."
The redevelopment of City Village – a former mid-20th century mill town on 30 square blocks north of downtown – will tie Uptown and the Total System Services Inc. (TSYS) campus to the trendy Bibb Village neighborhood via the RiverWalk and the 2nd Avenue corridor.
"It will physically connect all of that investment in Uptown to this investment that's been occurring naturally and through the private sector in Bibb Village," Tomlinson says. "You'll have this continuity of vibrancy and intown living."
Meanwhile, high-speed rail, planned to begin in 2030 at a cost of $3.9 billion (in 2030 dollars, with a 30 percent contingency) "is about connecting the economic resources of Columbus with Atlanta," Tomlinson says.
She hopes to make Columbus a pilot project. "I actually am going to pitch to the Federal Railroad Administration that they need to come to Columbus first because we're doable, we're the least expensive, we already have the right-of-way largely in hand and we are not on a shared rail so we don't have to fight with Norfolk Southern and CSX," Tomlinson says. "We're now at the forefront of all cities in Georgia to be the first city for high-speed passenger rail connection to Atlanta."
Tourism Trends
Those on the zip line will settle for high-speed connection to Phenix City. Plans are to open by the end of the summer just south of the Cut Bait and Powerhouse rapids. A new splash pad with 32 jets is another new tourist attraction.
Richard Bishop, president and CEO of Uptown Columbus, says more than 16,000 people ran the rapids last year in the first whitewater season on the Chattahoochee.
"We only touched a small piece of the market in our metro area and just scratched the market in the Atlanta area," Bishop says. "We hope to get that number up to 25,000 or 30,000 this year."
By combining river activities with visits to the National Infantry Museum and Soldier Center, National Civil War Naval Museum at Port Columbus and the Coca-Cola Space Science Center, a trip to Columbus "really becomes an overnight stay," Bishop says. The ultimate goal is a multi-day visit.
Bishop says 11 new Uptown businesses – mostly restaurants – opened last year, and gross receipts for the entire area totaled about $34 million.
He expects substantial growth this year now that a whitewater outpost on the Georgia side of the river opened in January. Last year, the only check-in area was on the Alabama side.
Columbus also offers numerous dry-land activities, such as running and biking on its trails and RiverWalk, which make it a destination for physically fit families.
The Convention and Visitors Bureau uses the slogan "Conquer the Outside" in its marketing, urging visitors to "plan your outdoor urban escape" in Col-umbus. A new app includes information about rafting, fishing, running, biking, geocaching and even birding. Lucky birders have already spotted the two bald eagles that live downtown.
The number of visitors increased from 1.3 million in 2012 to the 1.7 million last year.
"We think it's because the city keeps reinventing itself, keeps adding product," says Peter Bowden, president and CEO of the CVB. "It was rare that we walked into any meeting or gathering across the state or even in the Southeast that the conversation didn't start, 'Well, tell me about whitewater.'"
The bureau has been focusing more on social media and digital marketing to tell its story and will roll out a more interactive website this summer.
Burgeoning Downtown
While Columbus' appeal has long been evident to those booking family and military reunions, it has found recent success selling downtown as a meeting campus. The convention center, RiverCenter for the Performing Arts, Civic Center and Springer Opera House are all within walking distance.
The Georgia Thespians, who have about 4,000 young participants, have felt at home for several years in a city showing an increasing commitment to the arts.
Columbus raised $100 million to build the RiverCenter, then Columbus State University came up with another $100 million to move its colleges of music, art, theater and communications to what is known as its RiverPark campus. In April, CSU opened art studios in the old Seaboard Depot.
The university's history, geography and astronomy programs are also based in Uptown, and CSU's footprint continues to grow.
At press time, President Tim Mescon was negotiating to buy the former Ledger-Enquirer building in hopes of moving the college of education and the health professions in the school of nursing to the 176,000-square-foot space. That would leave room on the main campus for an expansion of research activities and an honors college.
"We're deeply involved in this whole gentrification of the riverfront area," Mescon says. "We've got over 1 million square feet here in about a dozen different buildings and 500 student beds downtown, but the acquisition of the Ledger-Enquirer building would really be an exclamation point on our RiverPark campus."
The move would give CSU, with an enrollment of 8,300, about 3,000 students downtown.
Shuttles take students back and forth to the main campus six miles away. "They're only 20 minutes apart, but it's two completely different lifestyles," Mescon says. "No other university in our system has this kind of a live-work-play geography for our students on the banks of the Chattahoochee River. We think you get a unique urban experience here, but in a smaller city environment."
While universities typically own their own housing, CSU partnered with a private developer to install students in a gorgeous three-story walkup that opened a little over a year ago.
"We said we can fill up any bed that's built downtown," Mescon says. "It filled up in like 15 minutes. "
Non-students are also vying for living space Uptown, including apartments and condominiums in renovated mills such as Eagle & Phenix, developed by the W.C. Bradley Co., and the Lofts at Swift Mill.
Pace Burt bought the old Swift Mill, once a large denim manufacturer, in 2007, and didn't abandon the project after a massive fire destroyed 70 percent of it in 2011. However, Burt lost his tax credits and incentives after the fire.
"The project was literally dead in the water in 2012," Burt says. "We were really in a big mess. The state wanted to see these buildings renovated, but they've got guidelines, too, that they have to follow."
Burt still had 300,000 square feet left over. He worked with a consultant to convince the state that the remaining structure had historical significance and received tax credits to rehabilitate the structure.
The first building opened Jan. 1, 2013, and has such artsy appeal, Burt says, that "people want to have receptions in the hallways."
He also has 80,000 square feet of commercial space and is looking for the right tenant or tenants.
Meanwhile, Burt is putting 47 one-bedroom loft apartments in a second building that should open in August. There's already a waiting list for the units with exposed brick and beams and 16-foot ceilings. "The only restriction on Swift Mill is historical, which is a no-brainer," Burt says. "That's why people want to be there. We've had a tremendous outpouring of support from community and residents.
"Infill is where it's at now. Everybody wants to have walkability."
That walkability would extend to the City Village project, which Tomlinson says "became the talk" of the Mayors' Institute on City Design conference in the fall of 2012.
She envisions a neighborhood drawing "those individuals that creative industries are looking to hire. That's a new sector we would like to get into in Columbus, which is everything from software design to architecture and the cultural arts."
Features could include urban agriculture, innovation stations and very generous linear parks along the bluff for public space, outdoor concerts and festivals.
Not everyone wants to concede the entire living space to the creative industries. "The school board is involved," Tomlinson says. "They're saying, 'Hey, can we have a teacher village?'"
The site of the historic Bibb Mill, which burned down in 2008, could be attractive for a national corporate headquarters.
It's just another repurposing of land that once revolved around mills employing more than 30,000 people. That number has decreased to about 800.
Growing Up
"The leaders way back 40 years ago said, 'It's important for us to diversify,'" says Mike Gaymon, president and CEO of the Greater Columbus Georgia Chamber of Commerce, "and today, we're reaping a lot of the benefits from seeds that were planted many years ago."
Technology-based companies such as Aflac and TSYS took root in Columbus, giving the city more mainframe computing capacity than the rest of Georgia combined, excluding the Atlanta region.
"The big opportunities that we see are the expansion of our existing companies here locally," says Bill Murphy, who came from Ohio in early 2014 to become the chamber's executive vice president for economic development. "Over the past 20 years, the community has really invested in making the community not just a great place to work or to live, but to also play."
In 2013, the chamber and the Valley Partnership announced 3,330 jobs (including 895 retained jobs), a significant increase over 2012, when there were 1,297 (including 350 retained jobs).
This year got off to a rousing start when Blue Cross and Blue Shield of Georgia (BCBSGA) announced in late January that it would build a new facility to house nearly 2,000 employees currently in two smaller locations. The 200,000-plus-square-foot space is expected to open by next summer in the Muscogee Technology Park. The $50-million investment comes on the heels of two BCBSGA announcements in 2013 totaling more than 600 jobs.
The Kia Motors plant 40 miles to the north continues to bring in suppliers. Hyundai Dymos, which manufactures axles, manual transmissions and seats, will bring 350 new jobs and a capital investment of $25 million. The company began hiring in January and had 1,200 applicants.
Pratt & Whitney is expanding into a 105,000-square-foot building in the Muscogee Technology Park, creating 45 jobs initially and the potential to double its space to 200,000 square feet this year.
About 400 jobs returned to the Hostess plant, which shut down in late 2012. The Columbus bakery reopened last summer under new ownership, bringing Twinkies back to the shelves, while other former Hostess snack makers remained closed.
"One of the reasons that they opened it is because of the competitive package that was put on the table from our development authority and our city, and the work of our chamber helped to coordinate all that," Gaymon says.
Now he'd like to bring a medical college to Columbus, whose population of about 200,000 makes it neck-and-neck with Augusta for the title of the state's second-largest city.
A partnership with Mercer University – in which third- and fourth-year medical students train at two local hospitals – is in its third year. However, Gaymon wants a permanent presence, citing a national study that claims communities with a medical college reap 2.3 dollars for every dollar spent.
To that end, he's looking at building sites, "so that we can recruit Mercer Medical College here like we recruited NCR."
The chamber didn't bring Fort Benning to the region, but it's doing everything in its power to give the Army installation what it needs – especially in light of U.S. Army budget uncertainty. Fort Benning has 42,000 employees and had an economic impact last year of $5.97 billion.
"We're very comfortable that Fort Benning will be around for a very, very long time," says Gary Jones, the chambers' executive vice president for economic development and military af-fairs. "What we want to do is help make sure that we can prepare this region so it does not preclude growth opportunities at Fort Benning.
"We still see Fort Benning as a growth industry."
However, the Army has revealed it will get smaller. Jones expects the fort's economic impact to decrease due to the combination of a Department of Defense drawdown, sequestration and Defense Base Closure and Realignment (BRAC).
"But we're saying that, 'Hey, even if that impacts the region a half billion dollars, you're still dealing with an entity that brings in $5.4 or $5.5 billion and that's serious business,'" he says.
Fundraising has begun on the $65-million National Armor and Cavalry Museum that will eventually be another destination on the RiverWalk linking Fort Benning with Uptown.
"The Chattahoochee used to be called the old brown rope that ties us together," Jones says. "Now the water is just clear, and that's because it's back following its own path and the rapid water has washed the silt away. [If] you stand on the banks, you can look down and on the bottom see the fish swimming around."
Or look up and see more of what Columbus has to offer.