Brunswick | Golden Isles: Booming Business
Ships, planes and tourism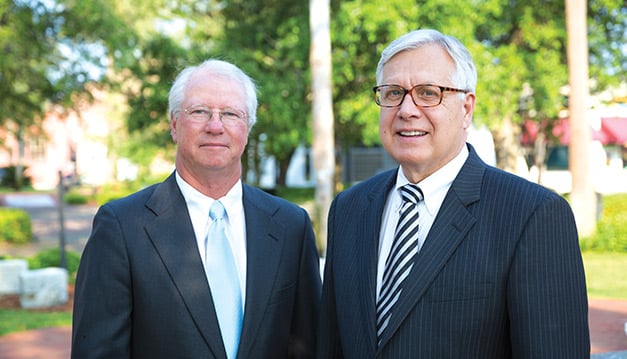 The Golden Isles are living up to their name. Set amidst the shores of Glynn County on Georgia's Atlantic coast, this region of temperate climates and sandy beaches has long been a destination for travelers. Bisected with one of the nation's most heavily traveled interstates and gifted with two airports and major rail lines, this is a place that thrives on its ability to move people and things.
And there is no better example of just how much that means than at the Port of Brunswick. One of two deepwater ports in the state – the other is up I-95 at Savannah – its terminals have been humming recently with the loading and unloading of cargo.
"In terms of import of new autos, our port is No. 1 in the world right now," declares Chuck Scragg, executive director of the Brunswick and Glynn County Development Authority.
Each year more than 500,000 new autos roll off ships docked at the Colonel's Island Terminal, while another 130,000 are on-loaded for export. Among the cars coming into the U.S. recently has been Porsche's sleek and pricy new hybrid, the 918 Spyder. The first shipment of the 0 to 60 in 2.6 seconds supercars arrived earlier this year to much fanfare.
In fact, the port accounts for 23 percent of nationwide imports of Porsche autos – largely because the surrounding transportation network of roads and rail provides easy access to buyers in states throughout the Southeast.
"There has been nothing short of explosive growth at Colonel's Island in our roll-on, roll-off auto processing and large machinery activity," says Curtis Foltz, executive director of the Georgia Ports Authority. "The last three years have been consecutive records, with business up almost 20 percent last year."
As business both at home and abroad has perked up, so has activity at the port. And that has been good for Glynn County, with fully 15,000 jobs supported by the facility.
The port has also become the prime outlet for getting Georgia products out to the wider world. The state's abundant forests have given rise to a thriving biofuels industry. These days, processing plants are busy converting wood into pellets to feed the demand for the renewable fuels in Europe.
"It's been a rapidly growing market for us that really matured about three years ago," Foltz says. He adds that business soared some 40 percent last year, with most of the growth coming in the form of wood pellets.
The forecast is for another strong year of growth with an estimated 25 percent increase in exports of the product. Over the next three years the business is likely to double, and for that reason the Georgia Ports Authority is investing in expanding capacity at the terminal.
Business has also been steady, if somewhat less explosive at the Mayor's Point Terminal. This dedicated breakbulk facility specializes in handling forest and solid wood products such as wood pulp, linerboard, plywood and paper products.
"It supports the export of paper product coming from North Florida and the southeastern part of Georgia," says Foltz. "It's been a steady business, a good generator of jobs in the region and supporting a lot of industry."
Mayor's Point Terminal also handles the export of bulk agricultural products including various grains – about 1 million tons of which exported last year. For years this has been a one-way business, with all the products headed out to other countries. This past year that process reversed somewhat when about 100 tons of grain was imported from South America to help feed Georgia's poultry industry. Poor growing conditions in the Southeast had cut down on available grains. To save the poultry industry, growers had to start bringing in crops from outside the country.
The Sky's the Limit
Glynn County has what it takes to drive economic development. Much of that activity is coming from long-established companies with expansions that have recently generated up to 70 percent of new jobs.
A good example is airplane builder Gulfstream, which has been a local corporate citizen since their first operation began in 1967. The company's facility at the Brunswick Golden Isles Airport puts the finishing touches on "green" jets fresh off the assembly line. Here, about 200 workers add finishes, carpet and seats to the planes before they're put up for sale.
With a growing market for repairing and refurbishing corporate planes, the company decided to build a 110,000-square-foot maintenance repair and overhaul facility at a cost of $25 million. When complete, the new operation will add about 100 additional jobs to the local total.
Like many big operators, Gulf-stream has attracted several suppliers and subcontractors who help keep production humming. One such partner, California-based Quaker City Plating, acquired a new facility here that will specialize in the electroplating of aviation parts.
The company will occupy a 25,000-square-foot building in the Brunswick-McBride Industrial Park and will create about 40 jobs in a range of production and administrative functions. The new Glynn County facility – the company's first outside of California – will accommodate growth in the company's parts plating business with Gulfstream's operations both here in Brunswick and in Savannah.
Local economic developers are growing increasingly optimistic that the economy has improved to the point that more outside companies will be looking to move here as well.
"For the first time in several years, we are starting to get some really good looks," says Mel Baxter, who chairs the development authority. "It's because companies are on the move again. They're looking to do new things. They're looking for new areas. And when you look at Glynn County, we have the things they're looking for."
Educating the Workforce
While Glynn County is brimming over with assets such as roads, rail and airports, it is still working to make sure it has a trained workforce ready to fill the often highly technical jobs that companies need to fill.
Many of those workers have been coming out of the Golden Isles Career Academy, which provides space and shares programs with the former Altamaha Technical College.
The college, which also provided funding for the Academy, has itself branched out. The state approved funding for a new 53,000-square-foot building on land donated by Glynn County and then decided to combine the school with Okefenokee Technical College in Waycross to form Coastal Pines Technical College. The merger was completed in July.
Along with offering a wide variety of technical and industrial training programs for local students, the college has been busy working to provide training to local companies.
"We can go into an individual company that has a specific need for training their employees, and we can create customized training for that need," explains Altamaha Interim President Lonnie Roberts. "For example, just within the last year we worked with Gulfstream and provided some leadership training, computer classes, as well as some safety-related courses that we offer for industry and business. It's pretty much anything an industry or business needs for their employees."
The technical college provided customized worker training programs for King & Prince Seafood and Quaker City Plating. King & Prince was able to offer its employees such specialized training as Lean Manufacturing Training, Kaizen Event Training, 5S – The Visual Work-place and Lean Enterprise Training.
"We also supported them with manufacturing process training assistance in food processing equipment operations, quality, CIP sanitation and safety requirements," says Roberts.
The college is in negotiations with Gulfstream to launch a new long-term training effort for its local workers as well.
Tourism Gold
Glynn County's fame as the home of the Golden Isles – St. Simons, Jekyll and Sea Islands – also points to the real source of local wealth. The easy accessibility by I-95 and the more than 2.5 million tourists who arrive in Brunswick and the surrounding area every year are prime jobs generators.
"We are primarily driven by tourism, and along with that we are highly real estate oriented," asserts Baxter.
Last year all those visitors pumped just over $1 billion into the local economy and helped create some 25,000 jobs that in turn generated $400 million in payroll, according to Scott McQuade, CEO of the Golden Isles Convention & Visitors Bureau.
"It is the area's No. 1 industry," he adds.
While local hotels and businesses suffered when the Great Recession hammered the economy, tourism has been quick to make a strong comeback.
"One of the best indicators that a certain segment of the economy has turned for the better is in tourism and in our hotel/motel bed tax revenue," said Glynn County Commission Chair-man Michael Browning. "We know that people are breaking out of the 'stay at home' mode and they're traveling, and they're coming to the Golden Isles because we're a tourism destination."
A good indication of just how ready folks are to travel now can be seen in the rising hotel/motel or bed tax. In 2013 it was up 8.93 percent from 2012.
"Last year tourism was stronger in the Golden Isles than it ever had been in the past," McQuade says. "We're seeing really good traction, really consistent traction over the last three years. We have grown consistently as far as our bed tax revenue is concerned. This year will beat those numbers."
All that resurgent business has prompted something of a building boom among hotels, restaurants and retail operators.
"Overall the whole area is going through a makeover if you will," McQuade says. "Certainly we've got a lot of fine establishments, but we have lots of new product coming online and we have lots of product that is investing in itself. We see a good amount of expansion in the retail and restaurant sector – especially on [St. Simons] Island."
As a banker, Baxter has seen firsthand how much the local real estate market suffered during the recession. Home prices fell, and building came largely to a halt.
Now those bad old days seem to finally be over.
"From the real estate standpoint, we are finally seeing some resurgence there," he says. "Our housing market inventory is finally starting to be depleted. We're seeing building again. I'm not going to say we're seeing [price] appreciation, because we haven't gone through that pro-cess of sales and resale. That's the next step."
Some of the greatest activity has been occurring on the islands where inventory is more limited, but the rest of the county is also showing more life as well, setting the area up to have a golden time indeed.