Jackson County: Positive Momentum
Business-friendly government and quality education.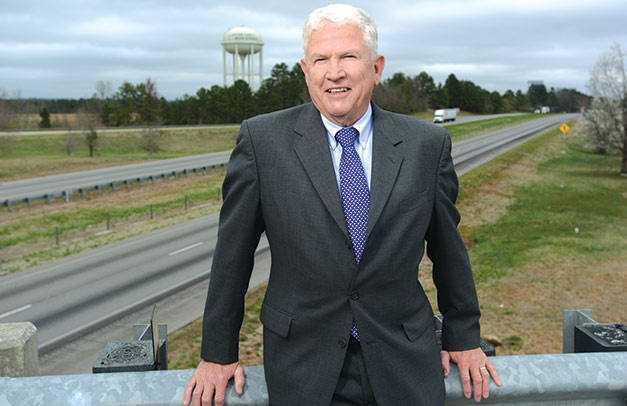 Motorists who travel down U.S. Highway 129 toward Lee Street are greeted by a large building currently under construction on the Jefferson High School campus. The two-story structure, which will open in the 2014-15 school year, represents an atmosphere of growth and development that appears to be prevalent throughout Jackson County, where optimal location and collaboration among municipal governments has resulted in a seemingly endless stream of industrial development over the past four years.
"We are in the pathway as everything's moving out of Atlanta," says Jefferson Mayor Roy Plott, who was elected in November after serving six years on the city council. "We've got all of our infrastructure in place. You've got a governmental framework that's excellent here. You've got three good mayors in the cities along I-85 [Braselton, Commerce and Jefferson] along with some excellent city managers and excellent leadership in the county. We all work together, and it's just a good situation."
Indeed, Jackson County remains a prime location for businesses that are looking to open or relocate manufacturing plants, distribution centers and other types of industrial business facilities. Situated between three metropolitan statistical areas and boasting four exits on I-85, the county provides easy transportation access for any company needing to distribute products and reach customers anywhere between Atlanta and Charlotte.
"What's neat about Jackson County is you border the Atlanta, Gainesville and Athens metropolitan areas, but you're not in any of them," explains Josh Fenn, president/CEO and economic development director for the Jackson County Area Chamber of Commerce. "So you're just far enough, but you're just close enough as well."
As a result, the county has maintained its small-town charm and agricultural roots despite the influx of a number of out-of-state businesses such as Toyota, which opened TD Automotive Compressor Georgia LLC in Pendergrass in 2004. Wayne Farms LLC, a poultry processing company, is Jackson County's largest employer with a workforce of 1,173 at its plant in Pendergrass. Other agricultural companies such as Mission Foods and Mayfield Dairy Farms are also among the county's 10 largest businesses. Additionally, the Georgia Agribusiness Council is based in Commerce.
Attracting Industry
Industrial development is at the heart of much of Jackson County's recent growth, and several large companies announced plans for significant capital investments in the county in 2013 and through the first few months of 2014. In September, TD Automotive Compressor announced a $190-million expansion that is projected to add 120 jobs. That announcement came on the heels of Carter's June 2012 decision to open a multichannel distribution center in Braselton to handle e-commerce, retail and wholesale business. The Atlanta-based children's apparel manufacturer, which produces the popular OshKosh B'gosh brand, occupies a 1-million-square-foot facility in Jackson County and will add 1,000 jobs over the next few years.
The positive momentum continued as the calendar turned to 2014 when Ollie's Bargain Outlet, a Pennsylvania-based chain, announced plans for a $14.6-million, 962,000-square-foot Southeast distribution center in January. Ollie's is expected to hire 175 employees for the distribution center, which will be located in the Commerce 85 Industrial Park and serve the company's stores in Alabama, Florida, Georgia and Tennessee.
Tom Crow, chairman of the Jackson County Board of Commissioners, believes that the county will experience consistent growth in industrial development and remain a strong agricultural center. He cites recent infrastructure improvements in roads and the expansion of sewer systems as examples of upgrades that have enhanced the county's position as a destination for industrial development.
"The county right now is still very rural and has a strong agricultural base," says Crow, who has served on the board for 10 years but is in his first term as chairman. "But it is fast transitioning to more industrial and commercial entities. Previous government officials in the past several years have put an emphasis on building the infrastructure that was needed to attract industry for future growth."
Fostering Teamwork
While a fortuitous location undoubtedly draws the attention of companies looking for a new plant or distribution center, other aspects of the county and its communities are necessary to convince businesses to pick Jackson County over rival municipalities within the state and the region. One of the county's biggest strengths is the presence of business-friendly governments, both within the county and its various cities.
"We have a very good relationship with the chamber of commerce, both in trying to get new business as well as working with current businesses," says Russell Mims, vice president of operations for Buhler Quality Yarns Corp., a Jefferson-based subsidiary of a Swiss company that produces fine-count yarns for customers across the nation. "Every city council member knows us and knows what we do."
In addition to working with the county's chamber of commerce, individual cities have taken steps to make their communities more appealing to prospective businesses. In Commerce, the city government was restructured over the past two years to improve communication with businesses and create a smaller, more efficient staff. At city hall, there are now five individual department heads, instead of the 11 that existed two years ago.
"We've become a much leaner government, which I think will help us in the future," says Commerce Mayor J. Clark Hill III. "We have fewer chiefs in the city, which makes it very easy to disseminate information now. It was not a fun ride because we had to totally change our work culture in the city of Commerce."
In addition to streamlining the process of dealing with businesses and residents, the restructuring has improved the city's financial standing as well. According to Hill, the city had a $1.6-million deficit when he took office in 2012. By the end of the 2013 fiscal year, Commerce was able to add $910,000 to its reserves. The revamped city government along with Commerce's status as a full-service city, which enables businesses and residents to pay their electric, natural gas and water/sewage bills with a single check to the city each month, are selling points that city officials tout in discussions with prospective businesses.
Commerce is not the only city in Jackson County that has made improvements to entice prospective businesses as well as satisfy existing businesses and residents. A project that is expected to provide a dramatic quality-of-life boost in Jefferson is nearing completion. Jefferson Station, a $6-million repurposing of a former Food Lion shopping center, just opened this spring and features a new city library facility and a new police station. The project was approved by the city council and former Mayor Jim Joiner in August, and there was a crucial need for facility upgrades for both departments, according to Plott, the current mayor.
"The library is the most-used library in the Piedmont Regional Library System, and we were just running out of space," says Plott. "Our current police station is falling down, so it gave us an opportunity to go in there and for a very nominal cost rehab that facility and make two nice facilities out of it."
The new 17,000-square-foot library is significantly larger than the previous 4,800-square-foot facility.
Meanwhile, the city of Braselton, which stretches across four different counties including Jackson County, experienced a surge in its downtown development within the last year. The city's historic downtown area is located in Jackson County, and ribbon-cutting ceremonies for 11 new businesses have taken place since the start of 2013, according to Town Manager Jennifer Dees.
"Our downtown is definitely the jewel that we have," says Dees. "The majority of businesses that are opening in our downtown are entrepreneurial start-up businesses that are owned by local people. They are invested in the community, and they get involved."
In addition to an increase in small business development downtown, residential construction is on the rise in the Jackson County portion of Braselton. Last year, 54 new building projects began, all but one of which were residential. By comparison, only 23 new projects began in the Jackson County area of Braselton in 2012.
Educational Draw
Perhaps the most attractive asset in Jackson County other than its location is quality public education. Three public school systems operate within the county (Jackson County School System, Jefferson City Schools and Commerce City Schools), and all three systems are highly regarded.
"We have three very strong school systems in the county," says Chairman Crow. "They are very academically minded and really strive to produce students who are high-achieving."
Four of the 12 schools in the Jackson County system, the largest of the three school systems with approximately 7,400 students, earned recognition as "Reward Schools" in 2013. The designation from the Georgia Department of Education is reserved for the highest-performing public schools in the state based on results of statewide assessment tests over a three-year period. In addition to the four Jackson County Schools, two Jefferson City Schools made the list along with Commerce Elementary School.
In Commerce, where a total of 1,442 students are enrolled in the district's four schools, small classes are the norm. With a new high school facility that opened two years ago, public education has become a source of community pride.
"We're very proud of our school system," says Hill. "With fewer than 100 graduates a year, we have more of a private school feel. It's really neat to go to a sporting event here in Commerce because there really is a lot of spirit here."
The presence of numerous manufacturing plants and a branch campus of Lanier Technical College provide opportunities for the county's high school students to gain technical skills, college credit and professional experience before they graduate from high school.
"We have the largest number of dually enrolled students at Lanier Tech of any of their regional districts, and many of our students are able to leave high school with some sort of an industry certification or the equivalent of a freshman completion," says Jackson County School Superintendent April Howard. "That's a piece that we're continuing to try to expand."
Howard regularly meets with officials from companies such as Kubota Industrial Equipment, a manufacturing company that produces tractors and tractor implements in Jefferson, to discuss opportunities for students to earn professional experience while they are still in high school.
Buhler Quality Yarns Corp. is currently involved in a partnership with Jefferson High School, in which they provide part-time jobs to at-risk students. The company, which supplied the yarn that was used to make the uniform pants worn by U.S. Olympians in the opening ceremony of the 2014 Sochi Winter Olympics, pays the students for their work and tries to help them realize the importance of a high school diploma in the job market.
"Along with the job, we try to teach them life skills like work ethic and taxes," says Mims. "It's quite a struggle for some of these kids and for us, but we really feel like it's something we need to do for the community."
Beyond quality schools, which can help lure companies to Jackson County, proximity to top colleges is also a plus for workforce recruitment. The county is located within 70 miles of four universities with engineering programs: Clemson, University of Georgia, Georgia Tech and Southern Polytechnic State University. Each of these four engineering schools has at least one current student or graduate working as a co-op, intern or full-time employee for businesses in Jackson County, according to Fenn.
Preparing for Growth
As government officials and business leaders plan for the future in Jackson County, they remain optimistic that more opportunities for economic development and growth will materialize. In the past several years, Jackson County has added new companies to its ever-expanding list of industrial development partners, such as Ollie's Bargain Outlet and Carter's and existing companies like Toyota and Kubota Industrial Equipment have expanded their operations. Unemployment has dipped from 10.4 percent in 2011 to 6.6 percent in early 2014.
There are areas in which the county is working to improve, including additional retail development, more infrastructure upgrades and increased residential growth in certain areas of the county like Commerce.
"The biggest challenge that we face is making sure our community makes smart decisions with our planning commission," says Hill. "As industry comes, so does the need for additional housing. I want to make sure that as we have growth, we have quality housing."
A modest growth in population is expected within the county over the next few years. The population in 2012 was 61,440, and an early estimate projects a population of 65,060 by 2017. Although no one expects anything like the increase that occurred in the early 2000s when the county's population rose by nearly 19,000 residents from 2000 through 2010, additional infrastructure, including the possible addition of a new high school in the Jackson County School System, will likely become a necessity.
Jackson County remains poised for even more economic development projects due to its ideal location, cooperative and business-friendly county and municipal governments, strong public schools and quality of life enhancements.
"It's just really a Cadillac for industrial development," says Fenn. "I think we're in the driver's seat, and I think the only thing that's going to stop Jackson County is Jackson County. I just don't see that happening."