Savannah: Stretching Out
Expansions, a growing population and tourism.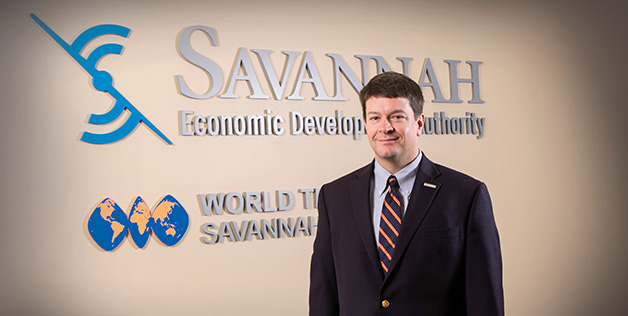 Savannah was once described by a travel writer as "the intersection of gentility and avant garde, with back alleys of the just plain weird." Of course, that was written after Midnight in the Garden of Good and Evil, the bestselling book that led to a movie. And there was Forrest Gump, another movie with a Savannah setting, about a ping-pong playing park-bench philosopher, war hero and shrimp magnate.
Popular notions about this coastal city aside, Savannah citizens and their leaders are serious about their economic development efforts and are focused on expanding the workforce of the county, which they are doing thanks to a number of rock-solid businesses and industries that ignored the recent recession to create thousands of new jobs.
One of the leaders in job creation is Gulfstream, the executive jet manufacturer. "We had a great year in 2013," says Gulfstream's Steve Cass, vice president of communications. "Our deliveries were up; our sales were up; our revenues and earnings were up; and we continued to expand with new employees. We announced additional expansions here in Savannah and also in [the] Brunswick [Gulfstream facility]." Gulfstream, a global company, has a worldwide workforce of 14,000. Its two Georgia sites, Savannah and Brunswick, employ a total of 9,600, with the addition of Brunswick's 200 new workers this year.
Cass attributes the recent expansions and additions of more workers to the popularity of new planes. "I think one thing is the two new products we have that went into service in 2012, the G280 and the G650," he says. "2013 was the first full year of production for those aircraft. The 650 set a 'round-the-world speed record." No doubt that grabbed the attention of prospective buyers.
"I think another factor is the world economy seems to be getting a little bit better, which is great. We're seeing a resurgence of demand here in the United States [among] the Fortune 500 companies, while the international market continues to do very well for us." Cass says a vast amount of Gulfstream's business is with corporations, either privately or publicly held companies. "I'd say more than two-thirds of our work is in that area, and close to a third of our business is with private individuals." Whoever might be buying, the Gulfstream inventory is moving well.
"We've added more than 4,000 employees here since 2006," Cass says. "There are a lot of new faces at Gulf-stream, and we need to make sure they are properly educated and trained to be the best employees. So we rely heavily on Savannah Technical College (STC) and others for some of that training or with helping our technicians or on the production floor and helping with A&P (airframe and power plant) licenses."
Kathy Love, president of Savannah Tech, presides over the college's programs, including the aviation technical training so necessary for Gulfstream and other aviation-related companies. That training is only going to get better, thanks to STC's gleaming new Aviation Training Center, a 29,000-square-foot facility containing a hangar, four training labs and five classrooms.
"Right now we're still waiting for our final FAA visit for [approval of] our airframe and power plant programs," says Love. "Now we're offering programs in aircraft structural technology, luxury cabinet making and we just started an upholstery class." It's all training for the skills needed for the production of the exteriors, engines and interiors of Gulfstream's luxury jets and similar planes needing such skilled workers. "We work very closely with Gulfstream so that we know when to do this training. When Gulfstream is ready to ramp up and do more hiring, then we will offer more sessions of the training," Love says.
Hoss Motlagh is the co-founder of the growing Southern Aviation Parts and Services (SAPS), a company that provides the design, manufacture and installation of high-end interiors for executive jets like those made by Gulfstream and Boeing Business Jet. "We have about 45 employees now," says Motlagh. "Business has been growing, and we hope to be upwards of about 200 employees within five years."
SAPS announced two new locations at the end of 2013 – one in Pooler and one in Savannah. "If you look at Gulfstream, they've got back orders for the next five or 10 years, so yes, we think our growth will continue," he says.
New Developments
There is some land around the intersection of Interstate 95 and the Pooler Parkway on the western side of Savannah that extends to I-16 and connects Savannah to Macon. It is a small region that has attracted intense interest from real estate developers, big-box stores and shopping center site selectors.
Local newspaper and television stories about the properties there ring with the kind of hyperbole reminiscent of the two-penny gazettes about the 1889 Oklahoma Land Rush. The excitement may be linked to projections by the State Office of Planning and Budget that Chatham County may exceed a population of 306,000 by 2020, a nine-year increase of 30,000 new residents. Chatham County's growth is attracting investors in the future, led by commercial developers.
With out-of-town and at least half-a-dozen out-of-state developers coming to the Savannah suburb of Pooler, the town's modest skyline is changing. All of this has been noticed and noted by Scott Martens, chairman of MGI Commercial Inc., a commercial real estate development firm in Pooler. Martens came to the Savannah area from Florida back in the late '80s to build a marina on the Intercoastal Waterway that meanders along Georgia's coast. What happened next is an oft-told tale.
"I absolutely fell in love with Savannah and the Savannah area and saw a potential that was apparent, and so I stayed here," Martens says. While developing a few small but successful business parks, with doctors and accountants and other professionals as tenants, Martens began to believe Pooler wasn't realizing its full potential. "We had a lot of speculators at that time," he remembers. "But it still wasn't the big push."
Since then Martens seems to have drifted into an unintentional sideline as the unofficial historian of the evolution of Pooler as a hot spot for commercial, residential and mixed-use properties.
"The big push has taken place probably in the last five years," he says. "We talk about developing the perfect [development growth] storm. Well, the perfect development storm in this case is a combination of the success of Gulfstream, [heavy equipment manufacturer] JCB, the Port of Savannah and Mitsubishi [Power Systems]. All of those companies are in the same general area, and they have thousands of employees.
"There are about 18 hotels and motels at the intersection of I-95 and Pooler Parkway," Martens says. "The growth pattern up there is intense." The area has seen the arrival of The Home Depot, Walmart, Sam's Club and restaurants with national identities. "It's right at the interchange of I-95 and Pooler Parkway, and that's where the nucleus of this commercial expansion is right now," Martens says. "Then there is another group with [IMAX Theatre and] another 10 theaters, a roller skating rink, a bowling center and 22,000 square feet of retail, and all of them are full."
The area has seen a 2,600-acre gated community spring up, with a Greg Norman-designed golf course that was purchased last year by SunCal, a California developer, with announced plans to finish developing the property, another 600 to 800 acres. A nearby 152-acre tract has a sign on it announcing the future West Chatham Commons development, and several multifamily residential developments are in the works for the area.
The presence of the Port of Savannah and Gulfstream Aerospace has long allowed the city to label itself a player in international business, and the opening of the World Trade Center on Hutchinson Island in the middle of the Savannah River has put the official stamp of legitimacy on Savannah's claim as an international business center.
"For the last two years, the Savannah Economic Development Authority (SEDA) has been bringing on the World Trade Center effort, which is SEDA's vehicle to work with inbound and outbound trade activities for the Savannah Region," says Trip Tollison, president and CEO of SEDA. "So far, we have hosted over 30 different [foreign] delegations in Savannah over the last 18 months. We have also worked on five or six trade missions or trips outside the United States to look at [trade] opportunities." SEDA has led Savannah's global trade initiative, Tollison says. "We've joined the World Trade Center Network, which is 300 different offices in over 100 different countries, to allow SEDA to have direct relationships in a lot of international trade opportunities and discussions throughout the world."
Savannah assistant city manager Peter Shonka has been watching the effects of growth in the Savannah suburbs, and he says he feels confident all is in place to meet new residential and retail expansion without feeling pressure from the infrastructure. "We feel the part of Savannah adjacent to the Pooler city limits, including a lot of residential areas near Pooler that are actually in the city of Savannah, those [roads] for the most part are developer-built and we're maintaining them, so there is not too much pressure there," says Shonka. "That area built out very quickly because of the growth of Pooler. We have some agreements with the city of Pooler where we supply some water to them, but we've got plenty of capacity for that, so that's not been a challenge."
For Bill Hubbard, president and CEO of the Savannah Area Chamber of Commerce, the growth in Pooler is just part of a larger picture with a variety of contributions to the overall economy. "Pooler has 7,000 residences, and there are reports there will soon be 12,000," Hubbard says. "If you think of Savannah as Atlanta, Pooler is sort of our Cobb County or Gwinnett County. What's going on in Pooler is wonderful, but so is what's going on in Richmond Hill and Tybee. And we have 26,000 military at Ft. Stewart and Hunter [Field], which contributes $5.5 billion [yearly] in economic impact to the Savannah area. Overall, we have a well-rounded local economy with a diverse base."
Tourism and Movies
No one could agree more than Joe Marinelli, president of Visit Savannah, the community's tourism marketer as part of the chamber of commerce. "All we've done is grow, grow, grow," says Marinelli. "According to the numbers from 2012, the most current we have, the economic impact of tourism to Savannah was about $2.1 billion, and I'm confident we exceeded that in 2013."
Savannah's future tourism may soon be getting a boost from some motion picture heavyweights who see a historic and dramatic plot for a film inside a Pooler museum.
On Jan. 28, 1942, the U.S. Army formed the Eighth Air Force at Hunter Field just outside Savannah. The Mighty Eighth, as it became known, served with distinction throughout World War II and played a major role in the defeat of Germany. The Eighth was considered the "greatest air armada of all time" and was still flying combat missions in modern times during Operation Enduring Freedom in Afghanistan.
The National Museum of the Mighty Eighth Air Force in Pooler has become a popular stop for tourists to the area, with about 100,000 visitors dropping by annually.
The Eighth's illustrious history has attracted the attention of HBO, which will soon begin filming a 10-part series based on the Eighth's 100th Bomb Group adventures in the skies over Europe during World War II. The story is reminiscent of Band of Brothers, the 2001 Tom Hanks/Steven Spielberg HBO hit about the exploits of a paratrooper company on their march across Europe and into Germany to end the war.
The story of the Mighty Eighth is based on Masters of the Air, by Donald L. Miller, according to Victoria Mathews, director of marketing for the museum. "Dr. Miller did most of the research for that book here at the museum," Mathews says, adding that Playtone (a production company owned by Tom Hanks and Gary Goetzman) has already purchased the rights to the book. "When the 100th Bomb Group came to the museum for their reunion last October, Playtone came out and took some preliminary footage. We're excited about the possibilities."
Under Seige
Black gill is haunting the coast of Georgia looking for victims, according to those who are trying to lay a trap for this scourge. It's robbing the shrimpers who trawl the marshes looking for Georgia white shrimp, but it's no pirate.
Black gill is a fairly common disorder in the shrimp that live in the shoreline waters from Savannah to St. Marys, according to Drs. Richard Lee and Marc Frischer, scientists and professors at the University of Georgia's Skidaway Institute of Oceanography. And as the local food movement grows in popularity, demand is growing for the these coastal delicacies.
"The shrimpers noticed for the last couple of years that a lot of the shrimp coming aboard the boats had a black discoloration, which we call black gill," says Dr. Lee, who emphasizes the malady is not a disease, but rather is caused by an organism entering the shrimp's body. It tarnishes the look of the food, though it isn't harmful to the humans who eat it.
"The black gill causes the shrimp to die, and then they aren't caught and sold," says Dr. Frischer. The scientists say shrimping is about a $20 million-a-year industry on Georgia's coast, and they are hoping to find ways of reducing the threat of black gill. – Ed Lightsey