Northwest: Rolling Ahead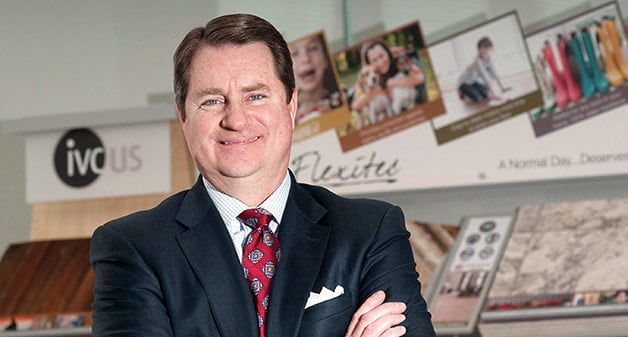 They aren't where they want to be, but at least they are not where they used to be, say economic development officials in Northwest Georgia.
The region, largely dependent on the flooring industry, was slammed when the housing boom went bust in 2007 and 2008. There was little need for flooring. Factories went silent as thousands of workers were laid off.
Dalton, in Whitfield County, the Carpet Capital of the World, saw 1,900 new flooring industry jobs added in 2013. IVC US, the U.S. subsidiary of Belgian-based flooring company IVC, also announced it is adding 200 jobs and investing $80 million in its Dalton facilities.
Though the flooring sector remains dominant, two-thirds of the 80 new projects that were underway in 2013 were in other industries, says Brian Anderson, president and CEO of the Greater Dalton Chamber of Commerce.
"What we need next to make the community feel better, as successful as we are, is to take that next step," Anderson says, regarding the region's efforts to diversify the economy with more chemical companies, auto supply manufacturing and other advanced manufacturing. "We are very dependent on the carpet industry, and it's not going to change overnight."
While Murray County was one of the hardest-hit counties in Georgia by the Great Recession that began in 2008, the future looks bright, says Chatsworth-Eton-Murray County Chamber of Commerce CEO Dinah Rowe.
Engineered Flooring is bringing 1,500 jobs to the county in the next two years, and Mattex Group, a flooring-related company based in Dubai and Saudi Arabia, is locating a $60-million facility just outside Chatsworth that will employ 200 people.
Even with these gains, the time has come for the county to focus hard on diversifying the economy.
"The floor covering industry companies have provided good jobs for a long time, [but] it's never good to put all your eggs in one basket," Rowe says.
The economic development community is working to bring retail chains to the area. "We desperately need retail," she says.
Bartow County is beginning to see the fruits of its labor that began 10 years ago. Some 16 diverse economic development projects brought 1,560 jobs and $505 million in investments into the county last year. Among those projects, Shaw Industries' carpet and tile facility will open in Adairsville with 500 jobs; Toyo North America's $371-million expansion near White will bring 650 new jobs; and Academy Sports + Outdoors' 72,000-square-foot store in Cartersville will employ 200.
Construction jobs also come with those new facilities, says Cartersville-Bartow County Department of Economic Development Executive Director Melinda Lemmon.
The bounty of new projects is the result of teamwork between the county's seven cities, two school systems, a lot of development authorities and many stakeholders, she adds. "The secret to our strength is that we are unified," Lemmon says. "It [hasn't] always been that way."
Highland 75, a 707-acre industrial park, is completed and ready for occupancy. "Having that ready to go means there are no more excuses not to locate here," she says.
Polk County saw a gain of 120 jobs and more than $40 million worth of investments in companies already in the area and those coming to the county, says Eric McDonald, former Polk County Development Authority president. The number of new jobs might sound low, McDonald says, but "one job at a time will put food on somebody's table."
The county broke ground on a new tech business park on the four-lane U.S. 278 in Rockmart that economic development officials will start marketing in 2014. A 100,000-square-foot spec building in Cedartown will be ready for a company to move into by June. Polk County is also getting a new hospital to replace its aging facility. The 73,000-square-foot Polk Medical Center, scheduled for completion by the end of this year, will give the county a 60-job boost.
Chattooga County is nearly at the top of the steep climb out of the Great Recession. "We are getting back to 2008 levels," of employment, says David Tidmore, president and CEO of the Chattooga County Chamber of Commerce. "It's been a tough pull since 2008." The county had a net gain of 50 jobs last year, he says.
A rollout of 500 jobs continues as pledged at a Mohawk Industries plant, Tidmore adds. In addition, Georgia Power Co. built a new substation in Summerville and a latex-dipped glove company moved to the county. The county is also courting mid-sized companies and at least one big-box store.
The big news in Dade is the county's recent purchase of 250 acres to develop into an industrial park, says Dade County Commission Chairman Ted Rumley. "We have some really good prospects," he adds.
In Floyd County, Rome is enjoying a double shot of reinvestment and new investment. Foss Manufacturing is bringing a $15-million factory and 150 jobs to the area. The new facility will manufacture and distribute medical masks, apparel and linens along with products for the automotive industry. International Paper is investing $150 million in its linerboard facility and retaining 460 jobs. Mohawk Industries invested $31 million in its Rome operations and retained 230 jobs.
"With these retained and new jobs and investments and with the 2013 opening of the Lowe's Regional Distribution Center with 800 jobs and $125 million [investment], the economy is brighter in the community and the region," says Greater Rome Chamber of Commerce President and CEO Al Hodge.
Catoosa County is courting strip-mall business and has 15 acres to offer near a Walmart on Battlefield Parkway, a four-lane highway connecting Ringgold with Fort Oglethorpe, says Catoosa County Chamber of Commerce President Martha Eaker.
Georgia Northwestern Technical College is breaking ground soon on its Catoosa County campus on Old Alabama Highway and should be ready for classes by fall 2015. The new campus is expected to spawn nearby retail developments such as shops and restaurants.
Keith Barclift, project manager for the Northwest Georgia Joint Development Authority, which markets Dade, Walker, Catoosa and Chattooga counties, says the mission for economic improvement must include cross-border collaboration with Alabama and Tennessee. In Tennessee, for example, the Volkswagen plant in Hamilton County can provide jobs through suppliers who might locate in nearby Georgia.
"We keep seeing our existing businesses expand," Barclift says. "We haven't had a major victory, but we have a couple of big ones on the hook."
Haralson County economic developers focused on restructuring operations, which meant merging the economic development authority with the Haralson County Chamber of Commerce at the beginning of 2014.
"It's been the talk of the town," says Tara Chapman, former development authority executive director. She is now the chamber's vice president of economic development.
As Northwest Georgia continues to rebound from the recession, Chattooga County's Tidmore echos what so many others are thinking. "We are a lot better than between 2009, 2010, 2011 and 2012," he says. "I'm glad to see us back where we were. Now, I'd like to keep rolling."
Individual Stories: