Northeast: A Hotbed Of Activity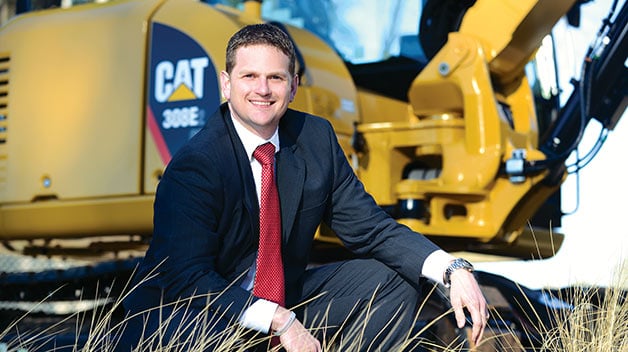 Last year was one of economic growth throughout much of Northeast Georgia, but perhaps the most dramatic positive momentum occurred in Rabun County. The addition of two new manufacturing companies, Gap Partners Inc. and Parkdale Mills, to the Rabun Business Park has already delivered a combined 260 new jobs. As a result, unemployment in Rabun County dropped from 12.5 percent in December 2012 to 9.2 percent in December 2013.
"We've been pleased on two fronts," says Ray Coulombe, executive director of the Development Authority of Rabun County. "One, they've created so many jobs in the county, and two, they're taking space in our building."
The county's decision to repurpose Fruit of the Loom's textile plant after the company departed in 2006 into an industrial business park helped attract companies looking to relocate. Even after the two companies set up shop last fall, 805,000 square feet of space remains available for future tenants. Additionally, the business park's status as an Opportunity Zone enables companies to receive tax credits from the state for each job.
Many other cities and counties throughout the region saw positive growth in 2013, including Athens and Gainesville, the region's two largest cities. The opening of Caterpillar's plant in Athens, which overlaps both Clarke and Oconee counties, represents a $200-million investment and employs 350 workers. Caterpillar's presence could result in an influx of suppliers and other manufacturing companies moving into the region, according to Ryan Moore, director of the Athens-Clarke County Economic Development Department.
"I think we're going to continue to see re-shoring, with companies looking to move back to the U.S.," Moore says. "That's going to be a continued trend with the relatively low cost of energy and a qualified workforce. The Southeast is going to continue to be a manufacturing destination. We've got a lot of competitive advantage here and will continue to be a major player."
In addition to the Caterpillar plant, which opened in October, Ethicon Inc., a subsidiary of Johnson & Johnson that manufactures surgical sutures, is building a $185-million facility in Athens. Although Ethicon has yet to hire employees for the facility, it is partially responsible for the rise of the local construction industry, according to Moore.
Meanwhile, economic development projects of all sizes keep coming to Hall County. In 2013, a total of 36 projects involving new and existing companies produced 950 new jobs and $180 million in investments. King's Hawaiian Bakery, which opened a facility in Oakwood in 2012, announced expansion plans in October that will double the company's current 111,000-square-foot facility and add another 120,000-square-foot facility by 2016. The expansion is expected to bring more than 400 new jobs to Hall County.
At the opposite end of the scale, ALBAForm, a Czech Republic-based manufacturing company that produces metal components for automotive companies, opened a plant in Oakwood in April. The company currently employs 20 people and plans to increase its workforce to 30 by the end of 2014. Tim Evans, vice president of economic development for the Greater Hall Chamber of Commerce, believes expansions from small businesses such as ALBAForm will pick up in 2014.
"I'm very bullish on 2014, most of all for small businesses," Evans says. "I think small businesses are a little more comfortable with where they are today than where they were a few years ago. We saw more small businesses making investments last year, and that was what was different."
Some of the region's smaller counties also experienced growth as a result of smaller expansions. Franklin County will benefit from an expansion of Kautex of Georgia, Inc., a subsidiary of the German automotive parts manufacturer Textron, Inc. In January, Kautex announced plans to add a 95,000-square-foot warehouse onto its current facility in Lavonia. The $3.3-million project is expected to be completed in May.
"We saw 2013 as a kind of turnaround year," says Lyn Brumby Allen, director of economic development for the Franklin County Industrial Building Authority. "I think we finally feel that we turned a corner, and we'll see some bigger and better things as we move into this year."
Hart County also benefited from significant economic growth in 2013 with the addition of two new companies (Field Service Engineering and Lake Foods) and the expansion of an existing company (Pharma Tech In-dustries) in a six-month period from July 2013 to January 2014. Together, the three companies will add 250 new employees and investments totaling $12.5 million. As a result of this flurry of economic development, Hart County's unemployment rate, which was steady at 10.9 percent from December 2011 to December 2012, dipped to 9.0 percent by December 2013. Dwayne Dye, director of economic development for the Hart County Industrial Building Au-thority, anticipates more growth and development in 2014.
"From what we're seeing right now (and) assuming nothing derails us, we're hoping that we're going to see a significant amount of growth," Dye says. "If 2013 was an index, we're hoping to improve that by 3 to 5 percent."
Jackson County continues to benefit from an ideal location for business with easy access to I-85 and close proximity to three metropolitan statistical areas (Atlanta, Athens-Clarke County and Gainesville). Toyota announced an expansion of its manufacturing operations in September. The $190-million project is expected to bring 120 new jobs to the company's existing facility in Pendergrass. The county received an additional economic boost at the beginning of 2014 when Ollie's Bargain Outlet, a Pennsylvania-based chain, announced plans for a $14.6-million, 962,000-square-foot Southeast distribution center in January. Ollie's will hire 175 employees for the center, which will serve the company's stores in Alabama, Florida, Georgia and Tennessee.
Additional retail development is on the horizon for Dawson County. In July, Blanchard Real Estate Capital Company purchased a 102-acre commercial tract adjacent to the North Georgia Premium Outlet Mall. The company plans to develop a 350,000-square-foot facility that will feature national retail stores and restaurants.
Retail development is also on the upswing in Oconee County, where the $76-million Epps Bridge Centre opened in August. Dick's Sporting Goods, Pier 1 Imports and Banana Republic are just a few of the national retailers that have opened locations in the shopping center.
One of the reasons why Northeast Georgia is positioned for more economic growth is the diversity of the region's economy, according to Burke Walker, director of planning and government services for the Northeast Georgia Regional Commission. Tourism, which has been an economic staple for many years due to the region's numerous lakes and hiking trails, is now branching out into other areas, such as the performing arts.
Elbert County has leased the recently renovated Rock Gym to Savannah River Productions. The theatrical company will use the facility to stage musicals and dinner theater performances. The City of Elberton has also commissioned a feasibility study on the c. 1924 Samuel Elbert Hotel, which it purchased in 2012. A restored hotel coupled with the Rock Gym and The Elbert Theatre could result in a budding theater district for the county.
"That's kind of a new thing in terms of sustainable economic development," Walker says. "Some communities are kind of reinventing themselves and finding new ways to help their downtown areas and foster economic development."
The combination of several factors, including strong infrastructure, transportation access, retail and a diverse workforce with skills ranging from manufacturing to healthcare has made Northeast Georgia a hotbed of economic development. These factors lead many county economic development directors such as Athens-Clarke County's Moore to maintain an optimistic outlook for 2014 and beyond.
"It's amazing to me to see the site selection searches and the competitions we're in," Moore says. "I see nothing but positive growth going forward."
Individual Stories: