Embracing Change
The Technical College System of Georgia is adapting to changing needs and encouraging industries new to the state to hire local workers.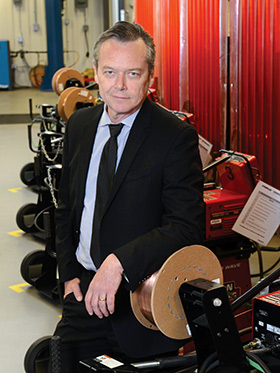 There was a time 50 years ago when today's 24-school Technical College System of Georgia (TCSG) was only a smattering of vocational schools and courses were just about limited to auto repair for the boys and cosmetology in a hair salon for the girls. The daily pace of learning was leisurely.
The modern technical college curriculum is no longer separated by gender, with the welding shop likely to have as many females as males firing up their acetylene torches. The cosmetology classes may have evolved to include courses on makeup artistry for motion pictures and television shows. And an important part of the coursework is usually connected to businesses and industries in the technical college's service area.
The Technical College System of Georgia even has a kind of economic development guerilla unit built on fast-track training for hot industrial prospects looking to land in the state and wanting a trained workforce ready to begin on its grand opening day. They get what they want every time, says Rodger Brown, executive director of marketing and strategic media for Georgia Quick Start (QS), a team of workforce training experts whose speed in getting industry prospects to sign on the dotted line and then get their job applicants through training and onto the production line amazes their competitors in the chase to attract new business and industry.
"What we offer is customized, job-specific training determined by the needs of the business," Brown says. "We get started as soon as they agree that they are coming to Georgia and as soon as we can sit down with them and discuss what skill sets they will need and what the job numbers are going to be. Then we put together a training program specific to that company, and it's not just how to operate machinery."
Quick Start assesses job candidates according to company criteria. "The team also gets involved in performance technology and communication skills, team building and, if needed, LEED (Leadership in Energy and Environmental Design) manufacturing and all the enhancements that build a better workforce," Brown says, pointing to the QS team's work with Caterpillar's search for a new manufacturing site several years ago, when company site selection executives were courted and wooed by states throughout the region.
"That was a 1,400-job project," Brown says. "It was a huge investment by Caterpillar. They anticipate another 2,800 jobs will be created by Caterpillar suppliers locating around them, and we began when they were still a prospect looking for a site." The QS training for the company was done in partnership with Athens Technical College, which has a campus nearby.
"We found a building owned by Athens Tech and refurbished it," Brown says. "Then we customized it as a training facility for Caterpillar, one that included a simulated work environment, a miniaturized model of their entire production process, with all of the aspects of the process incorporated into that model." Such mock constructions are essential for learning about the rate of production and parts supply and how to identify a quality issue or get around glitches that may come up, according to Brown. Another essential part of training is making sure the trainees understand the distinct corporate culture and how to work in it.
All of the training should come together to form a whole. "That usually is the formula for success," Brown says. "They've selected the right people and trained them with the right skills and made the whole team better through communication and leadership training."
Adapting and Responding
With the motion picture industry spreading across Georgia like kudzu after a spring rain, the TCSG has begun changing and adapting its coursework to fit the needs of the movie moguls working in the state.
"We are working with some of the companies that are building permanent studios in Georgia, like Pinewood Studios and others," says Ron Jackson, TCSG commissioner. "We've actually brought in some staff that has Hollywood and film experience to work with us to develop the curricula and programs for the movie industry workforce. Colleges like Athens Tech, which has developed a program for the film industry, are not as robust as it will need to be, but it is a start."
Meanwhile, Southern Crescent Technical College in Griffin is working with Pinewood Atlanta Studios to develop the curriculum and requirements of the film industry for a vast variety of jobs they have on a movie set, according to Jackson. Clayton State has also launched a digital film technician program.
Georgia hasn't seen so much on-location filming since the 1970s, when movie star Burt Reynolds was making his good-ole-boys movies in the state he professed to love since his time growing up in Waycross. The present renaissance was, however, born of hard-nosed economics, according to Jackson.
"It's pretty clear our film industry has grown exponentially because of the incentives we've done on the economic development side to make it a good deal for film companies to do their work here in Georgia," Jackson says. "What we've realized [must be done] is creating the programs for the workforce here, so we don't have to import that workforce. In some cases, although there is a lot of movie work going on, they're importing the grips and gaffers and key operators and other various positions, and we want those jobs to be filled by Georgians."
The Technical College System leaders pride themselves on being able to quickly respond to workforce training needs defined by the businesses and industries in their service areas, often brought to their attention by the individual members of the school's board of directors, and 24 of the present campuses have a board. The technical college presidents also bring suggestions on coursework and requests for training programs before the local board for the necessary approval for implementing them. A president's conversation with a local plant manager can often result in a new program of training in a matter of weeks. "We can turn on a dime," is a popular expression among technical college presidents, who meet regularly with Jackson to discuss what their businesses and industries are asking for in the way of training.
As 2014 was beginning, Jackson was asked what skills business and industry leaders in Georgia were looking for in their next hire. What kind of employees are the captains of commerce needing most?
"What we're hearing from our presidents and from the Labor Department statistics and from businesses everywhere I go is that there is a shortage of welders, and we're expanding our welding programs. We've been expanding them as fast as we can," Jackson says. Welders are sought after now because manufacturing is coming back and doing better in Georgia so far this year, according to Jackson. "Welding is a hot, hot field right now," he says. "Traditional trades are in demand, and that includes carpentry, electricians, plumbers and those kinds of things."
Jackson says the fastest way to get from being unemployed to having a well-paying job is by obtaining a commercial driver's license, a necessary first step toward driving the big trucks loaded with goods. "Commercial truck drivers have been in high demand and will continue to be," Jackson says, adding that healthcare and information technology are also high-demand categories that pay well.
Merging and Strengthening
Technical colleges in Georgia are affected by economic downturns in an unexpected way. When the economy is good, enrollments go down. When the economy tanks, enrollments go up as the unemployed seek training or retraining to become more attractive to companies that might be hiring. During the recent recession, Georgia's technical colleges began merging to economize and cut operating costs.
In Northwest Georgia, the recession that began in 2008 severely wounded the area's carpet and flooring industries. As demand for all types of flooring declined, carpet makers and flooring producers cut back on production, with an attendant reduction in jobs. That, in turn, posed additional challenges for the region's technical college presidents.
"In our region there were two colleges, Coosa Valley Tech in Rome and Calhoun, and Northwestern Technical College up in Walker County, that served the upper part of the state toward Chattanooga," says Pete McDonald, president of Georgia Northwestern Technical College (GNTC), the name given the two merged schools. "It's a pretty complicated organization to run, with five campuses, 300 full-time employees and 200 part-time employees."
McDonald says that during the recession, the carpet and flooring companies began reinvesting in their systems, their hardware and software, the level of automation and logistics operations. Those reinvestments created a need for new employees who could operate and maintain the new technology, putting more students in the classrooms at GNTC.
"The industry really grew, and they didn't have the college-level training program to produce industrial systems technicians," McDonald says, adding that the school began a program to train such technicians. "We just graduated one of those classes of 17 back in December, and we have more than 100 enrolled in that program." The industry has asked the technical college to produce 50 to 75 of the highly paid industrial technicians yearly, and to do that GNTC teamed up with the Northwest Georgia College and Career Academy for the use of their labs in the program.
Recruiting and Hiring
The synergy surrounding such partnerships between technical colleges and industry is a leading contributor to Georgia's success in recruiting new business and reinvestments, according to Joe Yarbrough, senior vice president of advanced manufacturing engineering for Mohawk Industries, a Northwest Georgia carpet manufacturer. Yarbrough is also the new chairman of the Technical College System of Georgia and a man with multiple perspectives on the economic development role the system plays in creating jobs.
"Workforce development is certainly a most significant aspect in companies making a decision to invest, or reinvest, in existing industries here in Georgia," Yarbrough says. "The opportunities we have with Quick Start, an arm of economic development with the Technical College System, have been made available to numerous expansions across the state for years. Mohawk, for example, has used Quick Start in a number of our investments. We just recently invested tens of millions of dollars in a process that recycles polyester materials to make carpet fiber."
One of the most promising partnerships between the TCSG and others can be found in Middle Georgia. Central Georgia Technical College has taken the lead on activating the Georgia Military and Veterans Education and Training Support Center in Warner Robins. Also known as the Gateway Center, the 50,000-square-foot facility will be constructed on 44 acres donated by the city for use in training and educating veterans, active duty personnel and their families. The partnership includes the University System of Georgia, as well as AT&T.
"This center will give the veteran who has served our country the opportunity for the assessment of his or her training and duties while in the service so that we can fast-track these veterans for studies in, for example, healthcare," says Dr. Ivan Allen, president of Central Georgia Technical College. "Why should a veteran who has been a paramedic in Afghanistan or Iraq have to come home and start all over again?" The center, which is expected to open in early 2015, was made possible by a $10-million appropriation from the legislature last year.
Judy Agerton, regional vice president for external affairs at AT&T in Atlanta, sees the center's opening as an opportunity to continue the company's veterans hiring program. "With the program we had, we thought it was a perfect connection," she says. "We're going to be working a lot with the Technical College System of Georgia along with Warner Robins on [hiring] initiatives and making sure the veterans and their families know where our websites are and what we're looking for, as far as particular needs and skills we have and what programs we have, not only for the vets, but for their families as well. We constantly have job openings, and we're looking to recruit the best and brightest. Our experience has shown that the best and brightest have often been our military veterans, and that's why we continue to recruit them for a career with AT&T."
It is hoped the center will provide an ease of access to jobs for veterans who are eager to enter the workforce, according to Jackson. "We are in the process, with the University System, to try and build a one-stop shop in Warner Robins," Jackson says, "where we collectively – between us and the University System – have a place for military veterans to let us help them find the right connection for higher education as they return to the workforce."