Turning The Corner
Commercial real estate is finally coming back – just not at full speed, and with market changes on the horizon.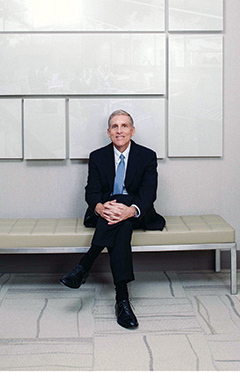 As 2013 was winding down, Atlanta was emerging from the Great Recession, bringing with it the city's long-slumbering commercial real estate sector.
At the end of 2013's second quarter, Atlanta's nearly 144 million square feet of office space was showing a 21.5 percent vacancy rate, but submarkets like Buckhead and the Central Perimeter were doing better.
In fact, the research arm in the Atlanta offices of commercial real estate giant Newmark Grubb Knight Frank (NGKF), a New York-based global firm, was reporting office building vacancy rates had dropped below 20 percent in the Buckhead submarket for the first time since the 2009, with average rental rates of $24.84 per square foot recorded during that period, compared to first quarter rates of $24.96 for Class A office floor space.
Class A represents the highest quality of office construction and infrastructure. It typically attracts tenants willing to pay top rents, a perfect description for tenants sought by commercial real estate companies like Atlanta's Cousins Properties. The firm has been changing the landscape and skyline of Georgia's capital city for more than five decades, during which the company has put more than 20 million square feet of office floor space under roof. President and CEO Larry Gellerstedt is sounding like Cousins has no plans to slow down.
"Our primary product type is office, and office is driven by job growth," Gellerstedt says. "Atlanta has recovered most of the office jobs it lost during the downturn, and all the indicators are showing it's going to have about 2.6 percent job growth through 2017, while the U.S. as a whole is going to have about 1.8 percent. So we like Atlanta."
More Light
Dave Watson is president of the Atlanta Commercial Board of Realtors, a professional association, and he is also a senior managing director at the NGKF offices.
"We have been in the bottom of a barrel, industrial-wise, for about four years running," says Watson, who specializes in industrial real estate. "We saw some light last year, and we're seeing more light this year. Yes, we've turned the corner, but not at 90 miles an hour. The good news is the tenants that were leasing space are no longer filing for bankruptcy. And there are tenants that are expanding."
Watson had more good news for commercial real estate's future prospects. "What ties into industrial is residential [real estate], and residential is hotter than a firecracker right now," he says. "Interest rates are below 3 percent, and people are buying houses like crazy. When people buy houses, they've got to get new countertops, washing machines, TVs, new rugs, and all those things are produced by industrial-type companies. My counterparts in Houston are going crazy [doing deals], and it's the same in Chicago and L.A. and Denver. I think Atlanta is going to get there. Atlanta is going to take a little bit longer to come out of the hole, more so than other cities, I think, because of what happened to our residential [real estate] brethren."
Scott Hazy, an audit shareholder in the Atlanta full-service CPA firm Bennett Thrasher, is constantly gathering data on commercial building construction projections, an important part of Atlanta's economy. Hazy says he's still cautiously optimistic about the sector's future growth.
"It's still slow," he says of the economy emerging from the Great Recession. "But latest figures show that from June '12 to June '13 construction employment in Atlanta is up 5 percent overall, which is good," says Hazy, who has followed commercial construction trends for more than 30 years. "The latest forecast with respect to commercial space and manufacturing [industrial] space is a projection of $253 million in new commercial real estate construction starts for 2013. It is slightly up from last year, which finished at $130 million," he says, quoting data from McGraw Hill's ENR magazine, southeast edition.
"[2012] was a low point since '09," Hazy says. "Of course, '08 was a disaster, so the trajectory is improving, but it's still low. For instance, in 2011 there were $437 million in new construction starts. I feel very positive about the next 18 months, but I will tell you Atlanta still has a 20 percent vacancy rate in commercial space. We've got to absorb some of that before new starts come on line."
Location
Back at Cousins Properties, the CEO says the suburbs may beckon but his heart and the company's future will lie at the core of Atlanta. "Population growth by itself, I think we just learned in the last recession, doesn't equate to a healthy market," Gellerstedt says. "We had a lot of population growth, and the jobs were heavily dependent on housing. When housing stopped, you had a lot of hangovers in a lot of areas. We are very urban in our focus, in terms of where we own stuff."
"So in Atlanta, we own stuff in Buckhead and Midtown and Downtown, and a little bit up in North Fulton, but we're urban-focused where we think the demographics are for folks that will be in our types of projects. I am bullish on Atlanta."
Over the years, Atlanta's office space core has moved from Downtown northward to the top of the Perimeter. Not only are Atlanta's office buildings in continuing motion across the city and the suburban landscape, but the design of those buildings has changed over the years as well.
In 2006, the world saw the opening of the first pre-certified LEED-CS Silver (Leadership in Energy and Environmental Design Core and Shell) high-rise building at 1180 Peachtree St., a 670,000-square-foot build-ing with 10-foot floor-to-ceiling windows and more than an acre of public spaces, plazas and gardens. Initial tenants in 1180 Peachtree, also known as the Symphony Tower, included the prestigious law firm King & Spalding, which is still in the building.
Georgia State University assistant professor of real estate Dr. Jon Wiley says 1180 Peachtree was not the largest office building in Atlanta, "but it did sell at the highest price per square foot, $450, in 2006," Wiley says. The trend of using Atlanta's buildings to make a statement about energy efficiency and environmental concerns began with 1180 Peachtree, the real estate professor says.
"With energy-efficient design stuff, a premium was placed on access to natural light, and things like that seemed to be something you could sell to a client," Wiley says. "We've seen the top four law firms moving to buildings like that, and large accounting firms are doing the same. They're saying, 'Hey look, we're committed to the environment because we're in a Class A LEED-certified, energy-efficient office space.'" And the occupants of these airy office buildings lit by natural light find energy savings in the bargain.
The flexibility and ease of Atlanta's permitting process bodes well for the future of commercial real estate construction, according to Wiley. "To see what happened to Atlanta because of the flexibility in building, you can look back to 1985. You could have asked someone back then, 'What are Class A office rents in Atlanta?' and they would have said about $20 a square foot," explains Wiley. "Fast forward to today and ask them the same question, and they would say it's about $20 a square foot. The rents have remained flat for about 30 years. The reason for this is that as soon as we start to see some more demand in office space, rather than supply [being] constrained, we'll just build more office [space]." And then there was the Great Recession that began in 2008. "A number of companies downsized and decreased their footprint," Wiley says.
"The largest line item for any company is personnel," he says. "The second largest one is their rent or real estate cost. They're trying to find ways to get employees to do more with less, and real estate is one of those areas."
Changing Needs
As more employees work from home or telecommute to their jobs, there is an impact on the need for office space, Wiley says. But the driving force in the design of future offices will be that No. 1 expense, the employees. They are already changing the culture of the office, say experts and professionals in the commercial real estate field.
"I went to visit a friend of mine who runs a large PR firm," says Daniel Levison, principal and managing partner for Commercial Property Professionals, an Atlanta real estate company. "They've got 60 people in their offices, and 70 percent of them are less than 32 years of age. They're looking for creativity, and they're using the Web more, and it's a more open area – more break areas and more refreshments and catering to a younger crowd." Younger generations have been pampered, Levison says, and they "expect more from an employer than I did when I first got in the workforce."
Office building landlords have devised many ways to entice tenants. "The fitness side of that is big, particularly in the technology companies," Levison says. "Most of those buildings have outdoor areas, and having Wi-Fi there for their tenants is a big selling point." Other employee amenities are changing office buildings today and promise even more changes in the future: green areas with fountains and koi ponds, even babbling brooks in an atmosphere that can be both contemplative and collaborative.
"The design of an office building goes to one aspect," says Volkan Alkanoglu, assistant professor and graduate director at Georgia Tech's School of Architecture and a founding principal in the Atlanta firm of Alkanoglu Design, which has assisted in the design of office buildings in New York and London. "And that is productivity of employees."
Alkanoglu says there are studies that link comfort and productivity. "It's about being able to keep an employee in the office as long as possible," he says. "In quite successful offices, they offer showers and child care and maybe a very good food court." Some office buildings have turned offices into "work dens," with space and furnishings that allow real comfort. "Some people need a power nap," Alkanoglu says. "We don't all work the same."
Technology, Mobility
John Ferguson has another take on the youth movement in the culture of the office worker. "A trend we are seeeing within corporate America, especially in the younger workforce, is an increased investment in technology platforms as employees are more mobile in how they work within their office environment," says Ferguson, executive managing director of the Southeast Region for CB Richard Ellis Group (CBRE), a Fortune 500 commercial real estate firm in Atlanta.
"You're seeing companies invest less money in walls and fixtures and more money in technology," he says, adding that shift in focus for corporate offices comes from a younger, more collaborative workforce. "You see collaborative [accommodation] in more meeting space geared around technology. Instead of individuals sitting at their desk in their private office with the door closed, you're seeing more collaborative work. This younger generation grew up working collaboratively, not individually, and that's carried over to the workplace. Instead of rows of modular cubes, you're seeing more of what we call wishbones of 120 degrees, where people are still in a work environment but in a much more collaborative way."
The office of tomorrow will have to be in a building that can be molded and adapted to fit needs that may change from month to month. "One company [an accounting firm with several floors of office space] has actually converted a floor, so they have the old way of how their space is set up and they have the new way of how their space is set up," Ferguson says. "So, there we have an industry like accounting whose workforce average age is under 30, [and this is] how they evolved and changed the way we view real estate and office setup. Is flexibility more important today than it was in the past? The answer is yes, and it will be important in the future."
Ferguson says more employees are using alternative transportation, like bicycles, to get to and from work, and that's led to other amenities for workers. "Office buildings will need to provide a safe environment for parking those bikes," he says. "There is also a demand by the bicyclists for showers that is being met. Some companies even allow pets in the workplace, and the breakroom has become the breakroom/coffee bar, so building owners are having to adapt their rules and policies around things like this."
As Atlanta's next generation of office space comes on line, the city's older buildings will slowly lose their attraction for prospective tenants, says Tom Miller, a commercial real estate specialist and executive managing director of Newmark Grubb Knight Frank. "An older building that might have some functional obsolescence, like not as much natural light or not as much greenspace or whatever, that's just more capital dollars the buyer is going to have to put into the building to modernize it and give it a modern look and feel," Miller says. And that's just what the younger generation of office dwellers wants.