Paulding County: Driving Growth
Healthcare, aviation and history.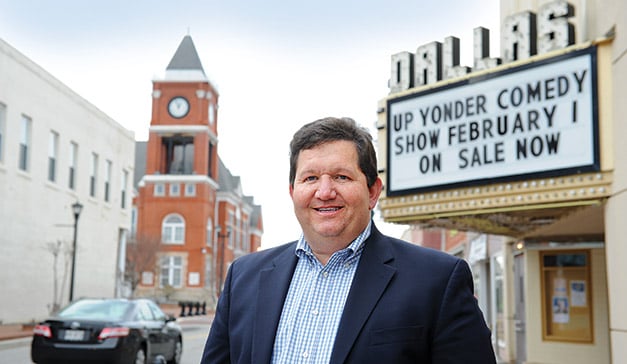 A stretch of Bill Carruth Parkway just might be called the road to Paulding County's prosperity. Along this Northwest Georgia byway, you can find the industries now shaping the future of this heavily residential and suburban bedroom community.
Rising up at the intersection with Highway 278 are the strikingly modern towers of the new WellStar Paulding Hospital in Hiram. The 300,000-square-foot medical center is scheduled for completion in April. When the $125-million, eight-story facility finally opens, it will include four surgical suites, 40 emergency exam rooms and 56 patient rooms. Powered by geothermal energy, the complex incorporates a host of modern ideas about hospital design and the best ways to speed the healing of patients.
Booster Shot
Healthcare is a big factor in economic growth and getting bigger all the time. Marietta-based WellStar Health System became the owner of the county's aging hospital and made a new facility part of its drive to expand medical services throughout the northern arc of Metro Atlanta. The project – which also includes medical offices for its employed physicians – will add about 500 new non-physician jobs to a region that is still hurting from the Great Recession that laid waste to home building.
Putting medical facilities and services closer to where patients live – particularly once-rural communities experiencing major population increases – can help drive economic growth.
"Healthcare is one of our main ingredients for recovery because that's what corporations look at besides education," says Paulding County Commission Chairman David Austin. "We were solely dependent on the home building industry and became a bedroom community to Cobb and Douglas, and [we] really didn't have much industry to speak of."
Commissioner Austin won office promising to beef up the county's business and industrial base and keep more of the county's working adults from leaving for jobs elsewhere in the metro area. Some 78 percent of residents leave the county every day.
To attract employers, Paulding needed an infrastructure that provides the quality of life that company execs look for in a new location. The county already had a highly rated public school system – that was one of the reasons so many families moved here to begin with. Upgrading medical care would take more investment.
The old county hospital in Dallas, which local leaders had helped build in the 1960s by taking out mortgages on their own homes, had seen better days and wasn't able to provide the kinds of services that the population needed. In fact, most patients left the county for WellStar Kennestone in Marietta or Emory in Atlanta when they needed heart surgery or an aging hip replaced.
So the county pushed for a new facility, and locals were elated when the new hospital was announced.
"I think the reason this accelerated is the county was willing to back 30 percent of the bonds needed for the hospital," explains Austin. "That gave them an easier opportunity to obtain the Certificate of Need. By backing those, it accelerated the process and helped them acquire the money easier."
Manufacturing Wins
To make sure Paulding gets the attention it deserves, the county created an agency to sing its praises to the rest of the country – Paulding County Economic Development Inc. It also hired its first full-time economic development director, Jamie Gilbert, in 2011. Since then, the county has scored several wins attracting major employers to the region.
The most notable of these has been conveyer systems and components maker Interroll. The Swiss company constructed a $10-million, 93,000-square-foot Regional Center of Excellence in Hiram's Paulding Commerce Park. The North American manufacturing plant, showroom facility and technology center is creating 70 jobs while setting a new standard for the county.
"The Paulding Commerce Park is our first Class-A business park, and this is our first Class-A building constructed in Paulding," says Gilbert.
The Swiss company selected Metro Atlanta as the base for its North America operations to be within easy reach of its customers – both locally and through Hartsfield-Jackson Atlanta International Airport, according to Tim McGill, president of North and South American operations.
The company engaged in a lengthy site search for the right type of building before settling on the Hiram location.
"I spent a year and a half looking for a suitable existing building, and what I found is that there are not a lot of high-quality manufactured buildings for sale," says McGill. "We like our building to have a certain image, so we weren't going to buy a steel building. We wanted a concrete construction, and what we found is that in Atlanta there was not a lot of real estate of the right size and quality available to us."
Interroll already owned a small operation in the county, and local officials offered them a prime location in the new business park and a bevy of incentives to ease the pain of constructing a new building. The location isn't your typical industrial park either. New buildings will have to match the standards set by Interroll, and the surrounding sites will offer an upscale look.
"The products will be manufactured here," says McGill. "We will buy certain components from European entities, but the products will be manufactured here in Atlanta. We manufacture on all continents for those continents."
On the heels of Interroll, the county announced that Ronchi, a Milan, Italy-based manufacturer of liquid filling and packaging machinery, was moving its American headquarters here from New Jersey.
"Over the last few years, the company has grown quite a bit, and the U.S. market share is 25 percent of the worldwide market," says Matthew Piercy, technical services manager of Ronchi America LLC.
With so much business in the U.S., the company decided that it needed a new facility for its administrative, sales, spare parts, service, assembly, warehouse and shipping/receiving operations.
"The main thing is everybody was working from satellite offices," he explains. "We're flying all over the country, and as we started looking at consolidating, Atlanta was a great spot because of the airport. First and foremost the airport drew us in to looking at this area – just because of logistics."
The milder weather and lower real estate prices were also critical to making the deal work.
Along with Ronchi America, Gilbert's organization has facilitated eight projects, including the Southeast U.S. operations for Pittsburgh-based Haddad at the Dallas Industrial Park. Haddad specializes in renting trailers to film and TV productions, another outcropping of Georgia's booming film industry.
Along with these wins, local companies are also beginning to expand and hire again, according to Paulding County Chamber of Commerce President and CEO Carolyn Wright.
"After all the economic struggles through the last few years, they are talking about growth again and they are talking about expansion," says Wright. "We currently have one member that is expanding from around 30 employees to around 75 employees coming up early next year."
Airport Expansion
The second leg of the economic development "stool" is focused on aviation and "what we [can] do to make a $50-million airport more successful," says Commission Chair Austin.
The answer to that question stirred up something of a hornet's nest among local residents and drew a very big adversary in the form of Delta Air Lines.
After losing a bid to bring airline flights to Gwinnett County, Propeller Investments entered into a partnership with the Paulding Northwest Atlanta Airport in October 2013 to secure passenger service and create a cluster of aviation-related businesses in the area. The company, which invests in airport and aviation businesses, leased the terminal and an option on 60 surrounding acres. The field also got a catchy name – Silver Comet Field at Paulding Northwest Atlanta – to reflect its desire to serve customers from Cobb County all the way to Alabama.
The commission unanimously approved the issue of $3.4 million in bonds, and the Paulding County Industrial Building Authority provided a $1-million loan to finish extending the taxiways to accommodate larger aircraft. But the expansion plans have faced court challenges from local citizens – at presstime, three separate lawsuits have been filed by Paulding County residents. Now, most of these upgrades have been delayed until an FAA environmental study is concluded.
"As far as that is concerned, we are in a holding pattern and will be until we're through the appeal process," says Blake Swafford, executive director of the Paulding Airport and Industrial Building Authority.
The announcement that passenger service would also be part of the plan produced heated opposition from Delta, the largest carrier at Hartsfield.
The airline not only publicly opposed the airport expansion, but it has also reportedly cranked up its legal machinery to challenge Paulding's application for FAA approval of the project.
A main concern is that by introducing limited commercial air traffic in Paulding, it could grow into a larger competing airport to Hartsfield down the road. Local officials, however, have stated that building additional runways in the future is highly unlikely due to financial feasibility and topographical challenges related to the airport's location.
"They have attorneys at GDOT [Georgia Department of Transportation] and attorneys at the FAA trying to throw different obstacles along the way," says Commissioner Austin. "These are expensive attorneys working to try to derail this on several fronts."
Austin says he's a bit mystified at why a corporate giant like Delta launched an all-out attack on this small effort. The few flights coming out of the airport would not even be a blip on the airline's radar, and besides, many of the passengers would likely be taken away from airports in Birmingham or Chattanooga – not Hartsfield.
"I never knew when we took this cause up that Delta would care about half a dozen flights to several dozen a week," he explains.
With a 6,000-foot-long runway, the airport can handle all but the biggest jets and would be ideal for a small number of weekly flights to high-traffic destinations such as Orlando, according to Swafford.
The airport would have to upgrade the newly finished 23,000-square-foot terminal with baggage handling and passenger screening security and staffing, including $250,000 worth of perimeter fencing. Airport officials have said they may also build a temporary control tower until the FAA puts up a permanent one.
The small size of the terminal means that it can handle only one to two gates with some configuration, according to Swafford.
If passenger service is finally established, it won't mean that Atlanta has gotten its "second airport," he adds.
"What works for us is an alternative airline that does point-to-point service as opposed to having major hubs," he explains. "[The airline] would be looking at providing service from Paulding to maybe Orlando or a few other high-traffic destinations. It would be more geared toward vacation travelers – not a large volume of traffic. You wouldn't see someone come in and put 10 flights a day into Orlando. That would only work where they are feeding people from all over the country into the hub-and-spoke system."
Austin contrasts a few flights a week to more than 1,000 takeoffs a day at Hartsfield and says the contest really is one of David vs. Goliath.
While it would provide an alternative for travelers living in Northwest Georgia, Paulding officials see that the real benefit lies in the aerospace companies that would set up shop there to service the passenger airline.
To support those companies, the airport plans to build a new hanger that could house companies providing wing, engine and other types of work.
"Different airlines have looked at us and like to see other businesses there (at the airport)," says Commissioner Austin. "When they need to have a repair or have some work done, there are people on site who can do that. That will help that whole industrial area grow."
Downtown Efforts
While activity has been slow the past few years, local governments have worked hard to get ready for the comeback of growth. In the county seat of Dallas, the city has invested in new streetscapes and created areas for mixed-use development, according to Mayor Boyd Austin Jr.
"We are one of the few cities outside of the ARC [Atlanta Regional Commission] that has an LCI [Livable Centers Initiative] plan that maps out the future of the local area, and we're about to begin another phase of that plan," says Mayor Austin. "It has allowed us to develop the aesthetic for what things look like, and any infill development will follow those guidelines," he adds.
Much of the city has also been included in an Opportunity Zone, which offers special tax incentives to businesses that create new jobs. Among the companies moving here is Certified DEF's Southeast U.S. diesel exhaust fluid (DEF) packaging and distribution facility. The Brigham City, Utah-based company created 20 jobs and will provide diesel exhaust fluid to travel plazas, trucking companies, truck rental centers, automotive parts stores and retail outlets across the southeast.
Along with beautifying the older parts of the city, Dallas is working on creating recreational attractions, including a Civil War battlefield park.
The city has acquired 180 acres of land that was the site of some of the bloodiest fighting of the war. In May and June of 1864, Union and Confederate troops fought three major engagements at Dallas, New Hope Church and Pickett's Mill. It was here that the First Kentucky Brigade or Orphans Brigade (so named because its home state of Kentucky was officially neutral) lost more than half of its members in an ill-timed charge into Union lines.
"We hope to maintain it for its historical assets and the natural assets on the property for future generations," says Mayor Austin. The park will eventually connect to the city's other green and recreational spaces.