Macon | Bibb County: Working Together
Manufacturing, downtown revitalization and community partnership.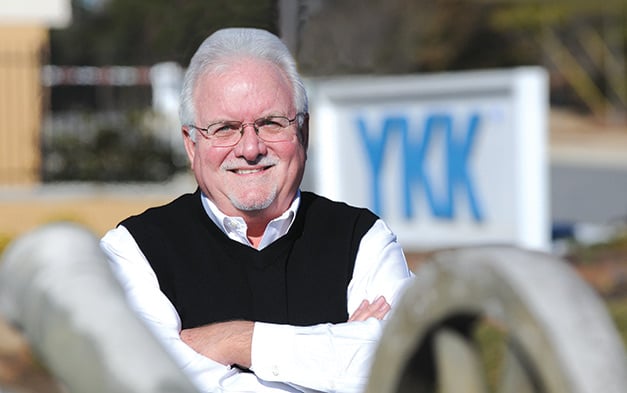 After a bouncing ride over the choppy seas of the recession and into a welcoming calm, economic developers in Macon-Bibb County can look back over the recent past to enjoy what 2013 brought them, and then peek ahead to a promising future forecast by the crystal ball gazers.
According to Georgia's Office of Planning and Budget, the Macon-Bibb consolidated government's five-county Metropolitan Statistical Area (MSA) will grow by 70,000 people by 2025, with Macon-Bibb and Houston County leading the population growth by adding 56,000 new citizens to their communities – good news for Macon-Bibb retailers and the economic developers who recruit them.
"I'm not going to say we turned the corner [on the recession]," says a cautious Pat Topping, senior vice president of the Macon Economic Development Commission (MEDC). "In 2013, we certainly had a good year in new business and business expansion, plus our activity level on projects is 30 percent above what it was in 2012."
And, Topping adds, "every company we either had expand or locate here is involved in manufacturing." The manufacturers included paper plate and egg carton producers, as well as makers of plastic pellets and chemicals. On top of that was Kumho Tire's decision to follow through on a commitment made six years ago and delayed by financial conditions.
"Kumho Tire came back and strengthened their commitment to build a facility here, gave us some deadline dates and made a strong financial commitment for a plant in our Sofkee Industrial Park," says Topping. The company is expected to hire 300 workers when the doors open and grow that to 400 when the plant hits full production marks. And they'll invest a little over $200 million, according to Topping.
"In fact," he says, "in all of last year, [for] the companies that MEDC had some activity in, including Kumho, we're looking at 800 jobs and $270 million worth of investments, a million-and-a-half square feet of space that will either be built or has been leased or sold on 150 acres of land."
The post-recession flurry of investment includes Aspen Products' $13 million to land a paper products plant in Macon. The company signed a long-term lease on 200,000 square feet located at Macon's Airport Industrial Park, where 200-plus employees will work.
Consolidation
Though the state of mind of any citizenry is difficult to measure, the mayor of the newly formed Macon-Bibb County consolidated government says the population of his new political subdivision seems to be overjoyed with its creation, perhaps because the transition went so smoothly.
"We were fortunate enough that the enabling legislation created a transition task force of about 15 people, including 10 elected officials from the county and city and a couple of constitutional officers and five citizens," says Robert Reichert, the first mayor of Macon-Bibb County consolidated government, who previously filled the post for the city of Macon for one-and-a-half terms. "This task force worked for 16 months and hired people at the [University of Georgia's] Carl Vinson Institute of Government and the Middle Georgia Regional Commission to develop different parts of the paperwork and documentation for the consolidated government."
The transition team worked to consolidate conflicting or duplicative ordinances into a unified code for the new government, a process that may have helped reduce or eliminate city-county turf wars that could have popped up. "The result is that we had a single code of ordinances that the new commission adopted at its first meeting," Reichert says.
As the before- and after-consolidation mayor, could Reichert feel any difference between the governance? "Yes, there are expanded duties and obligations and requirements and decisions to be made that I have not had to make heretofore," he says. "Last night, for example, I received an inquiry from the district attorney's office and an inquiry from the chief judge of the Superior Courts of the Macon Judicial Circuit asking me whether the courthouse would be closed today because of the weather."
The answer, says the mayor, was "business as usual. It also feels different because there is an almost palpable spirit of optimism and enthusiasm in this community now. You can feel that everywhere you go."
Cooperation
Macon-Bibb is also working at the possibility of sharing economic development projects with political subdivisions among regional counties. One project being discussed is the possibility of expanding Macon's Middle Georgia Airport to add another dimension to the region's logistics network.
The idea is to add an aviation component to the rail and highway transportation connections to the Port of Savannah. An earlier partnership between Macon-Bibb County, Houston County and other regional counties resulted in the purchase of so-called "encroachment property," residential sites in the takeoff and landing paths of aircraft runways at Warner Robins Air Force Base that are subject to high noise levels and potential plane crashes.
In this regional project, the counties actually shared Special Purpose Local Option Sales Taxes (SPLOST). The funds were used to acquire 250 properties within the base's encroachment zone, helping the base avoid closure or losing jobs in the Defense Base Realignment and Closure Commission (BRAC) process regularly conducted by the Pentagon. Robins Air Force Base is the region's largest employer, with more than 22,000 military and civilian workers showing up for work every day. Many, if not most of them, commute from neighboring and regional counties.
"The Greater Macon Chamber of Commerce and Economic Development Commission have reached out over the last several years to form strong partnerships with our colleagues in the surrounding counties, especially Houston County, to ensure we can all work closely together to take advantage of all the regional economic development opportunities we have heading our way," says Mike Dyer, president and CEO of the Greater Macon Chamber of Commerce and Macon Economic Development Commission.
Macon and Bibb County share a history that includes evidence of human habitation dating back 17,000 years at the Ocmulgee National Monument, the community's most-visited tourist attraction. Tourism accounted for $311.6 million in direct spending during 2012, according to data issued by the Travel Industry Association of America and shared by the Macon-Bibb County Convention & Visitors Bureau. That same year tourism generated 3,290 jobs and produced $73.92 million in payroll, a significant local revenue generator.
"We are extremely proud to tell the story of how powerful tourism is in the growing economic impact in our area," says Valerie Bradley, communications manager at the Macon-Bibb County Convention & Visitors Bureau. And work is underway that may raise the value of tourism here, according to Bradley.
"Possibly in a year from now we'll be able to say the Ocmulgee National Monument is a national park," Bradley says. "People will be able to walk the [Native American] mounds and enter the continent's only reconstructed earth lodge, where archeologists believe tribal ceremonial events took place."
Community Reinvestment
When Macon's Mercer University opened its new Center for Collaborative Journalism in August 2012, the event marked a first step in a unique experiment to teach and train students for careers in the profession of gathering and disseminating news. Funded by contributions totaling almost $6 million from a number of nonprofits, such as the Knight Foundation and the Peyton Anderson Foundation, the center hosts project partners like Macon's daily newspaper, The Telegraph, and the Macon bureau of Georgia Public Broadcasting, places where students work and study alongside reporters, editors and other journalism professionals in newsrooms at the center. Other collaborators include the Macon community at large.
"There are a number of funders in the field, like the Knight Foundation and the Carnegie Foundation, who have been talking over the past decade about how we can better train young journalists," says Tim Regan-Porter, director of the center. "Their opinion was we weren't doing a very good job of that. People were showing up [for work], and they really weren't ready for doing the job."
Nonprofit leaders concluded the best teaching and training universities were those that produced nurses and other healthcare professionals whose training included real-life experiences in clinics. What, they wondered, would happen if that model were applied to journalism?
"Instead of spending all their time in the classroom and doing stories with their professors, what if we had them working in a real newsroom and getting out in the community and telling real stories with all the pressures of deadlines and revenue expectations?" asks Regan-Porter.
Early indications are the students are succeeding. One student reporter put together a story about the Atlanta Braves moving to Cobb County that went national on public radio, and community members are asking how they can get the ball rolling on a story.
Believing the citizenry is an important partner in the collaboration, the center has begun working on plans to launch a series of programs to teach citizens how to dig up information that could lead to a story. In many ways, Mercer's journalism students are auditioning for a job each time they produce a story that lands in a publication or broadcast. The Atlanta Braves story is a case in point, says Regan-Porter. "That was a cool story," he says. "And it was huge for her resume."
Developing Downtown
Gene Dunwody is a Macon entrepreneur, architect and developer of large downtown buildings, notably the historic Dannenberg Building, a 90,000-square-foot, classic c. 1890s mercantile center, a historic landmark he had been eyeing for more than 20 years.
"It took a long time for us to get the financing because of the banking debacle," he says. "In 2011 we were able to cobble together a very interesting financial package, and we've been under construction for the past 15 months."
The retail spaces on the ground floor are being filled fast, he says. "These buildings are very old, pre-1900, and they are filled with character," he says. "We thought the commercial space would take a long time to lease, but they're sold out. We have Macon's first modern-day downtown grocery store going in on the Poplar Street side of the building. It's about 6,000 square feet." Ocmulgee Traders features grocery staples along with local and high-end foods, and includes a café seating area facing Poplar Street.
The residential units feature ceilings of 10 to 20 feet above the heart-of-pine floors. An atrium in the lobby brings light in to greet visitors. "We did a financial feasibility study that came back saying there's a tremendous demand by people wanting to live in these urban areas," Dunwody says. "For decades, people were moving out of the cities, but I think that began to turn around in 2007."
Dunwody and his partners are guided by the belief that there are considerable numbers of young couples who long for a residence in buildings of character in historic neighborhoods, and the Dannenberg certainly qualifies on that score.
"We just got our certificate of occupancy," Dunwody says. "We sold the historic tax credits, which have a huge effect on these urban communities."
There is a period of time for every developer after the curtain goes up on a new property to see how the audience responds. First reviews are in, says Dunwody, and the Dannenberg is a hit.
"We have 20 units in Phase I we have completed, and 19 of those units are occupied, but we've leased 30 of those units total. The properties are being grabbed even before finished," Dunwody says. "I think people are interested in the history of it. People are enamored with old buildings."