Digging Through Georgia's Past
UGA's Brown Media Archives is uncovering a wealth of video from WSB-TV spanning nearly 100 years of Georgia history.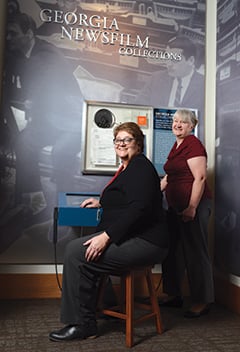 Each day, Paul Van Wicklen shows up for work in an underground vault at the Richard B. Russell Library on the campus of the University of Georgia (UGA), where he stands guard over a cavernous collection of items so rare their value cannot be estimated.
The vault's environment is carefully maintained at a temperature of 50 degrees, and humidity is set at 30 percent. Other numbers are even more impressive in the 30,000-square-foot room, with 50 miles of shelving under a ceiling 30 feet above. Van Wicklen is a librarian by profession, but he is better known to his younger staffers as the "Vault Master," the man you must see to gain admittance to the chilly room and its treasure troves of historic documents, film, video, artwork, rare books and manuscripts.
This day Van Wicklen has allowed a visitor to see how a valued film and video collection from Atlanta's WSB television station is being maintained. Since the collection was donated in 2013, it's already becoming known as the crown jewel of The Walter J. Brown Media Archives, with news footage on 16-millimeter film going back to 1948 and videotape news from the late 1970s to the present. The collection is a rare research tool, say experts.
"The WSB collection is a one-of-a-kind treasure," says Ruta Abolins, director of UGA's Brown Media Archives & Peabody Awards Collection. "There is just nothing else like it."
WSB-TV launched in 1948, becoming the first TV station in the South. Since that time, numerous other stations have come onto the scene, but none of the Atlanta-based stations saved their news film. For that reason, the WSB collection is believed to be the largest television news donation of its kind in the nation and is expected to be a popular research tool for historians of every variety.
While the WSB-TV news film and video collection has clips spanning 1948 to 2010, and all of it is digitized for easy access, the cataloguing process is expected to take an additional three to five years before people can easily search through the entirety of the collection.
The Richard B. Russell Special Collections Building is to historians what King Tut's tomb was to archeologists a century ago, with the basement vault holding the highest value objects from all media. Aside from the WSB collection, the vault also houses news film from TV stations in Augusta and Albany and silent home movies from the World War I era to the 1930s, like footage of the garden party hosted by Atlanta's Robert Woodruff family of Coca-Cola fame. (It's part of the Kaliska-Greenblatt Home Movie Collection, a separate part of Russell Library's Brown Media Archives.)
The first donations of film and videotape from WSB began to trickle onto the UGA campus in 1985 and were deposited at the then Instructional Resource Center, now the Center for Teaching and Learning. The WSB Collection was eventually transferred to the building housing the Brown Media Archives & Peabody Awards Collection in 1995, when those library departments were created to house the WSB collection and others already at the libraries. Then, in 2013, WSB released the videotape portion of its holdings to the Brown Media Archives, 60,000 tapes, all since digitized, with Cox Media Group financing the process.
History Into Focus
Those 60,000 tapes mean thousands of hours of footage, so a large part of Georgia history is expected to come into focus. The WSB donation is one of the largest and most important gifts of television film and videotape from the pioneer days of the medium, covering the years 1948 to 1975. A lot happened in that time period, including the Civil Rights Movement, as well as the political careers of Jimmy Carter, Andrew Young, Maynard Jackson and William Hartsfield, among others.
"The post-1978 WSB material is all videotape, 3/4-inch Beta SP," Abolins says. "The real reason this donation is so incredible is that [WSB owner] Cox [Media Group] has decided to digitize all of that content before it comes here." And that, she says, saves the university a good deal of money. Abolins believes UGA's media archives will rise in prestige and value with the addition of the WSB collection. "The film and tapes contain an incredible amount of local, national and international history," Abolins says. "I don't think there is anything quite this large in terms of one station at one university."
The film and videotape collection from WSB continues a long relationship between UGA and Cox Enterprises, a privately held company owned by the Cox family. "The family and the company have been big partners and supporters of the university having a really rich archive of great news history," says WSB Vice President and General Manager Tim McVay. "We sent [UGA], initially, film from 1948 to 1981 or '82 on up to last year. Basically, what we sent them was all of those newscasts digitized for all those years."
WSB Chief Engineer Gary Alexander has seen a lot of the footage, which was digitized at Atlanta's Crawford Media Services, and says the footage includes film of the days when downtown Atlanta had two lanes of traffic. One notable clip he saw included local Republicans celebrating Ronald Reagan's victory over Jimmy Carter, ending the former Georgia governor's bid for a second term in the White House. "At the same time, Jimmy Carter was at the Marriott Marquis, but there was no celebration. I would think [footage of] his concession speech – there is probably only one video copy in all of the free world, and we captured it."
Abolins finds it interesting and sad that it has taken so long for television's early film and tapes to make their way into historical collections. "There is no one out there talking about the preservation of television film and video," she says. "But there really should be, because there is so much content and it's been out there for so long. We're going to get the data from WSB, and it's going to be about 480 terabytes of information." (A terabyte is equal to 1,480,576 megabytes.)
Looking For Clues
Laura Shedenhelm is sitting before a television monitor in her office at UGA's Brown Media Archives, where she is a bibliographer for Latin America, Spain and Portugal materials. On the screen before her is a 1958 film from the WSB collection featuring Raoul Castro being interviewed by an American reporter from perhaps WSB, or its parent network at the time, NBC. Shedenhelm is doing a little detective work to find out the name of the reporter and his station or network. "I do that as much as I can," she says. "But with 69,000 clips left before we get to the new ones, it is going to take some time."
When this long, complicated and expensive process is finished, it will be possible for any person at home or in an office to log onto a UGA website and watch historic pieces of film on the civil rights movement, for instance, or Georgia football games and political campaigns from the 1950s, '60s, '70s, '80s and beyond, as well as the scandal du jour from just about any modern era.
Back in the 1920s and '30s, there were photographers who traveled the country filming people going about their jobs or daily chores or shopping. These films were sometimes shown at local theaters where their subjects could see how they looked on film, while their neighbors bought tickets to have a look for themselves. These motion pictures were sometimes sponsored by local chambers of commerce that were eager to present their communities in a positive light and show off local assets that might attract the attention of a business or industry prospect.
"There were these guys who went around and filmed communities, like this one in Fitzgerald," Shedenhelm says looking at early 20th-century pictures of that South Georgia town. "They would come back later after the film had been developed and show the pictures so everyone could come and see themselves on the screen at a local theater. And sometimes, the town got a reel of film."
Students, archivists and other workers are now busy identifying the people, places and subject matter on the film and video clips at hand, and preparations and grant requests are underway to fund the continued cataloging, digitizing and storage of the tsunami of materials yet to come.
Some early films already available online are of people, places and events that have not yet been satisfactorily identified, and staffers at the Brown Media Archives are asking citizens for help in putting names to the faces and places that appear in these clips.
Film archivists from UGA currently travel the state each October to look at home movies in search of interesting images, but there will come a day when anyone with a computer will be able to access these historic films.