A Century Of Service
ACCG keeps Georgia's 159 counties working together.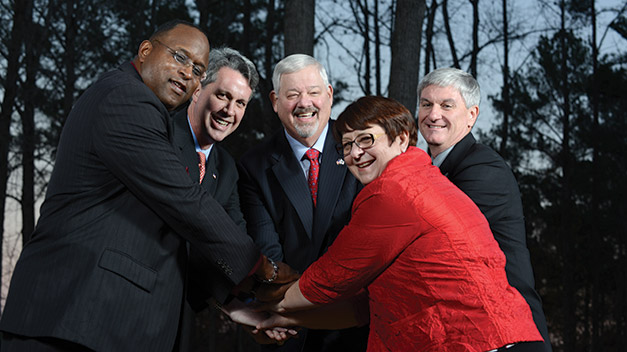 In a year that saw World War I break out, the Panama Canal open and the first Tarzan of the Apes book published, 135 commissioners of roads and revenues in Georgia laid the groundwork for an organization that is indispensable today.
These forward-thinking commissioners met in April 1914 at the Kimball House in Atlanta to discuss a predicament: The state coffers lacked the matching funds required by the federal government to create Georgia's first highway department. For the good of the state, the commissioners vowed to raise the bond money themselves. When the Federal Road Act passed in 1916, Georgia's counties delivered.
"We can't say that there wouldn't have eventually been a state highway department," says Charlotte Nash, chairman of the Gwinnett County Board of Commissioners, "but it wouldn't have happened at the time it did and the way it did if it had not been for some county commissioners who decided to take things into their own hands."
They also formed the Association County Commissioners of Georgia, which is celebrating a century of continuous service in 2014. Beginning with 19 charter members, it is now the consensus building, training and legislative organization for all 159 of Georgia's counties.
"It really does everything it's supposed to do to help commissioners help their constituents," says Mike Berg, Dawson County chairman and current president.
Berg was instrumental in rebranding the organization, which since last year has gone by its acronym, ACCG, and the tagline, "Advancing Georgia's Counties."
"It's subtle, but it means a lot," Berg says. "To get your name out there, it has to be relevant."
Renewed Focus
The new marketing push coincides with the centennial celebration taking place throughout 2014. The 100th anniversary observances aim to make Georgians better understand and appreciate what ACCG does to help counties and their commissioners meet the health, safety and welfare needs of their citizens. The slogan on the 100-year logo is simply: "Georgia's County Association."
"Association County Commissioners of Georgia was a mouthful and also grammatically incorrect," says Executive Director Ross King, noting that media often added an extra "of" after "Association."
He says the lengthy name didn't accurately reflect that ACCG supports 807 county commissioners as well as appointed managers, administrators, clerks and attorneys. More than 80,000 full-time and part-time county employees also benefit from its programs.
"As we move into the second century of service," King says, "we're moving from our initial focus on the road system and the highway network into a thought process about the information highway – broadband and the connectivity of counties on a global scale."
ACCG's scope has increased to support the expansion of services in counties from Taliaferro (estimated population 1,680 in 2012) to Fulton (estimated 977,773). Texas is the only state in the nation with more counties (254).
"I'm very proud of the fact that ACCG has become what it is: a leader amongst county associations throughout the nation," says Clinton Perry Jr., Taylor County chairman and immediate past president of ACCG.
"Our association has certainly evolved into an organization that's about inclusion, not exclusion. We're very diverse, and we really genuinely care for one another. Although we might be at other ends of the state, I think we find that we have more things in common than we have differences."
One of ACCG's first initiatives when King became its third executive director in 2010 was identifying "four pillars" of service. These pillars, which King says, "directly amplified the work the association has been engaged in," are Legislative Advocacy, Leadership Development, Member Services and Civic Engagement.
"New commissioners are elected and they've got grand ideas, and then ACCG kind of gives you a little direction," says Kevin Little, the Walton County chairman who will be installed as ACCG's 100th president in April for a one-year term.
"ACCG sets some guiding principles that each county can work off of and strive for," Little adds. "I can't really comprehend what it would be like not having an organization that focuses on the whole state of Georgia working together, all 159 counties. Whether you've got 1,000 people or half a million people, you still have the same problems and the same situations. It's just on a different level."
Advocacy and Education
Nash says that while ACCG tries to put equal emphasis on each of the four pillars, "When the General Assembly's in session, for sure Legislative Advocacy becomes of primary importance to us."
ACCG spends a tremendous amount of time and effort establishing policy positions, with commissioners weighing in on seven committees. "As opposed to having 159 voices going to the Statehouse, we try to unify the message and have been successful," King says.
ACCG supported the Special Purpose Local Option Sales Tax (SPLOST) to fund infrastructure improvements, backed the creation of Community Improvement Districts (CIDs) and fought for the preservation of home rule.
ACCG also advocated for the County Leadership Training Act, enacted in 1990. Georgia is one of the few states requiring all newly elected members of a county commission to have mandatory training, which is jointly provided by ACCG and the Carl Vinson Institute of Government at the University of Georgia. After 18 hours of classes the December before taking office, the new officials move into the certified commissioner program. Certification carries a stipend of $100 a month.
Perry says when he was elected in 2004, he didn't know classes were available. "I thought I would be on my own," he says.
He appreciated the opportunity to learn about law, finance, county management, conflict resolution and other subjects in which "we as commissioners are expected to be sophisticated enough to be effective leaders."
The ACCG Lifelong Learning Academy provides further education and exchange of ideas through more than 70 classes.
"They can't run somebody's economic development operation, but it helps expose county commissioners to ideas and best practices that other jurisdictions are using," says Nash, who is currently 3rd vice president of ACCG and will be president in two years.
The curriculum is being refreshed to include more real-life situations and specialty tracks akin to college majors. It's designed "so you never finish," Berg says. "You will always have courses to take."
Commissioners also learn from peer-to-peer interactions at conferences and through webinars. "I always found out that there's always somebody doing something better," Perry says.
Since Nash became involved in local government 35 years ago, she says she has seen at ACCG "a very strong evolution in direct services to members."
Member Services now include insurance, retirement, financial services, group purchasing/employee discounts and technical assistance. The volume-pricing program is a trendsetter.
"Those types of services require a lot of money," says Perry. "Because we are able to pool our resources with the other 158 counties, we are able to afford them."
The pension program was initiated in 1968 by Hill Healan, who became the organization's first executive director in 1961 (succeeding Betty Peeler, who served as secretary-treasurer from 1933-1961).
Jerry Griffin took the reins as executive director in 1986. Like Healan, he was "a futuristic thinker," King says, and built the stature of ACCG's insurance programs. From seven staff members in 1987 – when King came on board as policy development director – the number has grown to 79, split into thirds between retirement services, insurance claims and management and general operations (including legislative advocacy, the legal team and the special technical assistance network).
The health program, a partnership with Blue Cross Blue Shield of Georgia, began about a dozen years ago and has more than 100 entities participating.
About five years ago, ACCG extended the discounts that Blue Cross Blue Shield negotiates to the prison inmate population, reducing costs by as much as 65 percent. King says the 130 counties participating have been able to save $48 million.
"It's just the type of innovative thinking that this organization takes pride in, and it certainly had a very positive effect on our members," he says.
Dues, which are tied to population, account for only 4.6 percent of ACCG's $16 million-plus budget, with most of the funding coming from sponsorships and other sources.
In December, ACCG's 38-member board voted to give a discount on dues to participants in Member Services programs, which Berg calls "the most comprehensive dues structure change in the nation."
Such pioneering practices could provide a new revenue source for ACCG.
"I predict that our association will be marketing its services," Berg says, "maybe to the Southeast and maybe to the whole United States. We're so far ahead in our service programs that there are needs in other states for our services. In the future, we'll be marketing even some of our expertise."
But while commissioners and county employees are aware of ACCG's role and value, many members of the public are not.
"As you grow up, you hear about a mayor when you're in school," Little says. "You never hear about what the county does."
ACCG established the Civic Affairs Foundation, a 501(c)(3) that has raised nearly half a million dollars to foster civic engagement among adults and the next generation through internships and an awareness program in schools.
"It's almost like we have a love-hate relationship with publicity," Nash says, "because so many times what draws the publicity is a negative type of event. We've got to do a better job of telling the story under good circumstances, voluntarily sharing information and pointing out the essential type of role counties play in each of our communities across the state."
An Eye Toward the Future
A new interactive website, an app and a communications campaign have launched as part of the centennial celebration. The main event, the ACCG Annual Conference & Centennial Celebration at the Savannah International Trade & Convention Center in April, will highlight "not only what we've done in the past, but what we're doing today and what we're going to do tomorrow," says Berg, who was a Gwinnett County commissioner before moving to Dawson County. "We may be celebrating for a couple of years."
King says ACCG looks forward "in much better detail than has happened in the past" to telling constituents where their tax dollars go, whether it is to pave a road, put in a storm gutter or train a firefighter.
He says many people do not know that counties are an extension of state government in regards to the state court system, public safety, and health and human services.
While county administrations have the responsibility to establish and approve budgets for the constitutional offices of sheriff, clerk of court, probate judge and tax commissioner, they do not manage them.
King says ACCG is very proud of the collaborative tone its board has set with these offices, as well as finding consensus with the Georgia Municipal Association, which represents cities and towns.
With an eye toward the 100th anniversary, ACCG adopted a new strategic plan for the next five years.
King says ACCG will be spending time and effort increasing the county role in health and human services, which includes more of an online presence. For example, every county in Georgia has been outfitted with the computer capacity to be involved in a statewide telemedicine network.
He highlighted the capacity for counties to consolidate services to provide cost efficiencies, such as the eight counties covered by a regional E-911 system with a dispatch center in Schley County.
Criminal justice and juvenile justice reform are among other issues to address at the county level because of rewritten legislation that Little says "indirectly is passing costs down to the local level. If the state's going to be getting a lot of savings from this, then we want them to put a little more money into the county coffers or into the criminal justice program."
Economic development and jobs are also paramount as local jurisdictions recover from the economic downturn.
"The most common pressing problem that counties have across the state is revenues versus the service demands," Nash says.
In the face of federal and state cutbacks in financial assistance, "It's going to continue to require us to be innovative in terms of how we can work county to county to help our constituents out," King says.
With 156 newly elected officials in 2010 and another 214 in 2012, King says he is seeing a higher level of turnover among commissioners.
Because officials are not serving as long today as they once did, he says ACCG must "instill in the mindset of folks that being in a county government position is a laudable position. It affords them the opportunity to help set public policy and ensure that their jurisdiction is providing constituent value and capacity as we move to the future."
Perry learned about the job firsthand from his uncle, Willie James Bentley, who held the same seat in the 1970s and 1980s. Perry initially was not interested in public service when his uncle approached him to run for office.
Then one day at church a classmate asked him to come out and look at a road near her home. She was dissatisfied with the response she had received from her county commissioner.
"I went out and looked at that road," Perry says. "And as I drove around that county, I started to realize that maybe this was my calling for the moment. I was really needed, and there was something that I could offer."
Turns out, even 100 years later, sometimes being a county commissioner is still about the roads.