Shared Connections
Through the new Hub Cities Initiative, many minds are coming together across the state with one goal: To make Georgia great.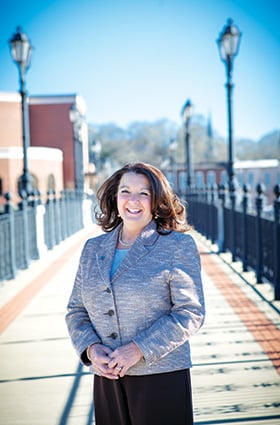 Every citizen knows the conventional wisdom that has defined our state since Reconstruction: There is Atlanta, and then there is the rest of Georgia.
Increasingly, though, the other, smaller cities are thrumming with innovation and a renewed sense of camaraderie, and their leaders are comparing notes. What started as a meet-and-greet at the Georgia Municipal Association's Mayors' Day Conference in January 2013 grew into the Hub Cities Initiative, a sweeping effort "to pull everyone together to harness and leverage the state's full economic potential," says Lamar Norton, GMA's executive director.
So the mayors of 13 participating metropolitan areas – Albany, Athens, Augusta, Brunswick, Columbus, Dalton, Gainesville, Hinesville, Macon, Rome, Savannah, Valdosta and Warner Robins – have been meeting quarterly in different hospitality suites and conference rooms around the state to brainstorm solutions to thorny challenges surrounding transportation, education, taxes, job creation and homelessness. In the process, they have discovered much common ground, from the piedmont to the wiregrass.
"Atlanta accounts for 68 percent of our gross domestic product, and these other cities contribute 23 percent, but they're poised to make a much bigger piece of that pie," Norton says. "There's this tendency to think of Atlanta as our bread and butter, but these mayors started talking and realized the connections they share and the impact each one can make, not just on a single community, but on the region."
After all, as "hubs," these cities support surrounding counties with universities, hospitals, military installations and other institutions.
"Strengthening these cities will create a ripple effect," Norton says, "and eventually, these mayors will also sit down with the leaders from Alpharetta, Johns Creek, Marietta, Stockbridge and other suburbs to learn from them how to manage that dramatic growth, particularly as far as transportation goes. We want a better-educated workforce that will pull parts of our state off the poverty rolls and, ultimately, benefit all of us with a more vibrant quality of life."
ROME
Evie McNiece, an accountant who became Rome's first female mayor in 2011, marvels at the cooperative spirit that pervades the Hub Cities Initiative.
"I think in the past, there were these territorial turf wars and a feeling of competition that characterized some of the interaction between cities," she says. "But times have changed, and we've all realized that we have to have partners for real progress; we have to work together, statewide, to exchange ideas. This program has worked beautifully from the moment it started. Our communication channels are always open – we call each other after meetings to follow up and seek advice from each other, so it's an ongoing and evolving thing that keeps gaining momentum."
The largest city in the northwest foothills and the 19th largest in the state, Rome serves as a medical hub with two hospitals and Georgia's largest health clinic, and it is also home to Berry College, Shorter University, Georgia Highlands College and the Darlington School.
"We're fortunate in so many ways," McNiece says, "but we're at a real disadvantage in transportation because we don't have an interstate that leads to us. Travel to and from here, especially horizontally across the top part of the state, is not as efficient as it could be. High-speed rail has been a big topic for all of us in this initiative."
So have budgeting challenges, of course. "All of our cities have very different demographics, but what we have in common is that we're trying to keep revenues up and expenses down while preserving services during an economic recovery," she says.
Another benefit of teamwork? Strength in numbers.
"We had issues with sales tax collection," she recalls, "so several of us met, together, at the Georgia Department of Revenue to get those straightened out. It proved much more effective to have a collective voice from around the state united on that issue, instead of just one of us complaining to make a case." – CD
MACON
When Robert Reichert was re-elected in October, he became the first mayor of an administration that transitioned, as of January 1, into the consolidated Macon-Bibb County government – a sometimes confusing but exciting time as civic leaders sort out their roles and priorities. Reichert hopes his associates will take their cues from the neighborliness and enthusiasm of the Hub Cities Initiative.
"Four of us (mayors) started informal talks along these lines a couple of years ago, led by Columbus Mayor Teresa Tomlinson," he says, "and the more we brainstormed, the more other mayors joined in, and soon we discovered issues we have in common – transportation, air quality, economic development, homelessness. It only makes sense to try to learn from each other in an open, collaborative spirit about what does and doesn't work."
Much of Reichert's plans center around Macon's architecturally aesthetic but underused downtown, with "vision blocks" of revitalization, particularly the Second Street Corridor. "We're partnering with other entities on a strategic plan to create a vibrant urban core that offers opportunities in healthcare, retail, education, arts and culture," he says. "Most cities of our size are moving away from the suburban, driving model to the walkable, urban environment."
The Special Purpose Local Option Sales Tax (SPLOST) voters approved last year includes $8 million for turning the area into a landscaped, pedestrian- and bicycle-friendly corridor, with more trees and better parking. Reichert hopes other cities also find inspiration in the Daybreak Center, which provides hygiene, health, education and job preparation for the homeless population in the area. "We've seen so many families reunited and restored there," he says.
So Reichert is striving to connect families, communities and businesses.
"We want to create synergistic patterns of development that make them greater than the sum of their parts – linking the Medical Center with the courthouse and conference centers, and making transportation easier around the Middle Georgia Regional Airport for warehousing, manufacturing and distribution," he says.
Those "synergistic patterns" could extend statewide, too, with high-speed rail spanning Savannah to Rome, stopping in other on-the-move burgs like Macon in between. "When one of us benefits, we all benefit," he says. – CD
HINESVILLE
Located near the Georgia coast, Hinesville has years of experience working in cooperation with other cities to further the economic development of the group. The city has partnered with nearby hub cities Savannah and Brunswick for the past five years on initiatives including economic development trips to China. The three have also developed ways to capitalize on the pending Savannah harbor deepening project and the increased business that will bring to the entire area.
Hinesville also has an economic ace closer to home. The largest army installation east of the Mississippi, Fort Stewart, sits just north of the city and has an annual estimated economic impact of $5.2 billion. That number may change, due to restructuring, sequestration and the general economy, but Jim Thomas, mayor of Hinesville, remains optimistic that Fort Stewart will continue to be the economic engine for the area.
In addition to its enormous direct impact, Fort Stewart has also been indirectly responsible for some of the economic diversification in the region. Hinesville boasts a wide range of business and industry, including a Target distribution center; Firth Rixson, a metals forging business; Interstate Paper; and SNF, a chemical manufacturer.
On the surface, these businesses have little in common. However, Thomas points out that there is a common denominator: a desire for a "disciplined and drug-free workforce." He says that many soldiers transitioning back into civilian life want to stay in the area. The military has taught them the discipline they need to be an asset to a variety of businesses, including the ones located in Hinesville.
The successful experiences cooperating with the county and military base on economic issues give Thomas confidence in the success of the Hub Cities Initiative. "It's a great initiative," he says. "These 13 cities can cooperate on an economic, social and civic scale. It's the opportunity to develop the fabric of cooperation throughout the state." – KK
VALDOSTA
For Mayor John Gayle, a man eager to tout the virtues of Valdosta at every opportunity, the Hub Cities Initiative offers one more way for the voices and concerns of the "other" Georgia to be heard by the state legislature. "The thing I see," Gayle says, "is the opportunity to join with a larger group of people. It means more to us than if we champion a cause by ourselves."
What cause tops Gayle's list? "We need help with sales tax collection." He cites convenience stores and similar businesses as ones that collect taxes from customers, but don't always submit them to the state. This is a huge issue in Valdosta, which abuts I-75 in South Georgia and where, he says, 50 percent of sales tax revenue comes from people outside Lowndes County. With a daytime influx of 33,000 people who venture into the city to work, the sales tax boost lets Valdosta keep property taxes lower than surrounding areas.
In addition to supplying jobs for much of the region, the city also provides shopping and services to people who live across South Georgia and North Florida – including those from Moody Air Force Base, about 10 miles north of the city. The base has a $500 million impact on the area each year.
While shopping and services are important to the region, agriculture is still the economic engine. So it makes sense that Valdosta has the welcome mat out for businesses that cater to the agriculture industry. For example, in 2012, DuPont opened a new warehouse and distribution center for pesticides and other ag-related chemicals in Valdosta's Westside Business Park. The location offers easy interstate and highway access to customers in Georgia, Florida and the Carolinas.
Gayle is excited about the Hub Cities Initiative, which offers another forum for spreading the word about the business and economic development possibilities in Valdosta. "As the southern-most hub city, one of our biggest problems is we sometimes feel like we get forgotten down here," he says. "As part of this larger group, we feel like our voice will be heard much louder." – KK
COLUMBUS
Paddlers from across the country who come to Columbus to navigate the world's longest urban whitewater course discover a thriving city on its shores.
"We're the state's second largest city, a supremely sophisticated environment and a very strong business community," says Mayor Teresa Tomlinson. "We love to partner with the private sector in innovative ways that benefit the community."
Those collaborations bring jobs and amenities such as the whitewater course, a $25-million partnership with federal and state government and private investors.
Expecting 10,000 paddlers on the Chattahoochee River between Memorial Day and Labor Day, the hub city in western Georgia was pleasantly surprised to welcome 15,000 despite a rain-soaked summer.
"We're changing the economy of Columbus for the better," Tomlinson says.
She also says the city, with a population of nearly 200,000, is reversing the "brain drain" that has plagued mid-sized communities.
"What you see is young people coming back here after they've gone away to school because their hometown is offering a superior quality of life experience," Tomlinson says.
Other students stick around after attending Columbus State University, which has a lively urban campus and fast-growing music school. The Mercer University School of Medicine program, which allows students to train at Columbus hospitals, is expected to expand.
On the business front, "There's no doubt that we're the economic engine for this region," Tomlinson says, noting that Columbus has strong partners such as Albany. "As we have created these amenities, we still have a rich resource around us of developable land."
She says there are ample opportunities for large manufacturing facilities that "need much more land than they could find in a highly urbanized area, yet want to be close to a vibrant economy and quality of life."
Columbus has also proved willing to "sculpt and mold our citizen workforce," Tomlinson says, to meet the needs of local industry through training at Columbus Technical College.
"It's important for us to let our light shine," she says, "and make the world know that there are authentic experiences to have, positive business investments to be had all throughout the state of Georgia." – KR
SAVANNAH
Edna Jackson is a one-person welcoming committee for the city of Savannah.
"I walk this city every day," she says. She greets tourists, asks questions and then thanks them. "I say, 'I'm Edna. I just happen to be the mayor.'"
Jackson says the 12 million annual tourists experience the beauty and friendliness of Savannah, a city of about 140,000.
During a meeting of the National League of Cities, she says, "When you mention Savannah, everybody wants to come. Savannah works with people; we open our arms to people."
The Savannah College of Art and Design also "helps showcase what Savannah has to offer," Jackson says.
The hub city on the coast anchors a region where economic activity flows from its port. Yet Jackson sees Savannah as "part of the larger picture" from the Florida border all the way up to Statesboro.
"I know when the wood chips are coming out of Waycross, they're going to be shipped out of the Port of Savannah," she says. "If they have to deploy soldiers, they're going to deploy them out of the Port of Savannah.
"It makes people more interested in coming and doing business with all of us, regardless of if it's Savannah, Pooler, Statesboro, Hinesville, wherever."
Savannah joined smaller municipalities on a trip to Washington to talk about preventing cuts to area military installations. Officials from other nearby cities have also accompanied those from Savannah on business forays to China.
"We are aligning those communities around us and hoping that they will join our World Trade Center," Jackson says, referring to the Savannah Economic Development Authority's international business and trade development organization, "because we're going to recruit and bring jobs and businesses to the community. No matter where they locate, it will be a benefit to all of us."
She also says Savannah tries to speak not only for itself when addressing issues, but for all of the communities that don't have the resources to make their views known.
"They say Savannah is supposed to be the engine," Jackson says. "I like to say that it is a partnership, that we work as a team. We look out for each other." – KR
ATHENS
A new historical marker in downtown Athens is rooted at the site of the first University of Georgia Botanical Garden, which opened in 1833. The university sold the land in 1856 for about $1,000, using the money to build the Arch and the iron fence around north campus.
The marker is in an area badly in need of redevelopment, says Mayor Nancy Denson, who hopes to see it blooming again.
With downtown Athens in a constant state of evolution, a new master plan "gets you thinking about what could be," Denson says. "It's more of a visioning exercise than it is a planning tool."
While students have long enjoyed living downtown, the city is meeting the demand for housing suitable for retirees and empty nesters.
Two large apartment developments are going up. Downtown living makes for a healthier city, Denson says, noting that a grocery store is the final element necessary for a completely walkable neighborhood.
As the hub city in northeast Georgia, Athens is the entertainment, dining and shopping center, as well as providing most of the social services.
About a third of Athens' residents are UGA staff or students, making the university a pivotal influence, while new Caterpillar and Ethicon facilities have provided industrial shots in the arm.
"People come and spend their money and enjoy the amenities we have, but it also brings its own set of problems," Denson says.
Panhandling is one of the issues she has discussed with her fellow hub city mayors, believing that it's easier to copy what someone else has done than come up with a new idea.
While the panhandling proliferation hasn't been resolved, the city is working to fix another problem that has generated complaints.
"Of course the fragrance downtown after a football game sometimes is not very pleasant," Denson says. "Part of that is because our storm sewers are not carrying the water off like they should."
Athens is investigating sidewalk-cleaning equipment that will do the job much more efficiently. "We already have a beautiful downtown," Denson says, "and hopefully soon we'll have a beautiful, cleaner downtown." – KR
AUGUSTA
The opening of the Augusta Convention Center in January 2013 gave the city 100,000 square feet of LEED-certified meeting space while incorporating a historic cotton warehouse into the project.
"To my mind, you never get a second chance to make a first impression," says Mayor Deke Copenhaver. "To have a state-of-the-art convention center be the first impression that a lot of first-time visitors to Augusta have, you can't overstate the value of that."
In addition, the new convention center is exceeding revenue projections.
Copenhaver says the hub city near the South Carolina border missed out on conventions in the past because it did not have a facility that could accommodate them. In September, two events received raves. TechNet Augusta, which expected 1,000 participants from defense contractors and technology firms from around the world, easily handled 2,600. Later in September, the intermedix IRONMAN 70.3, the world's largest half IRONMAN event, was staged at the venue with 3,500 athletes.
To beef up its offerings, Augusta has been in talks with Georgia Regents University for about a year to bring a consolidated campus to the city center. Local leaders have looked at the impact that Columbus State University and the Savannah College of Art and Design have made in their urban settings.
"It will put Georgia Regents University at a competitive advantage for growth in the student population," Copenhaver says.
Augusta is establishing itself as a technology center, ranking second in the country in high-tech job growth from 2006-2011. The NSA is located at nearby Fort Gordon, and in December 2012, Rural Sourcing Inc., an IT firm headquartered in Atlanta, brought more than 100 jobs to Augusta.
"Part of that was to take advantage of our institutions of higher learning in Augusta and even Georgia Southern being in the region," Copenhaver says. "What they realized is not all technology workers want to live in the big city. Some of them want to take advantage of the quality of life and lower cost of living in more mid-sized areas."
Still, as elsewhere, there is a renewed interest in working and living in the city. There are already nearly 900 businesses that employ almost 20,000 people in downtown Augusta.
"Our city center and the urban core," says Copenhaver, "is the heart of the community." – KR