Cordele | Crisp County: All In Good Time
Power, education and a port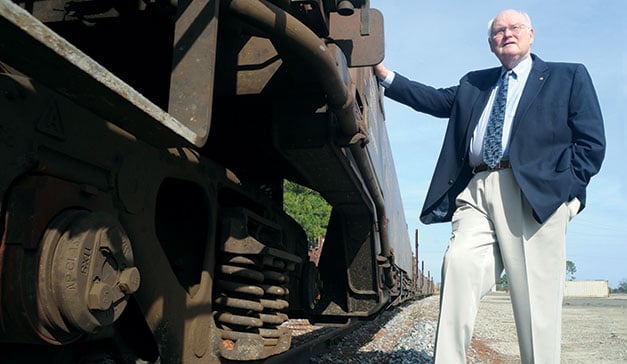 Nobody in Cordele seems to be in much of a hurry, unless it's the tourists who zip by on I-75 on their way to Disney World or the sandy beaches of Florida. That's probably a good thing because some of the ideas floated out for improving the community have taken a long time to develop.
Back in 1925, a group of local civic leaders thought it would be a good idea to build a dam across the Flint River and begin making their own electricity for Crisp County, and they did. The hydropower plant was finished in 1956, but it is still generating electricity – one of the few of its kind in the country.
More recently, just 12 years ago, a modern generation of civic leaders thought it would be a good idea to build a college campus in a downtown area made vacant when all the retail stores moved out to I-75. They're working on that site now and expect Darton State College to open its new satellite campus this year with a forecast of 1,000 students attending.
About 10 years ago, Cordele and Crisp County's chief economic developer, Bruce Drennan, had the idea of turning his community into an inland port with service to the Port of Savannah and the Port of Brunswick. The wheels of commerce on that idea turned slowly, but Cordele's inland port, managed by Cordele Intermodal Services (CIS), is now open for business and moving cargo.
The facility handled 5,000 containers last year and is expected to move 10,000 containers this year with 20,000 in 2015.
When Gov. Nathan Deal came to Cordele last July to participate in the signing of the Memorandum of Understanding between CIS and the Georgia Ports Authority (GPA), he told the assembled officials, "GPA handles 3 million containers annually, and 300,000 of those are in the Cordele market area." Deal also said the Cordele inland port will relieve truck traffic around the Savannah port.
"I think we're at the turning point where people are actually believing it's going to work the way we said all along," says Bruce Drennan, executive director of the Cordele-Crisp County Industrial Development Council (IDC). "We have a number of people using it now, more of an exporting nature than importing. But we are trying to build on the importing to try and balance out shipping and receiving there."
Brennan says the degree of success at the inland port will depend on the deepening of the Port of Savannah and the arrival of the much larger container ships using the new and improved Panama Canal. "Those ships will be capable of carrying three times as many containers as today's ships," says Drennan. "I think one big thing companies are seeing [regarding future traffic at the port] is the fact that they're saving money using the inland port for shipping the containers by rail rather than by trucking them over that same distance. That was the pretense Georgia Tech put into play when they did our feasibility studies for us 10 years ago. That's all becoming reality now."
The inland port promises more jobs for the Cordele region, and Drennan is already putting other economic development tools in play to further enhance jobs growth in the area. "We think we have directly generated about 300 jobs already, and that doesn't include trucking," Drennan says. "We're looking at creating a Foreign Trade Zone in Cordele, where companies can see export and import duties reduced by using the inland port. We just started on that and it'll take us about a year to get all that through, and that's strictly just because of all the paperwork."
Crisp was one of the counties in the River Valley Region (RVR) that passed last year's Transportation Special Purpose Local Option Sales Tax (T-SPLOST), giving the county some extra funding for support of the inland port.
"Crisp County will be receiving an extra $75,000 a month because we passed the T-SPLOST," says Commission Chairman James Nance. "So we'll be widening U.S. Highway 280 and widening the bridge over Lake Blackshear." He notes that even though the inland port is served primarily by rail, "We will still need our county and state roads for delivering freight to the inland port from throughout the region."
Manufacturing Presence
Paul Mechler (pronounced Meklur) has found Cordele to be ideal for his company's manufacturing facility, especially since the inland port opened its doors. In fact his company, Marvair, was one of the first to use Cordele's inland port.
"We are really growing our international business, in the Middle East and China in particular," says Mechler, president of Marvair, a manufacturer of a variety of niche items such as air conditioner parts for the telecommunications industry, as well as marine products and products for classroom heating, cooling, ventilating and dehumidifying. Marvair also makes air conditioning units for the RV industry.
"This diversity is good for us because if one industry is down, we have another that will be rising," Mechler says. "A lot of our marine products are going overseas, and they go by container. Our marine sales are primarily focused on pleasure craft, but we see a growing opportunity on commercial boats [used] for oil exploration."
A short distance away, Chuck Swann presides as division manger of a company with as many international connections as the United Nations. Stella-Jones is owned by a partnership between two families, one Italian, the other Scottish, who formed a Canadian company to make railroad cross-ties, a perfect fit for a county whose early commerce was mainly rail borne, with a county seat named for a railroad baron's daughter, Cordelia.
"Cordele is kind of unique from any other place probably on the East Coast in that it's a small town, but you have two major Class I railroads that intersect in the same town, Norfolk Southern and CSX," says Swann. "Then you have the Heart of Georgia shortline railroad that intersects with both the other railroads, and then there's the proximity to the Port of Savannah, and we do a lot of exporting of crossties."
It's easy to see why Cordele was so appealing to Stella-Jones. Swann says railroads are expanding, and their infrastructure is expanding. "We had continuous growth all the way through the economic slowdown," he says. "Production increased, and a lot of that had to do with fuel costs, because as fuel costs rise it is cheaper to ship by rail than it is by truck or other means of transportation."
And that means more business for Stella-Jones.
"The railroads in the U.S. use about 30 million railroad crossties a year, just for maintenance purposes," he says. "We're at 25 employees right now, but by the end of the year we'll be up around 80."
Revitalization
Like so many rural towns that have an interstate running through the community, Cordele saw its downtown retail stores and professional offices move toward I-75, leaving a portion of the business center dried up and struggling.
Bob Evans is a Cordele banker who sits on Bruce Drennan's Industrial Development Council and has taken on the task of revitalizing the city's downtown, improving the county's workforce, creating jobs and tackling a number of other tasks by expanding on his community's relationship with a college about 46 miles away.
The idea is 12 years old, but it is moving and accelerating since voters here approved a $9-million allocation from a Special Purpose Local Option Sales Tax (SPLOST) to build a new downtown campus for Darton State College, which has its main campus in Albany and already serves 300 students at its existing satellite campus in the Crisp County Industrial Park.
"When we decided to create this satellite campus, we found out through a Georgia Tech study that was the most cost-effective way for the University System to serve students, especially where the community is providing the facilities," says Evans. "I think this project could really be a model to be used all over the country because not only are we getting the education benefit, we're also getting the revitalization benefit, where you've got an old deteriorating downtown area."
The project began to seem possible when Cordele's prominent Perlis family donated two-thirds of three city blocks that included a burned out department store. The burned building has been razed, and construction is underway for the Darton building.
"This is all about education and jobs and bringing back the downtown area," says Evans. "We have made a major commitment to education in our chamber of commerce and in the Industrial Development Authority," Evans says. "If you don't have a trainable workforce, you can't recruit jobs into the community. In just the college itself, we've got 300 students, and in five years we think we'll have 1,000 full-time students. Those students will come to Cordele with money in their pockets to spend for housing and gasoline and to spend at restaurants."
With the new campus, school officials plan to grow the school's existing two-year nursing program.
"There is a shortage of nursing programs in Georgia," he says, "and we have people who've moved here from Atlanta to attend our nursing program. With this new facility we'll be able to expand our nursing program."
Visitors Welcome
There's no denying that I-75 has been a conduit for tourists with money in their pockets. Tourism is the No. 2 industry in the county, according to Monica Simmons, president of the Cordele-Crisp County Chamber of Commerce. She says there are 14 hotels in the county, with a total of 1,200 rooms. One of the hotels is undergoing renovations and will become a Hampton Inn & Suites, she says.
Tourism is responsible for $39 million annually in direct spending in the county, and it is responsible for the creation of 380 jobs, according to a 2011 report assembled by the Georgia Department of Economic Development.
Crisp County borders Lake Blackshear, an 8,700-acre body of water popular with anglers, boaters and skiers. Lake Blackshear was formed when locals built a dam across the Flint River to generate electricity. The hydropower generator facility sends electricity out to about 12,000 customers in Crisp County and a few more in neighboring counties.
Steve Rentfrow is the general manager of the Crisp County Power Commission, and in addition to his responsibilities for the smooth management of the electric generators, he's also an IDC board member who finds other values in the presence of the lake. "A substantial portion of the real estate residential investment in this community the last 20 or 30 years has been at the lake," Rentfrow says. In addition, the Lake Blackshear Resort & Golf Club accommodates conferences and meetings.
Other draws for tourists include the Georgia Veterans Memorial State Park, which has averaged about 750,000 visitors a year. The annual Watermelon Days Festival, which Simmons says is the oldest festival in the state, is held each June and brings in more than 30,000 visitors. The county has more than 4,000 acres devoted to growing the melons and ships more than 200 million pounds of the fruit annually.
LOCAL FLAVOR
Literary Legacy: Cordele native Mac Hyman had a passion for writing, but when he died in 1963 he left behind a rather thin body of work. He may not have created even a footnote in a term paper on Southern authors but for his first novel, which leapt from Hyman's fertile mind to the Broadway stage and on to the silver screen, launching the career of a hayseed character that Hollywood usually reserved for the saddle buddy role in B movies.
But Andy Griffith seemed born to play Hyman's central character, Will Stockdale, in the Broadway version of No Time for Sergeants, and he helped make a smash hit of it in the hilarious motion picture version of the story of a young man's journey from a hick town to and through the U.S. Air Force. Audiences loved the story, and Andy Griffith went on to stardom playing a similar character, Sheriff Andy Taylor on television's The Andy Griffith Show.
Hyman wrote only one more novel, Take Now Thy Son, a work that touched on darker themes, and several short stories, one notably in The Paris Review, a publication where existential angst was far more common than the broad humor generated by a yokel encountering – and outwitting – city slickers.
Hyman died just short of his 40th birthday from a heart attack, but only after achieving the kind of fame that usually presages a lengthy career filled with honors and awards and a string of bestsellers.
Benny Wade, a retired teacher living in the suburbs of Arabi in Crisp County, has studied Hyman and can do an impromptu lecture on the man as a writer as well as anyone. In the study of literary lives, the death of a young man is usually seen as the conclusion of a sad life. But Wade doesn't believe that to be true of Mac Hyman.
"I don't think he would have died a sad man," Wade says. "I don't see any reason he would have. There have been very few books that were big bestsellers, that were made into a successful Broadway play and a successful movie. My goodness, I imagine his family ought to have been pretty well fixed just from that. It seems to me he died just about the time things should have started to be good for him."
And that may have been the sadness for those left behind who wanted to laugh some more. – Ed Lightsey