On The Road Again
Transportation officials are looking at new ways of solving old problems on the state's roadways.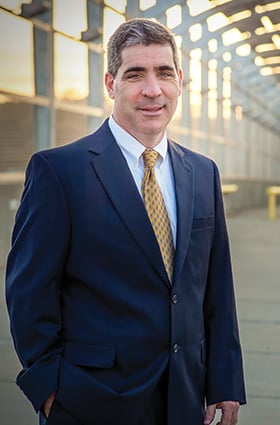 If there were a Georgia Commuter Hall of Fame, Bill Daniel would surely be a candidate for induction, for longevity if nothing else. "I'm a lifetime Atlanta resident," says Daniel, speaking on his cell phone while driving on a business trip.
"I was born here and grew up in Decatur," he says. "So I've watched the whole interstate system go from really nothing to what we have today. I've driven and ridden on our roads for 60 years."
He is a veteran of commutes between his home in Johns Creek and his office at the Concourse Office Park near the top of the sprawling Perimeter. His daily commute would sometimes take him through the interchange of Interstate 285 and Georgia Highway 400, one of the most daunting highway marriages in the South, a place where, according to commuter lore, entire vehicles have disappeared with their drivers never to be seen again. That might seem a stretch to some, but not Daniel.
"I live in Johns Creek, so I have a choice to get to and from work," says Daniel, a civil engineer and a principal in Lowe Engineers. "One is coming down Peachtree Industrial Boulevard to 285 and coming across the top end, or I can come in on [Georgia] Highway 400 and go directly to my office."
But sometimes the first choice ends badly, he says. "Coming down Peachtree Industrial, when you get on 285 that whole portion of the top end of the Perimeter backs up because of the interchange at 400. It's just a horrible commute for me," Daniel says. "Anywhere from an hour to an hour-and-a-half to drive 21 miles."
Then one day a new traffic feature appeared near Daniel's office, and his commuter angst diminished considerably. "It's fantastic for me," Daniel says. "It cut my drive home almost in half." The source of Daniel's excitement is called the Hammond Drive Half-Diamond Interchange, a project of the Perimeter Community Improvement Districts, the Georgia Department of Transportation and the City of Sandy Springs. It opened in 2011, greatly improving the flow of traffic onto and off of Georgia 400.
"It was kind of a secret for a long time," Daniel says, "but now the secret's out of the bag."
Traffic on and around the top end of I-285 has been aided by another PCIDs-orchestrated project, the Diverging Dia-mond Interchange at Ashford-Dunwoody Road and 285, which opened in 2012, just south of Perimeter Mall.
Fulton County vehicle owners collectively log about 33 million miles of urban travel every day, according to data collected and published by the University of Georgia's Center for Agribusiness and Economic Development. It's a good bet most of them have had a close encounter with the I-285/400 interchange. It's at the top of the fix-it list for Georgia transportation experts, elected officials, Atlanta area economic developers and metro residents.
It's no longer just an an-noyance, says the state's top elected official. "It's not a want," Gov. Nathan Deal told reporters last year. "It's a need."
The elimination of the Geor-gia 400 tolls and toll booths, welcome monetary news for drivers, is expected to increase traffic on the roadway by as much as 30 percent.
That intersection is just one of many on the radar of Geor-gia's transportation officials, but funding these projects is another story, especially as traffic engineers look to innovative – and sometimes more costly – solutions to the state's transportation challenges.
Old Cures
There was a time when the solution to bottlenecks and daily traffic snarls was to widen the offending road or add more lanes, but that practice has fallen out of favor, say transportation experts. "If you try to cure traffic congestion by building another lane on a four-lane highway, you only have larger traffic congestion," says Keith Golden, commissioner of the Georgia Department of Transportation (GDOT).
"Improving traffic flow at the intersection of Georgia Highway 400 and Interstate 285 is in the Atlanta Regional Commission's transportation plan; the governor's made it one of his highest priorities, and on our side it's really one of our highest priorities," Golden says. "We're close to getting environmental documents clear for 285 and that stretch of roadway," he says. "We just need a way to fund it now."
And there's the rub.
GDOT is waiting on a long-promised appropriation adjustment that had its origins in the heady days following the early '90s announcement that Atlanta would host the 1996 Olympics. Among the deal clinchers was a commitment to improve roads for the event to make sure visitors had ease of access.
As GDOT board chairman and former State Rep. Jay Shaw remembers it, a one-penny transaction seemed of little consequence to the legislature of the day. "In 1992, we took one penny of the four-cent [gasoline] sales tax and put it into our road system for the '96 Olympics. And the deal was they [the legislature] were going to replenish that the next year. We still don't have it, and that's 25 percent of our funding from motor fuel sales taxes we lost just like BAM! And we never got it back."
That penny was used to pay for bond debt that amounted to $20 million the first year. That bond debt eventually reached $200 million – paid with money once earmarked to build and maintain roads in Georgia. "Right now, we have about $400 million off the top each year," says Golden.
Is there any movement in the legislature to stop the drain on GDOT revenues – revenues that the department depends on solely for the cost of road building and maintenance? "I'm aware that discussion is going on, but we're not the ones leading that conversation," says Golden. "It's sort of outside our realm."
Trouble Spots
If the I-285/400 bottleneck were the only site needing a fresh infusion of cash in the state's transportation network, life would be much simpler for GDOT leaders.
"Logistics [is] such an important part of our economy that everybody is talking about anything that will help our economy," Golden says. "That certainly includes logistics and transportation. To me the interchange of I-20 and 285 on the west side [of Atlanta] has a big emphasis here. We've got to figure out how to solve [traffic problems] for the folks coming in from the west side of the community."
Golden says attention must be given to one of the scariest intersections in the state in Macon, where I-16 joins I-75 on the east side of town in a white-knuckle, breath-stopping, speeding merger unlike anything else in the interstate network of Georgia. And there's more.
"We need a third lane on I-85 from Gwinnett County on up to South Carolina and [another] from the Newnan area on over to the Alabama line," Golden says. "Those corridors are consistently congested. Even at non-peak times, you've got a mixture of freight and traveling public."
Another logistics highway asset began to emerge in West Georgia back in 2006 when the Kia auto manufacturing plant came online. A coalition of counties between LaGrange and Macon came up with the idea of the Export/Import Highway, a four-lane road that would be designed to take trucks out of the Atlanta area and get freight to and from the Port of Savannah, with a cost of $480 million for 80 miles of highway widening.
"We had resolutions of support for the project from all those counties between LaGrange and Macon," says Lanier Boatwright, executive director of Three Rivers Regional Commission in Griffin. "With Kia and 20-plus suppliers over there that have created over 10,000 jobs, it became even more important."
Further studies recommended connecting the highway to U.S. Highway 27, which is already four-laned from Tennessee to Florida. Such a move would, says Boatwright, take the truck traffic out of Atlanta and make life easier for commuters.
At presstime, leaders were hoping for a GDOT corridor study to determine feasibility and potential federal funding options.
Logistics is big business in Georgia, and GDOT has developed a Statewide Designated Freight Corridor and Log-istics Plan to help direct and manage future construction projects to where they can help the most. The plan is al-ready garnering praise, receiving the Federal Highway Administration's 2012 Transportation Planning Excel-lence Award.
GDOT officials say $540 million has already been spent in the three regions that passed the controversial T-SPLOST last year – also known as the Transportation Investment Act (TIA).
Work has begun on parts of the proposed corridors, one on U.S. Highway 27 South along the western side of the state and the other on the eastern side of Georgia on U.S. Highways 17 and 1. There are individual projects on the freight corridors that are proceeding at different timeframes, and GDOT officials say there are no overall timetables for the corridors' completion.
Center Point
Leaning against the wall of the 11th floor conference room of the Perimeter Community Improvement Districts (PCID) is a sign reading "Do Not Walk," that once stood in front of a nearby hotel. The sign is a constant reminder for Yvonne Williams of a by-gone mindset that she is in the process of replacing.
From her conference room window in the 17-story Ravina One Drive office building looking north, Williams can see what was once farmland. Today, the area surrounding Perimeter Mall is full of tall office buildings and thousands of workers, shoppers and diners. Nearly 60 years ago, however, when I-285 was being carved out of the landscape, teenagers held drag races on the partially built highway often derided as the "road to nowhere."
Now, all these years later, I-285 north of Atlanta is definitely somewhere, says Williams. "Right now we're in the direct center of all of Metro Atlanta because of how we've grown," says Williams, president and CEO of PCIDs, which comprises two self-taxing districts, one each in Fulton and DeKalb counties. "We're all the way up to Forsyth County and all the way over to Paulding and to Gwinnett County. As the [suburban] circle got bigger around downtown and midtown Atlanta, somewhere between Buck-head and right here is the exact center point of the metro region."
PCIDs is funded by commercial property owners within the designated district. Since its creation in 1999, the group has leveraged $31.1 million of CID funds for more than $145 million worth of transportation and infrastructure projects.
GDOT's Golden sees the CIDs as unique traffic problem solvers. "They bring money to the table, and they bring resources to help in other areas," he says. "They're ready to tax themselves and make investments in infrastructure, and they partner with us quite well and do a good job leveraging their dollars with our dollars."
Pointing to the "Do Not Walk" sign, Williams says, "That was the branding we once had here, and that was 1999. And that was Ashford-Dunwoody, where people were walking down cow paths to get somewhere because there were no sidewalks. But there were very big parking lots."
Then, 14 years ago, the Perimeter CIDs were formed to tax the commercial properties for infrastructure improve-ments. "The businesses in the CIDs volunteered to tax themselves at 4 mills," says Williams. "That's about a $300,000-a-year hit to some of these major buildings and is passed on to the tenants."
Williams says her idea of a perfect world within the district is one where residents walk to work or ride bikes to their office buildings.
"We're not going to be in our cars three times a day," she says. "But we will still be the corporate center of Atlanta, and people will still be coming here. I was with the CEO of [mobile device management company] AirWatch this morning. They already brought 900 jobs in here, and he says they will bring another 1,500 in 2014."
New Vocabulary
Back at the DOT offices in downtown Atlanta, Golden is looking at ways to do more with less funding, using a new transportation vocabulary to do it. "We're taking more advantage of what we have and stretching more efficiency out of them, doing these diverging diamond interchanges," Golden says. "We're doing some flex lanes, using that [highway] shoulder out there for short periods of time in the morning, taking advantage of the asset for the short duration you need it [on Ga. 400].
"I think pretty much the direction from the board and the governor is that any new capacity added on interstates in metro Atlanta will be a managed lane, one where you price it by toll lane so that people know that if they get in it they're going to get there," Golden says, referring to the controversial "HOT" lanes on I-85 north of the city. "We call it a value proposition. They're there for that day you need to use them. That's the message we need to get out there."
Expediting truck traffic is additional low-hanging fruit, though not a priority, according to Gold-en. While the plan is mapped out and well funded in Middle Georgia, the rest of the state will have to take it as it comes.
"The Freight Corridor concept is sort of like looking at the data [and] looking where freight is moving and then saying we need to continue to make investments. I would say in order to get them where the freight logistics plans suggest they need to be, [it] is either going to [take] a long process or a new source of funding," he says.
Golden says any future highway projects designed to be funded by another regional T-SPLOST referendum would have to originate locally.
"A certain number of elected officials in that region would have to get together and approach the legislature about bringing it up," Golden says. "The legislators in that district would be able to restart the process, if in fact there was enough interest for that."