Houston County: Playing To It's Strengths
Manufacturing and a military presence.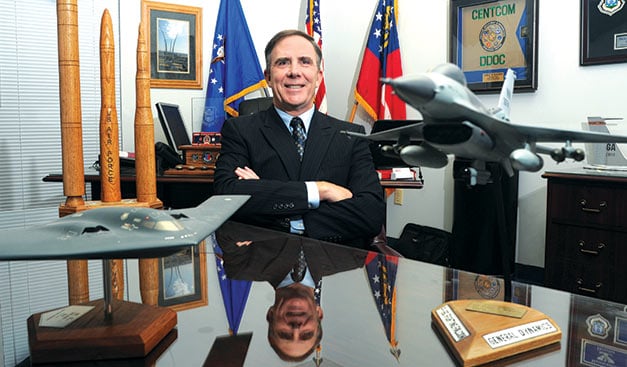 Major General Bob McMahon (U.S.A.F. ret.) is a 34-year Air Force veteran and the former commander of Robins Air Force Base, a powerful engine that drives the economy of Middle Georgia. On this day he is briefing a visitor to his office in Warner Robins, the host city for Robins AFB and it 23,000 military and civilian personnel. McMahon's military service and bearing demand rapt attention as he begins his talk with a bit of military trivia.
"What many folks don't realize is that the last member of the Department of Defense out of Iraq wasn't a soldier – it was an Air Force airman who happened to have been stationed here at Robins Air Force because [his unit] provided the communications networks that are so essential for all the things we do," says McMahon, who since his retirement in 2012 has served as president and CEO of the 21st Century Partnership, a coalition of people and organizations dedicated to keeping Robins a robust jobs center for Middle Georgia and the state as a whole. Most importantly, Robins is a key link in the nation's defense network.
"What Robins is most known for is its industrial complex," says McMahon. "We have the largest industrial complex in the state of Georgia. When you think of hangars and repair facilities, lathes and other machining equipment to make parts and repair parts and fix airplanes like we do, it's easy to see how we get that label, and it's what we're known for nationally."
Like most military installations in the country, Robins has seen its share of furloughs, consolidations, sequestrations and downsizing, especially in the ranks of the 15,000 civilian employees at the base. And there are the seemingly unending threats from the Defense Base Closure and Realignment Commission (BRAC) that can trim employment and military forces and even close permanently any military installation.
It takes only a glance at the numbers attached to this powerful economic force to understand why local economic developers so fiercely guard the well-being of Robins AFB, and it explains why those economic developers have spread their arms in a welcoming gesture for spreading the wealth throughout the Middle Georgia region and beyond.
"Robins' annual economic impact is about $2.9 billion, and that does not in-clude medical economic impact. When the medical is factored in, it gets up to about $4.3 billion or $4.5 billion," says McMahon. "Twenty-three percent of those employed in Houston County are employed at Robins. Nearly 52 percent of the wages earned in Houston County generate from Robins."
McMahon says 28 percent of all wages earned in Middle Georgia come from Robins. It is no surprise that the search for better wages draws commuters making trips to work from counties 40 and 50 miles away. Those commuters and their community leaders are ready to join any group seeking to protect that giant source of revenue.
Morgan Law is the president and CEO of the newly formed Robins Re-gional Chamber of Commerce, formerly the Warner Robins Area Chamber of Commerce. "About four years ago, the [chamber] board went through and looked at the composition of our membership and realized we were not just in Warner Robins, but our members came from throughout the region of Middle Georgia," Law says. "Now we are working with Bibb County and all the counties that touch Bibb and Houston counties."
Law says the large numbers of commuters to Robins AFB from throughout that region played into the formation of the regional chamber. "I think there are dozens of businesses that have footprints sprinkled throughout the Middle Georgia region that come in to do some operations, whether it's small contract work or staff members that work out there."
Budget Concerns
No one in Houston County is ready to circle the wagons to protect Robins yet, but guards have been posted and scouts sent out to keep track of the big base and its progress in remaining economically healthy. Of continuing concern is the impact of the Budget Control Act of 2011. "With that, you've got to have $50 billion taken away from the Department of Defense (DOD) every year," says P.J. Vasquez, chairman of the Aerospace Industry Committee of the Robins Regional Chamber of Commerce, representing nearly 200 aerospace businesses that work at, with or for units at Robins.
"So what does that do to an aerospace company? They're going to have to adjust some of their business strategy as to whether they need to partner with other companies or abandon their DOD portfolios or look for other work in the non-DOD sector or just keep hanging in there, because when that dollar starts to dwindle so will contracts being awarded – although every year contracts awarded for Robins are over $4 billion. Whether it's Lockheed or a small business, we're pretty much watching how we need to adapt to the fiscal and budgetary pressures."
For Angie Gheesling, executive di-rector of the Houston County Devel-opment Authority, diversifying the workforce and the workplaces of her community and joining with regional economic developers to build business and industry is a way to keep solid footing in slippery times. "I think for all our communities, keeping a diverse industrial base is important," Ghees-ling says. "In our case, [it's] looking closely at what's going on with the Department of Defense, expecting some downsizing and realizing we can't be totally reliant on the federal government, the base, for jobs." And, she says, regionalism seems a natural course to take in marketing her community and her neighboring counties. "I think we all see that our communities' resources are limited and becoming more so, and we're all stronger if we combine those resources and market ourselves together."
Manufacturing Snacks
One of the largest manufacturing facilities in the region has been around since 1988 and produces products common to every household. The Frito-Lay plant in Houston County has grown to become the largest salty snack food facility the company has in the world, with popular product brand names like Ruffles, Doritos, Tostitos, Fritos, Cheetos, Funyuns and Rold Gold Pretzels. The plant has a fleet of trucks to take about 250 million pounds of product a year to market. The plant buys its raw products, like potatoes, from Georgia farmers during the growing season. The trucks deliver snacks throughout the Southeast and during peak season, October to February, may send trucks as far as Alaska or Maryland.
"We've been able to be successful here for 25 years, I think, for two reasons," says Craig Hoffman, technical manager of the Frito-Lay plant. "First, our workforce. It is the most committed and talented I've ever been around. Secondly, there is this community, which is very supportive of business and industry and very supportive of this facility, whether it be to help us gain financial assistance for expansion or helping us with training from Georgia Quick Start to keep our workforce's skills up to date with technology."
Enhancements
Houston County Commission Chairman Tommy Stal-naker is keeping his eye on a neighborhood of about 200 homes that lies in Houston County near Robins AFB.
"Robins is such a huge part of our regional and local economy, it's just overwhelming," says Stalnaker. "And we are very conscious of the need to be prepared to do our level best to not only protect it but to enhance it. We're doing that in a very good way in one important partnership. Bibb County, Houston County, the state of Georgia and the De-partment of Defense have all partnered in securing the property in the encroachment area," says Stalnaker, referring to a site in Warner Robins that lies in the flight paths of aircraft landing and taking off from Robins Air Force Base that's exposed to risks like unacceptable noise levels and the possibility of crashes.
Letters were sent to about 200 residences last summer informing property owners the state was interested in purchasing their properties. "We're well on our way to correcting the problem, and if we can finish this by the end of the year we'll have a little advantage over some of the other installations," says Stalnaker, with an oblique reference to one of the issues that can arise in BRAC studies.
Another Warner Robins neighborhood project is unfolding across the street from the main gate at Robins AFB. The area along what was once known as Front Street was formerly lined with bars, motels and a pool hall in buildings that displayed advancing dilapidation. A rehab project is underway, and a vacant lot has been chosen as the site of a new Veterans Training Center, a $10-million building where veterans and military retirees and their dependents can get on the right track for the education and training they will need to connect with a career. The site is near a Middle Georgia State College campus and a Georgia Military College campus, all on the east end of Watson Boulevard, a main thoroughfare in the city.
"What we're trying to do is create an educational hub there," says Gary Lee, executive director of the Warner Rob-ins Redevelopment Agency. "You can build your other economic development pieces off that, things like student housing and retail. We haven't developed the east end of Watson Boule-vard, but all the infrastructure is in place for it."
More Growth
At Houston County's Centerville, a community of 7,148, a new Law En-forcement Center and an old library being converted to a municipal courthouse are part of a $3-million investment in the downtown area. "Those are the most significant projects downtown in many years," says Patrick Eidson, Centerville's city administrator. "The leaves have started to move again, and hopefully pretty soon the bushes will start to shake and we'll see some new quality development downtown." The local economy in Centerville has been enjoying the 40 or so retail stores at the Houston County Galleria for about 20 years, a potent economic generator inside the city limits.
Houston County's three municipalities have registered notable growth during the decade from 2000 to 2010, with Warner Robins showing an in-crease in population of 36 percent, while Perry, the county seat, grew 44 percent in the same period. And with the Office of Planning and Budget projecting an additional 36,000 people arriving in the county by 2025, Perry leaders have kicked into action for what they expect to be continuing growth. "We've got plans in place and we've got infrastructure in place and we've got the capacity for all our utilities in order to handle the growth that is anticipated," says Perry Mayor James Faircloth.
"We're very thankful to be in a growing mode, but we're also taking steps to protect the integrity of several districts in town. We've got a historical district overlay for certain sections of town, and we've got a downtown district overlay in addition to normal planning, and that's to protect what we have. The growth is planned and not haphazard."