Columbia County: Getting It Right
Quality of life and good schools.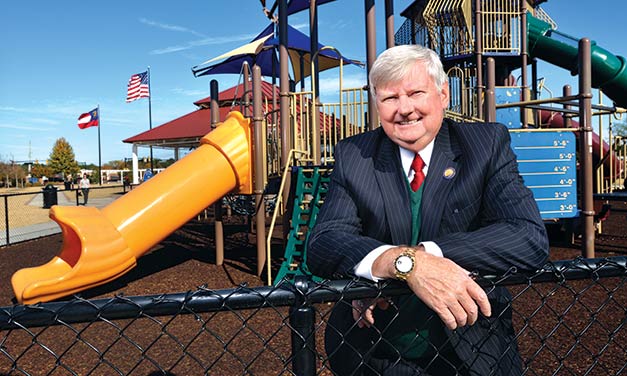 In a resounding demonstration of Columbia County's drawing power, Thunder over Augusta, the annual Armed Forces Day celebration, crossed county lines to relocate to Evans Towne Center Park in 2012.
Last year the park also began hosting "Drive for Show, Rock Fore! Dough," a Masters-week charity event that spent its first eight years in Augusta, as well as the Papa Joe's Banjo-B-Que bluegrass festival, which moved from North Augusta in Aiken County, S.C.
The thunder over Columbia County continues year-round in its population boom. It was the 45th fastest-growing county in the United States from 2010 to 2012, increasing from 124,053 people to 131,627 – a 6.1 percent clip that is well above the state rate of 2.4 percent. Just three of Georgia's 159 counties added more people, and only Bryan County, with a 2012 population of 32,214, grew faster (6.5 percent).
"I don't know where they're coming from, but they're definitely coming," says Grovetown Mayor George James, whose city of 12,000 has seen the biggest influx. "We continue to grow; it hasn't slowed down any."
Word is spreading, driven by an enviable quality of life, high standard of living and a school system that ranks among the Top 10 in Georgia. Columbia County's proximity to Atlanta, about a two-hour drive via I-20, and short commutes to Augusta (including Georgia Regents University), Fort Gordon and the Savannah River site are also appealing.
NerdWallet, a consumer advocacy website, named Evans, which has a median household income of more than $95,000, as the No. 1 place in Georgia to raise a small family. (Martinez came in at No. 8.)
"I think they got it right," says Ron Cross, chairman of the Columbia County Board of Commissioners.
The area is also an attractive place to retire. The $27.3-million Marshall Square Retirement Resort, offering 134 units to people ages 55 and older, is expected to open this summer in Evans.
Cross says the county continues to work on enriching its quality of life. The Special Purpose Local Option Sales Tax (SPLOST) going before voters this year, he says, will "have at least three other parks very similar to Evans Towne Center Park without the amphitheater, but with the playground, the water feature, the walking paths and the wide open spaces."
Money magazine ranked Evans No. 43 nationally among the best places to live and Columbia County No. 1 in job growth from 2010-2012.
With Fort Gordon at its back door – or front door depending how you look at it – Columbia County could usher in thousands more residents if a Cyber Center of Excellence is established at the installation. At press time, no announcement has been made by the government, but Fort Gordon, which saw its National Security Agency presence increase dramatically in 2012, has been touted as the logical place for the center.
"We are conducting that prudent planning in the event those decisions are made," says Col. Sam Anderson, garrison commander for Fort Gordon.
The installation is already undergoing substantial modernization of barracks and classrooms. Anderson says in FY 13, Fort Gordon spent about $150 million on reconstruction projects (not including those specifically for its hospital), boosting local businesses. It is also in the midst of a multi-year effort to repair all the roads on the installation, mostly done through contractors, and is building a new hotel and Post Exchange.
"We will have to work very closely with the local community here to ensure that if that growth is realized, it is a benefit to the community and not something that makes life more difficult for residents," says Anderson, who adds that there probably would be commensurate growth of other defense-related industries, creating opportunities for local businesses.
Such a major expansion at Fort Gordon "could be game-changing for us," says Columbia County Schools Su-perintendent Sandra Carraway, who oversaw the opening of two new schools in 2013, "but right now we're in excellent shape facilities-wise. We have a building plan."
The school system, the 17th largest in the state with 24,800 students, has built nearly one new school a year since 2000. Some schools have been torn down and replaced by bigger, better ones to accommodate an increase of 3,000 students in the past five years and 420 this school year. Education SPLOSTs since 1997 have kept the system debt-free and able to meet continued growth.
"We have a tradition of academic excellence that goes way back, long before Columbia County was of any size," Carraway says. "Thankfully that tradition of excellence has carried on. As we've grown and added schools, families come here for our quality education, and it just kind of creates a self-fulfilling prophecy."
Though the school system remains the largest employer in the county, its workforce has shrunk in the economic downturn. Still, the system's teachers remain top-notch. "We attract a lot of applicants, so we can be very choosy," Carraway says.
Preparing for Growth
Columbia County officials project a population explosion in the next decade similar to the 38,000 gain from 2000 to 2010 and are already on track to alleviate the traffic congestion that comes with it.
Its 13-county region was one of only three in Georgia (out of 12) to pass the Transportation SPLOST in July 2012. For its $165-million portion, Columbia County identified eight projects, mostly involving road widening along corridors to Augusta, Fort Gordon or to manufacturing sites.
Tammy Shepherd, president and CEO of the Columbia County Chamber of Commerce, partnered with the Au-gusta Metro Chamber to push for passage of the T-SPLOST. "We basically talked to any group that would listen to us," she says. "There was a lady who was probably 75 years old in the Grovetown Lions Club who said, 'This is a no-brainer.'"
They also put up road signs such as "Complete River Watch Parkway Now."
"We've been waiting on that road to be completed for over a decade," Shep-herd says of the $30-million-plus project. "The bottom line is we are reinvesting in ourselves. … We know the economic development will follow."
The growth spurt prompted Grove-town to hire its first city planner/redevelopment manager last year. Frank A. Neal Jr. has put together guidelines to create Grovetown's "first true downtown corridor" with the Southern architecture that residents say they prefer.
"We've got some dilapidated homes and commercial structures in the urban core that we're trying to revamp," Neal says. That includes the old depot that burned down years ago, which could be rebuilt as a multi-use facility.
One developer bought a whole city block, cleared off a couple of houses and several trailers and plans to put in more than 20 new homes called Shepherd's Square. The taxes on the site, James figures, will increase from about $600 annually to $50,000.
Harlem Mayor Bobby Culpepper believes his small city of 2,770 is next in line and has "lots of room to grow." It is increasing its sewage capacity and has begun buying water from McDuffie County in addition to Columbia County.
"It's not glamorous, but [it's] a necessity," Culpepper says. "Just looking way out into the future, we're trying to prevent water and sewage being a drag on growth."
While Harlem waits for expansion, it's investing in beautification, such as a $60,000 downtown clock funded primarily by the Clary family to honor the city's mayors. "We continue to get compliments from the citizens, and they're very proud of what we're doing," Culpepper says. "We would like to fill the storefronts more, but I think population's going to take care of that."
Incentives could help, too. Soon after establishing an Opportunity Zone in Martinez, Columbia County had its first success when an Urban Outfitters call center moved in with about 230 jobs.
Because the county is so wealthy, it does not get a lot of tax incentives from the state and is developing its own incentive program.
"It keeps us competitive," says Robbie Bennett, in his first year as executive director of the Development Authority of Columbia County. "It will take some time to fully implement it, but we're well on our way."
The county's 220-mile network of high-connectivity broadband should also help lure new business. Bennett says he needs to "grow the industrial footprint by developing industrial and business parks," which would encompass advanced manufacturing as well as back office data center-type projects.
He's also making sure existing industries get their share of attention, including GIW Industries, John Deere, Club Car, Quad/Graphics and Serta. The authority hosted a luncheon in October and expects to reestablish the existing industry council.
Bennett says the county commissioners made it very clear that he should push for more retail, especially now that the population is well over the 100,000 threshold that retailers seek.
Columbia County "suffered a real blow," Commissioner Cross says, when it thought it had landed a Bass Pro Shops store to anchor a retail site only to see the outdoor retailer pull out in October. The decision came on the heels of its competitor, Cabela's, moving into Richmond County.
Established restaurants in Richmond County and Augusta have also been roadblocks to Columbia County's bringing in high-end restaurant chains.
"For the most part, we're medium- to fast-food type restaurants," Cross says, "and that needs to change. We need to keep more of that disposable income in the county."
Last year the county opened its $7.3-million Exhibition Center in Grovetown's Gateway area, which allows it to compete for small and medium events that are too big for the Savannah Rapids Pavilion in Martinez. Events include a Harley-Davidson show, gun shows and family reunions.
Hoping to break even, Cross says the center has turned a slight profit. "It puts a lot of people in the motels along I-20, and there is a spot out there for an additional motel/hotel," he says.
But the beds Cross really wants to see would be in the county's first hospital, which it has sought for several years. "Let's just say we're encouraged, but nothing yet can be talked about," Cross says.
The county is developing its own commercial projects, such as the 26 acres it controls adjacent to the new retirement facility. Potential developers have been asked to come in with a master plan "so it's not done piecemeal," Cross says. "It's the kind of thing [where] you can't make it a success today, but you can sure ruin it."
Proposals have included a hotel, office building, cultural center and retail in various combinations.
The county also recently purchased the old 27,000-square-foot Rhodes-Murphy building for $3 million and hopes it will eventually house an incubator for tech companies. The building was vacated by TaxSlayer, which moved into an $8-million-plus facility as it continues to expand in the do-it-yourself tax preparation business.
Although it ranks in the industry's top five, TaxSlayer has only 3 percent of the market share compared to Turbo-Tax's 60 percent, "so the potential is fantastic for us as far as being able to grow," says Brian Rhodes, vice president of development.
TaxSlayer, owned by Jimmy Rhodes, Carl Rhodes and Zane Christopher Jr., has seen anywhere from 15 to 30 percent growth in revenue in the last few years.
The company, which has increased its profile through NASCAR and its role as title sponsor of the Gator Bowl, is now getting into the mobile app marketplace.
"You'd be surprised how many people want to do their taxes on the phone," Rhodes says, "so we're going to be right there ready to service that need."
When TaxSlayer moved to Columbia County in the early 1990s, it found a motivated workforce to service its own needs. The company continues to hire its staff locally.
Education, Tourism
Identifying employer needs and developing a workforce pipeline for the future underlies one of the partnerships between Fort Gordon and Columbia County. Thousands of retirees from the military installation decide to remain in the area.
"My personal goal is [for] every service member who seeks employment af-ter the Army has a job before they get out of the Army," Fort Gordon's Anderson says. "So we need to ensure that we understand what the local community needs in terms of a skilled workforce."
Workforce and education are also initiatives of the chamber. It has implemented a program called Teachers in Business, in which teachers from the 27 career "pathways" visit practitioners in their field.
"They absolutely loved it," Shepherd says, "because they got to take those real-life examples back to the classroom."
Obviously, Columbia County is a nice place to live, but officials want people to visit, too.
Executive Director Randy DuTeau has been charged with rebuilding the Convention and Visitors Bureau. "They really want to focus on events here to emphasize the great park system, the lake and the Savannah River," says DuTeau, who was hired away from the Augusta Sports Council in late 2012. He brought in the AAU National Cross Country Championships, held in De-cember, and the 2015 and 2016 USA Cycling Marathon Mountain Bike Na-tional championships.
"We want to build around that and create an outdoor festival," says DuTeau, who will organize a test run this year. "We'll get that critical mass in for a weekend, and you get the economic impact through hotel rooms, retail and restaurants. But at the same time, I want to also use these events as a platform to market the specific facilities."
In 2011, Columbia County's tourism industry generated $130 million in direct tourist spending and supported 1,190 jobs. The annual Oliver Hardy Festival in Harlem, his hometown, draws an estimated 25,000 people a year, while Steed's Dairy (which has a five-acre corn maze) and Lights of the South in Grovetown are other tourist attractions.
DuTeau says that having the chamber, development authority and convention and visitors bureau finally sharing the same county building – coincidentally Building D, which could stand for Development – revs up their economic engines.
"The reality is the more enticing I can make it for folks to come and visit and enjoy our amenities, those same elements are things that Robbie can use when he's trying to pitch a business," DuTeau says. "Just because you have land for a factory doesn't mean that X company is going to want to move all their senior executives here – unless there are other things to do."