When Opportunity Comes Knocking
Opportunity Zones enhance economic development, historic preservation and environmental rehab throughout the state.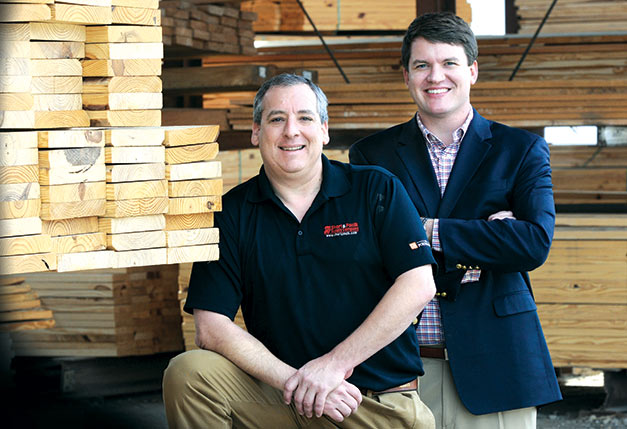 From Rabun County in the mountains to Cairo at the Florida line, Georgia has be-come the Land of OZ, the acronym for Opportunity Zone, the hottest thing going in economic development right now.
There's every indication the movement to OZ will soon be a stampede as the OZ designation continues to attract new businesses, new jobs, building restorations and improvements. Accord-ing to the latest data provided by the Georgia Department of Community Affairs, from 2008 to April 2013, 4,569 building permits were issued in the state's 93 – and growing – Opportunity Zones. At the same time, 13,167 business licenses were issued in the OZs, while 3,058 jobs were created and public and private investment exceeded $554 million. The Opportunity Zones also saw 352 new businesses open their doors.
Opportunity Zones can be had by any community willing to get the ball rolling by creating an urban redevelopment plan. There are close to 100 OZs in Georgia, with perhaps dozens more pending. Their numbers are swelling because they work, not only for economic development purposes, but also for environmental rehab, historic preservation and crafting entertainment districts.
OZs are like Swiss Army knives, functioning as a tool with many purposes for economic developers. The OZs are sanctioned and approved by the Department of Community Affairs (DCA) after officials of the agency have examined proposals from communities in the state.
"We have five regional managers out in the state who work very closely with local governments and local chambers of commerce and development authorities to make sure they have access to all our programs and services," says Saralyn Stafford, director of External Affairs and Rural Policy at DCA. "We all do work on trying to spread the word about how DCA can help the community make the kind of product where job creation can occur. You will find the Opportunity Zones fairly well represented in all sizes of communities in Georgia."
Although there are specific requirements, in general, OZs can be shaped from areas that experience a 15 percent or greater poverty rate, a significant underdevelopment of property compared to the surrounding areas and a higher number of abandoned, deteriorated or dilapidated structures. In other words, areas that are ripe for reinvestment and revitalization but just need a second chance.
One feature of the OZs is their ability to change shape and represent whatever is in the wishful mind of the beholder. But the feature most appealing to business owners in the OZs are the tax credits of $3,500 for each new job above two created. These credits for jobs creation are like cash to store owners and can be applied to their corporate and/or withholding taxes. And the credits can be used in a variety of other ways, as one Albany neighborhood saw recently.
When Tifton's Jay Short began scouting for another location for his growing number of building supply and hardware stores, he thought Albany might be just right for the next link in his chain. "A lot of the retail trade in Albany is out by the mall, and we saw two things here," says Short, president of Short & Paulk Supply Company, which has a presence in Southwest Georgia spanning more than seven decades. "First, there was not a hardware store in downtown Albany, and there was a need we could fill." But the location he liked included a building that had seen better days. There were repairs to make, a significant expense to be sure. But the building was sitting in an Opportunity Zone, and the 19 new jobs introduced at the new store were as good as gold for Short.
"The Opportunity Zone helped us with some job tax credits to do the work and make the investment we were going to have to make in this building, and we had a significant investment to make," Short says. In this case, tax credits were cash savings used to improve a business and help revitalize a piece of the community.
As is often the case, that initial investment has jumpstarted more interest in the area. Just across the street from Short's building is a recently opened Walgreens, and another new business is rising from the ground. A former car dealership a few blocks away has been razed and the site cleared to make ready for the next business on the site. "There is a Shutters Plus right down the street that has cleaned up," Short says. The neighborhood has a new name, Midtown, and Short says he likes being there.
"The Opportunity Zone wasn't the 100 percent deciding factor for us coming here," Short says. "But it definitely was a factor to consider in deciding whether we wanted to open up in an older building in Midtown or go out to the bypass on the outskirts. The Opportunity Zone was the factor that led us here."
For Dougherty County Commission Chairman Jeff Sinyard, the new look for a neighborhood that was declining is a lift for the whole community. "Yes, this neighborhood is definitely on the rise," Sinyard says. "But that's just part of it. We're seeing jobs coming in here, and that's just as important. Capital investment, jobs, building facelifts; what's not to like?"
Albany began using Opportunity Zones about two years ago. "You have to have an Empowerment Zone or an urban redevelopment plan before DCA will grant you an Opportunity Zone," says Justin Strickland, vice president for business development at the Albany-Dougherty Economic Development Commission (EDC). "We worked with the Southwest Georgia Regional Commission, and between the commission and the city of Albany they authored the plan. From that, we designated which tracts and parcels we wanted to apply for Opportunity Zones. Then DCA came and rode through the community to look at the tracts we had chosen for our Opportunity Zones and then approved our designations."
Macon Restoration
In Macon, Opportunity Zone boosters believe if you restore it, the jobs will come. The city is using 11 OZs to help return the downtown to its former status as the heart of retail activity and home to the community's professionals corps.
"We tried to focus our Opportunity Zone in the historic downtown area on key pieces of [property] for redevelopment," says Alex Morrison, assistant director of economic and community development for the city of Macon and executive director of the Macon-Bibb County Urban De-velopment Authority. "We put in a handful of buildings that were on the table for revitalization and historic rehab and have encouraged commercial uses for them in that regard."
The city is already starting to see the benefits. "A handful of folks have looked at those particular buildings and lots as sites for their business location, because they know there are those [job tax credit] incentives, plus it is a key revitalization area," Morrison says. "We've had folks who are building adjacent to that area hoping to receive the Opportunity Zone benefits. We put several segments of our downtown and historic areas in those Opportunity Zones. Knowing when those buildings are rehabbed, it will make it that much easier for the folks who are doing the rehab to find a tenant who is going to bring jobs into the downtown."
Downtown developers and boosters have been creating OZs in Macon for two years now, and the OZs continue to spread like kudzu, even into nearby suburbia, says Morrison. "We have one OZ that's three blocks of downtown, and one that's five blocks of downtown. We also added an OZ in East Macon and one out at the mall and one at the former Westgate Mall and one at the Westgate Plaza Center, and all of those are in suburban areas."
Seven For Athens
W. Keith McNeely is the former de-partment director for housing and community development for the Athens-Clarke County Unified Government, where seven Opportunity Zones have been fashioned from an urban development plan developed by the housing de-partment, with assistance from the Northeast Georgia Regional Commission. "The first part of that plan was an Opportunity Zone," McNeely says. "We decided that because with Athens-Clarke County being a Tier 1 county, the benefits of the Opportunity Zone would pretty much mirror [existing] benefits businesses would receive for being in a Tier 1 county." (Numbered Tiers are county rankings that measure wealth, with Tier 1 counties among the poorest in Georgia and Tier 4 counties among the wealthiest.) McNeely says initial interest in his community from the business community has been high.
"We've had some activity in the Opportunity Zones, particularly along the Atlanta Highway and West Broad corridors. With the improving economic conditions, I would forecast we would be seeing more activity that will result in actual brick and mortar redevelopment," he says. "Retail businesses drive a good part of our economic success here." McNeely says the jobs created in the Opportunity Zones must see at least 35 hours a week and salaries must meet a minimum of just under $22,000 a year to meet the job tax credits criteria for business owners to receive the benefits of being in the OZ.
Embracing OZs
Georgia communities are taking to the Opportunity Zones for a variety of reasons, including to improve deteriorating business districts, and they are using blunt language to tell the world, says DCA's Saralyn Stafford. "We're using the terms 'slum' and 'blight' [in Opportunity Zones], because this is the tool we use in the areas of most distress." Some community leaders, however, seem to struggle to get the words out, according to Stafford. "After all," she says. "Nobody likes to call their baby ugly."
The DCA's Stafford says the Oppor-tunity Zones fit nicely into rural areas because they can be created in neighborhoods that have both residential and business districts, making it easy for workers to walk to work and even home to lunch. "Much of South Georgia, for instance, has no kind of public transportation system," Stafford says. "If you're living in poverty and want to find a job and can find a job and don't have the transportation to go to that job, then it's off the table."
Sometimes the OZs can work in concert with other government-managed programs that are also designed to create jobs and private investment in distressed areas, according to Stafford. "Main Street programs, for instance, have created a total of $3 billion in public and private investments since the early 1980s," she says, referring to the national restoration and revitalization effort favored by many small towns.
"We're the only state besides Mississippi to reach that level of investment in our downtowns, and Mississippi got theirs because of all the federal investment after [Hurricanes] Katrina and Rita. Our downtowns created over 2,600 jobs last year, and that's just in communities where we collect the data.
"A big part of the Main Street effort is about historic preservation and trying to keep the communities' infrastructure in place," Stafford says. "The Opportunity Zones fit right into that. If you've got an empty building downtown and you can provide some kind of incentive for a private business person to come in and put a business in that building and do what's necessary for it to be a good business location, you're going to help preserve that downtown."
Suburban Presence
But the Opportunity Zone movement is not limited to rural communities and smaller downtowns. Suburbia has embraced OZs with gusto, and none has done it more passionately than Gwinnett County's Nick Masino, senior vice president of Economic Development and Partnership Gwinnett at the Gwinnett Chamber of Commerce.
"Our Opportunity Zones have helped create hundreds of jobs in Gwinnett County that may not have come to Gwinnett or may not have even come to Georgia," Masino says. "You move onto that [OZ] property, and you automatically get some fantastic state incentives. One of the most recent examples is National DCP, the backoffice purchasing and logistics partner for Dunkin' Donuts. They left the Boston area and were looking to come to the Southeast and were looking in Dallas and Charlotte and Atlanta and chose the Gwinnett Place Opportunity Zone. I believe they brought 110 jobs, all corporate headquarters-type positions. We also announced, when I was with the governor in China and Japan, three Japanese companies, all small startups, with three to five people on the payroll and all coming to Gwinnett Place Area Opportunity Zone."
One of the first companies to locate in a Gwinnett County OZ came in 2010 when Bagcraft Papercon, a packaging company, planted the corporate flag on the Opportunity Zone at Gwinnett Village near Norcross. "They brought 196 jobs to the community," says Masino. "We have some more announcements pending that will produce hundreds of jobs in our Opportunity Zones. What's interesting is that but for the OZs, these companies probably would have looked in other places. I think the OZs are succeeding in what they were set out to do."
In Cherokee County, Opportunity Zones have resulted in regional planning, including a 3,800-acre zone that includes Canton and Ball Ground. "It was a fun process to work with both cities and the county planning officials," says Misti Martin, executive director of the Development Authority of Cherokee County.
"We've had about 80 percent of our prospect activity in the last year [occur] in one of our two [Opportunity] Zones,' says Martin. "We've had a great chance for redevelopment in the southeast Cherokee area, capitalizing on our one exit that touches Interstate 75, and that has spurred a lot of redevelopment, including a recent announcement with Inalfa Roof Systems that will bring 300 jobs and a $17-million-plus investment."