Q&A With SunTrust CEO William Rogers
Georgia Bank, Regional Presence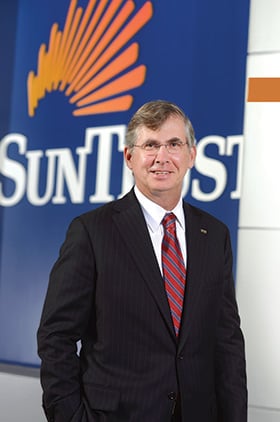 SunTrust – known as The Trust Company of Georgia for much of its life – is one of the top 50 regional banks in the country and the last "big bank" actually headquartered in Atlanta. Thanks to a series of mergers and acquisitions over the last three decades, SunTrust has some 26,000 employees and a footprint extending throughout the Southeast.
Nonetheless, its Old Atlanta credentials remain impeccable, a consequence of ties to Coca-Cola and Emory University and a history of civic involvement. William Rogers became CEO in 2011.
To learn how the bank is faring post-recession, Georgia Trend's Neely Young and Susan Percy talked with Rogers at the Junior Achievement's Chick-fil-A Foundation Discovery Center – SunTrust is a sponsor – at the Georgia World Congress Center in downtown Atlanta. Following are edited highlights of the interview.
GT: Could you start us off with little SunTrust history? It was founded by businessmen in …
Rogers: 1891. I don't think any of those gentlemen realized at the time it would become SunTrust Bank, one of the largest banks in the country with $170-plus billion in assets. It's one of those great classic stories. In the early 1900s, Ernest Woodruff was head of our bank and at that time led the acquisition of The Coca-Cola Company from the Candler family – a $25-million acquisition, a long part of our tradition. We grew as Atlanta grew.
We merged with SunBank in 1985. That was the first Southeastern regional merger. It was challenged and so had to be approved by the Supreme Court. We quickly acquired Third National in '86, Crestar in '98 and, in 2004, National Commerce [Financial Corporation]. We continued to grow and build our bank, focused primarily in the Southeast.
GT: How's business?
Rogers: It's better, but it's not good yet. Something like 46 of the last 48 months have [shown] improvement. Housing is really back. That's been the concern. This recovery is being led by core housing and core business spending. Consumers are getting back in the game. There's more consumer confidence, more big-ticket-item spending. We're in a recovery. Do we all wish it would be faster, do we all wish it would be at a higher slope? Yes, but I think there's good strong confidence that we are finally in a recovery.
GT: Was there a particular moment that marked the recovery for you, a moment when you allowed yourself to exhale?
Rogers: I haven't exhaled yet. I don't know that there was one seminal moment when it was dark on this side then we walked through and saw the light – just sort of gradual, slow and steady improvement.
GT: Tell us about SunTrust's recovery process.
Rogers: We made a couple of conscious decisions in the heat of the financial crisis. We said we have things we can control and things that are less in our control. Things that are in our control are how we treat clients and what we provide for our clients. We made a really conscious effort, backed it up with investment, backed it up with training, [knowing] that we wanted to come out of the financial crisis as the No. 1 bank in client satisfaction measured by loyalty in the region and markets that we serve. That's our goal.
GT: How do you reach that goal?
Rogers: Probably the biggest thing is just that focus. We define ourselves as a purpose-driven company. We define that purpose as lighting the way to financial well-being. So what we figured – and I think we were right – was when we came out of this deepest recession since the Great Depression, people's confidence in their finances would be tested. We looked at ourselves and said we need to play a role in that, we need to be part of that solution. Probably the biggest investment is now in training and focus on solutions.
GT: We've heard for a long time banks aren't lending – and we are still hearing it. Is that accurate?
Rogers: Whether you're on the supply side or demand side makes a difference in how you answer that. We're on the supply side. We think the spigot's open. We're lending. Loans are the lifeblood of how you make money in banking, so we're not going to be stingy. Has the environment changed from a regulatory standpoint and are some of the requirements a little bit tougher? That would be natural, when you come out of a recession. We're certainly open for business when it comes to lending.
GT: What sort of loans are you making?
Rogers: The whole gamut from consumer loans to mortgage loans to home equity lines to small business lending. We're lending to large corporate commercial real estate, auto lending direct and indirect. It's a pretty comprehensive business platform.
GT: Any one area looking especially good?
Rogers: Commercial lending has been brighter, and that's typical. Commercial lending tends to come out of a recession growing at some multiple of the GNP. Consumers are a little slower; they want to retain a little more liquidity. They have just been through a period of deleveraging, so they are probably a little slower to get back into it.
We feel really good about commercial real estate. We have a relatively small portfolio, while other banks are potentially constrained in their ability to do commercial lending. The fact that we had a small portfolio going into it creates a lot of capacity and opportunity for us.
GT: What about loans for small businesses – for LLCs?
Rogers: Most of the commercial activity today is driven by larger, well-capitalized commercial entities. That's not a bad thing. We don't have a non-LLC policy but will look closely at the strength and capitalization of an individual venture to make sure it's sustainable, not [just] short-term but long-term and sustainable through cycles.
GT: Talk about your history with TARP. You repaid your TARP loan – and divested yourself of Coke stock to do so.
Rogers: If you think about the time when TARP came out, the financial markets were incredibly unsettled. The administration made a decision at that point – a bold decision – that said we are going to unilaterally pump money into the banking system and stabilize it. You can agree or disagree on the merits of that, agree or disagree with the structure; but the fact is it worked. The markets stabilized really fast. We took TARP like every other financial institution – whether you needed it or not wasn't part of the equation. The equation was you were going to stabilize the financial markets. Then what we did was just work really hard and really fast to pay it back in the most shareholder-friendly way possible. TARP is an old story. We've been out of TARP for a couple of years. Banks as a whole have paid back all the principal of TARP and interest, so the government got a nice return on their investment and stabilized the financial markets.
GT: What are the long-term effects of the recession on your bank? Has it changed the way you work with consumers?
Rogers: The easy answer is to say regulation is going to change the way we deal with clients. When we come out of a recession, it is logical for more regulations to come to try to resolve the mistakes that were made and be sure they're not made again in another cycle.
One of our core values and core principles is "client first." If you focus on clients first and focus on high transparency, regulation shouldn't be the issue. It's an additional cost of doing business, but in terms of how you change how you do business with clients – it shouldn't change. Our job is to understand the client's needs and respond.
GT: SunTrust has been running a series of warm and fuzzy TV ads. What's behind that?
Rogers: These are real circumstances, real issues. If you look at our ads, we have a couple retiring with a child with challenges – retirement's different from what they thought it would be. That's real. A young lady moving to another town – obviously a job change of some type. Those are real situations. We want to make sure we're responding to what clients are telling us, and what they are telling us is it's a real world out there and we want you to understand us and respond to us and our needs.
GT: How do you think about your work? What motivates you?
Rogers: We're very mission-oriented, purpose-driven. When you leave [work], you think what didn't I get to accomplish for a client? What was left undone? It provides me the kind of motivation I need. I want to make sure it provides motivation for the entire company.
The work we do is noble work. It's important. We put people in their first home, help them finance their first car to drive to their first job. We help people start a business, help people expand a business and hire more people. That's important and noble work, and it's critical that we don't forget that.
GT: Is there anything in particular you are anticipating – rising interest rates, maybe?
Rogers: We've seen some increase in longer-term rates, and that's certainly long-term positive for the banking business. What's really positive for the banking business is that the whole curve comes up – short-term rates and long-term rates. Short-term impact slows down re-fi; that clearly is something all banks will experience – but that's part of the cycle of recovery.
GT: Anything else?
Rogers: We want to see some core purchase volume to replace re-fi volume. Unfortunately, they don't work in perfect lockstep. Housing prices are up almost 20 percent in Atlanta. Across the state, new home permits are up in the low 20s [percentages]. We're starting to see that sort of recovery, but off a low base. It takes a while for that to come back.
GT: Looking at the banking industry as a whole, what are the major challenges?
Rogers: As an industry, we have an obligation to rebuild trust. I don't think there's any denying that trust in financial services was eroded somewhat during the recession. At the end of the day, we're the fuel to the economic recovery. We have to take the obligation seriously. We have to do things that are right for clients, have to have a high degree of transparency. We have to focus on what clients need versus what we have.
GT: Would you talk about the changes technology has had on your industry?
Rogers: We transact more with clients in self-serve channels than person to person – in terms of total transactions. A human transaction, you walk into a branch. A self-service transaction is [when] you go to an ATM to make a deposit or take a picture of a check with your cell phone and make a deposit. During the recession we made lots of investment in technology to make sure we were responding again based on client-first focus: How do clients want to interact with us, how do they want to define that experience with banking institutions versus how do we want to define it?
GT: Surely technology increases your opportunities to connect with consumers?
Rogers: If someone typically might come to a branch once or twice a month and we might have an interaction with them, that same person on a mobile app would have 20 interactions with us a month. It's a dramatic increase in opportunities for us to interact with our clients, just a different channel.
GT: Does this mean more branches will be closing?
Rogers: We'll see more consolidation of branches. That's just a result of the transition industry-wide. We'll have fewer branches, but that's because we'll have more channels from which clients can operate. Branches are still important – there's important human interaction that happens, important service issues that are dealt with in a branch.
GT: Trust Company has a special place in Georgia business and civic history. Does that still resonate within SunTrust?
Rogers: It's an important piece of history. I started with Trust Company in 1980, so I certainly understand and respect and try every day to honor that tradition. But it's also important that Crestar in Virginia and SunBank in Florida also had great, rich histories, and National Commerce and Third Na-tional and CCB [Central Carolina Bank] in Durham had great, rich histories as well – which I am equally respectful of and responsive to.
GT: Your bank has a history of civic engagement in Atlanta.
Rogers: There's a great quote from one of the builders of SunBank: "Build your communities, build your bank." I just fundamentally believe that's the right approach. We have a role to play in any of the communities we serve. Clearly Atlanta, being our headquarters city, would echo that. My predecessors have left a nice legacy for me to follow, so they've cut pretty wide and deep paths in their community engagement. I'm leading the Atlanta Committee for Progress next year. Phil Humann [former CEO] sort of started that, and Jim Wells [former CEO] followed in that legacy. When I got asked to lead the organization, saying no would not have been an option.
GT: Are you optimistic about banking and about SunTrust?
Rogers: I've been with the company for a long time, for 33 years. I am incredibly confident in the future of this company. I've never been more confident. The work we do is important, and it makes a difference in the community we serve. It makes a difference in clients' lives.