Franklin County: Strong Connections
Where agriculture and technology meet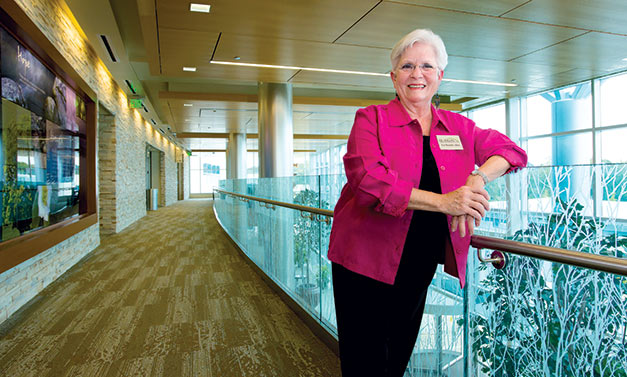 In Franklin County, two very distinct visions of Geor-gia exist side by side. This is a region where agriculture is still the largest employer and most land is devoted to raising crops and tending animals. It's also a place increasingly looking to technology in the form of state-of-the-art broadband to connect to modern industries that could represent the future.
In recent years, the county was hit hard by the loss of the local textile mill and more than 400 jobs. Now locals are taking a hard look at Franklin's assets and figuring out how to better diversify an economy that has long been dominated by a single industry.
"The fact that we have I-85 running through our community has brought continued economic development along that corridor," says longtime Franklin County Manager Billy Morse, who recently became city manager in nearby Toccoa.
The interstate cuts through the heart of the county, and industry has tended to collect near the four exits, with the majority finding their way to the city of Lavonia. Distribution centers such as one operated by AutoZone have found the area a good jumping off point for serving customers throughout the Southeast.
While a number of company reps have trekked to the county recently in search of sites, most passed so far. The real activity has been among local companies that are now going through a process of expansion, according to Lyn Brumby Allen, director of economic development for the Franklin County Industrial Building Authority.
"We've seen steady growth in most of our existing industries," says Allen. "From an economic development standpoint, we're in a really good position to see growth as the economy improves."
A good example of those improvements is Fanello Indus-tries, Inc., a manufacturer of stamped blanks and component assemblies to the automotive, lawn and garden, HVAC and other metal industries. Located in Lavonia, the company embarked on a $1.1-million expansion and nearly doubled the number of workers.
When the textile industry went into its decline, the county worked hard to diversify. Several European companies took root here, including automotive exhaust system supplier Bosal Indus-tries and Shark Industries, a recycler of windshields.
In the meantime, the county has been marketing the old mill campus. Local officials say the two-building site could be the home of one or several companies that need a facility with good access to water and infrastructure. A couple of industrial prospects recently took hard looks at the 750,000-square-foot facility, but eventually decided to pass for other, out-of-state locations.
"We're a border county, and so we compete with North and South Caro-lina and other areas of the Southeast," says Allen. "Both of those companies had locations in the states they finally decided on. I think [their decisions] had a lot to do with incentives, as well as the fact that making the move did not fit into their business plan."
Making Room
While the county is seeking more business, some areas aren't able to accommodate everyone who wants to set up shop.
"We just had someone call seeking 2,500 square feet for a home health operation; the problem is we just don't have that much space available," says Al Goldsmith, treasurer and past president of the Lavonia Chamber of Com-merce. "That's the sad thing about Lavonia. We don't have enough floor space or building space to accommodate businesses like that, but the growth pattern is looking at that and trying to accommodate that going forward. We know the demand will be there; we just need to get behind it."
While most industries have congregated in Lavonia, other towns have been building the infrastructure needed to catch up. Carnesville is working with the county on a plan to double sewer capacity in its area.
"There is sewer capacity there today, but it is not significant to attract the kind of industry and business that we would like to see along I-85," says Morse.
The plan calls for combining two smaller plants into one $6.5-million facility capable of handling 300,000 gallons of treatment capacity a day. With $3 million from the current Special Purpose Local Option Sales Tax (SPLOST) already in hand, the two governments hope to win another $3.5 million in loans and grants from the U.S. Department of Agriculture.
The new plant will connect to the 140-acre Central Franklin Industrial Park near the interstate that the city recently developed in conjunction with the Industrial Building Authority.
"It will serve the industrial park, the two interchanges that Carnesville currently offers sewer service at and the interchange where the county has their wastewater treatment plant," says Carnesville Mayor Harris Little. "Their facility is at capacity, and even before the recession hit they had people who wanted to be there that they had to turn down."
New Hospital
One of the biggest developments for Franklin was last year's opening of the 56-bed, state-of-the-art Ty Cobb Regional Medical Center (TCRMC) in Lavonia. The $72-million facility is a product of the consolidation of two small aging hospitals, located less than 12 miles apart in Royston and Hart County, that were both having trouble staying afloat financially.
"It's probably going to end up being the biggest economic driver we have in this region," predicts Allen. "It won't happen overnight, but medical facilities of this type and this caliber are so critical for our growth and quality of life and for economic development. It's really hard to measure what that impact will be in the future."
While regional healthcare has gotten a boost from the new hospital, Royston is still getting used to the fact that it lost its community hospital to Lavonia. Like other communities here, the town has been quick to pick itself up and get moving in a new direction.
The city recently finished an urban renewal plan designed to lay out in concrete terms what Royston needs to do to attract new industry. At the top of the list was the securing of state tax incentives in the form of a new Opportunity Zone.
"That is a new initiative that we're looking at right now to encourage business to come into the town," says Mayor David Jordan.
The zone will provide tax credits to businesses that add at least two new employees to their rolls. Local leaders believe those dollars will provide the added incentive needed for companies to move in or just expand.
Additionally, locals will soon have a new $1.3-million public library that will occupy the site of the old city hall. The expanded facility will include a more prominent showcase for a statue of baseball legend and Royston native Ty Cobb.
In nearby Franklin Springs, there has been something of a building boom in the tiny community. Emmanuel College has constructed a variety of new buildings, including a $10-million gymnasium and athletic facility, playing fields and new dorms for the 800 students at the liberal arts institution.
"The college didn't have any debt, so we raised some [funds], borrowed some and we've restructured some of our internal finances," says Emmanuel's Vice President for De-velopment, Brian James. "We were at a point where the college was full, and some of the facilities really were in need of updating."
With the help of donors and a bond issue by the Industrial Building Authority, the college was able to check off several items on its ambitious master plan.
The goal is to push enrollment up to 1,200 students over the next few years. To do that requires expanded facilities for both academics and student life.
"We also determined that if we increased our student body by just 28 students, it would pay the debt," says James. "Of course we've increased it by more than that."
Internet Access
Central to luring industry, not to mention improving both education and healthcare, is the addition of superfast Internet access to the county. Using a $1-million OneGeorgia grant, the North Georgia Network is now running a 260-mile loop of fiber-optic cable through eight counties, including Franklin.
A fast broadband infrastructure is essential to luring companies that will never give a second thought to locating in regions without it. For the many small businesses that already cluster here, it will mean the region can create a technology-based year-round economy, according to Paul Belk, president and CEO of the North Geor-gia Network.
"In the North Georgia mountains, people go up and visit and then go home – that's the economy," he explains. "It's a surge of income when they come in, and then the business owners just survive the winter. When they have appropriate connectedness, they can start to utilize interactive tools that can enable them to reach out to the world to sustain income [during] those lean times."
While local leaders are busy trying to lure outsiders here, the county's biggest industry can be found nearly everywhere you turn. Franklin is the No. 1 poultry-producing county in Georgia and a solid number two in total economic output of its 851 farms at more than $380 million annually.
With relatively few row crops compared to South Georgia, most employment here is year round rather than seasonal. The heavy emphasis on chicken houses also makes getting into the business easier, according to Owen Thomason, a Franklin County High agriculture teacher who coordinates the local Young Farmers.
In fact, more than 200 students are currently enrolled in the local school's agriculture program.
"If they go get a degree or further training, there is a huge number of jobs out there in related industries," says Thomason.
In the midst of industry and Inter-net access, Franklin hasn't forgotten that one of its greatest resources is a considerable amount of outdoor beauty. There's Lake Hartwell and two lush state parks to draw visitors. Tourism even sparked the construction of a new hotel in Lavonia.
"We hope that is a sign that things are getting better slowly but surely," says Franklin County Chamber Direc-tor of Chamber Services Aida Rey-nolds. "We see a definite increase in new businesses."
Community Snapshot
Local Leaders
Lyn Brumby Allen
Director of Economic Development
Franklin County Industrial
Building Authority
706.384.5112
ba@franklin-county.com
Michael S. Stewart
President
Emmanuel College
706.245.7226
mstewart@ec.edu
Aida Reynolds
Director of Chamber Services
Franklin County
Chamber of Commerce
706.384.4659
chamber@franklin-county.com
Population (2012 estimated)
County, 21,914; Royston, 2,536; Lavonia, 1,790; Canon, 888; Franklin Springs, 775; Carnesville, 654
Median Household Income (2011)
$33,086
Unemployment (August 2013)
County, 9.7 percent
Georgia, 8.3 percent
Major Employers
Franklin County Board of Education, AutoZone Inc., Ty Cobb Healthcare System, Franklin County, Carry-On Trailers Inc.
Sources
Franklin County Industrial Building Authority, Georgia Department of Labor