Camden County: Changes And Challenges
Tourism, the military and the movie business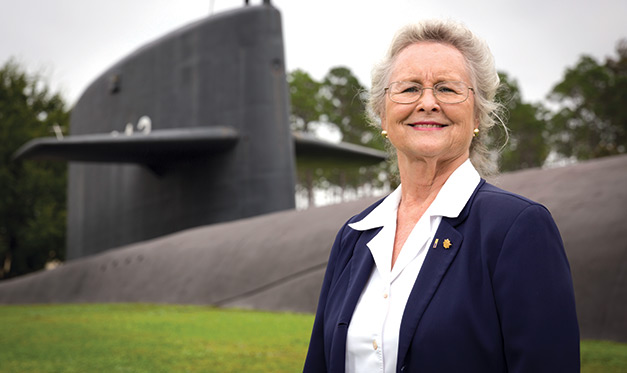 Camden County is where Georgia ends and Florida begins. It forms the intersection of the two states and the Atlantic Ocean.
There is a popular notion that St. Marys is a quirky little village filled with eccentrics dressed in Hawaiian shirts, shorts and flip-flops. Quirky it may be, but residents here also wear their working clothes, which might range from coats and ties to welding gear and overalls. The tropical air has been filled with the sounds of construction as new commercial buildings are rising, and there are community leaders who seriously believe the world's next spaceport will be in Camden County.
Tourists make up a large part of the local economy, contributing 750 jobs and $78.5 million annually to the community's well being. Drawn by a diverse and sometimes odd menu of attractions, the out-of-towners are as likely to come upon a motion picture film crew as they are a seagull at the beach. Still, underneath the laidback atmosphere here there is serious money in motion, generated by tourism, the Hollywood influence and a potent military presence.
Camden County's Naval Submarine Base Kings Bay (NSBKB), is the largest employer in the region, with a $707-million annual economic impact and a Coast Guard Maritime Protection Unit with 200 military men and women and $20 million in yearly economic benefit to the community.
"The number of retired military living in the area has doubled in the last 10 years and now has 8,660 men and women from every branch of the armed forces," says Sheila McNeill, president of The Camden Partnership, an organization that supports the military missions in the community.
In addition, the Veterans Administration estimates 2010 VA expenditures in Camden County totaled more than $31 million, with 57 percent of that in compensation and pensions, and the balance used in educational programs, medical services and related benefits. Camden's populations keep a keen eye on conditions at its military bases and on the civilian workers who support them. McNeill says there is growing pressure to make sure the way is clear for the Navy's future needs.
Military Presence
Present concerns about the county's largest military installation, Naval Submarine Base Kings Bay, include an aging fleet of submarines and an aging workforce close to retirement age. "Right now they are designing the next class of these boats because they all start retiring in a few years, and we have to make sure we have replacements," McNeill says. "And one-third of the civilian workforce is up for retirement. What is most startling is that in five years every degreed person they have employed is eligible for retirement." These prospects have pushed the need for training programs to the forefront to ensure qualified workers will be ready to replace those retiring, says McNeill.
No one has watched the developments at the Navy Submarine Base more closely than David Keating, executive director of the Camden County Joint Development Authority. "We have a unique workforce development structure here," Keating says. "We have a satellite four-year state college here, the College of Coastal Georgia. We also have two satellite university campuses here. Brenau University and Valdosta State University have a presence on the base, and [the educational facilities] are available to the public."
He mentions a new technical college in the works for a 31-acre site on Interstate 95, where special training can be offered to meet the needs of the Navy base. The technical college will be part of the college formed by the merger of Alta-maha Tech and Okefenokee Tech, which should be complete by the summer, when it will get a new name.
The base, he says, which just turned 35 years old, "is going to need a pipeline of skilled workers that can move into those positions over time as the base workers retire. That's why this technical college was such a priority for our community."
Camden County has been through one growth spurt, with another forecast for the next decade, according to Keating. "We've got the biggest border city in Georgia, with Jacksonville right next door," Keating says. "We're really a growing market and have grown exponentially since the naval base evolved in the late '70s and early '80s. We're at 50,000 [population] now, and the State Office of Planning and Budget (OPB) has our population projected to be at over 60,000 by 2020."
That growth led Keating's Joint Development Authority to adopt the Navy's colors, blue and gold, in its promotional materials and to use a Navy phrase for its theme: Full Speed Ahead. "We are a total modal community," says Keating. "We have 28 miles of Interstate 95 and are within about 30 miles of I-10 and within 80 miles of I-16, so we've got the highway connectivity." He points out his community has access to a huge population. "Within a one-hour drive from I-95's Exit 3, there are 1.25 million people," Keating says. "That's a huge potential market and workforce base, and it can't really be replicated anywhere else in Georgia outside the Metro Atlanta area."
Leaders here say their community is ready to deal with a rising population. "We have a capital improvement plan and also impact fees," says Willis "Chip" Keene, chairman of the Camden County Commission. "Those fees are designed to help build the infrastructure that's needed to support growth."
Space Race
These days Willis is talking about another kind of growth that is out of this world. "There is some interest in putting a spaceport here," he says. "Back when NASA was looking for a place to launch rockets, this county was actually on the short list because of its location on Earth."
In fact, according to published reports, Camden County is representing Georgia in a space race with Texas to land a launching site for private companies to use for trips to outer space.
"What [experts] tell me is that there are private companies that have a $1.8-billion contract with NASA to take cargo back and forth to the International Space Station, and the search for a [launch] site is underway," says Camden County Administrator Steve Howard.
And just how serious is this idea? "There is a piece of property we're currently in negotiations on, and there's a lot of interest from several companies that have indicated that if we are successful in getting a designation from the FAA to be a spaceport, they're very interested in Camden County because of our geographic location," Howard says. The experts on the subject of private space travel for science and tourism say a spaceport in Camden County could mean thousands of jobs for Georgia. The matter is under study by a group of scientists and futurists led by Dr. Robert Braunm, an aerospace engineering professor and director of the Space Systems Design Laboratory at Georgia Tech.
"The experts tell me that if you move the dial just one percent in the employment in the aerospace industry, that's 10,000 jobs," says Howard, adding that the process of achieving spaceport status is a long one, involving perhaps years of study and negotiations.
Meanwhile, earthbound tourism remains an economic power in Camden County, according to Angela Wigger, director of tourism at the St. Marys Convention and Visitors Bureau. "Tourism is a valuable part of our local economy," Wigger says. "The tourism industry here provided payrolls in the amount of $15.09 million annually."
St. Marys is the point of embarkation for trips to Cumberland Island, a site that welcomed 62,000 visitors last year. And St. Marys was the finish line for the Bicycle Ride Across Georgia (BRAG) for the last three years, bringing 1,000 cyclists to town.
One local bicyclist has a growing fan base thanks to her artistic use of a camera. Prosperidad Luna came to St. Marys 12 years ago with her husband, a civilian employee at NSBKB, and these days she can be seen riding her bicycle around town, waist-length hair trailing along behind her, and stopping occasionally to photograph the hummingbirds and butterflies that flit among the colorful flowers in the garden adjacent to Our Lady Star of the Sea Catholic Church, which sits just a short walk from the village waterfront.
Luna is better known locally as Ivy, a name she says is easier to handle for her friends and the tourists who interact with her as she travels the community snapping photos. Those images are popular around town, with many landing on local walls and fireplace mantles. Luna is also well known for her entries on Pixoto, an online gallery used by professional photographers who cast votes for the picture of the day, week or month.
"Some of my friends will request my pictures for [themselves] or for gifts," Luna says. "I don't charge anything because I am no pro. It's just my hobby, so why would I bother to ask for money?" Luna's pricing policies have fed her popularity among the tourists and made her a popular local attraction well known for her pictures of the pastel sunsets she favors.
One of the most interesting new tourism features is the Georgia Coast Saltwater Paddling Trail, says the CVB's Wigger. "That offers 170 miles of water trails along the state's coast and is part of the 760-mile Southeast Coast [Saltwater] Paddling Trail, which runs through Virginia, North and South Carolina and Georgia."
Georgia is one of the top five states in the nation for the filming of motion pictures and television shows, and Camden County has seen its share of film crews and actors working on projects like the motion picture Eye Of the Hurricane, the TV series Royal Pains and the Star Trek web series as well as a dozen more movie and TV titles.
"They first come here because they find our website, coastalgeorgiafilm.org," says Barbara Ryan, vice chair and co-founder of the Coastal Georgia Film Alliance, a group dedicated to getting film crews to work in Camden County. "We do very aggressive marketing campaigns, and they see the diversity of what we have: the terrain, the geography; we have a Victorian village, and we have Cumberland Island. We have a Navy submarine base, and we have rural areas with tobacco barns."
Quality of Life
Leslie Hamrick, president and CEO of the Camden County Chamber of Commerce, is new to the area, but she says she quickly became enchanted by her new surroundings. "Camden County is known for its quality of life," Hamrick says. "It's the natural beauty that has attracted people. There is nothing to compare to the natural beauty of coastal Georgia. The film industry can reproduce a lot of things, but this is God's work."
Hamrick's work has been focused on building her chamber's once fading membership. "We as an organization just went through a whole strategic planning process about reinventing ourselves, and we're excited about it because people are coming back to the chamber," Hamrick says. "We've been talking about young retirees, the 55-plus retirees that have businesses we can help attract, and they can bring jobs with them.
St. Marys Mayor Bill DeLoughy (pronounced De-Lowee) says he recently counted a nice number of new jobs arriving in town. "We just got a new business coming in here, Gilman Building Products, and they brought 38 new jobs. These are fairly responsible, high-paying jobs," DeLoughy says. "This will be their headquarters and where they will have all their administrative functions and a showroom. We expect them to open the doors before the end of the year."
Community Snapshot
Local Leaders
Willis "Chip" Keene
Chairman
Camden County Commission
912.552.1272
chip@csbbanks.com
David Keating
Executive Director
Camden County
Joint Development Authority
912.729.7201
ccjda@co.camden.ga.us
Leslie Hamrick
President/CEO
Camden County Chamber of Commerce
912.729.5840
president@camdenchamber.com
Population (2010)
County, 50,697
Woodbine (county seat), 1,412; St. Marys, 17,121; Kingsland, 15,946
Per Capita Income (2009)
County, $30,340
Georgia, $34,129
Unemployment (Preliminary, August 2013)
County, 8.6 percent
Georgia, 8.3 percent
Top Employers
Naval Submarine Base Kings Bay, Camden County School System, Express Scripts, Lockheed Martin, Camden County Government
Sources
Camden County Chamber of Commerce, Camden County Joint Development Authority, Georgia Department of Labor, U.S. Census Bureau