Collaborative Leadership Summit on Education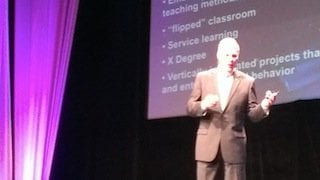 Some illuminating observations on education emerged at (co)lab, a Leadership Atlanta/Metro Atlanta Chamber of Commerce/City of Atlanta/Atlanta Regional Commission "Collaborative Leadership Summit" held at Woodruff Arts Center in Atlanta Sept. 22-23, 2013.
Dr. Bud Peterson, president of Georgia Institute of Technology, said 43 percent of Tech students study abroad in 30 countries, and 426,390 students participate in open enrollment, free online courses in subjects such as robotics. "Technology is changing the way we think about education," says Peterson. "In terms of timing, the August May year based on harvest time is no longer valid. In our online robotics courses, only 10 percent of the 40,000 who enrolled finished the course, but that's okay. If 5,000 finish, it changes the concept of success – this is learning for learning's sake." Tech has no college of education but several K-12 outreach programs including Direct to Discovery, BEST Academy, Project Engage, and Pathway Mentoring.
Diana Laufenberg, teacher, Science Leadership Academy, Philadelphia: "If you teach to the test, you get the test. Teach past the test, and you get this wonderful thing, but we are settling for less, and schools are stuck in compliance and controls mode. Our Science Leadership Academy encourages collaboration not competition, emphasizing process not outcome."
Nikhail Goyal, author, 18. "Growing up I saw parallels between the U.S. And Indian education – so many young people are left ouf ot the conversation. Does it have to be this horrible? I wrote my first book at 16 about the history of U.S. education. Before the 1850s, the U.S. was the most educated society, with a 98 percent literacy rate in Massachusetts; children were raised by households and churches, an inclusive experience. Horace Mann sought to dumb down the population as we entered the industrial revolution by creating a school system antithetical to natural learning, based on what he saw in Prussia to condition soldiers. Our system today remains largely identical to that system: age segregation, agrarian school calendar, desks in rows, designed to serve social order and diminish our learning capacities. The buildings are the same design as prisons and are often built and designed by the same companies. The similarities don't end there: students have twice the restrictions as prisoners. Students today must "detox" and unlearn before peer pressure emerges to get them to learn and get off the couch. We see life long learning incubators emerging, but the system won't budge without outside pressure. Our communities of isolation must also change, starting with less physical separation."
Ken Zeff, Chief Strategy and Innovation Officer, Fulton County Schools: "We are transitioning all 100 schools to the charter model to decentralize the system so school decisions are local and better able to foster innovation. We have School Governance Councils consisting of non-voting principals and students, elected parents and teachers, and appointed employees. When engaged properly, parents do show up. We have the Fulton Leadership and Innovation Academy to train them, and $4 million set aside annually of our $7.8 million in funding, so most funding is competitive from our foundation in the form of grants for projects like Saturday School, transportation, and seed ideas. We've learned to sweat the small stuff, such as helping people to vote using online software to make it easier."
Bill Strickland, CEO, Manchester Bidwell Corporation, a nonprofit training school in Pittsburgh: "An art teacher saved my life, so I want inner city kids to see art. I built my center in the toughest neighborhood in Pittsburgh, filled it with art, and nothing has ever been stolen in 26 years. No antitheft system: environment drives behavior. 90 percent of those in our culinary program go to work in 12 months. Every student has a gourmet lunch – to take the stigma out of food. Our pharmaceutical school is one of the top 17 vocational schools in the country. Our Craftsman Guild for at risk kids has a 97 percent graduation rate from high school. The kids aren't the problem. We received half a million from eBay to replicate our model – 100 cities in the U.S., including Atlanta, and 100 globally."
Image Credit: Ben Young