Milledgeville | Baldwin County: Ready For Industry
Reinvention and determination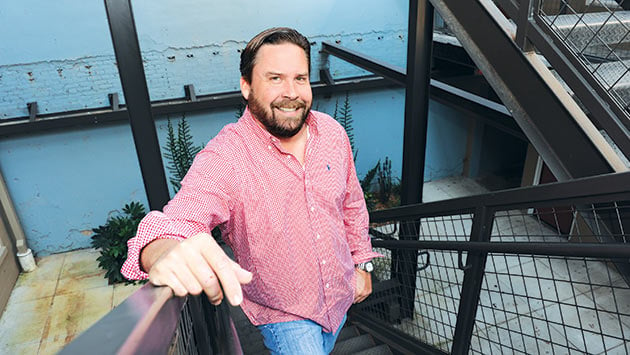 In this slice of middle Georgia where Flannery O'Connor wrote "A Good Man is Hard to Find," the narrative 60 years later is "A Good Company is Hard to Find."
Baldwin County and Milledgeville are struggling to bring in new industry to make up for significant job losses in manufacturing and at state-run facilities including Central State Hospital and several prisons.
County officials estimate a staggering 4,500 jobs left the area about 90 miles southeast of Atlanta in the last four or five years.
Still, activity in downtown Milledgeville and a trio of colleges is helping the area refocus on its strengths.
"When we get people to Milledgeville, they fall in love," says Matt Poyner, executive director of the Milledgeville-Baldwin County Development Authority. "It's a matter of getting them down here."
Poyner and other local leaders talk wistfully about the one that got away. Despite their full-blown recruiting effort, a supplier for Caterpillar – which recently opened its plant outside Athens some 70 miles away – took its 250 jobs to Anderson, S.C. In addition to aggressive incentives, Baldwin County's offer to the company included $50,000 worth of in-kind community services such as free pest control.
"Even though we were not able to land this particular project," says Milledgeville Mayor Richard Bentley, "we will be certainly on a favorable list with economic development folks around the state from now on because of the way that we conducted ourselves with that."
With 44 acres at the Milledgeville-Baldwin County Industrial Park earmarked for the Caterpillar supplier, the city and county teamed up to go ahead and clear the land to get it pad ready. There are a total of 500 available acres at the park off Highway 22, and the county also has a spec building nearby that is waiting for a tenant. Plans are in the works to acquire more land on Highway 441, which has the rail siding desired by some projects.
"We have to be proactive," says Poyner.
The job hemorrhaging began in 2008, when Rheem, an air conditioner manufacturer, transferred its operation to Mexico, resulting in about 1,500 people losing their jobs. When Shaw shut down its carpet yarn plant, another 150 jobs disappeared.
"I call it the perfect storm," Bentley says. "All of a sudden we lose two manufacturing plants, we lose four out of five prisons, and we have an accelerated decline of mental health treatment. It's 2010-11, we've been sitting here all these years at 4 percent, maybe 5 percent unemployment, and at one time we were looking at 16 [percent]."
The unemployment rate was 12.2 percent in July, the highest in the middle Georgia region, and there is more disappointing news: Georgia Power will close coal-fired Plant Harllee Branch – whose 1,001-foot chimney in neighboring Putnam County can be seen for miles – by 2015 for a loss of about 250 jobs.
"That will hurt," says Sammy Hall, chair of the Baldwin County Board of Commissioners. "Putnam is going to take a bigger hit than we are because of their tax base, but we're going to lose people because of employees that live here."
Just as Milledgeville rebuilt after Union General William T. Sherman wreaked havoc during his infamous March to the Sea in 1864, there's hope for a turnaround.
"We had to determine, 'Where do we go from here?'" Bentley says. "We had to reinvent ourselves."
Sea Change
The area once known for the largest mental institution in the world and the correctional facilities that also moved onto those grounds is transitioning into a higher education hub.
Georgia College, the state's public liberal arts university, has about 6,550 students, including 5,750 undergraduates. Georgia Military College has about 1,200-1,300 junior college students and 500 prep school students at its main Milledgeville campus. Central Georgia Technical College has 550 students on its Milledgeville campus.
"I would say that we are the only community in the nation that has under 50,000 population and has three institutions of higher education within two and a half miles," Poyner says.
Georgia College accounts for more than $200 million worth of economic impact, and Bentley says the impact of all three schools has been estimated at more than $300 million. He adds that such intellectual capital can result in a workforce with better skills and higher wages.
"Georgia College is a huge economic engine for this community," says Johnny Grant, Georgia College's director of community engagement and economic de-velopment, who was also a state senator for eight years. All three colleges have undergone recent expansions.
"As Central State hospital has declined over the last few years, the colleges have been growing," Grant adds. "It's really sort of a neat comingling of assets that we think gives Milledgeville a little bit of an edge with other communities."
Grant also points out that the beauty of the two downtown campuses adds charm to the heart of Milledgeville.
The downtown renaissance continues with loft living, thanks to Frank Pendergast, a self-proclaimed "serial entrepreneur" who opened The Baldwin Lofts with 15 units in August 2012. Most of the apartments in the 110-year-old building are occupied by students, and Pendergast says professionals and even retirees have expressed interest in living downtown.
The city, which changed its ordinances pertaining to loft apartments, encourages new uses for historic buildings.
Pendergast and his late business partner, Mitch Brooks, sparked the revival 20 years ago when they opened a popular restaurant called The Brick. "Back in 1993 there wasn't a whole lot going on downtown," Pendergast says, citing a vacancy rate of about 60 percent. "We certainly saw the potential of Milledgeville even then."
They recognized that downtown Milledgeville has the colleges and the financial and government districts and is the religious and historic epicenter but still was losing business to the box retails on the north side of town. Pendergast now characterizes downtown as "vibrant, youthful, exciting."
And bursting at the seams. "We're running out of room for growth in our traditional core," says Pendergast, who owns seven buildings downtown and also helps coordinate Milledgeville Main Street's popular Deep Roots Festival, "so we need to be thinking about [expanding] up and out to keep this going." He says expanding toward the Oconee River is an option, though parking will always be a problem.
Poyner, whose ancestor Benjamin Aspinwall White, M.D., helped to establish the state mental hospital, says he expects "serious growth" on the retail side in the next six to 18 months. "I've gotten word of several large developments that are looking," he says.
The 93,000-square-foot building in Milledgeville once occupied by Shaw is being repurposed and is set to include a $200,000 250-seat community theater, which will be home to The Milledgeville Players.
There is also a move to expand the greenway, which Walter Reynolds, treasurer of the Oconee River Greenway Foundation, calls "the biggest lawn in the county." The swath of land with multi-use trails, fishing stations and a boat ramp is also used for concerts, a farmers market, weekly yoga sessions and a mega-yard sale. Reynolds says Phase 3 of an expansion plan in-cludes a large amphitheater.
Visitors Welcome
Tourism in Baldwin County remains strong, centered around cultural attractions and outdoor activities, including those on Lake Sinclair. According to the state, the impact of travel on the county was $77.55 million in expenditures in 2012, an increase of 8.9 percent over 2011.
Earlier this year, the Convention and Visitors Bureau launched a free smart-phone application, which is a condensed version of the popular Historic Trolley Tour and Walking Tour.
The Haunted Trolley Tour around Halloween usually sells out on the first day, and two years ago sold out in the first hour, says Jane Sowell, executive director of the bureau.
Milledgeville is also starting to attract the attention of Hollywood, with interest from major films.
Sowell said the Department of Behavioral Health and the Department of Corrections have given the county permission to film at Central State and the closed prisons. "That opened up a whole new venue for us, working with the state film office," she says. "It's a beautiful campus. Unfortunately, it's run down now, but for a certain genre of movies, it's the perfect location."
The 200 buildings on the nearly abandoned 2,000-acre Central State Hospital campus would also be the perfect location for companies. Although the state, which counts it as surplus property, doesn't have plans for it, the city and county must appeal to the state legislature for new legislation to bring in long-term tenants.
The Central State Hospital Local Redevelopment Author-ity (CSH LRA) is a special purpose political unit of the State of Georgia chartered with the purpose of "bringing life back to the campus."
In its heyday, the institution had more than 10,000 patients and was a small city with its own fire and police departments. State occupancy on the grounds today is only a fraction of what it was then, but there is starting to be new activity. Cogentes, a small technology firm, recently moved into the former Central State superintendent's house.
The 90,000-square-foot kitchen, which was once the largest in the world and dished out 30,000 meals a day, is considered by the county to be an ideal location for a food processing company. Some of the other 200 buildings have fallen into disrepair.
"If we can have long-term access to the buildings, then we can go after and seek funding to try to renovate those," Bentley says.
Commissioner Hall brags that the county, with both a river and a lake, is appealing because of its abundant supply of water – a potential source for incoming businesses. "I encourage all those businesses that are suffering in Atlanta to look south and to come here, because we can supply their water."
The lack of a major highway is seen as a drawback, although there are four-lane roads to get to those arteries, including the Fall Line Freeway. Milledgeville is about 35 miles from 1-16/ I-75 and 42 miles from I-20.
While a well-respected regional hospital is another attraction to industry, the loss of jobs – and subsequent loss of insurance benefits – is having a huge impact on the bottom line at Oconee Regional Medical Center, says CEO Jean Aycock.
She says that 10 months into its last fiscal year, the hospital had already lost $1 million more than in the comparable period last year because of increased charity and financial assistance programs. As a result, the hospital worked with the county on a bond refinancing to bring down some interest rates.
The savings could add up to $300,000-$400,000 a year, which is "substantial enough that it helps," Aycock says, but it's "not going to certainly absorb the kind of free care that we're providing."
The hospital also partnered with TenderCare in February to open a primary care clinic, which eases the burden at the emergency room and takes the place of an urgent care office the hospital operated in the evenings.
"It's a challenging time, but our doctors are doing all that they can to help take care of people even when they don't have resources," Aycock says.
A Thank You
While Poyner searches for new industries that can improve the employment rate, he has also made it a priority to focus on retention.
As part of its "Existing Industry Appreciation Day" program last summer, the county served barbecue, cole slaw and baked beans to 2,400 people working for industries, the hospital or ancillary services such as the fire department.
"When I was walking the shop asking folks, 'How did it go?' I got a lot of good feedback," says Merlin E. Fechner, president of the Milledgeville site of Triumph Aerostructures – Vought Integrated Programs Division.
Fechner, who began managing the Milledgeville facility in 2000, has helped Baldwin County in its recruiting efforts by speaking to prospects.
"I'm definitely partial to the workforce in Georgia," he says. "They are highly motivated, have a good work ethic and a lot of social hospitality. "
Triumph has experienced impressive growth since early 2010, hiring 350 additional employees to bring the total to more than 800. The company has also invested about $35 million in new equipment and capabilities.
"The better you do, the more work you get; and the more work you get, the better you do," Fechner says. "We're saturated right now. "
Triumph partners with Georgia Quick Start to get employees up to speed and has a Quick Start trailer on site permanently.
Within the local business community, April Bragg, president and CEO of the Milledgeville-Baldwin County Chamber of Commerce, says the "general health is improving."
She has brought a different approach to the 500 businesses with 14,000 employees by emphasizing the digital age and social media.
"We're not seeing the same value in face-to-face interactions," Bragg says. "We're recognizing that we are having to go to the masses."
When BodyPlex of Milledgeville had a major expansion, the ribbon cutting was filmed for a short video. Bragg says within 48 hours there were 7,000 exposures on Facebook, and more than 900 people watched the video on Chamber TV on the website. More ribbon-cutting videos followed.
"It's really gotten a lot of excitement and it may seem a little cheesy and corny, but it's engagement," says Bragg. "Engagement looks a little different today than it did five, 10 years ago."
Bragg will also begin hosting a weekly news show in the fall on the local access channel in partnership with Georgia College. "We're going to do member testimonials, host webinars and give them the tools that they need without them ever having to leave the store," she says.
While Baldwin County/Milledgeville officials have no illusions that their home will again be a huge manufacturing center, they believe a more diverse, balanced future is within their reach.
"I think if we could cater to the midsize manufacturing [and] business people, that's what we would want to do," Commissioner Hall says. "Although we would be glad to have a 500-employee company, 10 companies with 50 employees are just as good and don't break you when they leave."
Community Snapshot
Local Leaders
Richard Bentley
Mayor of Milledgeville
478.452.5158
rbent@windstream.net
Sammy Hall
Chair
Baldwin County
Board of Commissioners
478.445.4791
shall@baldwincountyga.com
Matt Poyner
Executive Director
Milledgeville-Baldwin County
Economic Development Authority
478.451.0369
mpoyner@developmilledgeville.com
Population (2012 Estimated)
County, 46,367
Milledgeville (county seat), 19,401
Median Household Income (2010)
$36,091
Unemployment (July 2013)
County, 12.2 percent
Georgia, 8.8 percent
Top Manufacturing Employers
Triumph Aerostructures, Mohawk Industries, Zschwimmer & Schwarz, Vernay
Sources
Development Authority of
The City of Milledgeville and Baldwin County, Georgia Department of Labor, U.S. Census Bureau