Kennesaw State At 50
From junior college to comprehensive university with a global perspective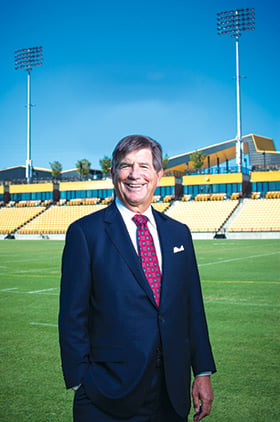 Kennesaw State University is all grown up. Originally chartered as a two-year junior college 50 years ago – Oct. 9, 1963, to be precise – KSU is now the third-largest university in Georgia with more than 24,600 students from 132 countries. The university offers 80 degrees, bachelor's and master's degrees and five doctoral programs, within its nine colleges.
Among the many honors KSU received in 2013: the First Year Program was recognized by U.S. News & World Report for the 10th consecutive year; the university had its first Goldwater Scholar, biochemistry major Jiexi Liao; and The Commons dining hall was awarded Innovator of the Year by the National Restaurant Association – a first for any educational institution. Kennesaw's graduation rate rose 14 percent over the past seven years, and the university received a mid-accreditation review from the Southern Association of Colleges and Schools (SACS) that read, "Absolutely zero recommendations to address," a finding KSU President Dr. Dan Papp calls "the academic equivalent of a walk-off home run."
It's fitting that in its 50th year, KSU was recently redesignated a comprehensive university by the University System of Georgia (USG). "The new status is a reflection of KSU's growth and commitment to achieving world-class academic status," says Papp. "That clearly means first-class teaching, first-class research and first-class service across the range of degrees and doctoral programs."
What it means in terms of state funding remains to be seen. Currently KSU is still 14 percent below the average of state dollars per full-time equivalent student.
What began as a commuter school is now home to 3,500 resident students. Since Papp's arrival in 2006, more than 2.2 million square feet of facilities, plus 88 acres of new land, have been added to the campus. Another five buildings are currently under construction or renovation. KSU's growth created a $926-million economic impact in 2012, according to the USG. It's an entirely different landscape from the days of KSU's first president Horace Sturgis who retired in 1980, the first year Kennesaw awarded four-year degrees.
Sturgis was followed in 1981 by Betty L. Siegel, who made history by becoming the first woman president in the USG. Siegel presided over Kennesaw's transformation for the next 25 years, taking it from college to state college and finally to a university in 1996. She introduced globalization to Ken-nesaw by instituting the "Year of" program, integrating appreciation and study of a different country into the curriculum each academic year. The "Year of" program continues at KSU today as one element in the spectrum of award-winning global programs and initiatives that became institutional hallmarks.
"Betty was president of the university for 50 percent of Kennesaw's existence, so she clearly had an immense and excellent impact on the university," says Papp. "She not only started us down the road of internationalization and globalization, but also assisted the university by developing good relationships with the community."
The Neighborhood
Those good community relationships have come in handy over the years as the university footprint spread across Chastain Road and I-75. In fact, Papp credits Gov. Nathan Deal, Cobb County Department of Transportation Director Faye DiMassimo and other influential Cobb County leaders with helping obtain state funds to build a new connector from the parking deck on the east side of the campus across I-75 to George Busbee Drive. The road, dubbed the Skip Spann Connector, will provide ingress and egress for the university and ease traffic on Chastain and Barrett roads.
The Skip Spann project was scheduled to break ground on Founder's Day, Oct. 9, part of the university's weeklong Fifty Years of Excellence celebration. The groundbreaking was one of three to take place during the week of festivities. Others included the $6-million renovation of the Horace W. Sturgis Library and the $38.7-million, 176,000-square-foot renovation and expansion of the Betty L. Siegel Student Recreation and Activities Center.
Papp tips his cap to the KSU Foundation. "Were it not for the foundation, we would not be the university we are today," he says. "Much of the building that has taken place on campus [was] technically not funded by the foundation, but the planning for it, the bond ratings, have been achieved by the foundation. The support the trustees provide is really critical."
It's an exciting time for KSU, and the buzz is felt from the president's office to the newly renamed Fifth Third Bank Stadium, where Athletic Director Vaughn Williams expects a sellout crowd when Division 1 NCAA football comes to Kennesaw in fall 2015. "The stadium seats 8,500, and we've already sold 1,000 season tickets, 30 percent of the tickets we have to sell to fans," says Williams.
The university officially announced the Board of Regents' approval of the football program in February 2013, hiring the school's first football coach, Brian Bohannon, in April. A sponsorship deal with Cincinnati, Ohio-based Fifth Third Bank provides $5 million over 10 years toward program startup costs and facilities enhancements.
Football is getting a lot of attention, but KSU currently fields 16 men's and women's intercollegiate teams in track and field, lacrosse, basketball, baseball, soccer, softball, cross country, golf and tennis. Student-athletes averaged a team GPA of 3.0 over the past two years.
"We talk about being champions in the classroom first," Williams says. "We tell our students the four to five years [of college] impacts you 40 to 50 years. We want them to find a vocation, not just a job." It would be easy to toss off his words as typical athletic director hype, but Williams put actions behind them. Under his leadership, the athletic department partnered with the Center for Student Leadership to create the Owl Championship Initiative for student-athletes.
"We try to put structure around them to help them make the best decisions possible," says Williams. "They talk with student-athletes about leadership; they have community service projects, career services. You can't do it for them, but you can guide them and teach them how to structure their daily lives. This is the one piece that really makes our athletics program unique. Success for us will be if 90 percent of our students get jobs and the other 10 percent continue with their education. These programs are part of making that happen."
Global Reach
Innovative academic programs revolutionized the KSU profile and continue to do so. The President's Emerging Global Scholars (PEGS) offers myriad educational and cultural opportunities to high-achieving students like Katherine Street, a junior from Woodstock and president of the Student Government Association. In addition to study abroad experiences in Brazil and Costa Rica, Street, a nursing major and commuter student, participated in the Fulbright Commission's Wales Summer Institute, a cultural and academic program.
"It was six weeks of experiential learning in Wales," she says, "I was with eight students from all over United States learning what it means to be Welsh and what it means to be American."
Street says the PEGS program was the biggest surprise of her KSU experience. "They recruit out of high school, so you get inducted into a program that literally changes your world and provides you with ideas and experiences that affect your paradigm," she adds. "You change within a controlled environment where there are people who help you work through things and emerge ready to face the globalized world. That was something I never thought I would find at KSU."
Globalization and internationalization of KSU were high on Papp's list when he came to the university. Enhancing global learning and understanding in each academic discipline was Kennesaw's Quality Enhance-ment Program (QEP). It's safe to say the president's desire that globalization become part of the "fabric of the university" has come to pass.
In 2012, KSU established its first permanent educational facility in Montepulciano, Italy, expanding the university's existing study abroad programs in the city. The new agreement even includes a teaching kitchen for KSU's award-winning culinary program, and the university plans community and alumni trips. Yet many outsiders are unaware of the university's global reach.
"The farther abroad you go, they know," says Dr. Barry Morris, who served as interim director of KSU's Institute for Global Initiatives (IGI) and now serves as vice provost of global management and strategic initiatives. "We are known in some countries as a go-to university. The folks in this business know we are leaders."
KSU's Global Engagement Certification available to undergraduate and graduate students is an attention-getter. "One thing local, national and international business leaders tell us is that they need employees who are ready to deal with the world," says Morris. "For example, when they hear about the exposure every undergrad gets through the "Year of" program, learning in depth about four different areas of the world over the course of their experience here, it's precisely the thing the doctor ordered."
Dr. Lance Askildson, executive director of the IGI, oversees all global programs and partnerships with national and global entities. He's energized by Kennesaw's "entrepreneurial spirit," especially with respect to globalization. "It's that lack of entrenched tradition that gives us the opportunity to innovate," says Askildson. "People don't expect some of the profound impacts and innovations coming out of KSU because we're not known as a big player. I love being part of a team like that. It's a scrappy team in some respects. Our society is looking for institutions that can do more with less and think outside the box. That's what we're doing here."
One significant and strategic partnership connects KSU to the United Nations Institute for Training and Research (UNITAR) and its training center, CIFAL (Center for Gov-ernment Authorities and Leaders) Atlanta, now located in the IGI on Kennesaw's campus, the first and only partnership of its kind worldwide. KSU and CIFAL will develop training programs in such areas as STEM (Science Technology Engineering and Math) education, aviation and economic development and technology.
The partnership combines global engagement and KSU's commitment to a comprehensive, systemic approach to STEM education. "Our goal is to improve STEM education in the state of Georgia," says Morris. "We find we can do that even better by leveraging our global understanding of it. Science, like any other discipline, is best when you have a comparative base of knowledge." KSU is partnering with a network of universities and non-governmental organizations throughout Africa to build capacity in STEM education among all participants.
"STEM is huge," says Dr. Mark Anderson, dean of the College of Science and Mathematics. "It's central to the world's economy that we have good, solid STEM education. One of the challenges is having folks go into teaching, not university teaching but K-12 teaching. That's where Kennesaw has really set the bar for the state of Georgia. We've partnered with [KSU's] Bagwell College of Education very effectively to recruit folks into science and math teaching." As a result, KSU produces more science teachers than any other university in Georgia and is in the top 10 percent of producers of STEM educators for middle and high schools, nationally.
Engagement
The school's commitment to providing quality STEM education is reflected in the construction of the Gold LEED-certified, five-story, 73,000-square-foot Science Lab Addition Building. The first floor contains six upper-division teaching laboratories providing the most modern facilities to students taking upper-division chemistry and biology courses, while the second and third floors are devoted to 100 percent discovery research. "That's faculty-led research where they collaborate with student workers doing front-line re-search," says Anderson.
And there's plenty of research happening with grants from the National Science Foundation, the National Insti-tutes of Health and the Air Force Office of Scientific Research, to name just a few. "We have good people, good ideas and a collaborative faculty," Anderson says. "All three combine to make us attractive to those awarding grants."
State-of-the-art labs are built for collaboration with reconfigurable modular equipment. In a truly innovative move, the top floor was left unfinished. "This gives us, or someone else, the opportunity to design the space to spec," says Anderson. "It's potential incubator space for the right partner."
"I've introduced KSU as the most exciting university on the planet," says Provost Ken Harmon, describing the Kennesaw atmosphere. "There's something different here. People call it a buzz, the entrepreneurial spirit, the sense of family, all those things that capture what we do. I like to say, 'Our answer is yes.' We look at anything and say, 'Yeah, let's do that.' Sometimes things get in our way and we absolutely can't, but our first answer is always 'yes.'"
Harmon, who also serves as vice president of academic affairs, sees that spirit in the explosion of online courses; enrollment has grown to more than 11,000 credit hours since the online program began in 2007. KSU offers more than 18 online degree programs with more in the pipeline.
"What's interesting is that most of the students enrolling in [online courses] are our own students," Harmon says. "They're creating this hybrid education. The millennials grew up learning via some sort of electronic medium, and if they can have the convenience of learning and studying when [they] want to, why would they get in the car and drive to campus at a certain hour and certain day of the week? Also, for some students this is the only way they can get a degree."
As part of the university's strategic plan, KSU is placing a fresh emphasis on engagement, establishing KSU Engage. Brian Wooten, executive director of community engagement, oversees the initiative. "Kennesaw has a history of community involvement," he says. "Our students volunteer. We have faculty members doing research that affects state and community issues. We want to take everything we're already doing and get our arms around it."
The idea is to develop a fluid relationship between the resources of both the university and the community to create a sum that's greater than its parts. Practically, this could translate into mentorships, internships, externships and access to resources and relationships. "We have the resources of the academy that can make a difference to those organizations and individuals who also have something to offer us," says Wooten. "What we all long for is a focus on authentic relationships, listening to each other and connecting with each other."
Despite its growth and global reach, KSU's sense of community is strong. "Kennesaw still has that small campus feel, even though it's growing dramatically," says Jimmy Beck, a junior from Columbus majoring in finance, who was recruited to play golf at KSU. "I am so glad I chose KSU. I couldn't imagine my life at a different university because of how well I fit in here."
"We and our predecessors have accomplished much. We and our successors have much to accomplish," said Papp at KSU's 2013 Opening of School address, but neither he nor the university intends to rest on their laurels. "The name of the game is to make the institution better and provide students the best opportunities that they can to graduate," he adds. "And the name of the game is to provide our faculty and staff and the surrounding community the best opportunities to improve their overall quality of life."