Catoosa County: Border Pride
Preparing for growth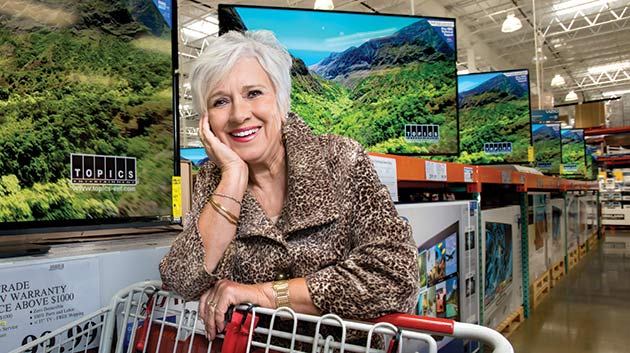 The term "bedroom community" can come across as a slight: Sure, people like to live here, but they must go elsewhere for employment or entertainment. In Catoosa County, just south of Chattanooga, folks have embraced the term and are turning it into a badge of pride.
"We're a border city and a border county," explains Fort Oglethorpe Mayor Lynn Long. And that border adjoins Tennessee's Hamilton County and the city of Chattanooga. A great many Tennessee residents have been making the trek southward to shop and take advantage of the lower tax rates in Georgia. The savings on groceries alone can mean eating free for a while, he observes.
Catoosa is part of a 16-county region in Northwest Georgia and southern Tennessee that is projected to undergo tremendous population growth in the next two decades. One recent study predicts there will be more than 1.4 million people here by 2055 – up from about one million in 2010. Catoosa will grow from 63,000 to more than 140,000.
"Catoosa County will be the hub for residential growth in the next 20 years," says Mike Helton, Catoosa's county manager.
The concentration of population – both here and in Chattanooga – has led to an upsurge in retail. First Costco brought one of its big box stores to Fort Oglethorpe, and now other retailers are lining up to take advantage of the demographics.
"Where they are located is right off Interstate 75, only about half a mile from the Tennessee state line," says Catoosa County Chamber of Commerce President Martha Eaker. "So we have been able to get a lot of those tax dollars from Tennessee when their citizens come over here to shop."
The success has led its developer to push for more retail. Larry Armour is in the process of developing two other nearby sites. One is a 25-acre development near Costco on I-75. The other is a 52-acre site on the north and south sides of Battlefield Parkway in the city.
"I've spent about three years trying to get permits to install pipe and grade the I-75 site," says Armour, of Armour Commercial Real Estate. "We just recently got our permits in place and should start grading as soon as the monsoon season is over. The Battlefield Parkway site will start simultaneously with the I-75 site. We will need to transport about 9,000 truckloads of dirt from I-75 to Battlefield Parkway to improve both sites."
Although he hasn't signed any tenants, several national chains have been poking around and are likely to follow up on the success of Costco. Much of that success will depend on folks from Tennessee driving down south to save some money on the goods they buy.
"It helps to be close to Chattanooga," says Armour. "Just drive into the Costco parking lot, and you'll notice that over 50 percent of the cars are from Tennessee."
In the meantime, the Battlefield Parkway project is getting a new intersection to smooth the movement of traffic into the site. One parcel is likely to host one or more restaurants, while there are also plans for a 120,000-square-foot shopping center situated next door to the Walmart. As the main commercial highway in Fort Oglethorpe, this stretch of asphalt has filled up with businesses and people with money to spend, according to Mayor Long.
"You look at traffic count [along Battlefield Parkway] and how much money is riding in the cars," he says. "If they're broke it doesn't do you any good, but if you've got money in the cars then they're going to stop and spend it. That's what motivates the developers."
New Developments
There's more development near the city of Ringgold to the south. A few years ago the county bought a 50-acre site with plans to market it to the companies then making their way to Chattanooga to serve the new Volks-wagen plant. Despite the high hopes, they were never able to attract any of the suppliers.
Time passed, and the site – complete with utilities and less than a mile from I-75 – sat idle.
"For two to three years while the economy was at its worst, there weren't many lookers at the property," says Helton.
Then a new vision took shape in the form of a satellite campus for Georgia Northwestern Technical College that will be fronted by a commercial development.
Better still, the county, which bought the vacant site in 2008 for about $2 million, was able to sell 38 acres to the college for $1.2 million rather than giving it away as originally planned.
The new campus will include an automated robotics lab to prepare students to work in the region's growing automotive industry as part of its Auto Alley program.
"We also expect a retail development on the front side of the property that will bring us some additional revenues and create some jobs as well," says Helton. "It will be highly complementary to the campus, but also serve the entire community around it. We believe it will be a great match."
A local developer purchased the remaining 12 acres fronting State Route 151 for $600,000. To speed the project along, the county is providing infrastructure improvements, including a new entrance to the property, with funds gained from the land sale.
Job Growth
While Catoosa has not been able to attract the auto-related companies it had expected, it has benefited from the hiring surge that came with the opening of the Volkswagen plant. A large number of local residents have found jobs at the plant, according to Eaker.
In the meantime, the county's local industries are picking up steam. Propex, the second largest manufacturer in Catoosa, hired an additional 50 workers in September. Shaw Industries, which maintains flooring warehouses here, has also kept its staffing numbers up.
"Our unemployment rate has not been bad," says Eaker. "It's hovered between 6.5 and 6.7 percent, so we haven't suffered the really high unemployment rates that our neighbors down the road in Whitfield County have had."
It's no surprise that one area of the Catoosa economy that has seen a definite uptick in recent months has been residential real estate. Sales of existing homes are up, and there are even the first stirrings of some new construction as well.
At Ian O'Shea's office in Fort Oglethorpe, sales were up 39 percent with an almost equal increase in total units in 2012. "What's really awesome is that seven months into 2013, we are about 31 percent over 2012," says O'Shea, managing broker at Crye-Leike Realtors.
Another indicator of the strength of residential sales right now is the number of showings in the first month following a home coming on the market.
"For the better part of this year, showings in the first month after a property goes on the market have tripled, and multiple offers coming in on properties is becoming a regular experience," he explains.
Like many other areas, Catoosa has its share of uncompleted subdivisions. These empty lots – often marked by a lonely stand of PVC pipes – signify builders who could not sell and were often forced out of the business.
"A builder has to keep the ball moving, and cash has to flow," says O'Shea. "They work one job to the next; and when the houses don't sell, suddenly there is no money left. That's why we have so many undeveloped subdivisions. There are builders coming back now, but that's only because of the market shift to an extreme lack of inventory."
Now that sector seems to have turned as well. In 2011, the county issued just 53 residential building permits, but a year later that number had grown to 105 residential building permits. In the first half of this year, the number of building permits topped 60.
Tourism Boost
While the economy seems to be turning around, county government is still keeping its belt tight after the downturn, according to its county manager. The county has been able to complete extensive sewer extensions throughout the county using proceeds from its Special Purpose Local Option Sales Tax (SPLOST).
"One of the good things about SPLOST is it's paid by people from outside of the county as well," says Helton.
Those sales taxes will be pumped up by tourism – another industry that has gotten a real boost in the past couple of years. With the 150th anniversary of the Civil War underway, the county has realized that one of its greatest assets is one of its oldest – the Chickamauga and Chattanooga National Military Park.
Established in 1890 as the first and largest national military park, it commemorates the bloody campaigns that marked a turning point in the war. As interest has grown in the 150th anniversary of that conflict, the park and the surrounding area have gotten an economic shot in the arm from visitors.
The park generated some $55 million in spending for the region and supported 826 jobs, according to a 2011 study.
Realizing its importance to the local economy, Fort Oglethorpe is planning to make the drive out to the park more pleasant with a $3-million construction project for LaFayette Road. Plans call for constructing a central median with foliage and for a biking and walking trail along the road from the park all the way to Battlefield Parkway.
During the September weekend commemorating the Chattanooga campaign, more than 20,000 people were expected to take part in exhibits, tours and entertainment. To help with the celebration, Fort Oglethorpe was set to provide a staging area for visitors at the polo field next door to the park. Visitors could listen to period music, buy concessions and take a rest after touring the battlefield.
"It's a long three months of commemorating not only the battles themselves," says Park Superintendent Cath-leen Cook. "The message that we want to carry from this is that this wasn't unoccupied land. These were people's homes, and war came to their door-steps."
The programs were designed to show modern visitors what it would have been like for those caught in the middle of one of the bloodiest and most decisive campaigns of the Civil War. Casualties reached more than 34,000 during the battles.
"So there was significant loss of life and sacrifice," says Cook.
Through a series of skillful marches, Union General William S. Rosecrans forced Confederates from Middle Tennessee to Chattanooga and finally farther southward into Georgia. In heavy fighting, the Union army was driven back into Chattanooga, where it was besieged until reinforcements arrived.
In bloody fighting in places with names like Orchard Knob, Missionary Ridge and Lookout Mountain, the Union Army was able to break the siege of Chattanooga and drive the Confederates back into Georgia. With the city as a supply center, the armies of General Sherman would begin their infamous march through Georgia and on to the sea.
The commemorative programs also examine the varied and conflicting reasons that drove soldiers to fight. For some it was to protect their homes and families; others fought for the abolition of slavery and to preserve the union.
The celebration has also given the park a chance to examine its origins. In the 1890s, veterans from both sides came together to identify and preserve the ground on which they once fought each other.
"Where you see the tablets – blue and others in gray with red trim – that's where the vets said this battle action took place here," says Cook. "The information on those tablets came from the veterans themselves. Because it tells their stories, it's one of the reasons that we maintain them."
Preserving that history is just one aspect of a region that has found that the key to prosperity lies not just in the present and future, but the past as well.
Community Snapshot
Local Leaders
Martha Eaker
President
Catoosa County Chamber of Commerce
706.965.5201
meaker@catoosachamberofcommerce.com
Lynn Long
Mayor
City of Fort Oglethorpe
706.866.2544
lynnlong123@comcast.net
Mike Helton
Manager
Catoosa County
706.965.2500
mike.helton@catoosa.com
Population (2010 estimates)
Catoosa County, 65,046; Fort Oglethorpe, 9,446; Ringgold, 3,580
Per Capita Income (2010 estimates)
Catoosa County, $22,368
Georgia, $25,383
Unemployment (July 2013)
Catoosa County, 7.0 percent
Georgia, 8.8 percent
Top Employers
Catoosa County Public Schools, Hutcheson Medical Center, Walmart, Shaw Industries, Catoosa County Government
Sources
Catoosa County Chamber of Commerce, Georgia Department of Labor, U.S. Census Bureau