Americus | Sumter County: Racing To Prosperity
New ideas, new money, new opportunity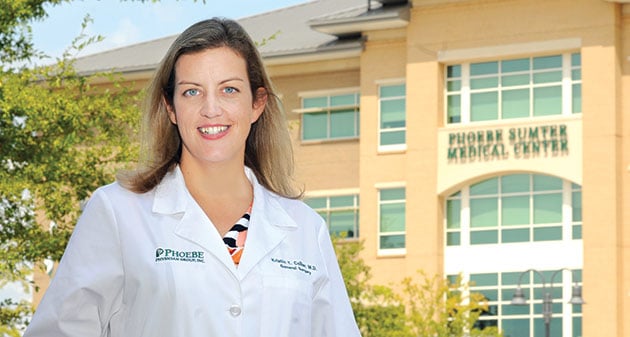 Jackie Bryce is an Americus businesswoman who, with husband and partner George, traveled the world for 33 years sharing a love for speed, the kind produced by a motorcycle from their Star Racing company, the family business. She didn't know it during the last three decades, but she was waiting for the stars to move into perfect alignment, as they did this year, right over Americus, turning the Bryces into a pair of real estate developers who are living fast times in Sumter County.
"We started our business in Americus in 1980 and then traveled the world racing, and we didn't see any reason why people couldn't come to Americus to do what we've been doing all over the world," says Bryce. "A racing paradise is just what we want. We had this idea of building a motor sports facility in Americus." The idea took a couple of additional trips, this time closer to home where they looked for just the right piece of land, with an owner who might be sympathetic to their development plans.
It turned out the right piece of land was in the hands of the Americus Sumter Payroll Development Authority, and it was being leased to farmers for their crops.
"It was perfect," says Bryce. "It was 450 acres and flat and already cleared and owned by an economic development agency looking for job production to replace corn and cotton on the site."
The Bryces laid out a plan. First the land would be used for a number of racing venues, a circular track and road course that turns right and left for cars and motorcycles, à la the Grand Prix. Next a planned 20-acre technology park went on the drawing boards.
"That's for companies that want a shop, retail business or an R&D [research and development] facility to try out new products and be able to use the track and facilities for that," Bryce says. "The other part of the complex will be a training and testing facility to be used by several different racing schools. The training facility can be used by law enforcement in defensive driving for students, and space will be ready for use by companies selling auto and motorcycle parts."
Tax Relief
Of course, there were ancillary problems that face any developer. For the Bryces, it was traffic control, parking and concessions needed on race days.
But it just so happens that Sumter County is in the River Valley Region of Georgia, an area of the state that passed last year's T-SPLOST referendum, making millions of dollars available for use in projects by several counties in the region, including Sumter.
One of those projects is a road and traffic improvement plan for the South Georgia Tech Parkway that runs right by the proposed Americus Motorsports Complex being built by the Bryces. South Georgia Technical College just across the road is already talking with the developers about shaping motorsports courses to be used by their neigh-bors for the training of employees.
Jackie Bryce says everything is aligning perfectly, just like those stars in the sky.
"You know, Indiana considers racing to be an industry because it brings so much to the state, and so does North Carolina because of NASCAR," she says. "Both of those states have snow and cold weather, and they have businesses that are not on the racetrack [because of the weather]. We'll tell them they can come right here and be right on the racetrack where it never snows and they can race all the time."
It must have been difficult for Americus Mayor Barry Blount to hold back a "told ya" comment when the first T-SPLOST funds started coming in earlier this year and headed straight to what locals are now calling the racetrack road.
"Part of putting in that racetrack was the widening of South Georgia Tech Parkway and connecting it with District Line Road, and that will provide better traffic flow for when the racetrack opens," says Blount. "It will be a tourist attraction and bring people to our community, and it'll also be a jobs creator for our community because there will be cottage industries associated with the racing industry that will locate here."
There were other T-SPLOST benefits awaiting Americus, according to its mayor. "Long-term, I believe it will give us a leg up on the other regions of the state that did not pass it," Blount says.
Manufacturing Wins
Other beneficiaries of the T-SPLOST victory are the small manufacturers located near the South Georgia Tech Parkway. Mark Michael is the president of Southern Whole-sale Glass, Inc., a small but growing company located just off the parkway. The company delivers its products in a 200-mile area ranging from Tallahassee to the southern suburbs of Atlanta. "We have our own trucks and drivers for deliveries, and we do appreciate the road improvements," says Michael. Southern Wholesale provides made-to-order glass for churches, commercial buildings, shower doors and just about any structure that uses glass. A huge part of his business, Michael says, comes from orders to replace broken glass for windows and doors.
"We go through about 1.5 million square feet of glass a year," he says. "We've grown over the past six years. We had eight employees before 2006, and now we have 24."
In the last year, Americus furniture manufacturer Container Marketing Inc. (CMI), has added more than 100 workers thanks to a headline customer and a few hiccups by competitors in China. CMI's largest customer is The TJX Companies, which includes T.J. Maxx, HomeGoods and Marshalls. T.J. Maxx is the largest international apparel and home fashions off-price department store chain in the U.S., according to industry reports.
"We do a tremendous amount of business with the divisions of T.J. Maxx," says Brian Bruck, production manager at CMI. His wife, Holli Bruck, is president of the company her father started 29 years ago in North Carolina.
"Holli and I moved here 20 years ago, sight unseen, and she started off working in customer service in the office and I built chairs. Here we are 21 years later and she owns the business, which now has 413 employees."
The future looks even better for CMI, according to Bruck. "I heard an industry analyst on CNBC, and he made the comment that 75 percent of America has never gone into a T.J. Maxx store or a HomeGoods. So the ability for that company in particular to grow is tremendous." Foreign competition, particularly from China, has stumbled, according to Bruck, further benefiting CMI. "In the latter years of the recession, we still wanted everything to be cheap, and that kept China alive," Bruck says. "Coming out of the recession, though, what's happened is the trajectory of growth [in America] has been so high and so fast, and China has had labor problems and rising costs. Their turnaround time from order to delivery is 90 to 120 days. That's really given America the opportunity to be competitive."
Another Americus manufacturing concern, the Caravelle Boat Group, is snaring sales overseas, producing new products and hiring sales reps for the 47-year-old company that turns out four brands of boats.
Chad Roberson, president of Cara-velle, is happy to see his products climbing the sales charts. "The pontoon boat production began this year, spawn-ed by rising sales of the style industry-wide," says Roberson.
"Pontoon boats had increased by 38 percent, whereas sales of the traditional inboard sales had dropped down 2.2 percent. Additionally we have two models of runabouts with outboards, which grew about 28 percent year to date in sales. We wanted to follow the trends of growth. "
Caravelle came to Americus in 2010 to move into a boat manufacturing building that had been empty for about a year, bringing 150 jobs. Since then the company has steadily grown.
"We build boats people can afford," Roberson says. They also build boats in demand on foreign shores. "We've bid on contracts for boats in other countries on homeland-type agencies' police boats," Roberson says. "Our boats won't sink because they are foam-built, which makes them attractive [as police boats]."
Healthy Moves
Dr. Kristin T. Collier is a surgeon and another Sumter Countian who left Americus and returned to begin contributing to her community. This past summer, Dr. Collier began seeing patients at Phoebe Physician Group on the campus of Phoebe Sumter Medical Center in her hometown and near the public schools she attended. Her homecoming, she says, was a family matter.
"My husband and I wanted to be in a small community," she says. "We both had lived here before, and my parents still live here; those two things were a draw. And we liked the opportunities in Americus to enjoy the outdoors."
But there was another factor, one more emotional perhaps. "I also had a loyalty to the people of Americus," she says. "When I practiced here before, everyone was so encouraging and interested in me coming back." Collier joins several other Americus natives who became physicians and returned to their hometown, a strong compliment to the community.
After making the decision to attend medical school, Collier experienced misgivings about the high cost and sometimes subsequent debt such a move can generate. "I was a physician's assistant and had a good income and wanted at some point to start a family, and I didn't know if I wanted to incur all that expense," she says.
But then her hometown hospital stepped in with an offer to finance her medical school expenses. "It was like a loan, and I could have gone anywhere [to practice] and just paid back the loan."
In 2007, before she was able to return to Americus to begin her practice, a vicious F-3 tornado destroyed Sumter Regional Hospital, leaving Americus residents fearing it would be impossible to rebuild.
But Albany-based Phoebe Putney Health System came to the rescue, partnering with Sumter Regional and building a new medical facility, Phoebe Sum-ter Medical Center, which opened in 2011.
Phoebe Sumter is a 183,000-square-foot, LEED Silver-certified state-of-the-art hospital where Collier practices at her Phoebe Sumter Surgical Associates office with three other physicians.
Diversity
Barbara Grogan has become a quick study of local conditions since she was named executive director of the Ameri-cus Sumter Payroll Development Au-thority earlier this year. "One thing I saw immediately was the healthy diversity of our industries, and I think that was one factor [that helped] the community come through the recession without the major damage I've seen elsewhere," Grogan says. "And the success of the T-SPLOST last year is going to have a positive impact for 10 years to come."
At the end of 2012, the Payroll Au-thority and the Americus-Sumter Coun-ty Chamber of Commerce announced they would be merging to create a more focused and effective economic development effort.
Sumter County Commission Chair-man Randy Howard sees the merger as a step toward a more cohesive approach to economic development. "I think it's one of the best things we've done to bring our efforts together," Howard says. "We can approach industries and businesses in a unified front."
Community Snapshot
Local Leaders
Randy Howard
Chairman
Sumter County Commission
229.928.4500
rhoward@sumtercountyga.us
Barry Blount
Mayor
City of Americus
229.942.8020
barryblount@sbandtbank.com
Barbara Grogan
Executive Director
Americus Sumter Payroll Development Authority
229.924.2646
bgrogan@aspda.com
Population (2010)
County, 32,816; Americus (county seat), 17,041; Andersonville, 255; DeSoto, 195; Leslie, 409; Plains, 776
Per Capita Income (2009)
County, $27,580
Georgia, $34,129
Unemployment (July 2013)
County, 13.5 percent
Georgia, 8.8 percent
Top Employers
Sumter County Schools, Magnolia Manor, Phoebe Sumter Medical Center, Container Marketing Inc., Cooper Lighting
Sources
Americus-Sumter County Chamber of Commerce, Americus Sumter Payroll Development Authority, Georgia Department of Labor, U.S. Census Bureau