2013 Family Business Awards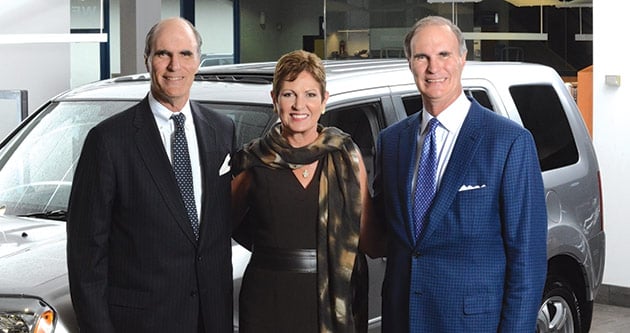 Blending family and business can provide the best possible working environment for those who do it right. The challenges may be greater, but so are the rewards.
The winners of the 2013 Family Business Awards have figured out how to make the combination work for themselves, their employees and their customers.
Winners were selected by the Cox Family Enterprise Center at Kennesaw State University; the recognition program is sponsored by the center and Georgia Trend.
Awards are given in large, medium and small business categories; the Century Award honors a family business that has been in operation for more than 100 years.
Ed Voyles Automotive Group, based in Marietta, is the large business winner. Forest Park's General Produce, Inc., a wholesaler, is the medium-sized business winner. Hill Aircraft & Leasing Corporation, Atlanta, a full-service fixed-base operator offering sales, maintenance and charter services, is the small business winner.
Haverty Furniture Companies, established in downtown Atlanta in 1885, is the Century Award winner.
For these businesses, employees are typically regarded as family and always treated with respect. "We try to treat our associates like we would like to be treated," says Valery Voyles.
Finalists in this year's competition are RaceTrac Petroleum, Inc., Norcross, and Pharma Tech Industries, Royston, large category; Repro Products, Smyrna, and ComSouth Communications, Hawkinsville, medium; and Moon's Pharmacy, Tifton, and Atlanta Light Bulbs, Inc., Tucker, small.
Large Business
Ed Voyles Automotive Group
marietta
Presented with the choice of undergoing a root canal or buying a car, a surprising number of people might choose the dental procedure. Valery Voyles, chair and CEO of Marietta-based Ed Voyles Automotive Group, the 2013 Cox Family Enterprise Center Family Business of the Year Award winner (large business category), strives to eliminate the unpleasant feeling associated with purchasing a car one customer at a time.
"I hate the stigma that car dealers have," says Voyles, daughter of company founder Ed Voyles. "Buying a car should not be worse than going to the dentist and having your teeth pulled, but a lot of people treat it that way. We fight that every day."
Founded as a used car dealership in East Point in 1952, the company has transformed over the years, first by adding new vehicles to its inventory in the mid 1950s and later by relocating to Cobb Parkway in 1970 just as Marietta began to grow in commercial and residential development. By the time Ed Voyles died in 2004, his company operated over a half-dozen franchises. Today, the business consists of eight franchises (Acura, Chrysler, Dodge, Ram, Honda, Hyundai, Jeep and Kia), three locations and 503 employees, including two generations of the Voyles family.
Presently, Valery's brothers Bill and Ben are vice presidents and partners in the company, though Bill divides his time between work and philanthropic endeavors. As the trend in automotive retail has shifted toward an increase in public companies, Valery aims to maintain a family-owned business. The next generation, Bill Voyles Jr. and Jessica Singleton, Valery's daughter, currently work for the company.
"I'd like to see my dad's legacy continue to the next generation," says Valery Voyles.
The company has experienced a surge in sales in recent years, highlighted by a record-breaking year in 2012 with the sale of 12,272 cars (7,488 new cars and 4,784 used cars sold), which yielded $473 million in revenue. This year could be even more profitable for the company, as new car sales were up five percent over 2012 and used cars sales were up three percent at the end of August.
Building strong relationships with customers and em-ployees was Ed Voyles' blueprint for success in the automotive retail business, and it remains a top priority for the company.
"He always taught us that you sold your first car in the showroom and you sold your second car in the service department," says Valery Voyles. "We're very much a business based on repeat customers."
Loyalty to employees and promotion from within are signature company values. Today, Ed Voyles Automotive boasts 101 employees with tenures of 10 years or more, including four employees with 30 or more years of service.
"I have great people who do the heavy lifting," Valery Voyles says. "I can build the Taj Mahal, but if the people that are there don't treat the customers right it's not going to work. We try to treat our associates like we would like to be treated." – SCOTT BLUSIEWICZ
Medium-Sized Business
General Produce Inc.
Forest Park
When the Folds family purchased a Forest Park produce company in 1977, it had already been a family-owned business for 24 years. Since then the company, christened General Produce Inc., has been ranked several times among Georgia's top 100 privately owned family businesses, in terms of revenue, thanks in large part to leadership provided by each generation.
"The newer generations are teaching the older generations," says Jeannie Folds Springfield, senior VP of the wholesale produce distributor. "Before my father left, my brother and I took us into computers because we [were doing] everything by hand. Now, with this techno-savvy third generation, we've gone to the electronic scan guns to get our orders and receive our products in our warehouse management system where you can get just-in-time inventory. We used to have to get a piece of paper and go out and count [fruits and vegetables] every day."
And, she says, truck-tracking technology is critical for the company's just-in-time deliveries. "We know where our trucks are at all times," Springfield says. "Nowadays it's all about instant gratification."
General Produce sells to retail, foodservice and wholesale customers in 11 states across the Southeast. Part of the company's growth can be tied to the early practice of the company buying up single-purpose produce houses at the Atlanta Farmers Market to evolve into a full-line produce dealer, offering everything from apples to zucchini. Springfield says many of the products on sale to the consumer today at the Farmers Market reflect the growing Hispanic and Asian populations of the Atlanta area. "[Whole-sale] buyers today want that one-stop shop," she says. "And we sell wholesale."
General Produce has 250 employees on the payroll, up slightly from the end of 2012, with plans to expand into Florida and add more workers.
The Atlanta Farmers Market-based company is known for its donations of produce and cash to area nonprofits, such as the Southern Crescent Resource Ministry food bank and the Atlanta Community Food Bank. "We give product to the local hospitals for their nurses appreciation day," Springfield says. The company employs nine family members, with four of them on its board of directors; and there are other kinds of family connections outside the Folds.
"We have 27 [people with] some type of family relationship among our employees," she says. "I think that says something about how we continue that family business structure."
General Produce is a member of the Georgia Department of Agriculture's Georgia Grown Program. But it's difficult to buy all Georgia-grown products, says Springfield. After all, Geor-gia-grown bananas have yet to hit the market. "And there are hundreds and hundreds of kinds of apples alone, so we buy from across the country and even from other countries."
General Produce may soon have a presence in the Florida Panhandle, according to Spring-field. "We're in negotiations with a company there," she says. "It's a meat company, because we want to get into food service and distribution down there." Spring-field says the Panhandle restaurant market has opened up due to the recent closing of a large food service distribution company in the area.
For contributions to the best in corporate citizenship and its representation of the highest ideals of a family business, General Produce Inc. is the 2013 winner of the Cox Family Enterprise Center Family Business of the Year Award in the medium category. – Ed Lightsey
Small Business
Hill AIrcraft & Leasing Corp.
Atlanta
There seems to have been a strong survival instinct built into the DNA of Guy Hill Sr., founder and patriarch of Hill Aircraft & Leasing Corp., a 58-year-old family-owned full-service fixed-base operator (FBO) that offers aircraft management and charter, maintenance, parts distribution and aircraft sales.
After crashing his plane in 1942 during a training flight and being pronounced dead, Hill was discovered to have a pulse. A doctor pronounced him alive and fit to fly, which he did during the rest of WWII.
Guy Hill Sr. passed away in 2004, but not before he made sure his five children were in shape to manage the general aviation company, which is based at Atlanta's Fulton County Air-port-Brown Field, he left to them.
"When he was in the hospital, he called me down to meet with him and told me to bring my yellow pad," recalls Guy Hill Jr. "One of the things dad had me put on that yellow pad was he wanted my four sisters to be on the board."
That move was intended to tighten up what had been a rather loose business structure, followed by the arrival of a family business consultant who helped the Hills construct a buy/sell agreement, a sort of escape hatch for any family member who wanted to get out of the business. The consultant also took on the role of referee during board meetings. "Sometimes emotions run high in a family business," says Hill Jr., the company's CEO. "And having that facilitator made all the difference. Getting those emotional discussions out of the way so we could get to the meat of updating the buy/sell agreement was important."
Today's Hill Aircraft family ownership and executive corps includes Hill Jr., his mother Annie Hill, Anna Hill Miller, Pat Hill Camp, Larry and Carol Hill Westbrook and Sharon Hill Fields. The company has been named one of the two top FBOs in the state of Georgia for seven of the last eight years by Aviation International News.
But the junior Hill sees other family-related records as more important. "The five Hill family children are all still married to their original spouses," Hill says. "In recent years, we have survived one of the worst economic downturns in history, especially in our industry, because of the strong and decisive leadership of the family management."
Hill Aircraft is known for its role as a strong supporter of youth charities, offering college scholarships in aviation management programs. The company is especially close to Southwest Christian Hospice in Union City, where the senior Hill served on the board for 30 years and where he spent his last days.
Guy Hill Jr. says the 32-employee company is not just a family business, it is a family-centered business. "But my promise to my father was if the business ever separates the family, we will sell the business," he says.
For the leadership and values held by the Hill family, Hill Aircraft is winner of the Cox Family Enterprise Center's Family Business of the Year Award in the small firm category. – Ed Lightsey
Century Award Winner
Haverty Furniture Companies inc.
Atlanta
James Joseph Haverty set up a furniture store in downtown Atlanta in 1885, selling tables, chairs and wares to a populace still struggling to recover from the effects of the Civil War.
Nearly 130 years on, some things have changed. Haverty Furniture Companies Inc. has been publicly traded since October 1929 and has grown into one of the nation's largest furniture retailers.
Other things remain constant. Havertys is still a family affair, in many ways, as the company is run by descendants of J.J. Haverty, as he was known. Haverty descendants control three-quarters of the company's voting stock. The company's chairman, president and CEO, Clarence Haverty Smith, is J.J. Haverty's great grandson.
Smith is joined by other family members in the corporate suites and on the board. Cousin Rawson Haverty Jr. is senior vice president of real estate and development and a board member. Another cousin, Frank S. McGaughey III, serves on the board of directors. Yet another Haverty is in management training.
As a family company, Havertys is the recipient of this year's Cox Family Enterprise Center's Century award for family businesses more than 100 years old.
Smith says because the company is public, he wasn't sure it was appropriate to take the award. However, Havertys is still very much his ancestors' firm, governed by the sober financial principles that sustained the company through world wars, the Great Depression and most recently the worst economic downturn since World War II. For example, Smith points out, the company carries no debt.
"Our ancestors were very conservative," he says. "They didn't do anything radical. We play that up a lot" in marketing.
Havertys is prospering. With 120 showrooms in 16 states in the South and Midwest, the company reported $171.1 million in net sales in the second quarter, up 12.9 percent from the same period in 2012. Sales for all of last year were $670.1 million, placing Havertys among the nation's largest furniture companies.
Smith credits the company's lack of debt for its sturdiness through and since the recent recession and housing bust. That is something the store founder would be proud of, he says. One family business motto he likes to cite is "Always play it straight."
"We had no debt going into the recession, and it would have been very hard to refinance," Smith says. "Because of that, we are seeing a nice turnaround now."
Havertys historically handled its own consumer credit in-house. But based on advice from Wall Street, the company outsourced its consumer credit operation in 2001.
If it seems Havertys sports a different look these days, it does. The stores are carrying more trendy furnishings, higher-end pieces and accessories at a higher price point than it historically has, departing at least in this aspect from the founder's saying "The store had only one price: anything we could get." Havertys now offers more contemporary and casual furniture and is upholstery-focused, Smith says.
"We saw an opportunity to upgrade without leaving the core customers behind," he says.
One thing that won't change is that Havertys still delivers. It's a personal touch the company wants to keep with its customer, unlike most furniture chains that have outsourced that service. That is just one way Havertys is different. – Lawrence Davidson