Gainesville | Hall County: A Healthy Mix
Poultry, tourism, education and manufacturing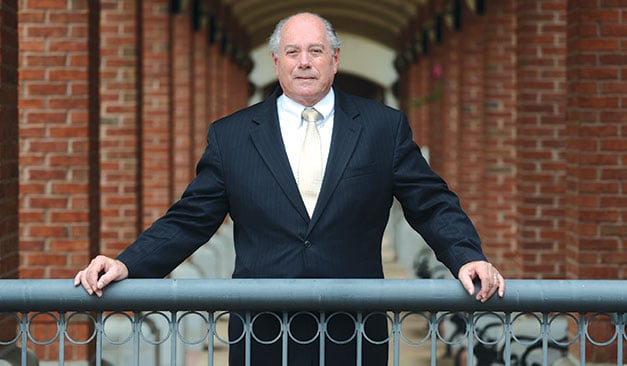 There is a statue of a chicken mounted on a 30-foottall column in downtown Gainesville. It is a symbolic figure, designed to remind everyone that poultry towers over mere mortals in its importance to the local and state economies.
Thanks to exports, Georgia poultry producers no longer have to put all their eggs in one basket, says Mike Giles, president of the Georgia Poultry Federation. "Over the last two decades, exports have grown from about 6 percent of production to about 21.4 percent nationwide," Giles says. "In Georgia that number is more dramatic. We've gone from about 7 percent of production in 1990 being exported to the present, where 25 percent of our poultry production is being exported. That value is about $790 million annually to our state."
Just a few years ago, Giles says, the top six markets for Georgia poultry products represented about 64 percent of total exports; today the top six markets represent only about 50 percent of our total exports.
"We're diversifying our export market, and exports have climbed during that period," Giles says. "In fact, 2012 was a record export year for chicken, both in volume and value."
Poultry remains a robust economic engine for Hall Coun-ty, with the county's 592 chicken houses producing $236 million in revenues in 2010.
But, as important as the poultry industry is, it doesn't tell the whole story of Hall County and Gainesville. Tourism, healthcare, education and manufacturing are all part of the successful economic mix.
Lake Lure
Businessman and entrepreneur Virgil Williams believes he has the kind of well-worn career path that is perfect for guiding his Atlanta neighbors into his adopted home in Hall County. Williams is a managing member of LLI Manage-ment Company, and his interest is in herding Atlanta-area residents and the rest of the country to Hall County's Lake Lanier Islands Resort. The property sits along the banks the 38,000-acre lake, which boasts a total of 682 miles of shoreline.
Williams is the head of the family that took control of 1,500 acres of lake property in 2005 and joined with the Lake Lanier Island Authority in making a $100-million investment in amenities that he says is paying off as the economy is improving. (Editor's note: Williams is a former owner of Georgia Trend.)
"Lake Lanier is already attracting 7.5 million visitors a year," Williams says. "It makes sense. My business is 30 minutes from six million customers. But you have to have a creative product for them. This is the largest freshwater lake east of the Mississippi. So, you've got the water; you've got the beach." Williams wants to be sure the word of his family resort gets out to those six million people.
"We've made enormous progress, and I think the marketplace recognizes it," Williams says. "But compared to where we want to go and where we are, we're about 20 percent of the way. The only thing that's interfered with our success to date is the economy and the environment [the weather, including a record drought] and those things that were outside our control," Williams says.
"We not only survived through those difficult periods where other people didn't, but we thrived. You wouldn't have looked at our revenue in '09 and thought that was thriving, but the fact that we survived and are thriving between '09 and '13 is pretty significant. That's the four years everybody else lost it."
Today Lake Lanier Islands Resort is packed with amenities that include luxury lodging, a marina, stables, water park, golf course and campground. In the summer of 2013, the resort served as location site and studio for a Warner Brothers motion picture crew filming the Adam Sandler-headlined movie The Familymoon.
Part of the reason the crew chose Hall County was because of its Camera Ready designation – meaning the county can provide one-on-one assistance to local production companies for everything from film permits to traffic control.
The movie stars and crew were also attracted to the picturesque Lake Lanier and its romantic coves and sandy beaches, according to Williams, who is also touting the resort to area executives and meeting planners as an ideal site for conferences.
More Parks
Early one morning another Hall County man with a plan is showing off another kind of waterside development, this one nearly 30 years in the making and at the other end of the cost scale. The SUV is driven by Doug Carter, son of Don Carter, a modest, soft-spoken man who has retired from a successful real estate career and who thinks of vacation developments in terms of what they can mean to the average working man or woman.
The senior Carter also spent a good portion of his life in public service as a Georgia Department of Natural Re-sources (DNR) board member whom some credit for acquiring 250,000 acres of pristine forestlands once set for traditional upscale developments but now turned into state parks, where a night's or a week's stay can be enjoyed by a family of four or five without breaking the bank.
Carter describes the evolution of Georgia's state parks system and his passion for salvaging land by recalling what happened during the terms of different Georgia governors. "I was appointed to the DNR by [Governor] Jimmy Carter, and I served 29 years," recalls Don Carter (no relation to the former governor and President). "Land acquisition was my forte, and that started when Joe Frank Harris was governor and he gave us enough money to start a land acquisition committee for the state. The reason he did this is that we were losing land to the timber companies."
As the years wore on, the state's land inventory mounted as more and more acreage was set aside for use in parks and wildlife refuges, he says. "And then [Governor] Zell Miller formed the Preservation 2000 Committee, which I chaired. We bought a hundred thousand acres during Zell's tenure."
The vehicle comes to a stop on a wilderness edge of Lake Lanier. "This property was acquired during the '90s," Don Carter says. "It was acquired to be preserved and to protect about three miles of shore land. At the time there weren't any facilities on Lake Lanier for the average worker, only expensive stuff they couldn't afford."
Son Doug adds a footnote. "This was actually a tract of land that had gone through rezoning for a request to develop it into a master plan golf course development," he says. Today that 1,300-acre tract of land is the Don Carter State Park. When the park had its soft opening last July, nearly 4,000 vehicles brought an estimated 14,000 people to see the cabins and campsites. The cabins, which accommodate up to eight people, can be rented for a little as $110 a night.
Farming
In so many ways, Hall County's citizens are living off the land, a practice begun centuries ago, first with the Native American tribes who hunted and fished the region's forests and streams, followed by settlers who carved croplands from the woods and then the merchant class who built the villages and formed governments to protect the citizens and maintain order.
Today's Hall County's citizens are more likely to find the forests, streams and land used for recreation and industrial parks, with a smattering of farms. But agriculture – mostly poultry – is still an important revenue engine.
Cotton and tobacco are long gone from the Hall County landscape, but a few dairy farmers still remain attached to their cows. Dixie Truelove is one of them. "I grew up here [on the farm], and my brother Jerry and I work together," says Truelove, who also serves as the chair of the Greater Hall Chamber of Commerce board. Work means seven days a week for her and the dairy cows at Truelove Dairy in Clermont. "We try to start milking at 2 o'clock in the morning, because we're going to be milking till 1 o'clock in the afternoon," she says.
"There used to be about 700 dairy farms in Georgia and 45 or 48 in Hall County; now there are four here. Georgia is a milk-deficit state. "
That means large quantities of milk must be trucked into the state so there is demand for the Truelove milk, but life on the farm can be wearing, especially now that corn prices have risen as more of that crop is being used for the production of ethanol. "The feed and seed we purchase to feed our cows and grow our own corn is just so expensive in the dairy industry. It's just hard to keep your margins and make your numbers work."
Healthcare, Education
Carol Burrell, president and CEO of Gainesville's Northeast Georgia Health System (NGHS), is watching the landscape of Hall County change as the community's newest hospital rises from the earth near Braselton – a much needed medical campus to accommodate the continued population growth in the south end of the county. The $200-million NGHS Braselton facility will introduce a menu of healthcare services heretofore unavailable in south Hall County, including cardiology services, surgery and orthopedics.
"We've filed a Certificate of Need for obstetrics," Burrell says. "As we look at the services provided, we're calling it a small hospital with big programs. It's not going to be the typical 100-bed hospital. We know this facility will grow. We're building it and the infrastructure to grow up to 350 beds."
The hospital partnered with Geor-gia Tech to conduct an economic impact study, which concluded that although the Braselton facility will start with 300 employees, it will grow to 500 or 600 within six years and multiply off the campus as well.
"The jobs creation impact for that area we looked at was for other businesses coming in and [providing] up-wards of 800 employees. We're looking at well over a thousand jobs for that area of south Hall," Burrell says. "Education and healthcare are the two things businesses looking to relocate consider."
Hall County is home to Brenau Uni-versity, Lanier Technical College and one of four campuses of the University of North Georgia, as well as Riverside Military Academy (RMA), a top all-male boarding school.
"It's difficult to classify the reasons parents send their kids to a military academy, or the reasons the kids want to be there," says Dr. James Benson, president of RMA and a ramrod-straight retired U.S. Marines colonel. One reason for coming to Riverside is to have a better shot at getting into West Point or the Naval Academy.
"There are other groups of boys who are under-achieving for a variety of reasons, including what I call Planet Female, which is a huge distraction for boys in middle and secondary school." Riverside stresses personal development tied to structure, regimentation, discipline, social skills and character and leadership development, he says. What-ever Riverside is offering, it is being grabbed. This year saw another near-capacity enrollment of 450 cadets pay the $30,000 tuition and boarding cost for the military schooling and experience.
At Brenau University, the campus is moving into a closer relationship with downtown Gainesville. In 2012, the school struck an agreement with the city to lease the former Georgia Mountains Center, which has been rechristened the Brenau Downtown Center.
"We've built a two-story brick, steel and concrete building inside a building with about 40,000 square feet of usable space," says Brenau President Dr. Ed Schrader. The facility houses a 300-seat theater, which has been renamed Brenau's Theatre on the Square. "We've already had several events there, including the Summer Concert Series. The whole thing, in this day, would cost us in excess of $15 million easily. But [with] the whole build-out, start-up and equipping, we're looking at coming in at $6 million."
The university gets a rent holiday for the first five years, but must pay rent to the city for the next 45 years. The building will also house a new physical therapy program as part of the university curriculum.
More Jobs
More sounds of construction may soon fill the air at Hall County's Tan-ners Creek Industrial Park, where Ger-man-based Bitzer US, Inc. is gearing up for expansion. "We've got about 120 em-ployees here," says Paul Conlon, financial controller of the refrigerator compressor manufacturer. "We've doubled our employment base here in just about two years."
Conlon says Bitzer originally came to Hall County to buy an existing company and give it the Bitzer brand because the owner wanted to grow and get a taste of the U.S. market. "In the last 23 years, the company has expanded, and [it] outgrew the expanded space and moved," Conlon says. "Our growth, especially in the last five years, has been substantial." More expansion is slated to arrive as the company is poised to begin producing a new product toward the end of next year. "That's expansion, too, and we're looking at about 20 percent growth year after year for the next couple of years. We own this whole property," says Conlon, with a wave of his arms toward a large tract of land, "with plans to expand on it."
"Bitzer is joined by some other great companies that have made this their home for their North American headquarters and production site, such as Kubota, a Japanese company, Atlanta Biologicals, German, and ElringKlinger, German," says Tim Evans, vice president of economic development for the Greater Hall Chamber. "They are ex-panding and adding jobs. There is a consistent thread for those companies that want to have those headquarters and production facilities in one place, and they're looking for some of the same things. They're looking for the quality of life to attract the seasoned talent, the CEO, the CFO, the top executive management. They also need the educational training assets that develop a top-notch workforce. And we have both."
Kit Dunlap, president and CEO of the Greater Hall Chamber of Com-merce, shares Virgil Williams' awareness of the Atlanta population numbers and says there are some similar plans for getting them to the Gaines-ville area. "We don't have a public conference center in the city of Gaines-ville," she says. "But we do have some private folks ready to work with the city to do one, a hotel conference center. We recognize we have six million people right down the road. I do think the timing must be right. After all, we just came through six to eight years of a recession."
Not only are local industries expanding, but the greatest expansion in Hall County may be the population, which is expected to see an additional 140,000 people by 2025, according to projections from the State Office of Planning and Budget, a fact that has leaders like Richard Mecum thinking ahead.
"It's a little bit on the frightening side when you look at it," says Mecum, chairman of the Hall County Commission. "We need to look at where we're at and where we need to be. The primary focus now is economic development and how we're approaching that and to prepare ourselves for that. We anticipate we're going to have to increase our infrastructure considerably over the next four or five years. And we're doing some of that now."
Community Snapshot
Local Leaders
Kit Dunlap
President & CEO
Greater Hall Chamber of Commerce
770.287.4801
kit@ghcc.com
Tim Evans
Vice President of Economic Development
Greater Hall Chamber of Commerce
770.532.6206
tim@ghcc.com
Richard Mecum
Chair
Hall County Commission
770.535. 8288
mecum@hallcounty.org
Population (2010)
County, 180,253; Gainesville (county seat), 33,804; Braselton, 7,511; Clermont, 875; Flowery Branch, 5,679; Gillsville, 235; Lula, 2,758; Oakwood, 3,970
Per Capita Income (2009)
County, $29,038
Georgia, $34,129
Unemployment (June 2013)
Hall County, 7.6 percent
Georgia, 9.2 percent
Top International Companies
Pilgrims Pride Corp., Kubota Manufacturing of America Corp., KIK Custom Products, ZF Industries Inc., Sapa Extrusions Inc.
Sources
Greater Hall Chamber of Commerce, Georgia Department of Labor, U.S. Census Bureau