Athens | Clarke County: College Town, Boom Town
Locations, expansions and transformations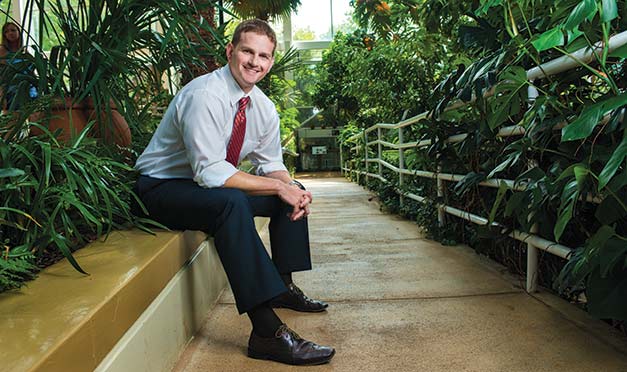 Athens-Clarke County is brimming with so much vitality that it is experiencing what Mayor Nancy Denson calls "the reverse broken window syndrome."
"If you're on a street where there are a few broken windows, next thing you know, you see more broken windows and shutters falling off," she says. "The reverse is when somebody comes in and starts doing something good, whether it's fixing up a property or building a new property. Then that engenders confidence for the next person who comes in.
"When you see good things happening, you want to be part of it."
Some $200 million in projects either underway or proposed in downtown Athens and the landing of industrial behemoths like Caterpillar and Ethicon, combined with the expansion of the Classic Center, the revitalization of a depressed housing project, the resurgence of West Broad Street and the transformation of the new University of Georgia Health Sciences Campus have given Athens-Clarke County the look of a boom town.
"Booming is a good word," Denson says, "but blooming is an even better one."
Denson says the announcement of Caterpillar's $200-million deal – shared with Oconee County – "actually put us on the map internationally and nationally," to the extent that people who "maybe didn't know where and what Athens was now are aware of us."
She adds that Caterpillar garnered so much attention that it may have eclipsed a lot of other things that were happening. One was Ethicon, a division of Johnson & Johnson that makes surgical sutures and will invest $185 million in the area. It's a biotech company, "which is one of the things that we have been seeking out," Denson says.
Athens also hopes to reap some benefits from the $1.3-billion Baxter Inter-national deal, with that biotech company based near Covington, some 40 miles down the road.
The three industrial giants converged on northeast Georgia in a short period of time. "This is unprecedented in Athens' history of business and progress and growth," says Doc Eldridge, president and CEO of the Athens Area Chamber of Commerce and mayor from 1998 to 2002. "It hadn't happened before; it's not going to happen again.
"The stars just lined up, and the community was in a position to take advantage of it."
New Approach
The serendipity of the situation was even more pronounced since the Ath-ens-Clarke County Unified Govern-ment was on the way to disbanding the Economic Development Foundation. Seeking a more proactive approach, the new Economic Development Depart-ment, which draws $500,000 in public funding, opened its doors in May with Ryan Moore at the helm. A proposal to fund the department privately was rejected.
Meanwhile, Pamela Thompson be-came the new executive director of the Athens Downtown Development Au-thority (ADDA) a few weeks later. A master plan, with input from all stakeholders, will help carve out the look and direction for downtown's future.
"We are finally, in my opinion, as a community getting our act together," Eldridge says.
There is even more "togetherness" as the chamber of commerce, the Economic Development Department, the ADDA and the Athens Cultural Affairs Com-mission are all housed in the same building on West Hancock Avenue for a "one-stop shop."
"I've heard for 25 years that the business community and the arts community don't work together," Eldridge says. "And now we do."
The city is also forging stronger ties with the University of Georgia. Within his first two weeks on the job, new President Jere Morehead hosted a reception at his home for the chamber's board of directors and their colleagues. Representatives from Athens-Clarke County have also met with Sean Mc-Millan, who opened UGA's trail-blazing economic development office in Atlanta in August.
Morehead "made a very strong statement of support and desire to work closely with the business community in Athens," Eldridge says. "You have to have the University of Georgia on your team in just about everything we do, because they pull our train."
With education and healthcare the two primary economic engines in the county, UGA has made the area "recession insulated, but not recession proof," Eldridge says.
UGA's impact on the Athens community is $2 billion a year, according to the latest study from the university's Selig Center.
The Health Sciences campus has given a boost to Prince Avenue, which has become a corridor of opportunity. UGA took over the site of the former U.S. Navy Supply Corps School, with the multi-phase conversion estimated to cost about $40 million.
"The only thing that could have turned those lemons to lemonade was the University of Georgia," Eldridge says. "And they did."
The new campus houses the Georgia Regents Univer-sity/University of Georgia Medical Partnership and the College of Public Health. The medical partnership, which was formed to address the critical shortage of physicians in the state, began educating 40 medical students per year starting in the fall of 2010 and this year will have fourth-year students for the first time.
The College of Public Health was "bursting at the seams in its old digs," says Margaret Wagner Dahl, UGA's associate vice president for economic development. In only its fifth year, she says, the college has created $30 million worth of grants.
Both the Athens Regional Medical Center and St. Mary's Hospital are moving forward with establishing residency programs and have had numerous projects in the works during 2012-2013.
The new college of engineering opened its doors in the fall of 2013, and the UGA Veterinary Teaching Hospital on College Station Road is a 275,000-square-foot project with a price tag of $98 million.
Dahl, who is also director of the Georgia BioBusiness Center, says the incubator for UGA faculty had a bumper year, securing $3.1 million in Small Business Innovation Research (SBIR) grants spread out among seven companies.
Thriving Region
The Athens Area Manufacturers Council, created this year, sought expertise from UGA's Carl Vinson Institute of Government and Athens Tech for help in conducting a wages and benefits survey that could be used by manufacturers as a guideline. The report, published in June, includes information about pay and benefits and data about retirement plans and medical coverage; it describes employer policies and practices related to overtime, sick and personal leave time and educational assistance.
"The main thing the council is going to tackle next will be probably in the area of workforce development," Dahl says.
One member of the council is Power Partners, a locally owned and operated company that celebrated its 10th anniversary in May (although it had previous incarnations with Westinghouse and ABB). Power Partners, which makes transformers and industrial chillers, has about 500 employees in Athens.
"We're all focused on a similar agenda in terms of how do we create a region that's thriving?" says Steve Hollis, co-owner, chairman and executive vice president of development. "That takes new development the likes of Caterpillar and others, but it also takes existing industry to stay and grow organically."
Hollis says Caterpillar's use of the Quick Start program and Athens Tech, which he calls "one of our shining gem assets," has "enlightened the community to some other things that are available in terms of skill-specific training."
He says making that training available on an ongoing basis, not just as training that Quick Start does for a new industry, could help provide a workforce with a higher skill base. "That is the ultimate weapon for economic development," Hollis says.
Because of its diverse workforce, Athens-Clarke County is "very attractive to very diverse industry sectors," says Economic Development Department Director Moore.
Combine that with UGA's presence, and the smallest county in the state boasts one of the lowest unemployment rates in Georgia. The estimated figure was 7.7 percent for June 2013, compared to 9.3 percent for the state.
However, low-earning college students and former students who stay in the community for a year or two after they graduate have contributed to a poverty rate of about 33 percent, Moore says, but adds, "I think we're doing a good job of trying to curtail that poverty number and provide opportunity to people. On the other end of that spectrum, 20 percent of our workforce population has a secondary degree, a master's or a doctorate. That's huge; you don't find that everywhere. So you can capture both ends of the market."
Besides Caterpillar and Ethicon, the other big industrial project is at Silgan White Cap, which is constructing a 108,000-square-foot expansion that doubles its existing facility at a cost of $7 million. While Athens-Clarke County is continuing to promote its Athena Industrial Park, where Silgan White Cap is located, officials do not expect Caterpillar suppliers to arrive on the scene for a few more years.
New Developments
Mixed-use developments are cropping up downtown as the 35,000 students at UGA continually spur the desire for more residential properties, particularly those close to the bustling bar and restaurant scene. A project proposed by Selig Properties on the eastern edge of downtown originally included a Walmart, but that aspect of the plan was dropped after community objections.
Selig came back with an idea for a $90-million multi-use development that would add 1,000 bedrooms targeted toward students and would connect to the rails-to-trails Firefly Trail.
Although Denson believes the new version is a better project, she was not opposed to the Walmart. "If we want to become a walkable city, we've got to have the basic necessities available to people that are in the area."
That includes a downtown grocery store, which Athens is lacking. How-ever, government officials helped clear the way for a grocery store by lobbying for the passage of House Bill 517, which allows for local control of the distance requirements between educational insti-tutions and licensees selling packaged beer and wine.
The $40-million Standard, on North Thomas Street, is under construction and will add 612 bedrooms as part of a 484,000-square-foot project. The Flats at Easley Mill on Oconee Street is a $16-million project comprising 316 bedrooms and 233,000 square feet.
A $50-million, six-story mixed-use development has been proposed at 101 Lumpkin Street to bridge the "gap" on the west side of Broad Street, which is also the address of two other projects.
Students aren't the only residents being served. The Jack R. Wells/Pauldoe Housing Complex redevelopment will demolish 125 public-housing units and replace them with three times as many mixed-income units, including a third dedicated to senior housing. The estimated project cost for Phase One of a three-phase project is $14 million, and the Athens Housing Authority is partnering with a private developer.
"At a time when a lot of communities and governments are kind of disinvesting or backing away, this community is investing in itself," says Blaine Williams, assistant manager for transportation and community development of the unified government.
With so much going on in downtown Athens, the city is trying to keep pace with added parking, including the first new deck in years, a public-private partnership on Washington Street. Athens is also replacing the old coin meters with new electronic ones. Denson says that 60-70 non-functional meters cost the city about $9,000 a month in lost revenue.
"Activity is happening all across our downtown, and there's a lot of interest right now in coming to downtown," Thompson says. "We want to find that balance between our unique, creative individual business owners that have been here and given Athens its unique vibe and blending that with more traditional businesses and developments that can provide a need and a service downtown."
Tapping into the success of the Ter-rapin Beer Co., the Creature Comforts Brewing Company is scheduled to open this fall. The new craft brewery will be located in the historic Snow Tire building.
"That's going to be a great new attraction," says Chuck Jones, director at the Athens Convention and Visitors Bureau. "Some people think Athens is just a college town. UGA football is certainly huge and we value it, but less than 10 percent of our visitor expenditures come from UGA football."
He says the $24-million Classic Center expansion, funded by a voter-approved Special Purpose Local Option Sales Tax (SPLOST) and unveiled in late February, is already outperforming expectations.
The sales pitch, Jones says, was that the Classic Center would get 10 conventions that are new or would have outgrown the Classic Center if it had not expanded. That number multiplied to more than 24, including the Georgia Republican Party, which was so happy with 2013 that it rebooked for 2015, and the North Georgia Methodist Conference.
"I talked to some people from Marietta who said, 'Gosh, we've never even been to Athens,'" Jones says. "They were blown away by not only this facility, but also the town. They said 'we're going to be coming back.'"
The desire for an adjoining hotel has led to plans for a 188-room Hyatt Place at a cost of more than $30 million.
Jones says the film industry is burgeoning in Athens, with Clint Eastwood's Trouble with the Curve the most recent film shot locally. "Athens has so much of what they're looking for," he says. "I heard that our downtown streets could even double for New York."
The Classic City is also intent on beautification and becoming more and more pedestrian and bicycle friendly. The government adopted a complete streets policy, championed by former commissioner Alice Kinman, requiring new developments or new road projects to accommodate pedestrians and cyclists and all vehicles.
The 2011 SPLOST decreed that one percent of any new project budget has to go for public art with that project (although the commission rejected the option with the new jail). The projects have ranged from the soaring "Nest" in the new atrium at the Classic Center that cost $130,000 to the $9,000 bench at the Rocksprings Community Pool. That piece was by folk artist Harold Rittenberry, who lives in the neighborhood.
"Whenever there is a project, we look at it to see if there is an opportunity for art," says Joan Curtis, a member of the Athens Cultural Affairs Commission. "As we grow, we want to be able to partner with businesses and maybe do some private projects. The reality is when you increase the arts and the culture in a community, you increase the quality of life so people want to live there. It brings in tourists, so economic development and the public and cultural arts programs are very much linked together."
And anyone looking in the windows of Athens-Clarke County can see the results.
Community Snapshot
Local Leaders
Nancy Denson
Mayor
706.613.3010
nancy.denson@athensclarkecounty.com
Doc Eldridge
President & CEO
Athens Area Chamber of Commerce
706.549.6800
doc@athensga.com
Ryan Moore
Director
Athens-Clarke County Unified Government Economic
Development Department
706.613.3233, ext. 232
ryan.moore@athensclarkecounty.com
Population (2012 estimated)
County, 120,266
Median Household Income (2011)
$30,880
Unemployment (June 2013)
County, 7.7 percent
Georgia, 9.2 percent
Top Manufacturing/Distribution Employers
Baldor Electric Co., Power Partners, Inc., Merial Ltd., McLane Southeast
Sources
Athens-Clarke County Unified Government Economic Development Department, Georgia Department of Labor, U.S. Census Bureau