Liberty County: Embracing Stability
Manufacturing and the military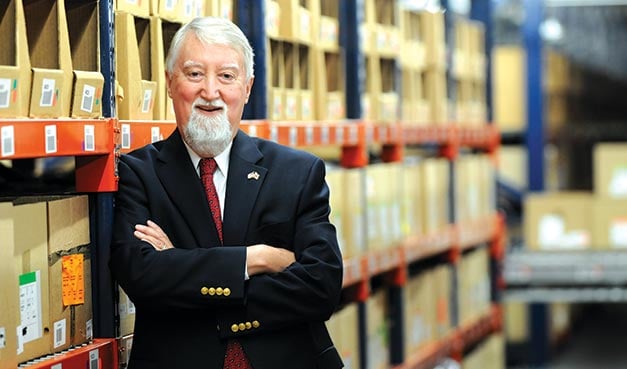 Ron Tolley and his staff are not the swaggering kind, but they did seem to have extra bounce in their steps as summer was winding down. "We've had good growth in our industrial sector and in our distribution centers," says Tolley, CEO of the Liberty County Development Authority.
Industries have been landing and growing for the past 30 years, and distribution centers have been opening their doors recently in local industrial parks.
Over the 30-year period ending this year, Liberty County recorded a 450 percent growth record for jobs in the industrial sector, while the rest of the nation was posting a 36 percent job-loss rate in the same sector. Most impressive were the local job numbers from the period September 2007 to November 2011, when the U.S. Bureau of Labor Statistics ranked Hinesville's metro area fourth among all the metro areas in the country in job growth in the industrial sector.
Then came the recognition of the Hinesville-Fort Stewart area as one of the top 10 "Shining Examples of Economic Development That's Working" from Southern Business & De-velopment magazine's 2013 winter edition. The salute was for being one of only 11 markets in the South that had seen wage growth over the last 24 months.
"What we aim for is retention of existing jobs, expansion of existing companies and then recruitment of new companies," says Tolley. "We've been fortunate with the mix of the companies we have here, like Firth Rixson.
"Firth Rixson, an advanced aircraft engine parts manufacturer out of the United Kingdom, came and put in a little over 200,000-square-foot facility and announced they would hire 200 people, got into production and were in the building about 18 months and then announced they were going to expand the building another 20,000 square feet, put in another large press and increase employment by 50 percent." All this occurred during the recession.
Another U.K. company, gift-wrap manufacturer International Greetings, has enjoyed a growth surge since it first arrived in 1996. "They went from a 50,000 [square-foot] building to 100,000 square feet to 200,000 to 300,000 to 400,000-plus to 500,000 square feet since coming to Liberty County," Tolley says. "That's the kind of story you like, where a company comes in and puts their roots down and not only stays but also grows significantly while they're in your community. That's a great compliment to the community and its workforce and medical facilities, infrastructure and quality of life. It's a beautiful thing to see."
The Message
There is another facet to Liberty County's success in industrial growth – it sends a message to the state-level economic developers, Tolley says. "It lets them know we can handle large projects involving new companies or the expansion of existing companies." The professional economic developers working for state agencies are often conduits of suggested sites for pros-pects, especially those with specific needs such as rail sidings or high-volume water systems or other infrastructure assets.
While the local manufacturing sector was spreading like kudzu, the community began to witness distribution centers taking root here, with Liberty County's Tradeport East Business Center providing the fertile ground. "Tradeport East attracted a Tire Rack distribution center, marking the company's first appearance in the Southeast," Tolley says. Tradeport East already had a 1.5-million-square-foot Target distribution center, which opened in 2007 to serve the chain's Florida markets. "Trade-port East's location, just a mile off I-95, 20 miles from I-16 and 30 miles from the Port of Savannah, was the attraction there," Tolley says.
Liberty County's Fort Stewart and the Port of Savannah have long been lures for the retail industry and its accompanying growth, as well as the manufacturing sector. In 1986, it took only a quick glance at Liberty County for executives at SNF, a French chemical company, to decide it was the perfect site for its first U.S. manufacturing site, says David Kaye, vice president of manufacturing for SNF. "The choice of Liberty County, it just so happened, was [due to] a 200-acre tract of land here with a small chemical plant on it," says Kaye. "It had room for growth."
The company acquired the site with no further search and made the move. Kaye says the Port of Savannah was a plus, but there was another factor. "The largest workforce pool for SNF employees is among the veterans leaving Fort Stewart in retirement or at the end of their service," says Kaye. "It's the single biggest source of workers for us. Obviously we're an attractive plant for people coming out of the military, and there is government money available for training people coming out of the military that we can take advantage of." SNF's Liberty County plant has $1 billion in annual sales with 1,100 of its 1,300 U.S. workers, 150 of whom are chemists, engineers or production supervisors.
"Business is great," Kaye says. "We've been flat-out, with 20 percent growth last year, and our business has typically grown 20 percent a year."
Housing Market
Allen Brown is the broker/owner of Century 21 Action Realty in Hinesville and chairman of the Liberty County Development Authority Board of Directors. For the past 37 years, he has kept careful track of the movement of troops at Fort Stewart and the effect on the local real estate market.
"Sure, we've just had a downturn in housing," Brown says. "But it's been due primarily to the downturn in the national economy [and] national banking issues. But we've also had 9,000 troops deployed for most of the last eight or 10 months, and they are beginning to return home now at a fairly rapid rate. My guess is that about 1,000 or 1,500 have returned, and they will continue to do so until late October. At that time we'll probably have the greatest percentage of people at home that we've had in some time, and of course we'll be glad to see them home and safe."
Brown says the troops' return will also stabilize the local housing market as families that might have left during deployments return and begin renting or buying homes. "Some families are moving here now," he says. "We're getting calls, for example, for a month or two out on people coming back and needing to rent. And we're getting some requests to buy, too. We've been down for the past three or four years, compared with the normal days when we were more stable, when we had more predictable deployments. But we're glad they're coming home, because when they're home it's like we're all family again."
At about the time troops began to return from Afghanistan and Iraq, the Department of Defense announced in June that Fort Stewart will lose one of its three Brigade Combat Teams by 2017 – about 1,400 troops. The news is part of the U.S. Army's efforts to reduce its core combat units from 45 to 33 as part of a drawdown from the two wars and an increasing emphasis on naval and long-range air forces. That news seems to have relatively little long-range effect on the leadership in Liberty County.
"My immediate reaction was disappointment, because no one likes to lose soldiers [and] no one wants to lose families," says Hinesville Mayor James Thomas, a 23-year veteran of the U.S. Army and Marines. "But after having been in the military for many years and after looking at it and knowing how the military cuts back after every war, this is not surprising. Right now, we're about 4,000 soldiers ahead of where we were in 2001. And we're talking about a 6.6 percent reduction in force, and there are other en-hancers [of troop populations] we'll be getting."
More Growth
Prior to the Fort Stewart news, the State Office of Planning and Budget was predicting the local population will increase by 16,000 by 2020; the community's leaders saw no reason to change any plans to accommodate that growth, according to Don Lovette, chairman of the Liberty County Commission.
"We're already in the mode of preparation for that growth in infrastructure development, such as four-laning the major thoroughfares into Fort Stewart," Lovette says, adding that the current and future population growth will require the creation of more jobs as well. "We've got to increase employment opportunities, and we're certainly collaborating on that now.
"There is a new partnership between the city, the county and the development authority and other agencies to bring in a consultant to coordinate that effort so there will be ample jobs for those people,"  he says. "The real estate community is developing major subdivisions so housing will be available, and our schools are in a state of readiness, so all the major players are preparing for growth."
Liberty County has already learned that population growth comes in many forms, says Hinesville's Mayor Thomas. "It's a very culturally and racially diverse community," Thomas says. "We've got 37 to 39 distinct ethnic groups here. We're about 43 percent Caucasian and about 46 percent African American; that total switches, depending on how the Army ships people in here. We've got 10 percent Hispanic [population], from all over Latin America and Mexico."
Thomas says Liberty County has the largest Korean population on the coast, as well as Indian, Pakistani and Rus-sian. The widely varied population has led to a number of festivals and ethnic-based celebrations throughout the year, a boon to tourism.
"I think, too, if foreign-based companies find they are readily accepted into the community, they will be more inclined to locate here," Thomas adds. The Hinesville mayor is also chairman of the Coastal Regional Commission, a reflection of the community's broader partnership with the 10 counties that constitute that successful area, he says.
"The 10-county coastal region, six saltwater counties and four inland counties, probably constitute the fastest growing and most economically viable regional commission in the state of Georgia, because of the ports in Savannah and Brunswick and the development along this coast," Thomas says. The region is rich with history from the colonial days through the Civil War to the Industrial Age.
Liberty County is at the center of that region, with historic assets that date to the earliest years of the American Revolution, as well as a healthy population of fish and game in the woods and waters of the regions, says Leah Poole, CEO of the Liberty County Chamber of Commerce and the Liberty County Convention and Visitors Bureau. "The county is a mecca for fishing and hunting enthusiasts," Poole says. "The ang-lers and game hunters contribute to the $95.5 million tourism brings to our local economy each year."
The county is also a yearly host to a number of sports competitions. "The Tai Kwan Do competition is an annual Oc-tober event that attracts competitors and spectators from throughout the Carib-bean and Southeast U.S.," Poole says.
Liberty County's continued growth has accelerated plans for infrastructure im-provements and upgrades in quality-of-life assets. This year, for instance, the county began design work on a new ma-rina, and it has finalized plans for its first public water system, a $6-million project set to begin construction this year, with completion expected to take 18 months.
Community Snapshot
Local Leaders
Ron Tolley
CEO
Liberty County Development Authority
912.368.3356
ron.tolley@lcda.com
Don Lovette
Chairman
Liberty County Commission
912.369.9464
dlovette@libertyregional.org
James Thomas
Mayor
City of Hinesville
912.876.3564
jthomas@cityofhinesville.org
Population (2010)
County, 62,819; Hinesville (county seat), 30,392; Allenhurst, 788; Gumbranch, 273; Midway, 1,100; Riceboro, 736; Walthourville, 4,030
Per Capita Income (2009)
County, $27,020
Georgia, $34,129
Unemployment (May 2013)
County, 10 percent
Georgia, 8.5 percent
Top Employers
Fort Stewart, Liberty County Board of Education, SNF, Liberty Regional Medical Center, Walmart
Sources
Liberty County Development Authority, Georgia Department of Labor, U.S. Census