Toccoa | Stephens County: Springing Forward
Giving business a welcome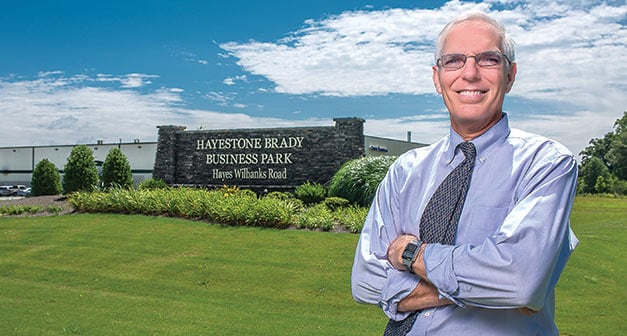 Some communities become stuck in their past, but in Toccoa and Stephens County the past has become a ready springboard to the future. This rural county in northwest Georgia has found that assets like history, natural beauty and picturesque small-town life are the ingredients for success.
Times change, and the people of this region knew they had to change, too. Manufacturing has long been a linchpin of the Stephens County economy. From furniture and caskets to textiles and machine parts, local workers made tangible products the rest of the world could use. As the global economy changed, so did Toccoa. Plants closed down. Now scattered around the outskirts of town, you can see their remains in empty buildings with crumbling parking lots and broken windows.
"Over the years so much of that has gone overseas," says Toccoa Mayor David Austin. "We have less and less, and a lot of it is just not going to come back."
Yet the business of making things never completely disappeared as it did in so many rural communities. Companies such as Crown, Caterpillar, Patterson Pump and GEM South-east are still here and helping drive down an unemployment rate that was once around 11 percent.
The county has also worked hard to create a climate that is welcoming to business and ready to provide a smooth transition for those firms that want to relocate.
"Through the years the community has been serious about providing a climate for business to be successful, and that goes back to the early days of Toccoa," says Tim Martin, executive director of the Stephens County Development Authority. "You [can] see in the downtown area buildings evidence that manufacturing has been one of our core strengths for over 100 years. As the community has grown over time, new areas have been identified as the right place to build industry."
The county's fourth industrial park – named Hayestone Brady after the family that once owned the land – is open for business. The site has been graded, and water, sewer and other infrastructure is in place. To sweeten the deal, Atlanta-based real estate development firm Rooker is constructing a building on the site.
"Through the years we have good success in building spec buildings," says Martin. "There are eight or 10 of them around town that people have moved into and out of over time."
Yet Martin and other locals know that getting companies into Toccoa can be a challenge. For all its physical and human assets, the community is off both the beaten path and an interstate highway. Being able to get materials in and finished products out usually demands a four-lane highway.
"And that's something you either have or you don't," concedes Martin.
Connectivity
Toccoa has long been lacking in that area, but no more. Earlier this year, the Georgia DOT announced that construction would begin on the widening of Highway 17 to a four-lane divided highway between the Franklin-Steph-ens County line and Memorial Drive in Toccoa. Best of all, the project will connect the county to Interstate 85, meaning that companies will have that easy and fast access for their products.
The Hayestone Brady Business Park and the Currahee Campus of North Georgia Technical College were both designed and built with the long-delayed four-lane highway in mind, according to Martin. Both are located in the southern part of the county near the interstate.
The 10.5-mile project will cost about $66 million and should be finished by 2016.
Locals are also pushing another kind of highway – the Internet superhighway. Work is expected to begin soon on what eventually would be a 150-mile high-speed broadband fiber loop through Stephens and five surrounding counties. The first leg of that project is expected to be between Toccoa and Hollywood in Habersham County.
With a $1-million equity grant from OneGeorgia, the project can get started – although about $10 million will be needed to finish it, says Martin.
To begin, the county is working with the North Georgia Network to build out this fiber network. The agency already operates a high-speed broadband loop through a number of North Georgia counties, and the first leg will connect to its existing loop at Hollywood.
"It will assist specific types of businesses and industries that need that kind of capability for fast transmission of data," explains Stephens County Commission Vice Chair-man Dean Scarborough. "It's one of the tools that are important to have. The Internet is very much like a physical highway. It gets your information in and out."
The prime beneficiaries of the project will be education – including the school system and local colleges – and the medical community, says Scarborough.
Higher Learning
Stephens County has no shortage of educational opportunities, with two colleges and a first-rate public school system. The local campus of North Georgia Technical College (NGTC) is in the midst of a $3.2-million expansion to accommodate new nursing and allied health science programs. The new wing will include updated labs, computers and classrooms.
"The community drove this expansion," says NGTC President Dr. Gail Thaxton. "They realized that healthcare was certainly going to be a draw, especially with the new hospital, and they knew it has an extensive healthcare community."
The Stephens County Hospital has added a 96-bed wing. Currahee Clinic now boasts some 30 physicians. In addition, a new 56-bed hospital opened last year just a few miles down the road in Lavonia.
To meet all this demand, NGTC is expecting a 15 percent enrollment increase to about 415 students.
Like other technical colleges throughout the state, NGTC has been a powerful attractor for new business. By providing training in industrial systems technology, welding and machine tool – all high-demand skills – it has helped local businesses grow.
Toccoa Falls College, a private Christian liberal arts school, is also busy producing new crops of teachers – one of its most popular programs.
The Stephens County School System is in the midst of an in-depth analysis of how it can best serve its 4,100 students. The answer is a transition to a charter system that will allow the schools greater flexibility in designing and implementing programs.
Officials had the first community meeting earlier this year to give local residents a preview of the changes, as well as a say in what shape they will take.
"We want to know from the community what we do well and what we need to work on," says School Superintendent Sherrie Whiten.
When the new system is fully implemented, students will have the opportunity to learn about potential careers earlier than ever before. The school system will forge partnerships with local industries and colleges to provide new avenues for education. Under the charter system, it will also be easier to bring in experts from the business world to teach without the barriers of state certification requirements.
The most important goal is to make sure the schools are teaching students the skills they need to succeed in employment and college.
"We know there are jobs in Georgia, and we want to make sure our kids are ready to take those jobs," says Whiten.
Looking Up
Over the years, downtown Toccoa has been the focus not just of community life, but of continuing efforts to keep it fresh and populated with people and businesses. Not all those efforts have been successful, but lately prospects have starting looking up.
A few years ago the town finally removed the concrete covered canopies that had turned Doyle Street into a pedestrian mall. The look had never quite taken off, and eventually businesses drifted away.
"It was real modern looking, but didn't fit with the historic fabric of the commercial buildings," says Toccoa Main Street Director Connie Tabor.
With the barriers gone, you can now park in front of stores – and there are now many more. The wide sidewalks have gotten brick pavers, benches and greenery. There are still a number of empty storefronts, but their numbers are declining. More than 50 buildings in the historic downtown have been renovated and their façades redone.
"We've really transformed in the past 10 years," says Tabor.
A variety of antiques stores, restaurants, retailers and offices have occupied the long street extending down from the stately historic courthouse on the hill – itself a renovated classic. In fact, the city has won awards for excellence in downtown development from the Georgia Downtown Association and The Georgia Trust for Historic Preservation.
"The [city] commission has increased the façade grant to try to spur work on some of the fronts of the buildings downtown," says Austin. "We want to get all these buildings downtown with some kind of retail business in them. Downtown is the heart of the city, and people here strongly identify with it."
On the edge of downtown, another local treasure is in the process of revitalization. The Schaefer Center was built in 1939 as the Ritz Theatre. Typical of most movie houses of that era, it seated 400 downstairs and another 100 in a segregated balcony.
The theater was a central focus of social life in town. Wives and husbands to-be shared their first kiss in its darkened auditorium. Yet, like nearly all movie houses of that type, by the 1970s its screen was dark and the building appeared headed for oblivion.
It found new life as a home for the local theater company, but eventually the group disbanded. Occasional gospel concerts were all that were left.
Last year the city bought the building from Currahee Arts Council, and Tabor's organization set about finding grants to aid in its restoration.
The group has been able to renovate the interior while adding an orchestra pit big enough for 17 musicians. Another grant purchased an updated HVAC system, and a loading dock for the back has been added.
They have also gotten advice and funding for the renovation from the Fox Theatre Institute. The Atlanta showplace was once a forgotten movie house as well, and it now provides preservation and operations expertise to help restore and reinvigorate other theaters across the state. Since 2008 the foundation has been doling out funds to help preserve historic structures like the Ritz.
"We have some design renderings for the exterior of the building so that we can recreate the look from back in the '30s and '40s," says Tabor.
The goal is to restore the exterior and marquee back to the original Ritz look. The Ritz Theatre name will also be resurrected, she adds.
To expand its ability to host groups, the city commission agreed to purchase the parking lot next door. Plans call for a new structure to house a ballroom capable of handling larger groups of up to 300 people.
With all that has been done, there are still some big-ticket items for which the theater has yet to secure funding.
"Who knew that a sound system could cost $50,000 to $100,000," says Tabor.
Forward Progress
Hard hit by the recession, the real estate market has started to pick up again. Housing permits are up, and even in the downtown area developers are starting to convert the upper floors of some buildings into loft apartments.
Outside the city, locals are especially excited about the new Currahee Club on Lake Hartwell. New homes are starting to sprout up around the golf course.
A factor in local success has been an attitude of seizing opportunity rather than waiting for the future to happen, says Wendi Bailey, president of the Toccoa-Stephens County Chamber of Commerce.
To decide where they want to go, the Chamber recently brought in staff from the J.W. Fanning Institute for Leadership Development at the University of Georgia to moderate visioning sessions for the community. The goals included identifying local assets and determining how best to create a place where everyone will want to live.
For all the attractions of Stephens County, perhaps the greatest one for those who come here is the charm of small-town rural life.
Mayor Austin recalls fondly being able to leave home and be at his job in the local television studio in less than five minutes. Although born in Raleigh, N.C., he has adapted so completely to small-town life that the idea of traffic is a sobering thought.
Nearly everyone you meet here will say that you have to like this kind of life in order to live here. There's both the slow pace of life and great stretches of the outdoors.
"One thing I like to do when I'm writing is just to hike up the trails in the area," says local resident Jessica Khoury, a popular author of young adult fiction. "That's when I get away from people and really think."
That is an attraction that many are finding hard to resist.
Community Snapshot
Local Leaders
Dean Scarborough
Vice Chairman
Stephens County Commission
706.886.9491
dean_scarborough@yahoo.com
David Austin
Mayor of Toccoa
706.491.0996
daustin@cityoftoccoa.com
Tim Martin
Executive Director
Stephens County Development Authority
866.952.7232
tim@scda.biz
Population (2012)
County, 25,891
Toccoa, 8,404
Per Capita Income (2013)
County, $30,553
Georgia, $36,096
Unemployment (April 2013)
County, 7.7 percent
Georgia, 7.9 percent
Top Employers
Stephens County School System, Stephens County Hospital, Patterson Pump, GEM Southeast
Sources
Stephens County Development Authority, U.S. Census Bureau, Georgia Department of Labor