Big Impact
The Cumberland Community Improvement District, the state's oldest, focuses on transportation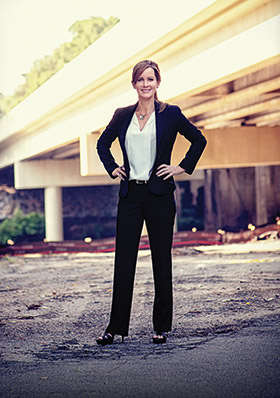 Last March the Georgia General Assembly recognized Cobb County's Cumberland Community Improvement Dis-trict (CID) on the occasion of its 25th year as a self-assessed taxing district, a political subdivision allowed under a constitutional amendment approved by voters in 1984.
This may have been Cumberland's Silver Anniversary, but in fact, the CID has been pure gold for the citizens who formed and continue it as Georgia's first and oldest CID.
"The Cumberland CID is about 5.5 square miles in size, and we impact 5.4 percent of the state's economy," says Malaika Rivers, executive director of the Cumberland CID. "We've raised about $100 million in commercial tax assessments over the past 25 years, and we've constructed about a half-billion dollars worth of projects – that's mostly transportation infrastructure." Rivers says annual retail sales on Cumberland's 5.5 square miles are just under $1 billion.
The Cumberland CID is generally regarded as the most successful in the state, and that success has attracted more of the taxing districts to communities along I-285 in Atlanta's northern suburbs. In fact, 16 CIDs in North Georgia are concentrated in the Atlanta metro area, particularly along the north-ern perimeter.
Lynn Rainey, a principal in the Marietta law firm of Rainey & Phillips, has designed the legal foundation for 14 of the 16 Atlanta-area CIDs, including Cumberland, the first one. It wasn't a career path he set out on.
"They tell lawyers that your clients have more to do with what law you practice than you do," Rainey says. "It was the first, and for a time, Cumberland was the only CID in existence when it was created in the late 1980s. But based on its successes, I had property owners in other areas coming to me and saying, 'We want one of those too.' Different areas in the metro [Atlanta] region saw they could benefit from the model, and it's just gone on and on. There are still CIDs in formation now."
Motivation
Why would commercial property owners want to add as much as five mils to their annual tax bills? "The model in the beginning was that you're looking at highly concentrated commercial areas, and the Cumberland area is a fair chunk of the Georgia economy just right there," Rainey says. "The earlier models had to do with shopping centers, malls, high-rise office buildings and the more concentrated commercial areas. I guess the reason for that is you're going to be able to generate enough revenue to be more effective."
The laws governing the formation of CIDs and covering their continued operation are simple and sound like issues familiar to city and county managers: road construction and maintenance, including curbs, sidewalks, street lights and "devices to control the flow of traffic." CIDs may build and maintain parks and other recreation facilities. Water treatment and distribution and public transportation are also covered in the enabling legislation. In the past, CIDs have hired extra traffic police to help unclog rush-hour traffic and allow pedestrians to cross busy streets.
The Georgia General Assembly is also tasked with approving, through local legislation, the formation of CIDs, and the Georgia Constitution sets forth a number of requirements to be met prior to the CID approval. But Rainey says he asks for one basic non-law intangible from property owners seeking approval for a CID. "A vision," he says. "Why do you want to do this? After all, a common complaint [among commercial property owners] is having to pay taxes, so what motivates someone to want to pay more taxes?"
Rainey says common reasons for forming a CID include attempts to increase the value of commercial property, reversing a trend in a declining area and protecting the value of commercial property.
"I found that in the beginning, back in the '80s and '90s when things were first being created, you had areas that were the victims of their own success," Rainey says. "They had become less attractive because people couldn't get in and out and circulate in the area.
"So in the Cumberland area and a lot of the earlier projects, you saw the Kennedy Exchange, the Windy Ridge Parkway, a pedestrian bridge across [U.S. Highway] 41 linking the malls, and all of those things had in common the ability to get people into the market and out of the market and around the market. That has transitioned into a more attractive area with landscaping, lighting, streetscapes; and that kind of thing has taken off. But you have some other areas that maybe had their heyday when a mall was built and over time some of the properties have aged and attracted second-generation owners or second-generation tenants and declined a bit, and so the vision may be to reverse that trend."
In any case, the decision on which projects are to be implemented or in what order is made by a board of directors designated in the local legislation. For the Cumberland CID, the law re-quired a board to comprise six members elected by the district's property owners and one appointed by the county.
Progression
Malaika Rivers, the Cumberland CID executive director, picks up the district's progress there. "In the later '90s, we got involved in broadening our scope to include commuter services, and in the 2000s we got involved in land use planning and the type of community we'd like to see," Rivers says. "The past five years we've done streetscaping and the trail build-out."
Traveling with Rivers around the Cumberland District, it is easy to see how the trails that weave into, around and out of the Chattahoochee Na-tional Recreation Area and along the Chattahoochee River provide a striking contrast to the CID's heavily populated high-rise neighborhoods and concentrated commercial districts.
"The CIDs in the Atlanta region and elsewhere around the country are focused primarily on denser office markets," Rivers says. "To have an office market that abuts national parkland like we do is highly unusual. Other CIDs and other downtown areas may have bike path networks, but because our downtown area abuts national parkland we have the added benefit of being able to connect to the unspoiled beauty of a protected forest."
Because CID improvements are appealing to all citizens, there has been residential population growth in the Cumberland District as more and more citizens find a walk to work or a walk in the park to be attractive features in their quality of life.
"We don't want to provide infrastructure exclusively for cars," Rivers says. "We want to do it for cars and people on foot and on bicycles and for carpools and all sorts of things. And we're working with public agencies to get transit into the area."
While residents, renters or homeowners may benefit from the Cum-berland CID improvements over the past 25 years, they are not required to make any contributions.
"It's not a sales tax or residential assessment," Rivers says. "By law, a community improvement district is only a commercial property assessment, not a residential property assessment." But the evolution of the CID has brought residents into the mix, she says.
"Yes, having said all that, what we're now doing is creating a community, and a community not only includes office and retail, but also is a great place to live, work and play. What we do is work on the infrastructure and, of course, anybody can use the infrastructure."
Long Tradition
The CID concept has been compared to the way merchants in emerging towns of the 19th century American West chipped in to hire a sheriff or a school marm, but one student of urban economic development financing be-lieves the idea is much older. "I see it as being a fair comparison, but I wouldn't necessarily say I see the roots [of the modern CID] idea in the American West," says Carlianne Patrick, assistant professor of economics at the Andrew Young School of Policy Studies at Georgia State University, who specializes in the study of urban economic development and public finance policies. "It can probably be traced further back than that, even to pre-Medieval serfdom periods when merchants would do that in England and other parts of Europe through their guilds. There's been this idea of business owners voluntarily improving the areas in which their businesses are located for quite a long time."
Patrick believes the CIDs may help local governments stretch a dollar or perhaps be more creative with the dollar. "I think in some respects if the CID allows the local government to divert its resources from within the CID to projects outside the CID, and then the government still gets to benefit from any spillover effect outside the boundaries of the CID from additional tax revenue generated because of the improvements, they're getting this win-win situation."
Cobb County has two CIDs within its borders in addition to a county government, all of which are involved in the construction and maintenance of infrastructure, opening the possibility of conflicting interests and turf wars, age-old conditions in political subdivisions of every size, but Cobb County Manager David Hankerson says the prevailing feeling among his infrastructure departments and the CIDs of his county is grateful partnerships. "We work together on common goals," Hankerson says. "We rely on each other, and there are some things we wouldn't do if we didn't have that partnership."
Hankerson says a critical Cumberland CID talent is the ability to act quickly in setting up projects for the partners to finish off, perhaps with other partners who can provide the funding. "The most important feature of our relationship with the CIDs is that they are able to work with us to jumpstart projects, because a lot of times they can [quickly] do planning and engineering, and when we get state or federal money for that project we're ready to go. Or we will co-fund projects," he says.
There are a number of ways to measure the success of the Cumberland Community Improvement District; among them are the new or improved transportation corridors and beautification projects that enhance the area's streets and parks.
But Malaika Rivers finds compelling evidence in the numbers she has tracked. "Here's one way to look at it," she says. "When we started back in the late '80s, our commercial assessment was about $1.2 billion in fair market value. Now our fair market value is just under $3 billion, commercial. And total value, including real estate, would be about $4 billion."
CIDs like Cumberland's are built to sunset, or go out of business every six years. If Cumberland's board of directors took no action to continue its self-taxing mechanism, the district would simply die of inaction. But no Atlanta area CID has done that, and bets are if one ever did, it wouldn't be Cumberland.