Augusta | Richmond County: When It All Comes Together
Education, healthcare and manufacturing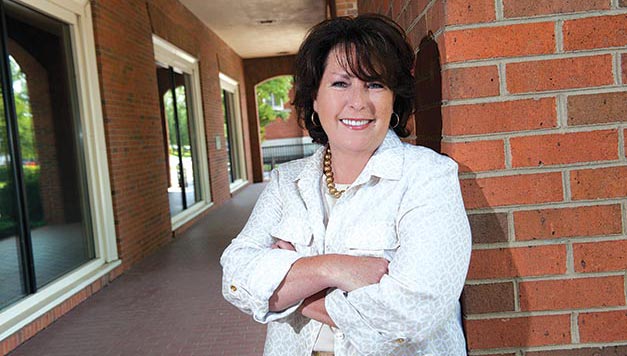 A spreading euphoria can be found in just about every corner of Augusta and Richmond County, where government and economic development leaders not only came through the recent economic downturn without a scratch, but scored impressive growth in a community that found it all coming together, with a promise to continue on that track for the immediate future.
So it was no surprise to find the mayor of the city-county consolidated government in a buoyant mood far beyond his usual affable demeanor as he played tour guide. First, Mayor Deke Copenhaver had to marvel at the flowers along the entrances to his city and make sure his guest knew that Mother Nature had plenty of local help in the city's landscaping efforts. "The beautification efforts we're seeing all over the city are being fed by the private sector," Copenhaver says. "I think when you see private citizens willing to invest hundreds of thousand of dollars in your city, that's a good sign, and we're seeing this activity particularly along our gateways into the city. University Hospital contributed, and Georgia Regents University (GRU) contributed."
These two facilities have good reason to invest in the surrounding community. Combined, they help support the 1,260 physicians who practice medicine in Augusta, giving the county the best physician-patient ratio in the state. Georgia Regents University was the name chosen for the product of the 2012 merger of Augusta State University and what was briefly Georgia Health Sciences University, although it was created as Medical College of Georgia back in 1828.
Georgia Regents will produce doctors and dentists and other health professionals on its Augusta campus, and already the city's mayor is reaching out to the school and offering a helping hand for GRU's growth. "When you talk about cool things going on in Augusta, late last year the city stepped up to the plate and entered into talks with the consolidated university, Georgia Re-gents, with regards to what their future expansion plans are. By a 10 to zero vote, our commission voted to help the university expand," Copenhaver says. "That's a huge economic-driving engine for the city currently and for future generations."
To give Georgia Regents all the breathing room it could possibly need, the university and the city are structuring a deal that would give the campus an additional 1.1 million square feet of usable space in the form of two old cotton mills along the Savannah River and Augusta Canal.
"They also produce their own hydroelectric power, so there is the potential for this to become the world's first carbon-negative campus," says Copenhaver. And there is the Salvation Army's $100-million Kroc Center just across the canal, funded through the $1-billion bequest to the Salvation Army by the Kroc estate that Copen-haver sees as another possible campus asset for GRU.
"They have dining facilities and a performing arts theater and workout facilities, so there is the potential for the university to partner with the Kroc Center," says Copenhaver. "It's a real synergy we're looking at. We've been doing a thorough due diligence on this and we're not there yet, but we're proceeding."
Downtown Thriving
The idea of restoring old brick buildings for modern purposes is being applied to downtown Augusta, where the residential population has been calculated to be 1,500. "I think it's more than that, "says Margaret Woodard, executive director of the Downtown Development Authority of Augusta, whose home and offices are downtown in the old J.B. White's building, a former department store dating to the turn of the 20th century.
"That building was vacated in the 1970s when the malls hit, and it sat empty until about three years ago. Today the White's Building has 20,000 square feet of retail space and 51 mostly occupied condominiums. Over there is the new Holiday Inn, with 160 rooms," says Woodard, pointing to another construction site. "That's a project by a local developer, and it should be open by the end of the year."
In early 2013, downtown Augusta welcomed the arrival of the new Trade, Exhibition and Events (TEE) Center, a $38-million city expansion project at the riverfront Augusta Convention Center and adjoining 372-room Marriott Hotel.
"We have seen tremendous growth in our downtown, especially in the hospitality industry, hotels, restaurants and so forth, due to the expansion of our convention facility on the riverfront," says Sue Parr, president and CEO of the Augusta Metro Chamber of Commerce.
To make sure visitors to the city have good roads to get in and out of the downtown, voters in Richmond County and neighboring counties last year approved the regional Transportation Special Purpose Local Option Sales Tax (T-SPLOST), becoming one of just three regions in the state to do so and guaranteeing the Augusta area a windfall of impressive sales tax proceeds, according to Parr.
"We will see over the 10-year life of the T-SPLOST about $100 million in new investment in downtown streets," Parr says. "The Augusta region will see about $800 million in revenues over the next 10 years, which will fund 84 projects over a 13-county area. I believe there are 46 projects for Augusta-Richmond County, including projects that will help our manufacturing industries and downtown corridors, commuter improvements and [the area] around Fort Gordon. We are very, very fortunate that the voters in our region knew the benefits of the additional one-cent sales tax for transportation. We were able to help our citizens understand that transportation needed to be funded in nontraditional ways."
Military Presence
While everything has been coming up roses in the Garden City, as Augusta is called, there has been a more cautious attitude about one of Augusta's largest employers, the U.S. Army's Fort Gordon. But intelligence from Washington earlier this year brought heightened confidence that the Augusta Army post has strengthened its staying power. As the executive director of the Central Savannah River Area Alliance for Fort Gordon, retired Col. Thom Tuckey has tracked the population shifts in troops and civilian employees at Fort Gordon for the past 12 years.
He met for an interview with Georgia Trend just a week after returning from meetings at the Pentagon. There, he discussed two prominent issues with Department of Defense officials: reductions in force and the possible 2015 Defense Base Closure and Realignment Commission (BRAC), both of which could affect Fort Gordon and its 30,000-strong military and civilian workforce.
Tuckey says the Budget Control Act of 2011 is requiring the Army to cut its troop force by 80,000, from 570,000 to 490,000. "And that's not related to sequestration, that's a completely different animal," Tuckey says. "I will tell you that with sequestration, if they don't fix it next year, the Army is looking at pulling as many as another 100,000 [troops] out to take us down below pre-World War II numbers."
But even with dire consequences looming for many military installations, Tuckey believes Fort Gordon's cyber security school should be poised to get more students and, because Gordon has no brigade combat teams, the threat of losing troops from those teams is minimal. "My opinion, and you should never say never, is that Fort Gordon is well postured for growth, should there be another BRAC."
Terry Elam has been concerned with the futures of more than a thousand employees at two plants in the Augusta area, and neither is likely to see any job cuts in the immediate future. One of the facilities, Starbucks, has one of the most recognizable brand names in the world and the other, the nuclear power facility Plant Vogtle, has among the most carefully regulated standards for employees in Georgia.
Elam, president of Augusta Tech-nical College, is in the midst of training programs designed to find workers for both facilities. "We were involved in the process that helped Starbucks decide on our community based on workforce. The new Augusta Starbucks will eventually employ about 140 workers. It's not a coffee house but a coffee factory where the workers will help produce Via, a soluble product that will be delivered to the company's retail outlets throughout the country." The facility is scheduled to be up in running in 2014.
"This will be a first in America for Starbucks," says Elam, "What's unique is that Starbucks, while they're building their plant, has their human resources department located on our campus.
"We started from scratch on the Vogtle instructional program, and the Nuclear Regulatory Commission has adopted standards that are being used for all schools with that kind of training. For us, being associated with Starbucks, a company brand known worldwide and No. 1 in their product line is so good for our college," he says. "So many of the students in our nuclear power operator program arrived here with college degrees."
Augusta Technical College has won a number of awards for the quality of its programs and student graduation rates, including a top 10 ranking as an Out-standing Southern Community College for Workforce Training by the online edition of Southern Business & Development magazine.
Good Sports
Brinsley Thigpen has reached a point of distinction as a sports promoter in sports-mad Augusta, a place where even a sport like Quidditch can take rank with triathlons, rowing, boxing, minor league baseball and the most elegant and dignified Masters Golf Tournament. Most people will not recognize Quidditch, unless they are fans of the Harry Potter book series.
"Quidditch is a sport that came out of that series," says Thigpen, CEO of the Augusta Sports Council, an offshoot of the Augusta Convention and Visitors Bureau. "We just hosted the South Regional Quidditch Tournament, sanctioned by the International Quidditch Association." She describes Quidditch as "… like water polo on a broom in a field." But the Sports Council has also hosted the five-day USA Cycling National Championships and the Ironman 70.3 competition sanctioned by the World Triathlon Corporation. "We registered about 3,500 [people] for that one," Thigpen says.
For Walter Sprouse, executive director of the Augusta Economic Devel-opment Authority of Richmond Coun-ty, whether it's Quidditch or The Masters, Starbucks or nuclear power, it's all about diversity in the local economic mix.
"I think one of the big reasons for the success of Augusta is the fact that there is the multifaceted economy here," Sprouse says. "We're not de-pendent on one particular segment of the economy for our growth and our survival in the years to come. For instance, one of the facets we have is the healthcare industry. There are 11 hospitals here, and our [state's] major medical university is located here. That includes the largest burn center in the United States, and people from several states are treated there and at our cancer center as well.
"We have numerous people from all over who travel to Augusta for healthcare. That's a big part of the economy that has grown and continues to grow," he says.
"Fort Gordon is an unusual military installation because it trains all branches of the military in information technology and logistics and a variety of other things. People that leave the military service out of Fort Gordon have very marketable skills in information technology and computer programming. Their military background recommends them because it speaks of discipline and a strong work ethic. Those people are highly desired for a variety of jobs.
"So whenever we talk about the quality of our workforce, we mean it – because it is proven."
Community Snapshot
Local Leaders
Deke Copenhaver
Mayor of Augusta
706.821.1833
mayordeke@augustaga.gov
Walter Sprouse
Executive Director
Augusta Economic Development Authority of Richmond County
706.821.1321
wsprouse@augustaeda.org
Sue Parr
President & CEO
Augusta Metro Chamber of Commerce
706.821.1313
sue.parr@augustametrochamber.com
Population (2010)
County, 200,549
Per Capita Income (2009)
County, $29,907
Georgia, $34,129
Unemployment (April, 2013)
County, 8.8 percent
Georgia, 8.2 percent
Top Employers
Savannah River Site, U.S. Army Signal Center & Fort Gordon, Richmond County School System, University Hospital, Augusta Richmond County Government, E-Z-GO Textron, Covidien, International Paper, Kellogg's, FPL Food LLC, Procter & Gamble, Thermal Ceramics
Sources
Augusta Metro Chamber of Commerce, Augusta Economic Development Authority of Richmond County, Georgia Department of Labor, U.S. Census Bureau