Showcasing Innovation And Revitalization
Nine Georgia cities show off their finery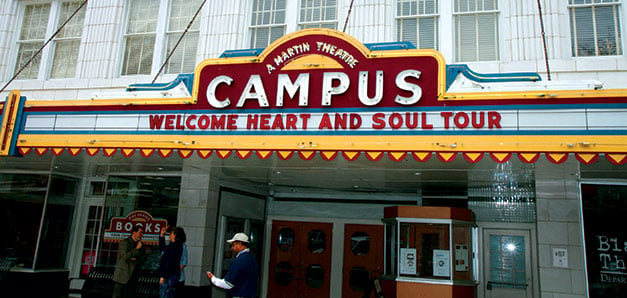 When the 13th Heart & Soul of Georgia Tour embarked from Atlanta last spring, the 40 or so bus passengers were headed out on a three-day trip with nine scheduled stops in cities that had a number of common assets, and some uncommon means of using them in economic development plans.
The featured cities were Eatonton, Milledgeville, Macon, Hawkinsville, Columbus, West Point, LaGrange, Newnan and Carrollton.
Most of them claim downtowns on or near a river, and many share their downtown areas with a college or university campus.
The Heart and Soul Tour is conducted by the Georgia Cities Foundation, an arm of the Georgia Municipal Association. Participants included real estate and economic developers, downtown developers, historic preservationists, representatives from state agencies and elected officials.
Appropriately, the first stop came in Eatonton, home of one of Georgia's most celebrated storytellers, Joel Chandler Har-ris, writer of the "Br'er Rabbit" tales. Tour members arrived at an impressively restored mid-20th century schoolhouse that serves as a multi-purpose community centerpiece, with offices for the local chamber of commerce, a theater, senior center, museum, and arts and crafts workshops.
Eatonton Mayor John Reid welcomed the group. "We are here at The Plaza Arts Center, the crown jewel of our community," Reid told his fellow travelers. Asked about the value of the tour, the mayor called it "an opportunity for downtown economic development. We have a lot of developers on that bus, and when they look at our presentations they become prospects for partners."
Milledgeville Lofts
At Milledgeville, tour participants met Heather Holder, a single mom with two children, living in a loft apartment in the heart of downtown. "Part of the [attraction of] living downtown is being able to walk, and it gives the children some freedom," Holder says. Heather's loft is in a building renovated by Frank Pendergast, something of a downtown icon, who acknowldges that his passion for historic preservation is at the heart of an entrepreneurial spirit.
"I own seven properties in downtown, and all of them have undergone some form of renovation," Pendergast says. "We had a $500,000 CDBG [Community Development Block Grant], two $250,000 grants from the GCF [Georgia Cities Foundation]; we got a green loan for $150,000. The biggest chunk came from historic preservation tax credits, both federal and state, amounting to close to $800,000; and we got a 10-year freeze on property taxes."
Milledgeville Mayor Richard Bentley describes another project, the Oconee River Greenway, as a link connecting downtown to the Oconee River, Georgia College and the Georgia Military College. "The Greenway gives downtown residents an easy walk to the river, and it also opens the door for more development on properties even closer to the river," Bentley says.
Next Stop: Macon, with two college campuses and a river – and plans to unite them in the downtown area.
Milledgeville's Holder was also one of the tour guides in Macon, since she serves as the executive director of Mercer University's College Hill Alliance (CHA). The CHA is using a $2.3-million grant from the Knight Foundation to fund an "Innovation Corridor," to create and sustain knowledge-based entrepreneurs along a path linking Mercer University to downtown Macon, according to Holder. Part of the alliance mission includes the restoration of neglected houses that sit between Mercer's campus and the downtown.
"We're also trying to take advantage of our natural resources," says Macon Mayor Robert Reichert, who outlined his city's historic preservation and recreation projects. "We're very fortunate to have the Ocmulgee River passing through, and we've taken advantage of that by building the Ocmulgee Heritage Trail along the river."
Plans call for the trail to extend north and south from the downtown area, where the Macon mayor says a new generation of residents is seeking less dependence on the automobile. "Young people today are looking for small loft apartments, zero lot line housing on small lots – and so are retirees," Reichert says. "They're looking for a walkable urban model now."
Those walking and biking generations may find a home in downtown Macon, where the c. 1903 Dannenberg Building, a former department store, is being modernized to hold 70 loft apartments with retail space on the street level. The $7-million project will qualify for state and federal tax credits.
Gathering Place
From Macon, the travelers headed east to Hawkinsville for a tour of the restored 1907 Opera House. "The Opera House is used weekly, either for entertainment or meeting purposes, and is the gem of our downtown," says Karen Bailey, director of the Hawkinsville Better Hometown program and Downtown Development Authority.
Bailey took her charges to a ribbon-cutting at the new Cotton Mills Lofts on the banks of the Ocmulgee River. "We're proud of our new lofts," Bailey says. "This is a public/private project, with Landmark Development out of Winston-Salem, North Carolina, as the private partner." The ribbon-cutting was also for the adjacent River Market Lofts, another riverside residential property.
"For years we had people coming from all around to work at that mill, and when it closed we didn't know what we were going to do with it," says James Colson, chairman of the Hawkinsville City Commission."But now we have people living in those apartments."
In Columbus, the Heart & Soul passengers settled in for a working luncheon in the restored Eagle & Phenix Mills on the banks of the Chat-tahoochee River, where they heard about changes to both the river and the area of Columbus known as Uptown.
In 2012, existing dams on the river were dynamited to restore the Chattahoochee to its wild state and create a new tourism market for whitewater rafters.
"By destroying the dams, we restored about two-and-a-half miles of the river along the last falls of the Chattahoochee," says W.C. Bradley board member John Turner, who is chairman of the Chattahoochee Restoration Committee.
Columbus may have reached an extreme in the funding mix used to set the Chattahoochee free and restore the Eagle & Phenix. Money came from the city of Columbus and its across-the-river Alabama neighbor, Phenix City, as well as the W.C. Bradley Company and other private sources.
"We even got money from the National Oceanic and Atmospheric Administration," Turner says. "Now this is one of the great rapids of North America, and it's right in the middle of our city. That's a special story to be able to tell." The city is expecting a $42-million economic impact from the rapids. International kayak organizations are already asking officials when could they be ready to hold a world championship race on their river.
Some $500 million has been spent on the various downtown restoration projects, including $100 million by corporate citizen TSYS, says W.C. Bradley Company's president of Real Estate, Mathews Swift, adding that another $50-$75 million is part of a plan for future improvements for downtown Columbus.
Manufacturing Center
West Point was one of those small cotton mill towns that went from prosperity to poverty when that source of jobs dried up. "When we lost that base, we began to lose some of the stability we had in the past," says Mayor Drew Ferguson. The mill closed in 2004, but in 2006 word came that Kia, the South Korean automaker, would open a plant right in West Point's backyard.
"When Kia came, it was a unique opportunity for us to reestablish ourselves as a manufacturing center, and at the same time reestablish our identity," Ferguson says. "What we saw in all this was a unique chance to drive economic development into the heart of the city to address poverty, housing and issues with education. We asked, how could we diversify the economy off that manufacturing backbone?"
Realizing the community was about to enter a new era, local leaders began a planning process for their reenergized population. "It was remarkable," says Ferguson. "At times we had 10 percent of the population at planning meetings. We have had some really great historic preservation come out of this." One project involved an old building downtown that had a tree growing through its center. A loan from the Department of Community Affairs revolving loan fund financed rehab of the building, which now houses a popular restaurant. "That's been a huge success, and they now have 35 employees."
The city has used Special Purpose Local Option Sales Tax (SPLOST) funds to improve recreation facilities and create a 178-acre park on the Chattahoochee River with six miles of hiking and biking trails.
More Partnerships
Bobby Carmichael, executive director of the Downtown LaGrange Development Authority, climbed aboard the bus for the 30-minute ride to his community, where another series of public/private partnerships is reshaping a downtown thanks to a number of gifts from a foundation. The first stop in LaGrange was at Del'avant, an events center fashioned from an old Kress store. The building sat unused in the downtown before it was purchased and restored in 2010 by the Callaway Foundation, a strong economic development ally for the city.
"That's our showplace right now," says Carmichael. "It's where we hold wedding events, business meetings and conferences." The Calla-way Foundation also recently finished a $5-million restoration project on the city's Broad Street Apartments to provide downtown living for students at LaGrange College.
LaGrange Mayor Jeff Lukken thought it might help create traffic downtown if the area had a movie theater, but modern theater owners prefer life on the interstates or at the malls, he was told when he approached theater operator Car-mike. "We explained to them that the investment the city of Lagrange is making and with the Callaway Foundation [participation], this is going to be the center of the universe, and they're going to miss out if they don't invest downtown." To sweeten the deal the city agreed to pay for some exterior glitz, and the deal was cut. LaGrange's downtown became a rarity with the arrival of the new theater.
In Newnan, tour participants got a look at a 1904 historic courthouse and an old train depot. "But I think it was two retail projects downtown that really captured their interest," says Hasco Craver, director of business development for the City of Newnan. "One was a restaurant, the Red-neck Gourmet, and the other a gift shop, Gillyweed. All four of those stops fall under our umbrella of 'The Power of Partnerships,'" says Craver. "The depot was a partnership working through the local historical society, as well as state government and a private partner who put it all together."
The award-winning courthouse restoration was a partnership between the county and its municipalities, who chipped in shares of SPLOST money for the project, he explains. The two retailers used a variety of funding from the DCA and the Georgia Cities Foundation, according to Craver.
"It's appropriate that the Heart & Soul Tour stopped in Newnan," says Keith Brady, the mayor of the city, "because we refer to our downtown as the heart and soul of our community."
Arts Center
In Carrollton, the tour stopped by the city's Cultural Arts Center downtown, one of the most consistently used buildings in the city, according to Phoebe Ericson, director of the Carrollton Main Street Program. "It is a 10-year-old building, and when it was first built we had just begun to revitalize our downtown," Ericson says. "It houses our community theater and the Carroll County Chorus, which is 150 strong. It houses our Artists Guild with 140 members. We have two galleries there that are always booked with works from locally, regionally and nationally known artists. We do children's theater in the summer, and we also are active in teen theater."
The strong emphasis on cultural events downtown has proved popular, Ericson says. "The center does bring a lot of people downtown, so we put a new tastefully done parking deck right next to it, and we now have 14 restaurants downtown."
Mobile Think Tanks
For Mike Starr, president of the Georgia Cities Foundation and host of the annual Heart & Soul Tours, the tours are like traveling think tanks where experts in a number of fields focus their attention on Georgia's downtowns.
"It's interesting how we have evolved the kinds of groups that take the tour," he says. "Early on, we were just trying to expose as many key leaders and decision makers as we could to the fact that downtowns were crucial to the economic vibrancy of the state of Georgia." Starr says he is seeing an increasing number of real estate developers, economic developers and entrepreneurs on the bus.
"One of the things I did see this year is more discussions of outdoor space, greenspace, parks and big undeveloped open areas," Starr says. "We heard and saw many approaches to partnerships and more creative approaches to funding sources."