Oconee County: Coming Into Its Own
Business And Agriculture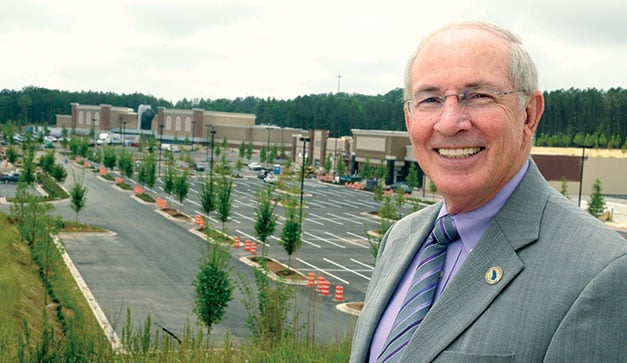 It is a late spring afternoon, and the clucking chickens at Monte Stephens' booth are getting restless and seem to yearn for their roosts. Stephens clearly has the noisiest of the 70-plus exhibits and booths in and around the Oconee County Civic Center at the 23rd Oconee County Business Expo. The event is sponsored by the Oconee County Chamber of Commerce, and Stephens chairs its agribusiness committee, a perfect job for a man whose knowledge of agribusiness here is encyclopedic.
"Agriculture is still important to Oconee County," says Stephens, whose paying job is County Extension Coordinator for the University of Georgia's (UGA) Extension Service. "We have about $120 million a year in farm gate value for our farm products, and most of that comes from poultry."
Much of his impromptu seminar on agriculture might seem to have value only to a farmer, but Stephens is on his way to a point with much wider implications, and with an almost emotional bow to the bucolic life in Oconee County.
"You can see the rolling hills, the grazing cattle, the ponds, forests and the greenspaces of the county," he says, pointing off into the distance, before explaining how so many Georgians have a little piece of Oconee right out their front door. "We have some great landscape folks here who grow these ornamental shrubs that homeowners love to put in their yards," he says.
Once grown, those shrubs end up in the nurseries of the Walmarts and The Home Depots that also dot the landscape of Georgia. Stephens points out this kind of farming doesn't need hundreds of acres to turn a profit. In fact, farms in Oconee County are shrinking, he says, as retirees and casual farmers find a kinship with the land to be to their liking.
"We have a lot of folks who are on 25 acres or less, and they can handle that as an alternative from their main job," Stephens says. "Or they can farm as a hobby or a source of income. They just love playing in the dirt." And, says Stephens, Oco-nee County's population is getting older. "Our population is middle aged, so we have a lot of retirees."
Truth is, Oconee farms are getting smaller because a lot of the land has been gobbled up by subdivisions and shopping complexes, and there is no sign the demand for space on which to build will ease up any time soon. Population density per square mile in Oconee County declined from 1930 to 1960, when it dramatically shot up and continued a double-digit percentage rise through every decade since to the present day.
According to data assembled by the Governor's Office of Planning and Budget, Oconee County will record 16,000 new residents from 2010 to 2020, a dizzying thought for some locals.
"Certainly this is not the county I grew up in," says Charles Ivie, mayor of Watkinsville, the county seat. "But change is inevitable, and the change we've seen here the last 10 years has been positive, very positive. Today we have the second highest household income in the state, and it is mind boggling to remember the city as it was 40 years ago." Ivie can remember when his community lived in the shadow of Athens-Clarke County and Watkins-ville was best known by downstaters as a wide place in the road for perhaps a final rest stop just before arriving at Sanford Stadium.
"For years, it was like a big brother-little brother type of thing," he says. But that relationship has ripened into a close and important economic development partnership that is creating jobs and improving lives for a regional population.
Good Neighbors
The Oconee County and Athens-Clarke County (the community has a consolidated government) partnership reached an epic impact level with the February 2012 announcement that giant heavy equipment manufacturer Caterpillar was going to turn the earth and build a one-million-square-foot facility exactly halfway between Athens and Watkinsville – and hire 1,400 people to run it.
"This was a two-county project from day one," says Rusty Haygood, Oconee County's director of economic development and a member of the negotiation team. "If both counties had not been on board and participating together, collaboratively, this project would have never come to fruition." Haygood says Caterpillar had opened the doors for the initial hiring phase by the end of the first quarter of 2013, adding that trial production would begin in the second quarter, with the real thing coming off the production line in the fourth quarter.
"The first thing off the line will be the mini-hydraulic excavator," Haygood says, indicating that other products will follow. Resi-dents and retailers in a wide region around the Watkinsville-Athens area are already feeling the early rumbles from the plant, according to Haygood. "I think you have seen various restaurants in close proximity to the Caterpillar site who are seeing a lot of the construction trades coming in," Haygood says. "A lot of people are coming in from out of town, so the hotels have seen some activity because of it." About 100 employees were put on the Caterpillar payroll in the spring before the production lines were completed, with perhaps another 200 or so to be added by the end of the year. The total employment of 1,400 will be reached over a period of about two years.
Haygood reports Caterpillar's hiring plan would be about a 50-50 split between locals and company relocations. Suppliers or would-be suppliers are already arriving, with their surveyors right behind. No one so far has calculated the ripple effect that will emanate from the company's arrival and the jobs it will bring. But by spring's end, some people in Watkins-ville were already bumping into and doing business with freshly hired Caterpillar employees.
"I was talking with a guy who'd been hired by Caterpillar, and he's been living in Oconee County for the last five years," says Amrey Harden, president and CEO of Oconee State Bank. "He was saying the majority of the new employees live within commuting distance. We are seeing new customers who work at Caterpillar, and they are borrowing money and buying houses." That's a far cry from the not-so-good old days of the Great Depression, when every bank in the county failed, says Harden.
"There wasn't a bank here again until this one opened in 1960 and people started moving in, and Oconee County became a bedroom community for Athens." Along the way, in a complicated series of land deals, Harden's bank ended up owning a piece of land that sat idle for 30 years; today it holds a branch situated just across the street from the rising Caterpillar building.
Housing Figures
Haygood, Oconee County's economic development director, has some new home construction data from the courthouse he wants to share on the subject of local real estate. "In 2010 in Oconee County, there were 63 single-family [building] permits issued for residential construction," he says. "In 2011 that went up to 88, and then in 2012 it was 180. We got to the end of the housing crisis, number one. And we worked off a lot of the existing inventory."
One local real estate agent is noticing new homes selling at higher prices, a sign she finds encouraging. She found her proximity to the University of Georgia to be a big help in navigating the recession.
"We get business from the University of Georgia, usually professors and a lot of students," says Dianne Johnson, a sales associate with Prestige Property Specialists in Bogart, a small Oconee County community. "The parents of students buy condos or other residences for their children. When the children graduate, the parents sell the residences." That practice usually guarantees the parents a break-even cost, with some even showing a profit. "Plus there are tax advantages," Johnson adds.
To her delight, Johnson says she is seeing a post-recession increase among more traditional real estate transactions. "Over the last five years, we went into a depression, as far as real estate went," Johnson says. "Now everything is picking up, and values are increasing again. We have more on the market now, and they are selling a lot faster than they had sold before." And her take on those 1,400 Caterpillar workers that have begun to arrive? "We're all excited about that," she says. "You'd have to be."
Doing The Math
With all the new arrivals showing up daily in the Oconee County region, local officials are taking steps to make sure all the necessary infrastructure is in place for them, especially the supply of water. Oconee County once used a series of wells to supply its population, but exploding growth couldn't be sustained without more modern – and dependable – water sources.
That brought more partnerships, because local leaders like Oconee County Commission Chairman Melvin Davis have been doing the math for planning. "We had a 49.5 percent population growth in the 1990s," Davis says. "Then, in the 2000s, we grew at maybe 25 percent, so our growth rate has been pretty significant over the last 20 to 30 years." Realizing that rate is going to increase, the county has taken steps to make sure new residents, businesses and industries will have all the water they need.
"We've had the counties of Oconee, Athens-Clarke, Barrow and Jackson cooperating with a regional reservoir that opened in 2002," Davis says. "Oconee County is the only supplier of water for our citizens. We don't have any municipalities that supply water." But then the county commissioners restudied the growth rate and ordered up more water sources. "We determined with our growth rate, Oconee County is going to have to have additional water sources in order to supply the needs for 2050," Davis says. "That's when we made the decision to partner with Walton County and the Hard Labor Creek Reservoir project, which will supply an additional 14 million gallons a day."
Collaboration
For Tom Odom, interim president of the Oconee County Chamber of Com-merce (Kay Keller assumes the presidency July 15), the partnerships forged by his community add up to solid economic development practices. "Most impressive to me is the collaborative work that goes on, and we're seeing the same thing at Epps Bridge Road," Odom says, referring to a $76-million, 485,000-square-foot retail development planned for the north end of Oconee County. The Epps Bridge Centre will include a 16-screen Cineplex. The property is being developed by The Bishop Company on 68 acres at Epps Bridge Road, and construction is expected to be completed by 2015.
Horst Klein's company, Engineered Fabrication, Inc., has been in Wat-kinsville since 1986 and, thanks to a loyal and diverse customer base, rode easily through a bumpy recession. "Business is strong and we are busy," says Klein, founder and president of the company, a fabricator of conveying equipment for the recycling industry and others that need to move various materials along. "We have fabricated machinery, particularly for the recycling industry, all over the world," Klein says.
Major customers are located in Brazil, South Korea and England. He believes the upturn in his business can be attributed to customers dusting off old ideas. "Business right now is coming from businesses that have accumulated capital and have had projects they have been sitting on," he says. "So there is money being spent on new projects and refurbishing old machinery." Engineered Fabrication employs 25 people.
More good news came from another Oconee County business, AmeriPride Services, a textile company that sells and rents items like uniforms, linens, mats, mops, bathroom supplies and chemicals. "We're celebrating our 35th year in Watkinsville," says Joey Wilson, general manager of Ameripride, which employs 100. "We had the best year we've had in a long time."
Community Snapshot
Local Leaders
Melvin Davis
Chairman
Oconee County Commission
706.769.5120
mdavis@oconee.ga.us
Charles Ivie
Mayor
City of Watkinsville
706.769.5848
mayor@cityofwatkinsville.com
Rusty Haygood
Director of Economic Development
Oconee County
706.769.5120
rhaygood@oconee.ga.us
Population (2010)
County, 32,984; Watkinsville (county seat), 2,832; Bishop, 224; Bogart, 1,034; North High Shoals, 652
Per Capita Income (2009)
County, $46,233
Georgia, $34,129
Unemployment (April 2013)
County, 4.6 percent
Georgia, 8.2 percent
Top Private Employers
Otis Industrial, The Ru-Wood Co., Industrial Finishing Specialists, LLC, Advanced Quality Machining, AmeriPride Services
Sources
Oconee County Chamber of Commerce, Georgia Department of Labor, U.S. Census Bureau