Brunswick | Golden Isles: Coastal Comeback
New neighbors, more hotel rooms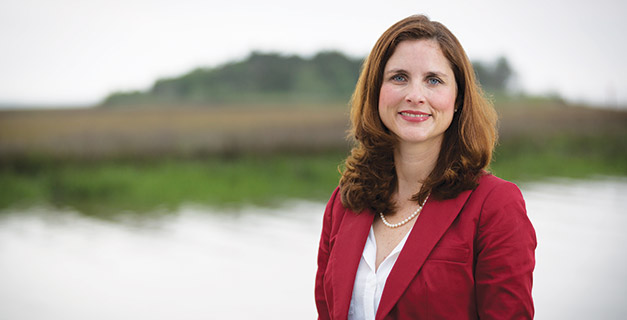 A rising tide of optimism has turned into a tsunami along the shores of Glynn County, where construction activity remains constant, retail sales are growing and tourism is flourishing. Brunswick's island suburbia is sprouting hotel rooms like tropical flowers, all this after a troubling economic downturn of five years. The city's mayor has a simple explanation for his community's survival and prosperous rebound.
"Brunswick is tough," says Bryan Thompson, the town's mayor. "And Brunswick is doing much better than last year." To buttress his assessment, Thompson points to the first-of-the-year rebirth of a development deal on the city's north side. "We've been working for the last three or four years on a new neighborhood development, and we got the go-ahead on it."
The $9-million development plans call for 52 townhomes to be built within a short distance of the College of Coastal Georgia and the Southeast Georgia Health System, the local hospital, with the property coming from a land swap with the local school system.
"That block of property was received by the city several years ago in a bit of horse trading with the board of education for their site for a new middle school," Thompson says. "They needed the last 20-acre site in the city, which we owned, and we needed a couple of school sites." The city gained a new park and a neighborhood development site in the bargain. "It actually allowed us to put back in place one of our major parks that was part of the historic town plan of 1771," Thompson says. "This is going to be a major catalyst for ongoing improvements in our northside section of town. We've done the demolition work required on the site, and the groundbreaking is just a matter of getting a few final details together."
That's not the only deal the Glynn County Schools leaders have been working on. "It's called a single-loop geothermal program," says Howard Mann, superintendent of the Glynn County School System, as he explains why 1,200 to 1,500 individual wells were each being dug 300 feet deep around the campus on the site where a new Brunswick High School is to be built.
The wells will circulate water through the school and keep it at the constant temperature of the earth, according to Mann. "That's 72 de-grees," Mann says. "We'll be able to heat and cool the school, and the equipment won't wear out as quickly." The system is more expensive than a traditional system, but its longevity will recoup the difference, Mann says. "We think over about four or five years it will pay itself back in the savings, about $6 million over that time, " he says.
The idea for the geothermal unit came from Brunswick architect John Tuten, who had been interested in research on the heating and cooling of schools using the geothermal system. "We took the expense of going to Texas and finding some engineering groups that had done this in schools out there," Mann says. "It's not a new trend for the state of Texas, but it probably is for the state of Georgia."
Reinvention
Farther south in Brunswick, Volker Kuntzsch, president of King & Prince Seafood (K&P) was offering a blunt assessment of his company's performance during the recent economic downturn. "We did not do well at all during the recession," Kuntzsch says. "As a manufacturer, we supply sea-food to restaurants all over the country. You can imagine what restaurant visits looked like in that period, so the company was suffering. We had to figure out how to get through that period without losing it all."
Part of the solution was the reinvention of the King & Prince business plan, a new slogan and the building of a "wider seafood portfolio," leading to a new product: the sushi kit.
"We cut down on costs here, and we had to let quite a few people go," he says. But as the company turned around, 150 people were hired, spirits were lifted and the sushi kit was rolled out. "The sushi kit [put] our focus on colleges and universities for this product, since they hire Japanese restaurants to make sushi and they don't make much money with that," Kuntzsch says. "We train people to make sushi, and we send them all around the country to teach people."
The sushi kit won Seafood International's Best New Product of 2012 Award, he says. The product is known as the Sushi Bob Kit, after the K&P employee who came up with the idea.
King & Prince is owned by the Japanese seafood giant Nippon Suisan Kaisha, Ltd. "It's the second largest seafood conglomerate in the world," says Kuntzsch. "And I look forward to more expansion, probably in a year or two."
Accommodations
The presence of I-95 in this community and the more than two million tourists who arrive in Brunswick and the Golden Isles each year often add to the out-of-town patient list at Southeast Georgia Health System's (SGHS) hospital. For some time, Gary Colberg, president and CEO of Southeast Georgia Health System, and his staff had faced the dilemma of where to put the out-of-town families of critically injured or ill patients.
Most needed, Colberg says, was some kind of lodging for those families so they could be near their loved ones. "We went to a local hotel on I-95 and got a really cheap rate for those families of ICU patients. But you know if you get a call at 2:00 in the morning informing you your loved one is passing away, you're going to drive 100 miles an hour to get over here from the interstate, " Colberg says. "We wanted to get [lodging] where you could just walk across the street. With hospitals and health centers all under siege of cutbacks, we didn't have the extra money to build a nice facility."
The idea of finding the money to build a comfortable Ronald McDonald House-type guest lodging at his hospital seemed hopeless – until an anonymous donor came forward with the money to build the three wings of the guest facility. "We were lucky enough to have that anonymous donor step up," Colberg says. "The new building has three separate wings, one for our medical students and one for families; and we'll be able to move in families of CyberKnife patients."
SGHS becomes the second hospital in Georgia to feature CyberKnife treatments for cancer patients and is one of only 200 in the world with the cancer treatment, Colberg says. "It's [a series of] one-hour treatment[s], and then you're out the door to play golf," Colberg says.
To make sure the patients can get a tee time, the hospital has worked with a noted Golden Isles brand to devise a novel kind of package deal. "We've partnered with the Sea Island Company for a medical tourism program that includes a week at The Cloister while [a patient is] being treated at the hospital." Colberg be-lieves the hospital should see the patient list grow with the addition of the CyberKnife cancer treatments and the prospect of Sea Island golfing and accommodations at The Cloister.
Making Changes
The noted Sea Island brand is changing in a number of ways, according to Scott Steilen, president of Sea Island since 2011, when substantially all of the assets of the Sea Island Company were purchased by Sea Island Acquisition LLC, a collection of investment groups. The properties acquired included the venerable Cloister, the elegant gray lady of the Sea Island family of resorts, as well as the equally elegant and quite upscale Lodge at Sea Island. Three golf courses came with the deal, and they are a notable part of Steilen's immediate plans for changes that open Sea Is-land's amenities to the less affluent, a market segment heretofore untapped by the brand. Part one of the plan called for the executive offices to be moved closer to The Cloister, which left an empty building behind that is now being converted into a hotel.
"The idea behind the new hotel is two-fold," says Steilen, a native of Chicago who says he was "born and raised" in the hotel business. "We wanted to create more efficiency in the administrative area and put more uses together and couldn't do that in the building in an effective way," he says. "And we were a little bit farther away from the heartbeat of the operation."
The Sea Island company purchased a new building where its offices are now located. "In the meantime, we had an empty building," he says. "We've always thought about where we were from a price point in product and what else we could offer. And we thought there was an opportunity existing in the market to create a lower price-pointed Sea Island lodging product." That product is now under construction in the former office building under the working name of The Inn at Sea Island.
The company also has golf courses that can be underused at times. A room at The Inn at Sea Island will open guest privileges at Seaside, the Retreat and Plantation golf courses. A night and day at the new inn may range from $150 out of season to $250 in season, plus the golf fee. "It's going to be a more streamlined product with less services than you would get at The Cloister or Lodge," Steilen says. "But we think it is going to fit within a market segment that is under-penetrated today."
On The Rebound
And there's more, says the one man who counts carefully the hotel/motel sector of the local construction industry. "We're seeing existing hotels being purchased, and we're seeing new ownership throughout the area," says Scott McQuade, CEO of the Golden Isles Convention & Visitors Bureau. "We have rebounded significantly. As most of the nation did, we saw a decline in tourism starting in 2008. But I'm happy to report, starting late in 2011 and now in 2013, we've been climbing rapidly out of that decline. In fact, this year we're on pace to if not equal, [to] out-perform our all-time record year in accommodation tax revenues."
Those numbers are a measure of the community's tourism health, Mc-Quade says. Tourism numbers will grow greater and faster as nearly 500 new hotel rooms are being constructed this year on Jekyll Island. Construction on the three new hotels represents a $78-million total investment and is responsible for 674 new jobs.
"We do believe that these projects will spur additional economic activ-ity," says Eric Garvey, chief communications officer for the Jekyll Island Authority, in an email response to questions. "Almost immediately with the commencement of the [new] Westin Hotel construction, the Jekyll Island Authority will self-develop 33,000 square feet of retail space adjacent to the new Westin and Hyatt Place [Hotel]."
Meanwhile, a new neighborhood, Village Oaks, sprang up near downtown St. Simons Village last year, and beach cottages there are selling for $500,000 to $600,000.
Glynn County Commission Chair Mary Hunt has watched all the construction going up in her county and observed more traffic on the local roads from two perspectives – one as an elected official. "And I'm a real estate agent, so I have definitely seen firsthand the positive growth that we have had in Glynn County in at least the last year and maybe a little bit longer," Hunt says. "You know there is positive growth when you see houses being built, and that has gone up tremendously. Foremost in my mind is making sure we have the right infrastructure in place to meet that growth."
Continued growth is even crowding offices at the Brunswick-Golden Isles Chamber of Commerce building across from the Marshes of Glynn, and it may necessitate a move out of the familiar landmark on U.S. Highway 17. "After more than 30 years in the same location, we've been looking around," says Chamber President Woody Woodside.
For Nathan Sparks, executive director of the Brunswick and Glynn County Development Authority, a reliable constant in the local economy has been the Port of Brunswick, where each year seems to be better than the last. "We now have 21 vehicle manufacturers recording increases in their roll-on/roll-off traffic," says Sparks, referring to reports that Brunswick's port saw 50,000 cars and machinery units come ashore this past February at the port's Colonel's Island, an increase of more than 12,000 units over the same time last year. "The future for Colonel's Island looks extremely bright as the economy continues to improve and people are buying more vehicles across the country."
Community Snapshot
Local Leaders
Mary Hunt
Chair
Glynn County Commission
912.554.7400
mchunt@glynncounty-ga.gov
Woody Woodside
President
Brunswick-Golden Isles Chamber of Commerce
912.265.0620
woodyw@bgicoc.com
Nathan Sparks
Executive Director
Brunswick and Glynn County Development Authority
912.265.0620
snathansparks@bwkeda.com
Population (2010)
County, 79,626; Brunswick (county seat), 15,383; St. Simons Island, 12,743
Per Capita Income (2009)
County, $38,392
Georgia, $34,129
Unemployment (February 2013)
County, 9.6 percent
Georgia, 8.6 percent
Top Manufacturing Employers
King & Prince Seafood, Rich Products Corp., Pinova, Jered LLC, MAP International
Sources
U.S. Census Bureau, Georgia Department of Labor, Brunswick and Glynn County Development Authority